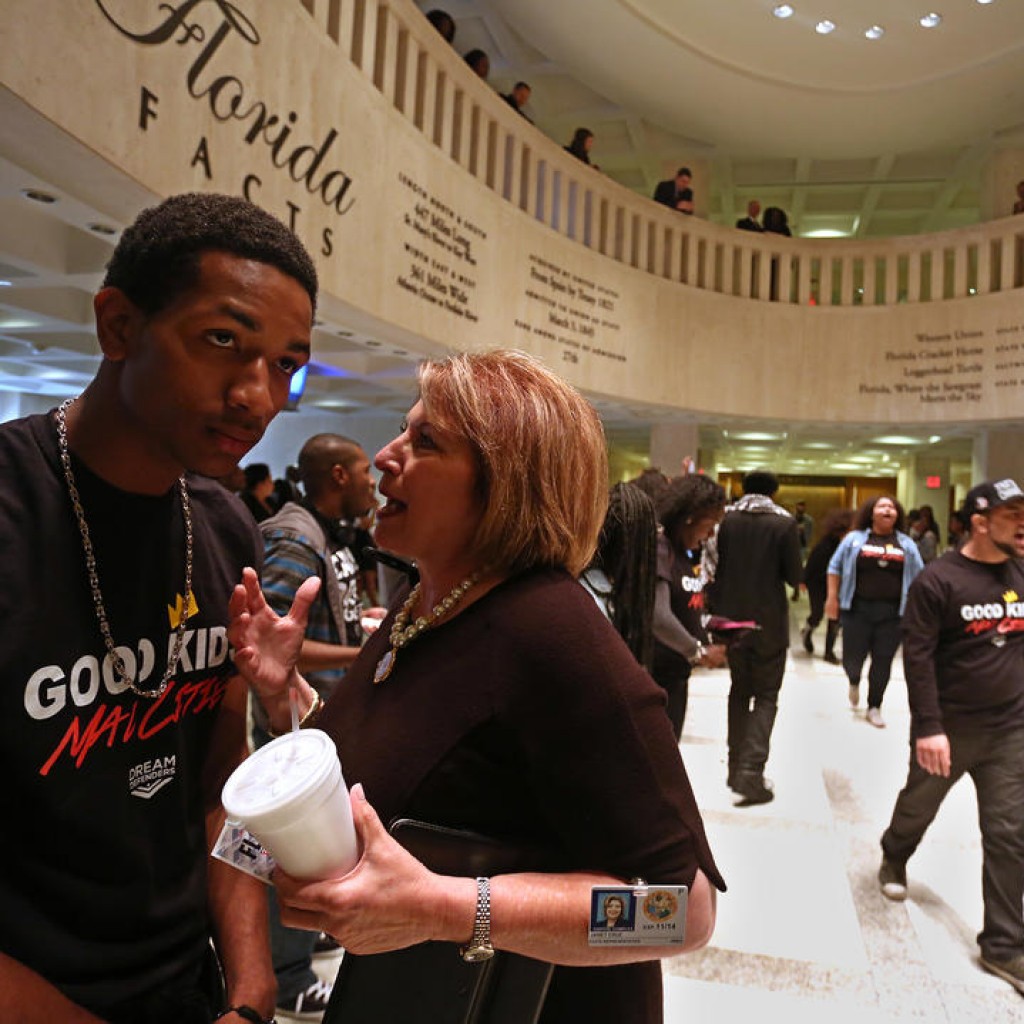 Florida Republicans dominate state government in Tallahassee, and in the state House, it's not even close. Yet incoming House Minority Leader Janet Cruz says she "conservatively" believes the Democrats can flip six seats this coming fall, and — just as importantly — retain that number in 2018, beginning the party's journey to finally getting close to parity in the GOP-controlled chamber.
"So we build six seats now," Cruz told the audience who gathered early Thursday morning at the Marriott Hotel in Philadelphia for the Florida Democratic Delegation Breakfast. "In the off-cycle we hold six seats. And we come back in the next presidential (election) and we gain six seats, and that, my friends, is the very slow path to parity, but we are going to take back the House, and we're going to need your help."
Considering that Republicans control 81 of the 120 seats in the Florida House, any discernible observer would have to question Cruz's sunny optimism.
Then again, Democrats here for their national convention were on a high of sorts Thursday morning, still buzzing from Barack Obama's "handing off the baton to Hillary Clinton" speech that ended shortly before midnight, and mainlining caffeine after a week in which no one is getting much sleep. But in an interview later in the day, Cruz said she meant what she said about the path to getting many more Democrats elected to the state House.
Florida Democratic Party strategist Steve Schale believes flipping six seats from red to blue this fall is a little overly optimistic, and says winning three, or maybe four, seats is more realistic.
"They're taking on incumbents, which is just a much harder lift, and despite the work she's doing on fundraising, the House GOP will have a significant fundraising advantage," he writes in an e-mail (He wrote about the top 10 races to watch in FloridaPolitics back in May).
Schale applauds Cruz, saying she and the House Democrats have recruited one of their strongest fields in recent years. "From my perspective, she has two goals: get back above 40 seats and build a sustainable foundation for growth."
Cruz says it helps to have attractive candidates, and one she's extremely high on is Lisa Montelione, the Tampa City Council member who is running for the House District 63 seat currently held by Republican Shawn Harrison.
"She's had crossover votes," Cruz says. "Republicans have voted for her in the past, and in the off-cycle, because of her popularity and activism in the community, I believe she'll hold on to that seat. Those are the kinds of candidates were going after. Candidates that can raise their own money and have some name ID and can hold on to the seat in the off cycle."
Currently the party is paying for aides to both Monteleone and Rena Frazier in the HD 59 race. That's somewhat unusual because both were in competitive Democratic primaries, though that's no longer the case in HD 63 after Democrat Mike Reedy dropped out of the contest last month.
"You had to follow some of the guidelines which I won't disclose to you," Cruz said. "But once you met that criteria, we're going to pay attention and we're going to help you."
The most vital criteria to get state help is the ability for the candidate to raise his or her own money.
That's why Cruz says she's sad two strong fundraisers — Ben Diamond and Eric Lynn — are competing against each other for the same HD 68 seat in Pinellas County — the seat that has been held by Democrat Dwight Dudley.
Cruz also has high hopes for Jennifer Webb in the HD 69, a Pinellas County seat held by Republican Kathleen Peters, though it should be noted that the GOP incumbent does have a substantial fundraising lead (Peters has more than $130,000 cash-on-hand, Webb more than $47,000 COH).
Robbie Mook, Hillary Clinton's campaign manager, told the Florida Delegation earlier this week that he would not be running a campaign focused exclusively on the presidential race in Florida, but instead would be heading up a "coordinated campaign."
Cruz says she's in constant contact with Florida Democratic Party executive director Scott Arcenaux regarding every single legislative race in the state, and maintains a strong belief the Democratic party will win back six House seats in November.