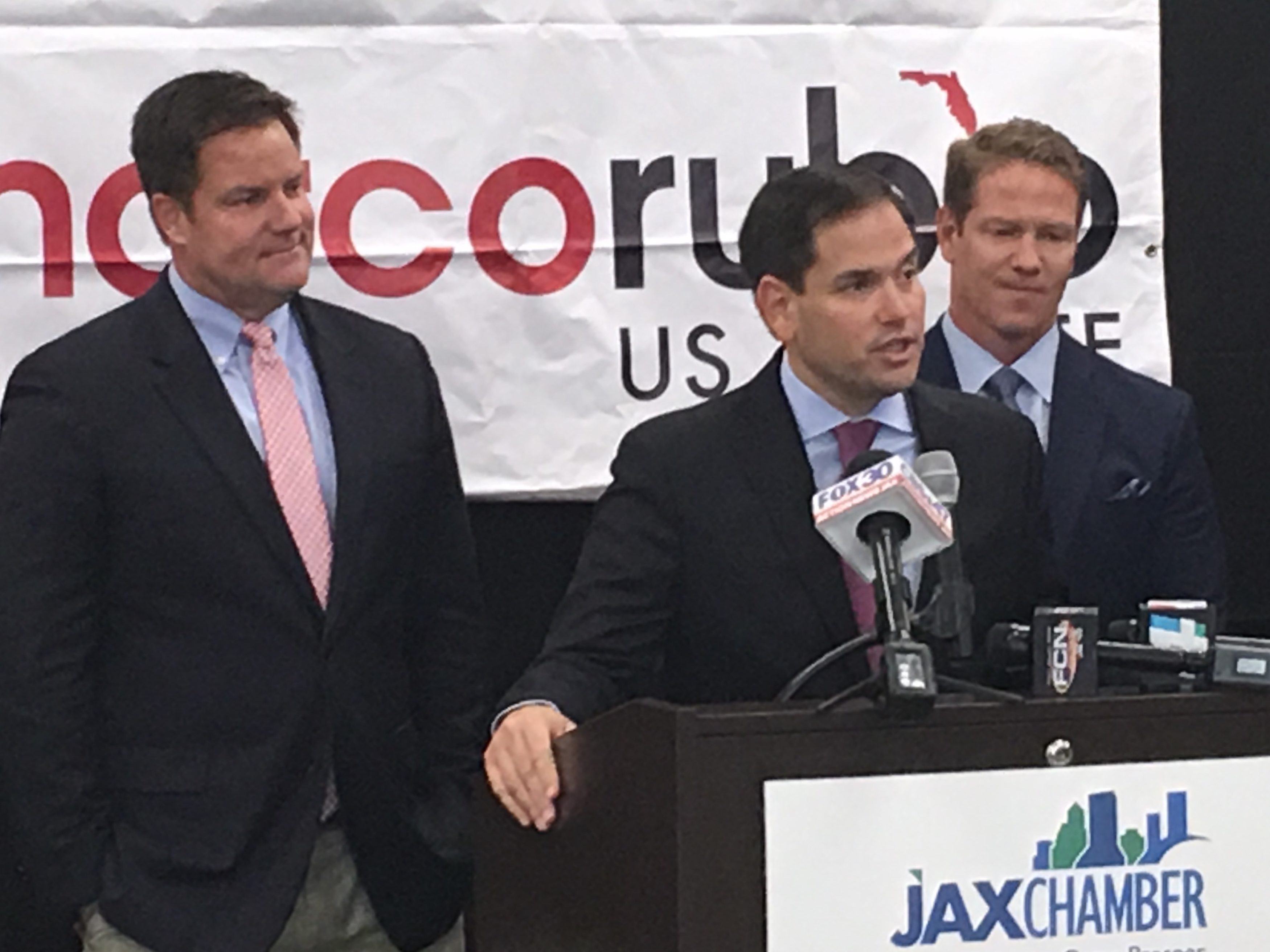 Sen. Marco Rubio and U.S. Chamber of Commerce political director Rob Engstrom are spending Thursday visiting chambers of commerce in Tampa, Orlando, and Jacksonville. And a message is being delivered.
The U.S. Chamber of Commerce stands fully behind Rubio, and so do local affiliates, as he girds up for a general election campaign (likely against Patrick Murphy) that both Rubio and the Chamber see as a stark contrast between an avatar of free enterprise values on one side and a defender of government overreach on the other.
Engstrom has been at the helm during recent successes, including the 2014 campaign which saw a voter education effort that created decidedly pro-business majorities in both houses of the United States Congress.
In the race for the United States Senate, Engstrom sees the stakes as high, with the "free enterprise system under attack by nameless, faceless bureaucrats … a massive overregulation of business" that requires a "full-throated defense of the free enterprise system."
Florida voters, said Engstrom, have "one of the clearest choices" between a Democratic nominee who has been a "consistent failure on economic issues."
Murphy, said Engstrom, described himself as voting with Alan Grayson 90 percent of the time, with the "biggest difference" being "style."
On issues like Obamacare, Dodd-Frank, energy policy, labor, and financial services, Engstrom said there was no tangible difference between Grayson and Murphy.
Engstrom took great pains to speak about Murphy as not trustworthy, saying "trust has been broken."
However, Rubio represents a contrast, said Engstrom, citing Sen. Rubio's "courage to govern" and willingness to "reach across the aisle when appropriate" as "someone sought out to build consensus."
Daniel Davis of the Jacksonville Chamber pointed out Rubio has "always been a friend of Jacksonville small business," and that the Chamber's federal PAC was backing Rubio.
Then Rubio spoke up, making the free enterprise case, talking of "millions of Americans struggling," desirous of "good jobs and the American dream."
A dream, Rubio added, complicated by current policy.
"Many jobs are leaving because the corporate tax rate is among the highest in the industrial world," Rubio said.
"Who pays the price for Obamacare? For Dodd-Frank? For radical policies? People trying to make it," Rubio said, adding that this election offers a clear choice between him and "the radical policies" of his eventual Democratic opponent.
Grayson, said Rubio, is "someone who has been accused of domestic violence" who "I believe is insane."
And Murphy, said Rubio, has a history of resume inflation.
Rubio pivoted back to the free enterprise message in describing his own personal history.
"My parents worked for a living in the service sector," said Rubio. "They had jobs because someone hired them."
Because of free enterprise and limited government, Rubio added, "they were able to own their own home and retire with dignity."
For Rubio, the choice is binary: "the radical left" or "me to go back and fight for principles."