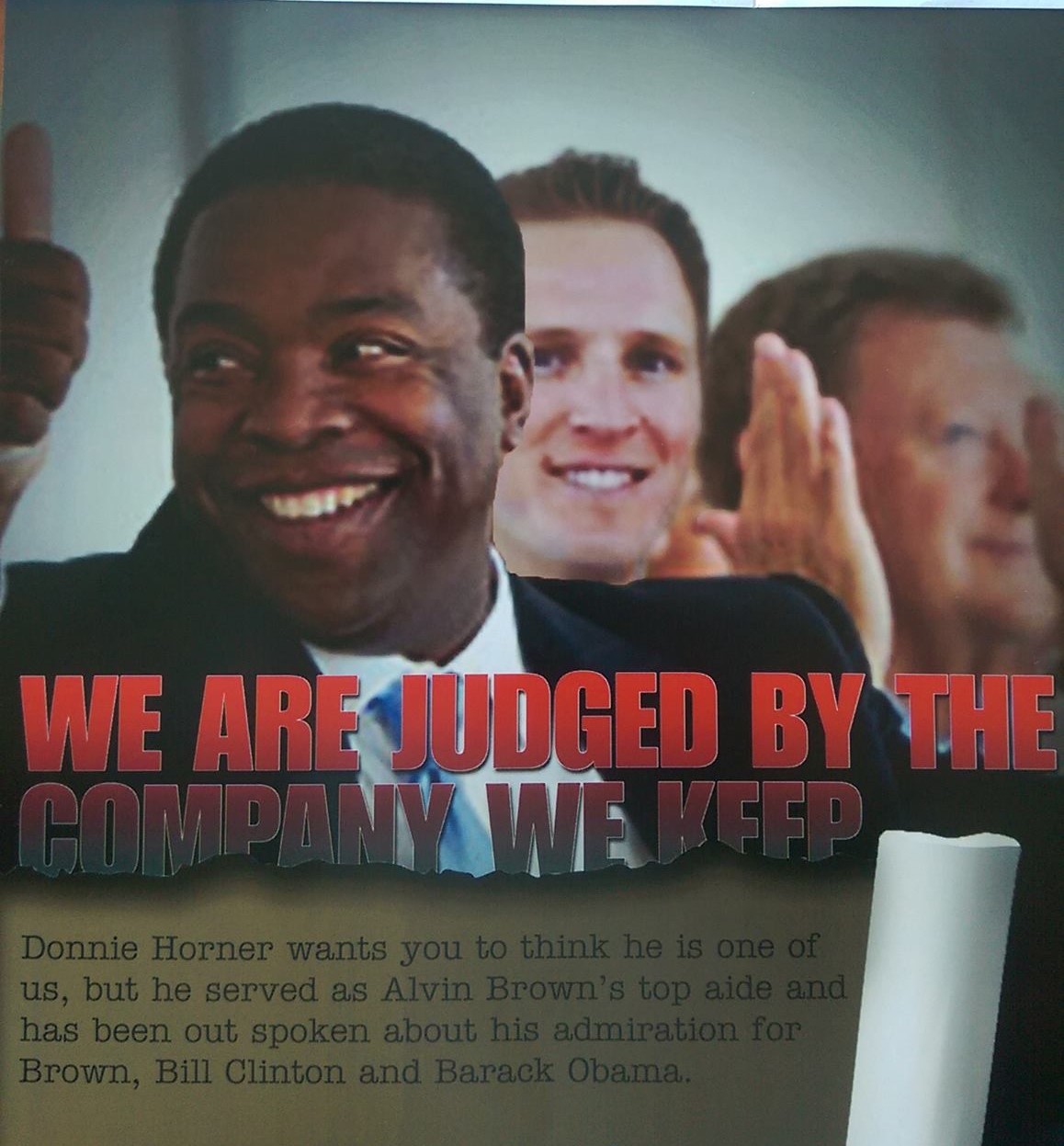 A leitmotif in the House District 11 race has been the past of Donnie Horner, who was until recently a Democrat.
Horner's Twitter history has already been excavated and put forth on several Florida political websites.
And now, just in time for early voting, a greatest hits mail piece positions Horner, in the words of Beyonce, "to the left, to the left."
Yet the more interesting story is not the dirt dredged up, but the mechanism by which it found its way into Northeast Florida mailboxes.
"We are judged by the company we keep," reads the front, which shows a picture of Horner with former Democratic Mayor of Jacksonville, Alvin Brown, describing Horner as Brown's "top aide."
In fact, Horner was a public information officer for Brown, which is a different matter.
However, the Twitter hits are more verifiable.
Horner was an active Democrat, who (as the back of the flyer suggests) tweeted positive things about Bill Clinton and Barack Obama.
Among the quotes: "I could learn a lot from Bill Clinton" and "President Obama, Atta Baby."
One suspects, as with most such flyers, most conservatives aren't going to be fact checking the material.
Interesting to note: the "Conservative Leadership Fund" has been bankrolled, to the tune of $120,000 since July 21, by "Floridians for Equitable Government," a political committee that also supports Sarasota Republican Doug Holder.
"Floridians for Equitable Government," meanwhile, has spent copious money with Front Line Strategies, which has given over $121,000 to the committee this summer.
Front Line Strategies works for Sheri Treadwell, the only candidate in the race who is better funded than Horner, who is a client of Data Targeting.
Throughout Northeast Florida, in races such as the Congressional District 4 race and the battle in House District 16, Front Line Strategies and Data Targeting go head to head.
Finally, it's worth noting that GOP mainstay Eric Robinson is both Horner's treasurer and the treasurer of "Floridians for Equitable Government."