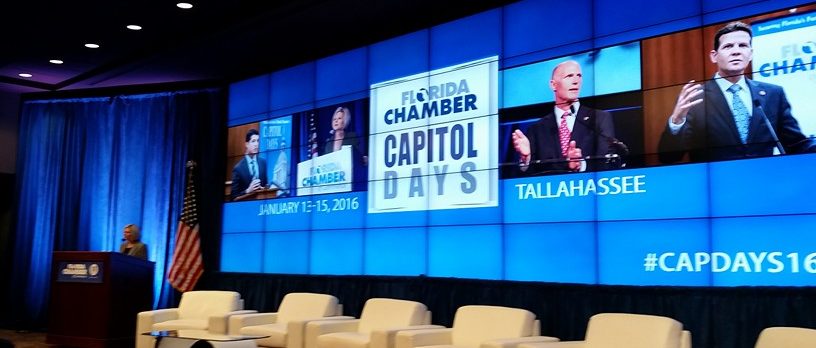 The Florida Chamber of Commerce is going digital.
The statewide business advocacy group is poised to spend hundreds of thousands of dollars on digital advertising targeting likely primary voters in key legislative races. The campaign, according to a memo obtained by FloridaPolitics.com, will feature 15-second biographical spots on mobile devices and social media, and will target voters in a dozen legislative races.
"Times have changed. Simply funding candidates and using big television budgets will no longer bring pro-job candidates over the finish line," wrote Mark Wilson, president and CEO of the Florida Chamber of Commerce, in a memo to the board of directors and others. "With the change in times, the Florida Chamber's tactics have changed as well."
Wilson said the Chamber has launched targeted digital ad campaigns geared at likely primary voters in key legislative races across the state. The effort is meant to engage voters "where they are 'getting their news.'" In his memo, Wilson said the Chamber will "invest hundreds of thousands of dollars targeting digital content to voters on mobile and desktop devices."
"We know our digital investment is record setting by a third party engaging in legislative races, and reflective of our commitment to engage voters across all media platforms, regardless of their party affiliation," he said in the memo.
The ads will focus on Florida Chamber-backed candidates in about a dozen key races. The Chamber endorsed 87 candidates — 16 Democrats and 71 Republicans — ahead of the Aug. 30 primary. The organization will make additional endorsements heading into the November election.
The Chamber has already been investing a significant amount of resources into the 2016 election, going to bat for candidates it endorsed.
Last week, it released an advertisement slamming Republican Mike Hill over his decision to oppose an economic incentive package supported by Gov. Rick Scott. The Chamber of Commerce endorsed Doug Broxson, a Gulf Breeze Republican, in the Aug. 30 primary.
Unlike that ad, the digital ads are short, upbeat, biographical pieces supporting Chamber-backed candidates.
One example is the ad for Democrat Dianne Hart, who is running in House District 61. The 15-second animated spot gives an overview of her career, before thanking her for her commitment to improve the lives of people in her community.
"Meet Dianne Hart," a narrator says in the digital ad. "Dianne is a small business owner who was raised in East Tampa. As a leader in our community, she works to stop hunger and and create affordable housing. The Florida Chamber of Commerce thanks Dianne for her commitment to improve the lives of everyone in in East Tampa."
In his memo, Wilson said the strategy is "part of a larger, long-term effort to continue building the infrastructure to compete and win against those who want Florida to be more like California, New York, Greece and France."
"While we won't win every race, we will use the lessons learned to immediately focus on the fall elections," he wrote. "Moving forward, this is another strategy in the Florida Chamber's efforts to advance our research, policy and political goals."
https://youtu.be/b59i2DE7WPY
Last updated on August 15, 2016