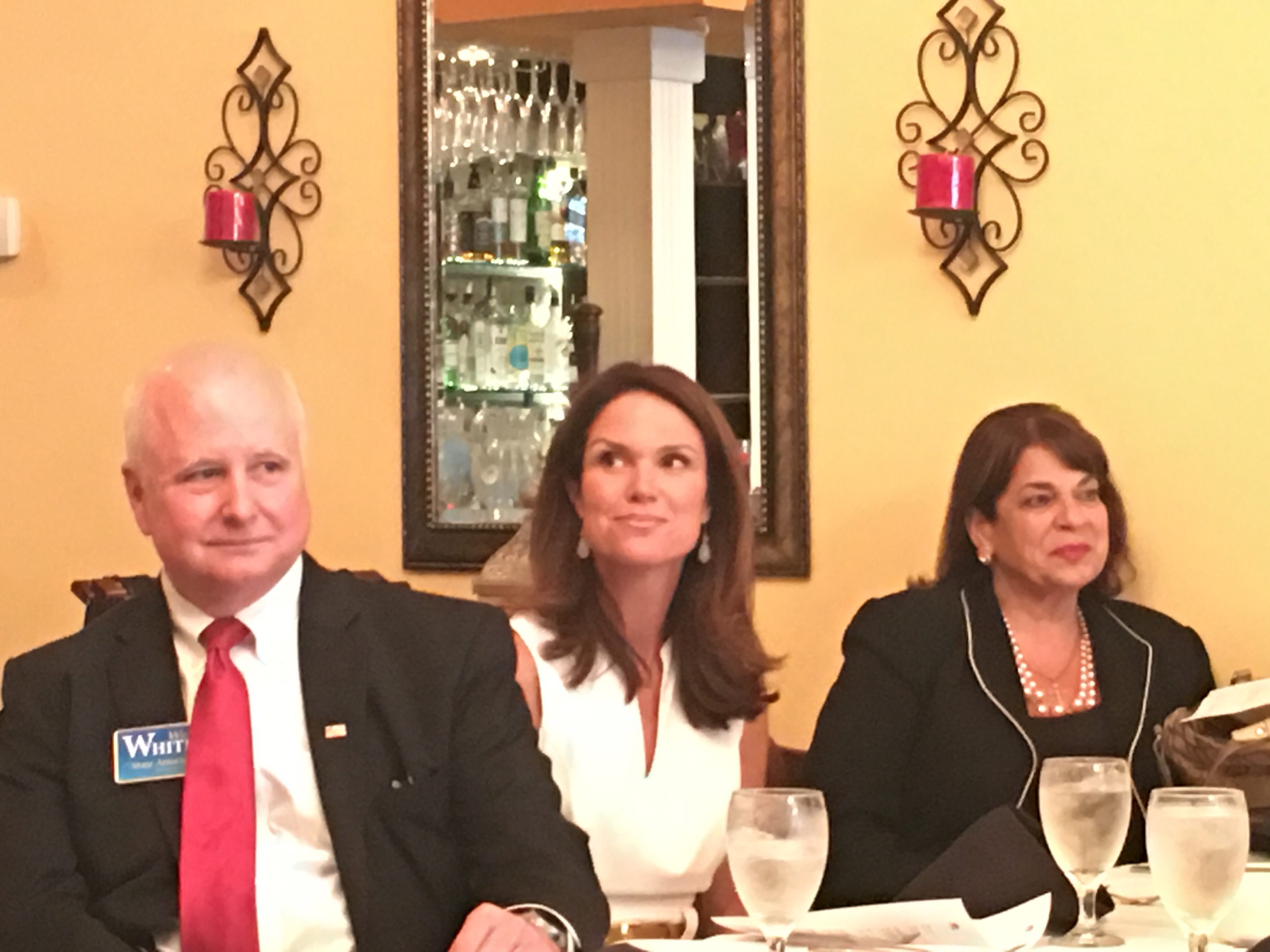 On Tuesday night, Wes White and Melissa Nelson debated incumbent Angela Corey in the most high-profile encounter they would have ahead of the GOP primary in the 4th Circuit State Attorney race.
For White, this was his last real chance at earned media.
For Nelson, this was her chance to show she was more than a slick ad campaign.
And for Corey, under-financed compared to Nelson, despite having all the endorsements an incumbent could want?
No big deal. Just a fight for her political life.
Direct file and George Zimmerman. Death penalties and closed primaries. This debate had it all.
Nelson came out swinging, hitting Corey on "overcharging," adding, "this race is not about endorsements."
Corey, meanwhile, went to her standard opening, discussing statistical improvements in the district, and touting her "stellar" endorsements.
And so it went.
****
Corey got the first crack at defending her record, discussing the handling of murder cases.
"Under Shorstein, the homicide rates reached 150 or more. We haven't seen that," Corey said, in recent years.
Nelson punched back, saying Duval County leads the state in murders and that the state attorney can do more to prevent crime, specifically, partnering with resources in addition to law enforcement.
"There's a difference between being active and being effective," Nelson said.
White, meanwhile, with a hitch in his voice, talked about the need to "instill direction and discipline in our children at a young age."
****
From there, a discussion of capital punishment.
Nelson, with experience in dozens of these cases, pledged to treat notices of intent to seek the death penalty as the office's most serious role.
White, somehow, pivoted to civil cases, before discussing one of four murder cases he'd tried.
"Mr. Larkin went to death row, where he took his life, which is probably the first decent thing he ever did," White said.
Corey went back to her resume, describing these cases as part of her "area of expertise," saying that her office weighs the "aggravating factors and the mitigating factors," before saying that she would never waive the death penalty for a serial killer — an allusion to the Monster of Mayport story both White and Corey are pushing.
The candidates continued on the death penalty, with White noting that while the death penalty is not cost effective, there are extreme cases and cases with children as victims where that is necessary.
****
Criminal justice reform was up next.
White got the first crack.
"There's a pervasive feeling that the system is rigged," White said, saying that true reform is rooted also in the "board room and the school room," and the "rule of law."
"All lives matter," intoned White, who will "stand up against those who use Black Lives Matter" for their own ends.
Corey doubled down: "Blue lives matter because all lives matter … we must honor those in authority."
Nelson brought the question back to criminal justice reform.
"Conservatives are actually leading the discussion on criminal justice reform," Nelson said, reform predicated on "trust" in the system and a state attorney who "incrementally, case by case, will build trust."
****
Direct file came up next.
Corey said "we don't direct file them to treat them like little adults."
Nelson said when she was defending 12-year-old Cristian Fernandez, the state attorney's office was "not interested in getting to the right result."
And White? He said something about getting away from "God and country."
****
Closing the primary to Republicans was next, with the discussion of Corey's former campaign manager enlisting a write-in.
Nelson observed that "your chief law enforcement officer to this day has yet to be accountable … for [this] legal, political dirty trick."
White? He talked about the "politics of division."
"Politics is a nasty game. I know. I've been the subject of it," White said, pledging to change to NPA if elected.
And Corey, of course, had to defend the indefensible.
"To call what our Supreme Court has given great thought to … is disrespectful to call it a political dirty trick."
"We have parties for a reason, and primaries for a reason," Corey said.
Corey prefers to discuss her record: 34 1/2 years enforcing the laws of the state of Florida.
Nelson fired back, saying "the excuses you've just heard here, and still no ownership, that's the problem."
"We didn't employ this trick. Your chief law enforcement officer did," Nelson said.
"I don't know if Ms. Corey is telling the truth. She said she wasn't involved," White said.
When asked a follow-up, Corey denied personal knowledge, saying "a group of people who thought it was the right thing to do" were responsible.
And her former campaign manager? "A wonderful young man."
****
Nelson discussed "leadership" soon after that.
Younger than her opponents, she described her entry into the race as "prayerful and bold," a campaign that has "caught fire," with 60 former prosecutors supporting her because they believe the leadership in the office has failed and "we need a change."
Meanwhile, Corey got a personal question on overcharging George Zimmerman.
Would she do anything differently?
"When the governor says you're going to take a conflict case, you take it. We don't overcharge filing second-degree murder," Corey said, adding the "criminal justice system" has "become a vicarious spectator sport."
"Why was that case so high-profile?"
Nelson said it was "ironic" that Corey was so "distraught" about publicity in this case, given that she called a press conference.
"The problem was the behavior after the jury verdict," Nelson said, with Corey "disrespecting" the jury.
Corey took exception to Nelson's characterization.
"It's a case like thousands of others … I believe that the media stirring up that case was what made it controversial," Corey said.
Nelson said she was referring to a press conference after the verdict, where she said it was important for the public to watch this trial unfold.
****
Nelson got served the question about her support, and as is typical, she gave an answer about the depth of her support, including grassroots.
White fired back, saying the "press" believe that "we the people need to be led," and that Nelson was a tool of the criminal defense bar.
Corey, meanwhile, talked up the endorsements of incumbents and personages ranging from John Delaney to former GOP chair Rick Hartley.
Then it got more interesting, with White asked about his attempt to gin up a grand jury investigation into the Nelson campaign.
"When 10 men are willing to put up $500,000 to buy an election," White said, "they wanted to force me out of the race."
This is, he said, "the dirtiest type of politics."
And Corey? "I wasn't there when these two were cozying up against me," the incumbent said, adding that everything she has done has been out in the open.
Nelson believes the investigation of "meritless" accusations was a waste of time, adding that Corey "in an alliance with Mr. White used the allegations in a political hit ad."
White described "political thugs" who have "invested in Ms. Nelson because they wanted to control the criminal justice system."
He would not name names, regrettably.
Corey said, meanwhile, that Nelson's donors are putting out "false attack ads" because "it's the only way they know how to do business."
****
The "Monster of Mayport" ad came up, with Nelson noting that Corey was her supervisor and that the murderer will never walk among the free again.
White accused Nelson of "refusing to own what she did," showing "moral bankruptcy."
"The prisoner that was killed had a 10-year sentence," White said, accusing Nelson and Harry Shorstein of taking "the path of least resistance."
Corey denied being Nelson's supervisor, saying that was Shorstein.
And Nelson said that the victims' families asked the SAO for consecutive life sentences.
"There are emails showing she was involved in this case," Nelson said.
****
And there it was. Nelson closed out by talking about the corruption of her opponents. White said he was "willing to go the extra mile" in the pursuit of "law and order," and isn't a "weak-willed, soft-hearted" state attorney candidate.
And Corey got the last word.
"There is a permanent public record of [Nelson's] abuses of a grand jury in Flagler County," Corey said, before reiterating her resume.
"I've tried more cases than these two will ever try," Corey said.