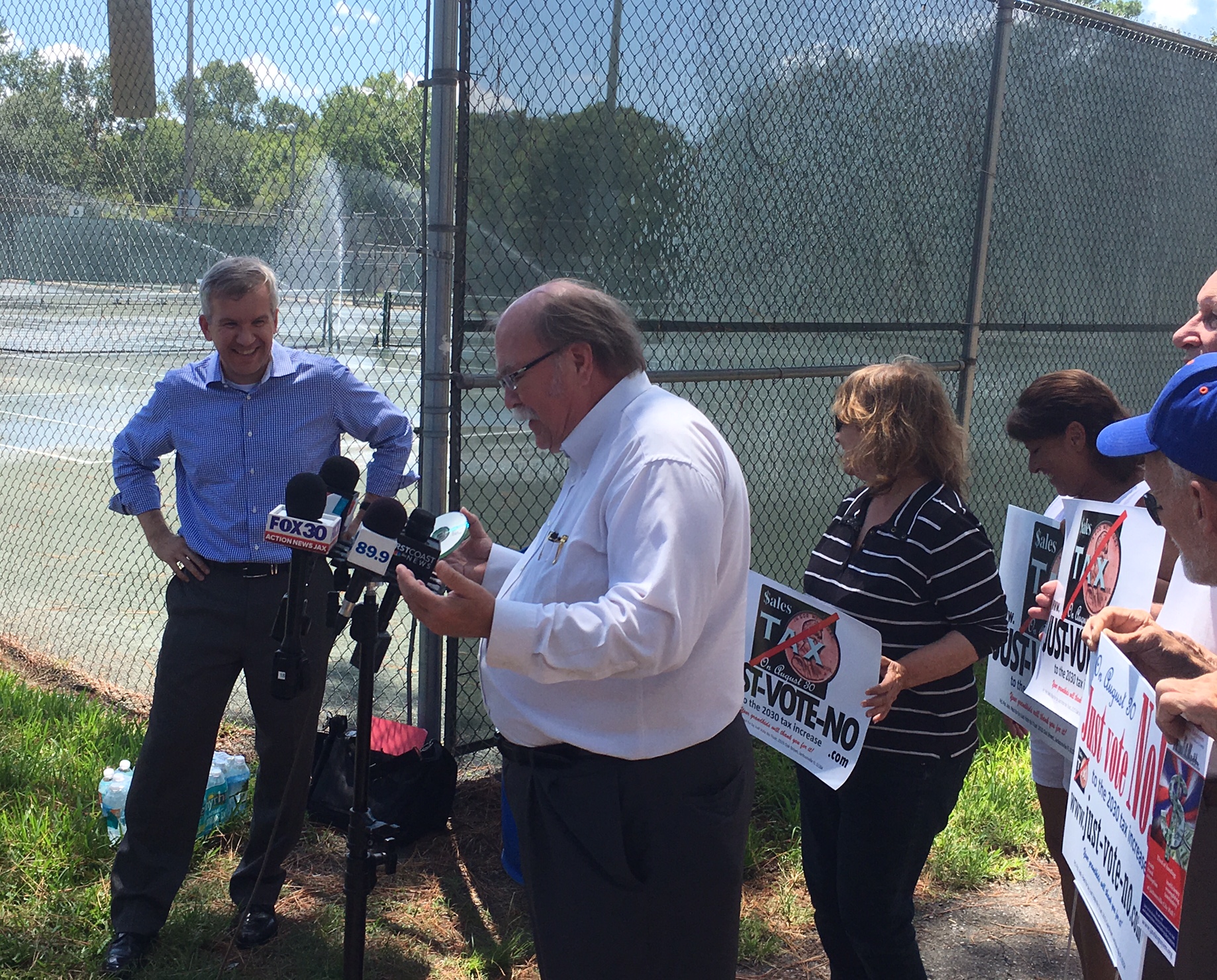 What if someone called a press conference and Jacksonville City Council "public comment" broke out?
That was the scene Wednesday as a half-dozen opponents of County Referendum 1 — the so-called "pension tax" vote, which would extend a current half-cent sales tax past its current sunset date in 2030 and devote it to the $2.85 billion unfunded pension liability — converged on a park in Avondale to discuss a new television ad.
The ad, said John Winkler of the "Concerned Taxpayers of Duval County," shows "children. The ones who are paying [in] the future."
However, there is an existential problem: the group doesn't have money for an ad buy, which is typically necessary to get television ads aired.
With slightly over $2,000 in the "Just Vote No" trust account, resources aren't there for an ad buy, and they may not be.
"I truthfully won't have an answer until midnight tomorrow," Winkler said about whether there would be a buy or not.
Winkler and his group — including pension tax critic Tom Majdanics and former city council candidate Connie Benham — positioned their effort as one of defending future generations.
"The problem appeared during the baby boomer and Generation X" era, Winkler said, yet the tax will "fall squarely on millennials" and generations to follow.
When asked why the average age of those against the tax is 55, and why millennials weren't at the park in protest, we were told that "several millennials wanted to attend but they have jobs."
There were, of course, lots of theories bandied.
The one about the Jaguars and the unions getting an "unofficial quid pro quo" for their support, and the one about how a "pay-go" system would be a more honest accounting than the deferred contribution model of the tax that goes into effect in 2031.
And, of course, someone said that the city council is under the thumb of Mayor Lenny Curry
Winkler, as sprinklers doused the tennis courts behind him, said that "were this still the 20th century, the techniques used by Yes for Jacksonville would overwhelm" a counter-narrative.
His group expects that social media and email chains will overwhelm a $2 million media campaign from referendum proponents.
Speaking of Yes for Jacksonville, spokesman Brian Hughes had this to say about the opposition.
"The attendance of the event alone speaks volumes," Hughes said.
"They want to defend the status quo and risk the financial future of Jacksonville. Their position is wrong and dangerous," Hughes added.
Winkler's group is not the only opposition to the referendum. The Duval DEC presented a resolution of opposition, though there are quorum questions there. And former councilmen Bill Bishop and Stephen Joost likewise oppose the ballot measure.
That said, the opposition is diffuse and disconnected thus far. Will the anti-referendum rally Sunday afternoon in Hemming Park flip the script? Or will that be the last hurrah for an outmanned and outgunned opposition?