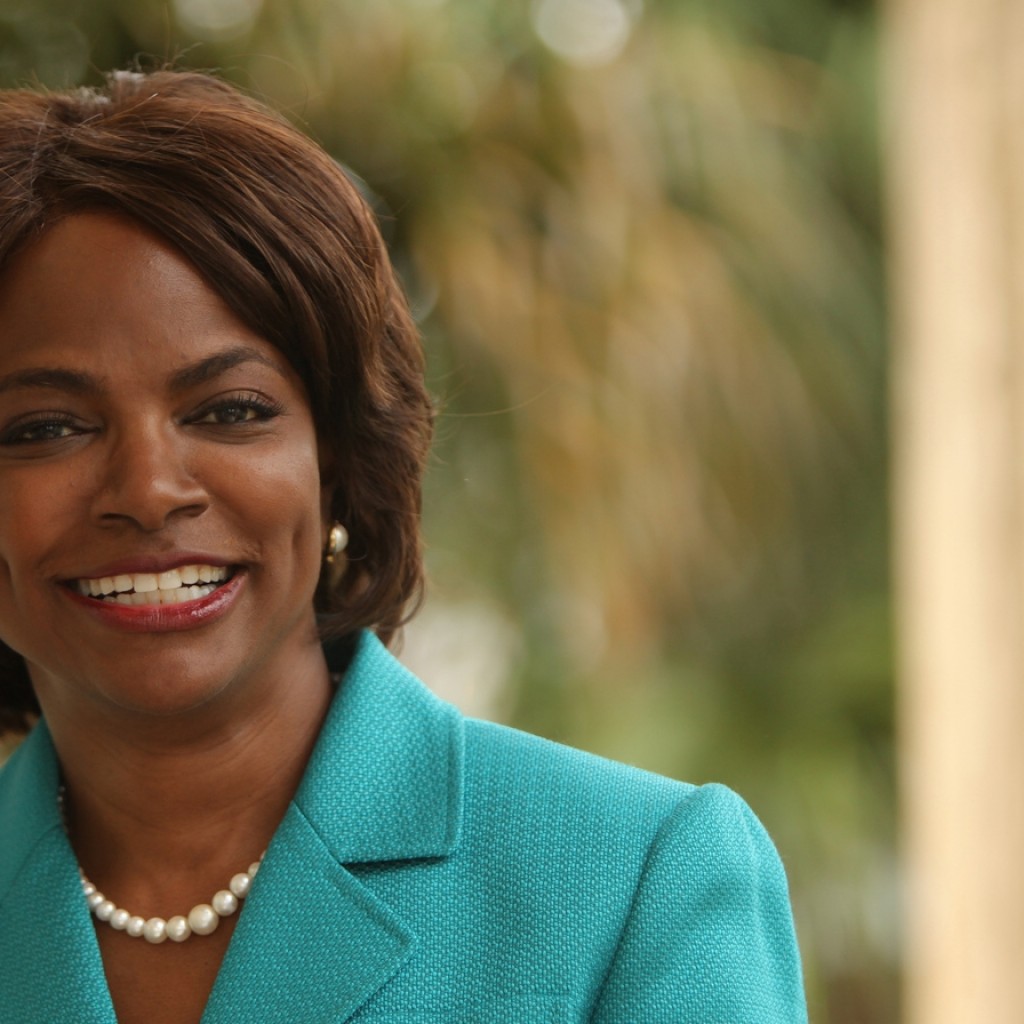 If there is vindication in politics, Val Demings is enjoying it Tuesday night, though she would never acknowledge it.
The former Orlando Police chief, dubbed years ago as the next big rising star in Central Florida Democratic politics, handily won the Democratic primary to be the nominee in Florida's 10th Congressional District.
"I am so humbled and honored to stand on this stage tonight and be one step closer to serving Central Florida in Washington," she declared at her victory party Tuesday night. "The voters have decided, and I have faith they will decide again in November, that I am the leader that they want to represent them."
In doing so, she overcame widespread disappointment and a certain amount of bitterness towards her because she had unexpectedly dropped out of the 2014 Orange County mayoral race, leaving that seat uncontested by Democrats.
And she also overcame major opposition, from the popular and almost universally respected state Sen. Geraldine Thompson, the all-but-unlimited-resourced businessman Bob Poe, and the indomitable lawyer Fatima Rita Fahmy.
It was easier than any of them might have hoped. Early voting and mail-in vote showed Demings with an almost overwhelming lead. In unofficial returns reported this evening by Orange County Supervisor of Elections, Demings drew more than 57 percent of the votes, while none of the other candidates was over 20 percent.
"We're feeling really positive about the way this race was run," Demings said. "We feel really good."
She may not have been ready to call it, but by 7:45 p.m. she already was receiving congratulatory phone calls, including one from U.S. Sen. Bill Nelson.
CD 10 was redrawn last year, transforming it from a safe Republican seat to become, for all practical purposes, a minority-access district heavily favoring Democrats.
Demings is African-American. If her almost  insurmountable early lead in the primary holds, and she goes on to defeat Republican nominee Thuy Lowe in November — all the numbers suggest she should — she'll replace U.S. Rep. Corrine Brown, whose Florida's 5th Congressional District previously represented the large black neighborhoods on Orlando's west side. At the same time, Demings would represent some of Orlando's most affluent and largely-white suburbs and neighborhoods such as Windermere, and large communities of Hispanic, Haitian, Jamaican, and Vietnamese residents.
Demings' story is nothing if not inspirational. She grew up poor in Jacksonville, the daughter of a citrus grove hand and a cleaning lady who worked and saved enough to send her to Florida State University. She joined the Orlando Police Department and rose through the ranks to become the city's first female police chief. Her tenure was known both for her push for community policing and for a steady and strong drop in crime citywide, though it was marred by several infamous police brutality incidents. Along the way she married Jerry Demings, who went on to become Orange County's sheriff, and they had three sons.
In 2011 Demings accepted the mantel of rising political star, retired from the police department, and took on Republican U.S. Rep. Dan Webster in CD 10, at a time when the district was still the Republicans to lose. They didn't, but Demings made it a close contest. In 2014 she ran for Orange County mayor, possibly the only potential candidate who might be able to defeat Republican Teresa Jacobs. But mid-spring she mysteriously dropped out. Later Demings would say she had to quit because of health issues she declined to specify. But in 2014, many in the local party angrily said she was finished in this town.
That wasn't true on the national level, however, where Demings' star remained untarnished. No sooner did she announce her candidacy for another CD 10 run a year ago than national Democratic leaders saw the chance to help bring a smart, tough, battle-tested, popular, African-American, former police chief to Congress. But as those leaders and Democratic organizations threw support her way, the long-serving Thompson, the once-chairman of the Florida Democratic Party Poe, and the feisty Fahmy cried foul. They called her Washington's pick for Orlando.
Demings, however, insisted she was Orlando's pick all along, reminding everyone of the 27 years she spent protecting the city, and her equally long commitments through Orlando churches and civic groups.
Tuesday she proved it, carrying most precincts in CD 10.