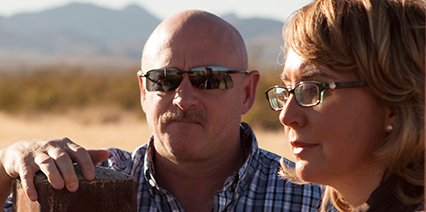 Former U.S. Rep. Gabby Giffords of Arizona and her husband former NASA astronaut Mark Kelly plan to kick off a 13-state tour in Orlando next week to push for gun law reforms.
Giffords, critically injured and nearly killed in a 2011 shooting rampage in Tuscon, Ariz., and Kelly, a retired Navy captain who was commander of the Space Shuttle Endeavor's final mission later that year, will be leading the kick-off rally of their "2016 Vocal Majority Tour" at Orlando's Dr. Phillips Center for the Performing Arts, Tuesday at 11 a.m.
The tour is sponsored by their gun reform political action committee, Americans for Responsible Solutions PAC, and Tuesday's appearance also is sponsored by Equality Florida and the Human Rights Campaign. Their bus tour is set to run 40 days and visit cities in 13 states.
In addition to Giffords, a Democrat, and Kelly, the Orlando rally will feature Human Rights Campaign President Chad Griffin and Equality Florida's Carlos Guillermo Smith, who is a Democrat running for the Florida House of Representatives in the Orlando-based House District 49.
The June 12 massacre at Orlando's popular gay nightclub Pulse, where madman Omar Mateen killed 49 people and wounded 53 others, made Orlando an obvious choice to kick off the tour. But Smith said the gun violence at issue involves far more than Pulse.
"Well, you know, Orlando has become a city plagued with gun violence," he said. "It is not just because of the recent tragedy at Pulse, but because gun violence is on the rise in our beautiful city. Folks are stepping up and combining their voices demanding change."
Through their organization, Giffords and Kelly advocate universal background checks for gun purchases; finding ways to prevent domestic abusers from purchasing guns; stronger laws against gun trafficking and "straw man" buyers of guns; strengthening the national instant background check system; and dedicated funding for research into gun violence.