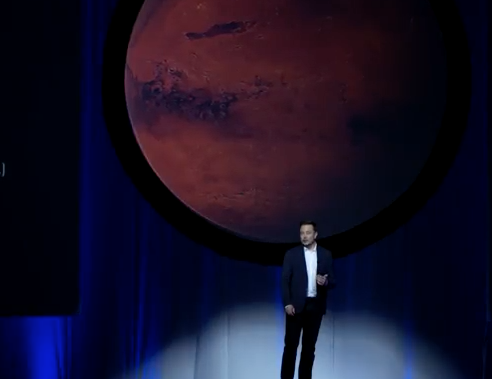 SpaceX founder Elon Musk unveiled his career dream Tuesday of launching an entire, self-sustaining human civilization to Mars, and revealed his company is designing a huge rocket and spacecraft to do so.
Musk, the PayPal billionaire who built the world's most successful 21st century rocket company, began his 45-minute address to the International Astronautical Congress meeting in Mexico and broadcast live on the internet Tuesday by expressing that the human race must become multi-planetary to assure survival. He said a million people ought to do it.
"What we really want to achieve here is to make Mars seem possible, as if it is something we can really do in our lifetime, and that you can go," Musk said.
Musk believes he can develop his Mars spaceship — dubbed by some insiders as the BFR, presumably meaning the Big Florida Rocket — within four years, and could start flights to Mars within 10 years, "if things go super well," he said.
"Good chance we won't succeed. We're going to do our best," he added.
That would be far faster than NASA's planned "Journey To Mars" program, which aims at getting the first astronaut on Mars by the mid 2030s, at the earliest. And the rocket and spaceship Musk broadly outlined with diagrams Tuesday would be far bigger and more powerful than those NASA is planning. NASA already has spent more than $20 billion and doesn't even have a rocket yet.
Musk unveiled drawings of the rocket SpaceX is working on and said they were not artists' concepts but based on his engineers' designs.
With a booster attached to a 162-foot-tall spaceship, the entire rocket would be 400 feet tall, about 35 feet taller than the Saturn V rocket or NASA's Space Launch System. The booster would have a lift-off thrust of 13,000 tons, about 3.4 times as much as the Saturn V. The spacecraft would carry 100 passengers and can carry 450 tons of cargo. He envisions everything could be reused for 12-15 missions.
"This is less about who gets there first. It's really about building a self-sustaining human civilization on Mars as quickly as possible," Musk said.
SpaceX would launch from Launch Complex 39A at Kennedy Space Center, which SpaceX has leased and rebuilt. Eventually, he said, SpaceX also would launch from the private complex his company is building in south Texas, outside Brownsville. The booster and spacecraft would probably be built at multiple sites along the Gulf of Mexico coast, and assembled at the space center, he said.
The boosters would return to a landing site SpaceX has developed at another old launch site, at Cape Canaveral Air Force Station.
The spaceship that travels to Mars would make a round trip and return to Earth. Passengers also could return.
He imagines a fleet of a thousand such spaceships eventually.
On one level, Musk's announcement and speech are a one-up on his rival internet billionaire space entrepreneur Jeff Bezos, who earlier this month announced his Blue Origin company would build what then was envisioned as the most powerful spaceship.
Musk was fuzzy about money, at one point joked that he imagines his revenue sources to include Kickstarter, along with profits SpaceX makes from launching NASA missions and private satellites with its current rocket, the Falcon 9, and its next rocket, the Falcon Heavy.
However, he made a big point about bringing costs down through reusable rockets and spaceships, in-orbit fueling and loading, building a refueling station on Mars, and picking the right fuel. Musk is focusing on a methane fuel, and already is testing his next big rocket booster engine, the Raptor.
The other factor would be opening the trip to huge numbers of people. At 12 astronauts, he said the cost would be about $10 billion per person, and no one except him would want to go. But if a million people signed up, the cost per person could be reduced to about $200,000, meaning almost anyone could go, he said.
It certainly won't be for everyone. But Musk said he expects at that price he'll find enough volunteers.
"It'll be like really fun to go. You'll have a great time," Musk said.
It wouldn't necessarily stop at Mars. Musk said that once the entire system is running, the rockets actually could go anywhere in the solar system, especially with refueling stations established in other locations such as in the asteroid belt or moons of other planets.