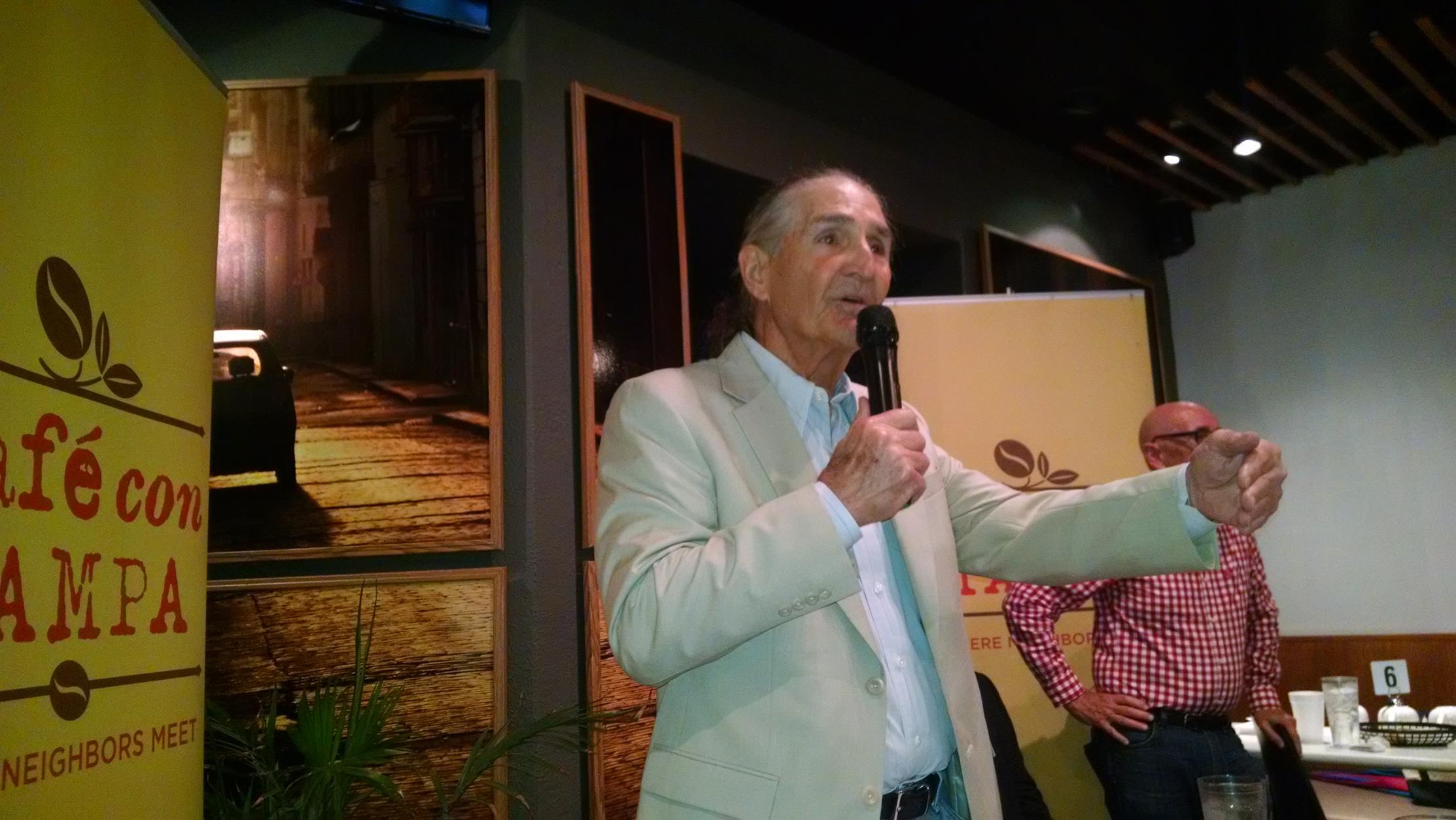 In his speech to the weekly "Cafe Con Tampa" breakfast gathering in South Tampa Friday, independent state Senate candidate Joe Redner said, if elected, he would introduce the most ambitious environmental legislation the state has ever seen.
Redner's agenda would include regulating "polluters in the dumping of toxic chemicals," as well as eliminating fracking and promoting solar and other alternative forms of energy. The iconoclastic businessman and activist offered other policy prescriptions if elected, but when asked if he would be able to change his "lone ranger" persona to bring others to his side, admitted simply, "that's the way I've always been."
"I'm not afraid to speak up. I can change some of those people," he said, referring to the other 39 Republicans and Democrats in the state Senate. "They need to be shamed that what they do is just unbelievable and nobody is getting up to them and saying, 'wait a minute, you can't do that, this is going to be the results of what you're talking about doing.'"
Among those sitting in the audience listening to Redner speak was Bob Buesing, the Democrat in the race who, in one poll, was tied with Republican Dana Young in the newly created Senate District 18 seat. More than a few observers believe Redner will pull votes away from Buesing in the election, hurting his chances of defeating Young. Buesing disagrees.
"I'm not worried," Buesing said. "My story's my story. His story's his story," adding that Redner will also take votes away from Young. That's the line other Hillsborough Democrats have been offering reporters when asked about the possibility that Redner, who has run for several other state and local offices as a Democrat, will damage Buesing's electoral chances in the fall.
Buesing calls himself "the effective candidate who can do things."
"What the voter needs to understand about Joe is that there are 40 state senators, and you need to get 21 to get a bill passed," he said. "Joe Redner saying, 'I want to do X' doesn't mean anything unless he can persuade 20 more state senators to join him. The lone ranger comment is right on."
Redner is angry about the direction that the GOP-led Legislature has taken Florida over the past decade, and he took aim specifically at Young in his speech. "I have a problem just sitting idly by and watching people like my opponent Dana Young destroy our tourism industry by destroying the environment," he said at one point.
Redner said he's been an activist his whole life. "They say you can't fight city hall and win, but I did, over and over again," he said, referring to his fights with the City of Tampa regarding his adult entertainment clubs on First Amendment issues, or when he sued the Hillsborough County Commission when they enacted a ban on gay pride events.
"Some of you will only see me as an adult business owner," he said."That happens all the time and that's OK with me. And let me tell you something; I don't lie, I don't cheat, and I don't steal, I treat people with respect that deserve it."
Redner is a multimillionaire who has ran a multitude of successful businesses outside of his world famous Mons Venus adult club on Dale Mabry Highway, and he contrasted his business reputation with that of Donald J. Trump.
"I never cheated an employee or a vendor out of money or anything," he said. "You can be a successful business owner and not be a liar, a cheat, or a thief. You can also be a business person who cares deeply for the environment and your fellow human beings."
Redner said, if elected, he would call for the state to raise the minimum wage to $15 an hour (something Democrats have been unsuccessful in promoting over the last two sessions). He said he pays his lowest-paid employee at Not Your Average Joe's Pizza, his pizza parlor, $13 an hour.
"To do that, I have to raise my prices," he said. "If everybody had to pay $15 an hour, it'd be a level playing field."
Buesing says he supports raising the minimum wage "incrementally" to $10 an hour from the current $8.05. He says it should then go to $12, and ultimately $15 an hour, though he did not lay out how many years that would take.
Redner had plenty to criticize when it comes to public education, again taking aim at his Republican opponent.
"Dana has been in the House for six years micromanaging education," he said. "She's been complaining about what they could have fixed anytime in those six years. We pay hundreds of millions of dollars for … companies with ties to the administration to grade tests we don't need. She knows what's wrong, she's not going to fix the problem, but she knows people that want them fixed so she pays lip service around election time. Look at her record — in six years she hasn't done anything to fix education. This is Florida; we don't have working air conditioners in our schools. They are falling apart, but we get plenty of private schools built!"
Redner was asked by Hunter Chamberlain (who lost to Janet Cruz in the HD 58 special election in 2010) if he supported charter schools, and would he be willing to buck the teacher's unions to provide more competition?
"We don't need competition in the public schools, we need to teach students!" Redner barked back. "Competition is out of the business world," he said, calling that "nuts."
"Dana Young is not concerned with the bickering from her opponents, she has focused her time meeting voters and doing what she has done best — working hard for the residents of Tampa," responded Young campaign spokesperson Sarah Bascom. "Mr. Redner and Mr. Buesing are simply echoing hollow talking points written by people who don't understand what is important to Tampa Bay families."