The First Coast Relief Fund has half a million dollars to start, but the smart money says that it will have much more than that in the end.
The fund begins with $500,000 in seed money from the Jessie Ball duPont Fund, and is a collaboration between the United Way of Northeast Florida, the United Way of St. Johns County, the Community Foundation for Northeast Florida, and the Jewish Federation of Jacksonville.
The duPont Fund will kick off the fund with a $250,000 gift, and then match up to another $250,000 … a number which almost certainly will be achieved sooner than later as the community's donor class join together to move the recovery along, at the urging of Mayor Lenny Curry.
The fund will make grants to nonprofits helping those impacted by the hurricane in Baker, Clay, Duval, Nassau, Putnam, and St. Johns counties, filling in the gaps left by governmental programs.
Those interested in contributing can text "STORM" to 50503. All contributions will go to the relief effort; any surplus money will go to maintain a permanent relief fund.
Meanwhile, nonprofits can apply for funding; forms are available at bit.ly/flfirstcoastrelief.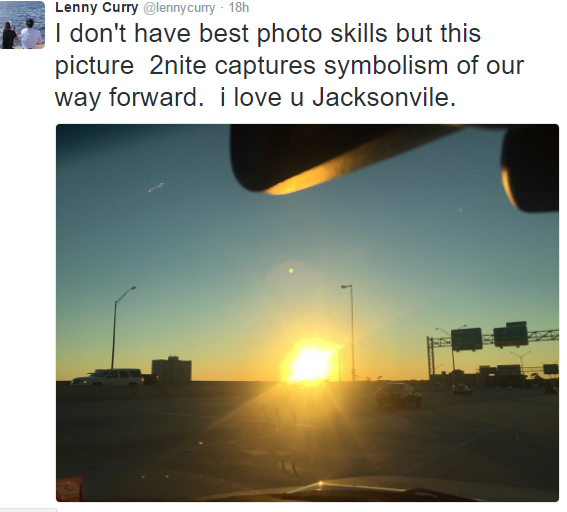 ****
The kickoff event was held at the American Red Cross in Jacksonville Monday afternoon, where a full-bore relief effort is being launched to help those in 17 counties served by the Northeast Chapter of the Red Cross.
Available: water, ice, ready-to-eat meals, and flood cleanup kits, with hundreds of volunteers working.
All that — and more — is needed for regional recovery.
Mayor Curry, in his remarks, spoke of the aftereffects of the "once-in-a-century storm," including power outages, damaged homes, downed trees, and economic impacts for people in this city who "struggle every single day" even when not recovering from a storm, people who struggle with choices between paying their light bill and buying groceries.
Curry, despite the destruction, finds hope in the people of Jacksonville: "the most caring, giving people I've met and come to know anywhere."
"Jacksonville," said the mayor, "is a resilient city full of resilient people."
And Curry noted an image that stuck with him; a counterpoint to the "days of stress and fear," days which prayer and divine providence carried him — and the city — through.
"Last night, coming across the Acosta," Curry said, he'd taken what he called an "unprofessional" picture of the sun.
"The sun really spoke to me about what the future will hold for us," the mayor said.