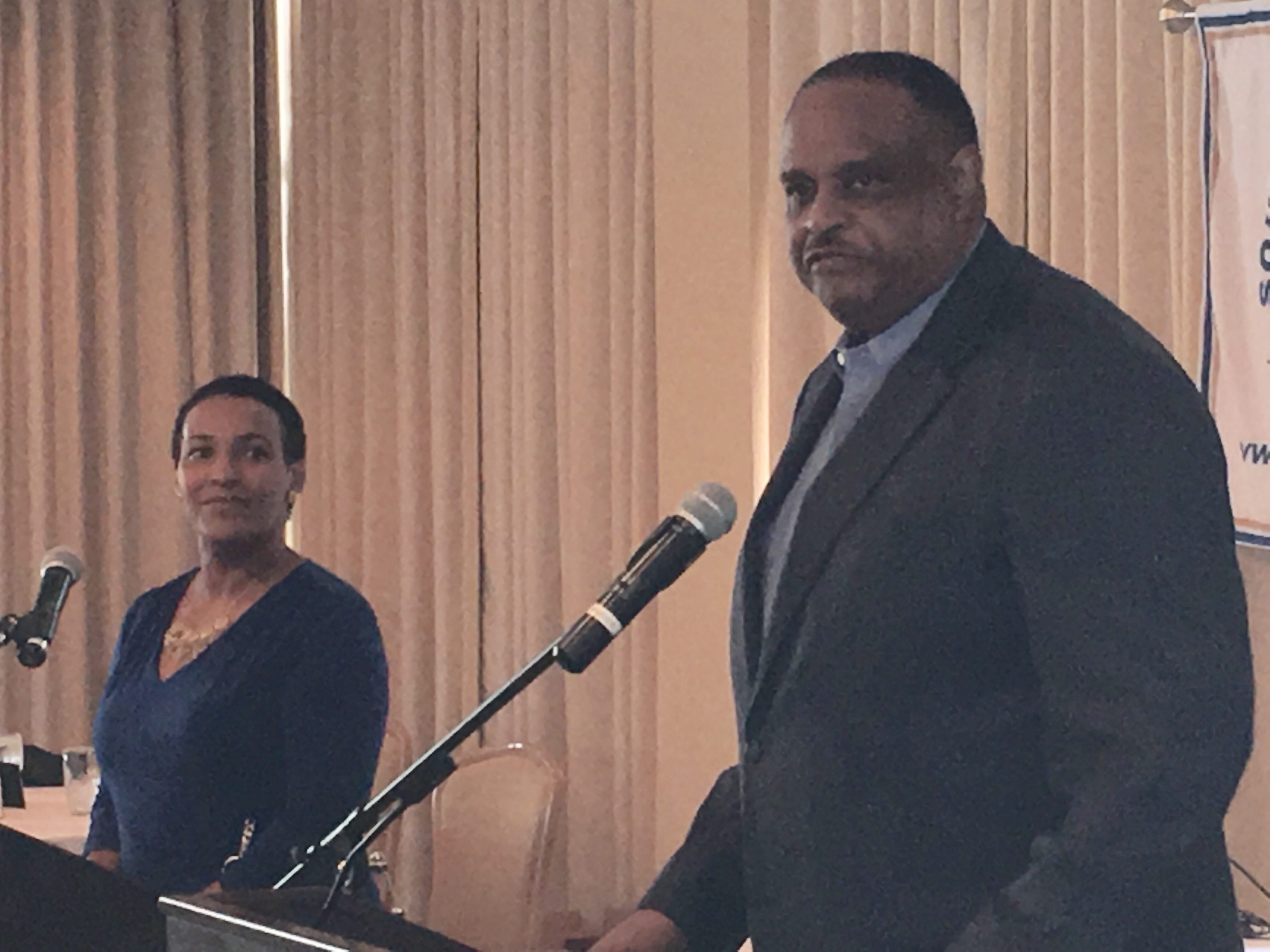 There is a marked difference between the primary and the General Election in Jacksonville's 2016 congressional races.
While there were debates and forums galore before both the Republican primary in Florida's 4th Congressional District and the Democratic primary in Florida's 5th Congressional District, there has been nothing of the sort since the nominees were decided.
One minor corrective to that occurred Wednesday in Jacksonville, during an un-televised debate between CD 5 Republican Glo Smith and Democrat Al Lawson at Jacksonville's heavily Republican Southside Business Men's Club.
Both Smith and Lawson faced issues coming into the debate. Smith has not been a particularly energetic fundraiser. Lawson, though he won the primary, has yet to get real buy-in from Jacksonville Democrats.
That said, Lawson is known among those Jacksonville residents who are familiar with Tallahassee. Rep. Charles McBurney, who was at the debate, has known of Lawson for years.
Of course, McBurney is a Republican.
Fireworks were not expected going in. Even when Smith and Lawson were aiming at Corrine Brown, who lost the primary to Lawson, the two stuck to issues and "clean" campaigning.
However, the debate heated up quickly enough. In doing so, it revealed serious policy deficiencies among both candidates, which augur poorly for either of them going to Washington and hitting the ground running.
****
The debate didn't draw media interest, aside from someone from Baker County filming the event.
Perhaps that was because of a general feeling that the race was decided in August. Perhaps hurricane coverage sapped the resources of local media outlets.
Smith and Lawson led off with anodyne opening statements, then outlined policy priorities.
For Smith, job creation, military affairs, and education topped the list; for Lawson, jobs, education, and the environment.
Lawson noted there is a "revolution" against the "gridlock in this country," which theoretically can lead to more resources being brought to the local level.
****
The debate continued.
Smith got applause when hitting Veterans Affairs, saying there shouldn't have had to be a bill to force the beleaguered department to do its job.
Lawson, mindful of speaking to Republicans, extolled his own ability to "work across party lines," one honed in the Legislature over the decades.
"If you're not willing to break away from your caucuses and so forth to work with other members," Lawson said, "you're not going to do very much."
****
International trade was next, as promised before the debate by moderator Rick Mullaney.
Lawson was asked about the TPP and free trade.
"Yes, I do support free trade," Lawson said, noting Jacksonville is "in competition with Charlotte" for port traffic, which caused observers who have seen a map of the United States to shake their heads.
Lawson believes it "imperative" to expand Jacksonville's port system.
Lawson also wants to expand "our fleet system," so that a potential Pearl Harbor bombing attack would be avoided.
Lawson supports TPP; Smith wants "an agreement that's fair to Americans," with "trade barriers" to make a "fair playing field."
Right now, Smith would vote against it, but "I would vote in favor of it, if it is fair," she said.
****
Regarding dredging, Lawson favors it, despite the "little bit of a problem" the St. Johns Riverkeeper may have with it.
"It's going to bring literally thousands of jobs to the community if we're able to do the dredging," Lawson said of the estimated $700 million project.
Smith also supports deepening JAXPORT, saying it will give Jacksonville an "opportunity to compete."
Smith also believes a "partnership with private industries" will help fund the port.
There may have been sighs in the audience on that one.
****
Military spending came up next.
Smith wants increased spending, as Jacksonville is positioned for a "terror attack."
"China, Iran, Japan … they're equipping their people," Smith said, adding that "our equipment we know is not up to standard."
"Funding has to be increased," Smith said, and that can come at the expense of "some agencies we have to do without," such as the IRS and the Department of Education.
Lawson was more cautious.
"The first thing you want to do is review those spendings we've been doing and seeing if it's appropriate."
"We still have the strongest military in the world," Lawson added.
"I don't have the experience to tell you I would make those cuts," Lawson continued. "It's easy to say [you'd] cut education and cut the IRS, but it doesn't work that way."
Lawson believes the military is as strong as it was eight years ago. The crowd gasped, and Smith demagogued.
"I truly believe that we will not be the best if we don't fund our military," Smith said. "Funding needs to be available."
Lawson stood his ground, saying the U.S. still has the strongest military in the world.
"Even when you're doing a household budget, you have to review your spending and where it's appropriate," Lawson said.
****
Entitlement reform was the next topic.
Lawson intends to "fight hard to keep Social Security where it is," because a lot of people lack retirement plans.
There are, he added, many programs that should be reviewed.
Smith contended "Social Security is in trouble … we have to reform Social Security" and "other programs," she said.
"How come we're spending money to figure out how many times a mouse can run around a wheel? … There are a lot of programs that need to be cut," Smith said, adding that the burden of paying for these programs will be shifted to the young.
However, Smith does not support cuts for current recipients, leaving the question of who takes the hit if it's not the current recipients.
Privatizing Social Security may be an option.
Regarding Medicare, Smith believes Medicare and Medicaid expansion need review, given that "70 percent" of the budget goes to these programs, she said.
Lawson countered that "you can't just say I'm going to cut this and cut that."
There needs to be "review," Lawson said, and Smith's position comes from "inexperience."
Smith contended "we know what Obamacare has done to our country" and "we have reviewed ourselves to death."
Smith then contended that Lawson is a "career politician."
****
The debt crisis was next.
Smith believes "we need to look at the national debt" and that the U.S. should have a budget and operate within it.
"We have to balance our budget, we have to live within our means, and that does not include a $1 trillion gift to yourself," Smith said.
When asked for specific debt-reduction policies, Smith's solution was "not spending."
She wouldn't cut the military, but "there are a lot of programs that need to be cut," including a "10 percent cut to all agencies."
Lawson addressed the cost of debt service by recommending evaluation of programs, saying that $5 to $10 billion savings could be affected in the budget.
Lawson couldn't name a specific program he wanted cut; Smith said that's a consequence of Lawson being a "career politician."
Moderator Mullaney, exasperated, noted neither candidate offered solutions that would dent the $20 trillion debt.
That elicited a fusillade of generalities from Smith, who somehow pivoted to "refugees" and "immigration."
Lawson, when asked about "structural changes," didn't do much better.
"Jacksonville, Duval has been coming to the federal government asking for $700, $800 million … when you start cutting it, you're not going to get what you need."
Lawson and Smith began cross-talking, with Lawson attempting to continue.
"I'm not trying to cut across you, so I don't think you should cut across me."
****
The debate pivoted toward taxes, with audience members talking over Lawson as he attempted to make points about Donald Trump's history of tax avoidance.
From there, the topic moved to The Wall.
Lawson does not favor a wall, saying it's "absurd" given that "people will continue to come" to America.
"It's just political rhetoric," Lawson said.
Smith said "building a wall will just be a start," though she doesn't know who will pay for it.
"It's more than building a wall. We are a country of immigrants … what we have to do is look at immigration reform," Smith said.
"You can't do a background check on someone who's undocumented," Smith said, adding that she doesn't support amnesty.
"I wish I could say I have the answer," Smith added.
****
The discussion moved to Black Lives Matter.
Smith asserts that "black lives do matter," and "the movement matters," and "they believe that black people have been victimized and oppressed: that is the reality."
"I also will tell you that all lives matter," Smith said.
Lawson was more direct, calling BLM a "great movement," a response to young people getting killed.
"It's not a hate group, a terrorist group," he said. "It's a group of your sons and daughters, my sons and daughters" devoted to ensuring that kids aren't "targeted just because they're black."
****
Jacksonville politicians, Republicans and Democrats alike, relied on Corrine Brown's ability to negotiate solutions for Northeast Florida in D.C.
She's out of office in January, and staring down indictments.
And Congressional District 5 residents?
Staring down a drop-off in representation.