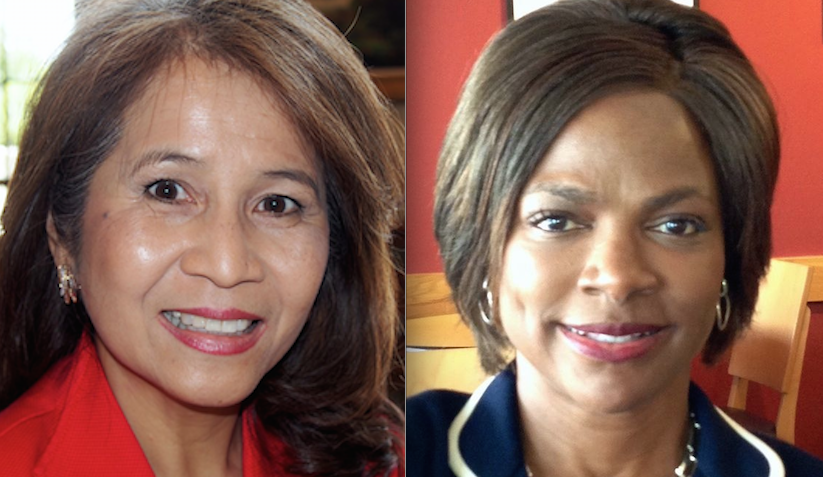 Polling done for and released Friday by Democrat Val Demings' congressional campaign shows she has a 38-point lead over Republican nominee Thuy Lowe in Florida's 10th Congressional District.
The poll, done by Democratic pollster Global Strategy Group in early October, shows Demings with 59 percent of the vote in the west Orlando district and Lowe with 21 percent, according to Demings' campaign. The poll was taken among 400 likely voters with a margin of error of 4.9 percent.
The poll also shows her crushing Lowe in three demographics Demings' campaign considers key: up by 69 points among Democrats, 83 points among black voters, and 41 percent among women.
Demings, a retired Orlando police chief, is African-American. Lowe, a retired businesswoman, is Vietnamese-American.
"After an overwhelming primary victory in a crowded field of contestants, Chief Val Demings is well positioned to turn Florida's 10th Congressional District from red to blue on Nov. 8," her campaign stated in the release. "Recent polling, fundraising, and endorsements show Chief Demings is on track to be elected the next congresswoman to represent Florida's 10th Congressional District."
The deck has been stacked against Lowe since redistricting flipped the district last December from having a voter base that leaned Republican to one that is strongly Democratic. It also takes in much of Orlando's historic African-American communities in west Orlando and west Orange County.
Demings also reported her campaign raised $475,000 in the third quarter of 2016, including $325,000 since the Aug. 10 report. The Federal Election Commission has not yet posted reports from the third quarter so it is not yet clear how much cash she has on hand, or how much Lowe might have. Demings had $165,000 on hand in the last report Aug. 10. Lowe had only $2,000.
The polling Demings' campaign is highlighting Friday indicates she may have few weaknesses among CD 10 voters. Demings' name recognition was over 70 percent, while Lowe's was under 10 percent. In the survey, 66 percent of the voters said they believe Demings "gets things done," 62 percent called her honest, and 61 percent called her trustworthy. The campaign did not release similar numbers for Lowe.