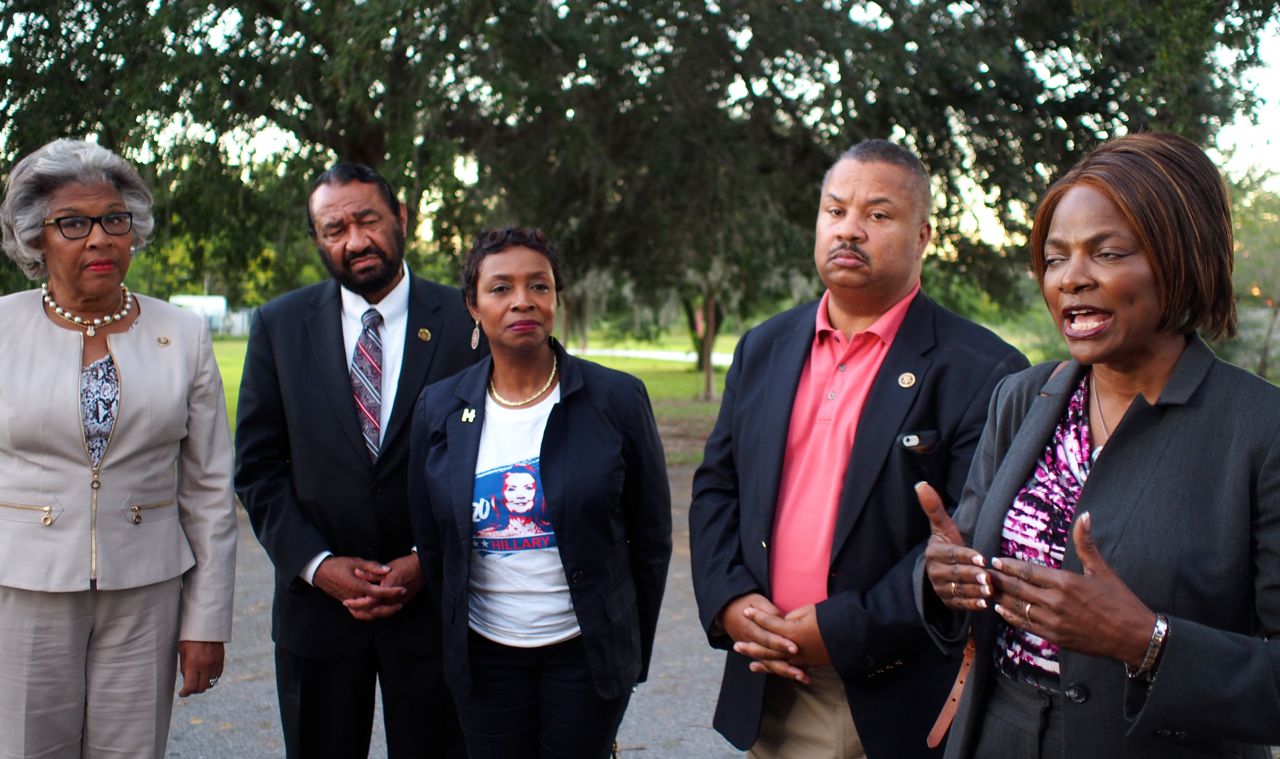 Four members of the U.S. Congressional Black Caucus joined Val Demings Thursday night, seeking to give her a boost in Florida's 10th Congressional District race and to encourage more people to vote in Eatonville, Florida's oldest historically black town.
"We're here for the chief," U.S. Rep. Al Green, a Texas Democrat, said of Demings, a retired Orlando police chief. "I think she's capable, confident and qualified. And I believe the people of this district, the 10th District, will benefit greatly from her experience and her willingness to step out and speak truth to power. She has that kind of personality."
He and three other members of Congress from Ohio, New Jersey, and New York joined Demings Thursday night for various events, including a town hall meeting at the Denton Johnson Community Center in Eatonville, a northern suburb of Orlando. They were there to foster support and votes for Democratic presidential nominee Hillary Clinton, but also for Demings.
"We're going to speak to as many folks as we can, door-to-door, all of the activities, town hall meetings like the one we're having today," U.S. Rep. Joyce Beatty, an Ohio Democrat, said.
Demings, who won the Democratic primary in August, faces Republican nominee Thuy Lowe in the CD 10 race for western Orange County and parts of north Orange County, including Eatonville.
"It's that important that we're not in our districts campaigning right now, that we're all in Florida," said U.S. Rep. Donald Payne, a New Jersey Democrat. "We're all on the ballot, every person here, but we're here to let people know we're supporting Chief Demings, to get the vote out. Florida is going to be very crucial in the election, so we feel as incumbents we need to come down here to support the candidates that will be helpful."
Demings has a commanding lead according to a poll her campaign commissioned earlier this month, but she said she is not easing up. Thus, the four members of the black caucus, including U.S. Rep. Yvette Clarke, a New York Democrat who is first vice chair of the caucus.
"I think the people in our communities today understand how critical it is to vote. They understand that the next president of the United States will make decisions that will directly impact their lives. And while craziness is going on at the top of the ticket, from the other guy, people get it," Demings said. "So we are trying to drive as many people to the polls as we can."
Voter turnout is a larger concern this year than in the past two presidential elections, in which President Barack Obama was able to energize the Democratic base, especially in black communities like Eatonville and many other communities in CD 10.
"This year's electoral process has been a bit more draining of the electorate," Clarke said. "So it's important that we encourage folks to come out and vote. There's been a lot of negative campaigning that has really impacted, but we want to make sure the turnout is as high as it can possibly be."