Florida Insurance Commissioner David Altmaier was just about to tuck into his salad during the opening day luncheon at his office's biannual industry conference when a reporter approached with a question:
Had he heard that state Sen. Anitere Flores was agitating to make his job elective again?
No, he hadn't. But he took the news remarkably well.
"The process we have now works very well," Altmaier said. "If there's people who want to explore doing it differently, I'm certainly open to it."
Flores cited "discontent" with the Office of Insurance Regulation, which Altmaier was appointed to lead. Especially in light of recent premium increases approved by the office.
"Voted into the position during a statewide general election, the commissioner would not only serve as a fair supervisor of the insurance business, they would advocate for the protection of consumers, and closely regulate industry practices," she said.
Over the last year, GOP lawmakers have unsuccessfully pushed to return other officers to elected positions from appointed, including education commissioner and secretary of state. As with the state's insurance commissioner, those positions became appointed following the 1997-98 Constitution Revision Commission.
The Florida Cabinet shrank from six members to three: the Attorney General, Chief Financial Officer, and Agriculture Commissioner. It merged the Cabinet offices of Treasurer and Comptroller into a then-new CFO.
Together, the Governor and Cabinet sit as a variety of state regulatory bodies, including the one that oversees the insurance office.
Flores said she would make the insurance commissioner elected through a statutory change.
As for Altmaier, "I'm just committed to carrying out my responsibilities as they exist today," he said. "If they happen to change down the road, we'll certainly give some thought to what that might mean."
Coming up, the usual assortment of tidbits, leftovers and not-ready-for-prime-time moments by Jenna Buzzacco-Foerster, Michael Moline, Jim Rosica, and Peter Schorsch.
Now, the "Takeaway 5" — the Top 5 stories from the week that was:
Early voters — Presidential candidates and their top surrogates paraded through the Sunshine State this week to encourage Floridians to vote early. Donald Trump spent three days in Florida, including a stop in Tallahassee that brought out thousands of supporters. Hillary Clinton took part in a two-day swing, and dispatched some of her top surrogates — including President Barack Obama and Tim Kaine — to campaign on her behalf. The pleas to vote early appear to be working. As of Friday morning, more than 2.8 million Floridians voted by mail or in person.
Big deal — Gov. Rick Scott and the Cabinet OK'd the purchase of more than 11,000 acres along the St. Marks River. The land deal, according to POLITICO Florida, is the largest state land buy in more than a decade. The purchase is expected to protect about 10 miles of riverfront around two of the state's largest springs — Horn Spring and Natural Bridge Spring — and eight other springs, and allows the state to expand its Natural Bridge Battlefield State Historical Park. Environmentalists said they were excited by the state's decision to buy the land.
Backing out — University of Florida officials announced this week they weren't moving forward with a plan to take over operations at Sanford Burnham in Orlando. The Orlando Sentinel reported the university was backing out, in part, because it didn't receive support from key stakeholders. Sanford Burnham received about $350 million in state, city, county, and other incentives, and House Speaker Designate Richard Corcoran said he plans to hold the organization accountable for failing to create jobs.
Unconstitutional caps — A second appeals court now has declared unconstitutional the state law limiting the amount of money awarded for pain and suffering when medical malpractice results in injury. The 2nd District Court of Appeal in Lakeland this week joined the 4th District's opinion regarding caps on what are known as "noneconomic damages." The Florida Supreme Court still is reviewing that opinion. The state limited noneconomic damages from death or injury to $500,000 per plaintiff, and no more than $1 million from all defendants in a single lawsuit.
Zika concerns — The nation's top infectious disease expert encouraged public health officials to "invest in public health" during a stop in South Florida this week. According to the Miami Herald, Tom Frieden, the director of the Centers for Disease Control and Prevention, said Zika has been "difficult to predict" and health officials will "see parts of the hemisphere where it will be endemic. It will come back every year." There have been 1,093 reported cases of Zika across the state, including 181 locally acquired cases.
—
It's time to get prescription drug costs under control.
That was the message the Campaign for Sustainable Rx Pricing sent during a round-table discussion in Tallahassee this week. The event featured a cross section of health care providers, including the Florida Association of Health Plans, Wal-Mart Stores Inc., Elder Care Services in Tallahassee, and Tallahassee Memorial Health Care
The coalition hopes the Legislature will force drug companies to publish price lists.
"Transparency in drug pricing – I think that's the key," said coalition representative Christina Johnson.
The group also would like to see the state negotiating prices for Medicaid patients. Paul Sanford, the legislative counsel for the Florida Insurance Council, said he thinks lawmakers will be receptive to price negotiations.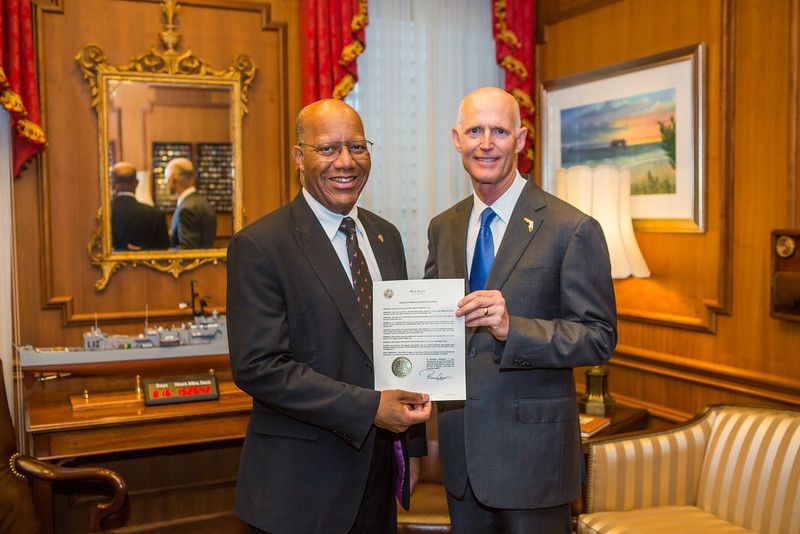 Make sure to celebrate a pharmacist in your life this month.
Gov. Scott signed a proclamation declaring October "American Pharmacists Month," recognizing the more than 300,000 pharmacists in Florida who play a critical role in the state's health care system.
"It is important that all users of prescription and nonprescription medications, their families or caregivers, be knowledgeable about and share responsibilities for their own drug therapy," wrote Scott in his proclamation. "Pharmacists have extensive education expertise on drugs and medication therapy, which makes them ideally suited to work collaboratively with patients and their health care team members to improve medication use and outcomes."
The goal of American Pharmacists Month, according to the national organization, is to promote the profession.
—
Congratulations, Sen. Lizbeth Benacquisto!
The Fort Myers Republican was named one of Gulfshore Life Magazine's 2016 Men & Women of the Year. The annual recognition honors Southwest Floridians who serve their community with distinction.
The magazine highlighted several of Benacquisto's accomplishments, including the passage of a 2013 law that required insurance companies to cover oral chemotherapy drugs and legislation to help clear the backlog of untested rape kits.
"When I look back on the things we've accomplished in the last couple of years, I know that we have made lives better, and we have done things that have affected people on a personal level, in a day-to-day way," she told the magazine.
—
The Florida Department of Law Enforcement wants Floridians to remember: If you see something, say something.
State officials announced this week they were expanding their "see something, say something" program, launching an online tool kit with resources like educational videos and flyers. The Department of Law Enforcement is also developing partnerships to broaden the campaign's reach.
"The tragic terrorist attack that happened at the Pulse nightclub in Orlando reminded Floridians and people around the world that terrorism can happen anywhere and affects everyone. I am proud to partner with FDLE to educate students across Florida on how to recognize and report suspicious activity," said Attorney General Pam Bondi in a statement. "We must all work together to stop terrorists before they have an opportunity to take the lives of innocent people."
—
One remarkable thing about Donald Trump's visit to Florida's capital Tuesday night was how many people were locked out.
And this is a town that absorbs 80,000 football fans or more every Saturday night during the fall.
Hundreds of Trump supporters found themselves milling outside the gates to the Tallahassee Automobile Museum while Trump made America great again inside. Holding a ticket didn't help.
"We got here at 1 and people were already here," Leon County Sheriff's Deputy Jessica Ikner said as she monitored a gate.
Trump had been scheduled to go on at 6 p.m., but many people were caught in miles of bumper-to-bumper traffic along approach routes. The gates had closed at 5:20. Trump had arrived after 6. His motorcade left at around 7:20.
"They've got hundreds of acres of land, and they're not letting anybody in," Trump fan Mike DeFeudis of Tallahassee said. "I talked to a sheriff's deputy and he said they can only control so many people."
—
Florida's health insurance providers would love to have a peek at their competitors' rates more than two weeks in advance of open enrollment under the Affordable Care Act. Unfortunately, their own behavior stands in the way.
The federal government released information about the plans that'll be available to individual consumers during 2017 just recently, in advance of open enrollment beginning Nov. 1.
During a breakout session during the Florida Office of Insurance Regulation's biannual industry conference in Tallahassee this week, several people asked whether the office could provide the information earlier.
The answer, according to officials, is that it's largely up to the insurers.
"Every carrier submitted their rates as a trade secret this year. We are not capable of releasing that information without their prior consent," said Eric Johnson, director for life and health product review in the department. "We would have to get buy-in from the entire market — essentially, get every carrier to agree that the trade-secrets rates they submitted by a date certain are available to the public, so that the whole market would have those available to them."
—
Office of Insurance Regulation staff spent a lot of time urging one thing of participants in the biannual industry conference: Get your forms right.
Insurers file rate proposals through a web portal for review by department staff. Unfortunately, they don't always follow directions.
"Sometimes, it's the big companies that try to do one generic filing for all the states, and they forget to add the Florida-specific mandatory provisions," said Betty Jo Pate, deputy director for forms in the life and health program.
"It's manageable," she said. "I wish we could say every filing that comes in is perfect. But most of the time they require at least one change letter."
She insisted: "I don't have any companies that I just cringe when their filings come in."
—
There's a hefty green energy element to Florida Power & Light's proposed $811 million electric rate increase, now before the Public Service Commission.
The power company would be allowed to expand an experiment with battery technology, itself absorbing $115 million in development costs.
"We think it makes sense to get ahead of the curve and understand what value can accrue to the system by deploying batteries," Bob Barrett, vice president for finance for FPL, said during a special hearing on Thursday.
FPL could bring up to 1,200 megawatts of solar generation capacity online during its four-year term.
Barrett argued that would be a good deal. "We continue to see, from a customer's perspective, good downward pressure on (solar) panel prices," he said. The PSC is expected to vote on the deal on Nov. 29.
—
Six school districts are can now eat local.
Agriculture Commissioner Adam Putnam announced six districts received Farm to School grants, which will be used to increase the amount of locally grown products served to children.
"By connecting Florida schools with local farmers, we are able to teach students where their food comes from while providing them with the nutrition they need for academic success," said Putnam in a statement. "These school districts have gone above and beyond to further grow Florida's Farm to School program."
The department awarded $75,000 grants to Orange, Osceola, and Sarasota counties. Alachua and Marion counties received $50,000 grants, while Hendry county received a $25,000 grant.
—
Floridians trust their local leaders more than their state or federal leaders.
A new USF-Nielsen Sunshine State Survey found 36 percent of Floridians said they trusted their local leaders "most of the time" or "almost always." That far exceeds the positive trust rankings of state and federal leaders, according to the survey.
The survey found 25 percent of Floridians said they trust their state leaders "most of the time" or "almost always;" while 19 percent felt that way about federal leaders.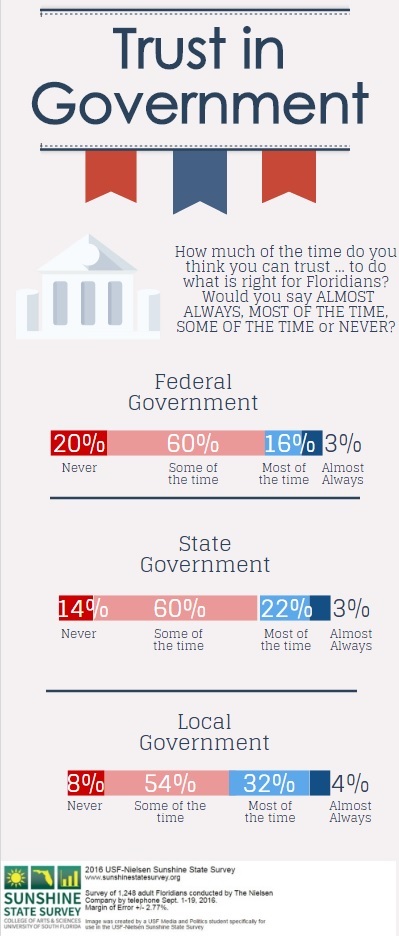 Federal leaders fared the worst in the poll, with 80 percent of Floridians saying they trust federal lawmakers either "some of the time" (60 percent) or "never" (20 percent). Females, Hispanics, and low-income households are the most trusting of their federal leaders, while males, whites, and affluent households are the most untrusting.
When it comes to state government, 60 percent of Floridians say they trust their state leaders "some of the time," while 14 percent said they "never" trust state leaders. State officials get the highest trust ratings from females, part-time workers, and the unemployed.
Trust in local government leaders is highest among residents North Florida, Naples, and Orlando. Residents in Miami-Fort Lauderdale trust their local officials the least.
—
Call it the Purple Heart Trail.
Ag Commissioner Putnam sponsored a resolution to designate a Purple Heart Trail within the Withlacoochee State Forest.
"More than 1.7 million men and women in the U.S. Armed Forces have been wounded or died defending our freedom, and this Purple Heart Trail designation is one small way we can continue to honor these heroes," said Putnam in a statement.
Created in 1992, the Military Order of the Purple Heart's Purple Heart Trail Program is a symbolic and honorary system of transportation routes and monuments that honor Purple Heart recipients.
The resolution received unanimous support from Gov. Scott and the Cabinet.
—
Gov. Scott and the Florida Cabinet took a minute to recognize veterans this week.
Scott and the Cabinet approved a resolution recognizing Nov. 11 as Veterans Day. The governor also awarded 33 veterans in Tallahassee with the Governor's Veterans Service Award for service to Florida and their nation.
"We must never forget our veterans and their families, through whose selfless service and sacrifice, we enjoy the liberty our nation is known for," said Glenn Sutphin, executive director of the Florida Department of Veterans' Affairs, said in a statement. "Honoring our veterans with a Governor's Veterans Service Award is one of many ways the State of Florida thanks our veterans."
—
Give these six hurricane heroes a round of applause.
Gov. Scott presented six Florida Fish and Wildlife Conservation Commission officers with the Medal of Heroism for their bravery and service in assisting families in Hernando County during Hurricane Hermine.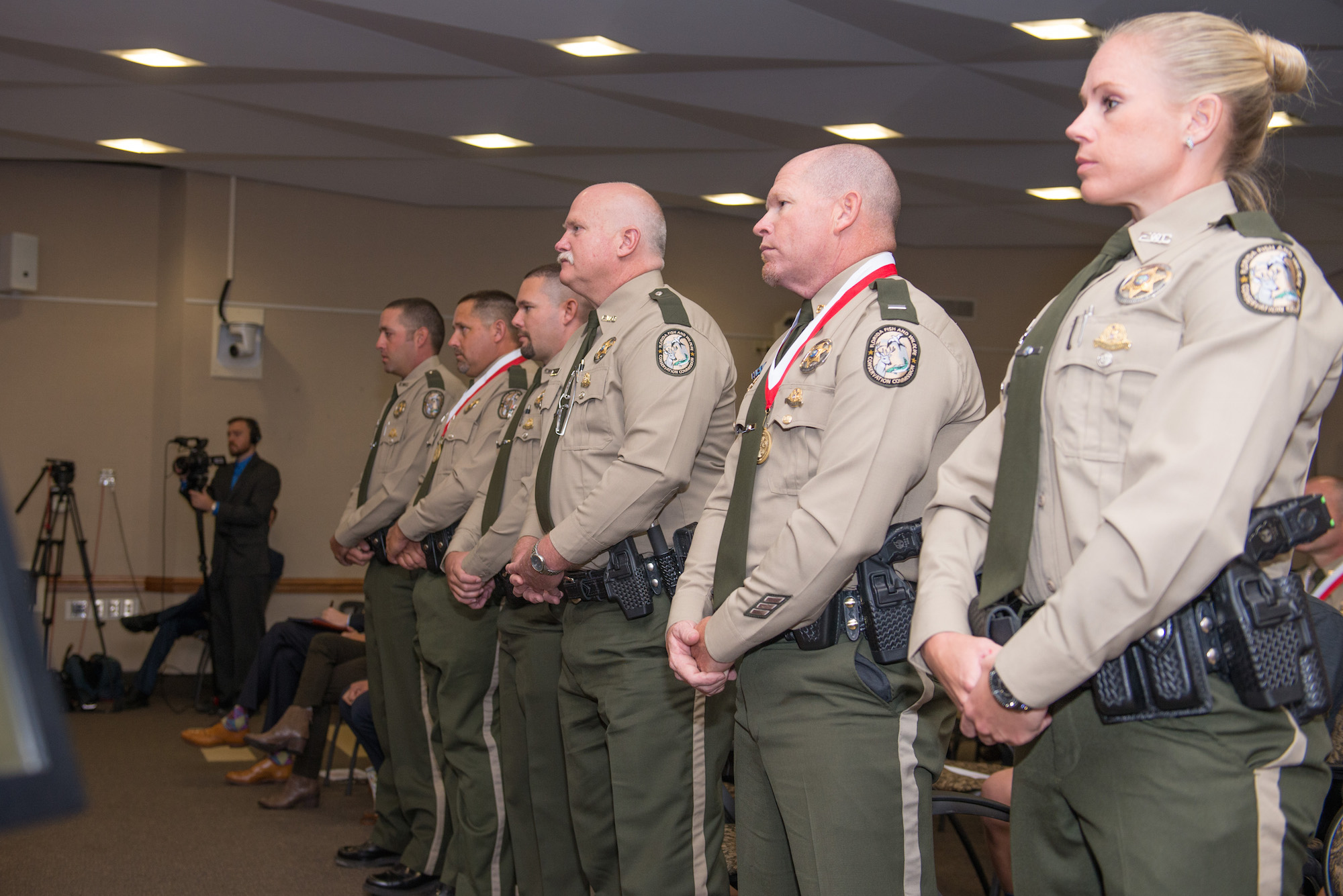 "These six FWC officers are some of the many heroes who did not hesitate to put their own lives at risk in order to assist families affected by the dangerous flooding caused by this storm, and I am honored to recognize them with the Medal of Heroism today," said Scott in a statement. "While it is always important to have a plan in place and be prepared for any storm, we know our many first responders stand ready to keep our families safe and protected."
Scott presented the award to Lt. Kevin Grover, and Officers Robyn Bergwerff, Dave Spradlin, Dan Fagan, Scott Peterson, and Justin Henry. All six helped conduct search and rescue missions, responding to many requests for assistance and evacuations.
—
Speaking of awards: Gov. Scott awarded Maxwell Ervanian with the Volunteer Florida Champion of Service Award during the Florida Cabinet meeting this week.
Ervanian, a 21-year-old student at the University of North Florida, has spent the past 10 years working in his community through service and leadership. At 11, he organized a program to feed Christmas dinner to 150 homeless people in Jacksonville Beach. He currently volunteers for several organizations, including Habitat for Humanity, Best Buddies, and the I.M. Sulzbacher Center for the Homeless.
"It is an honor to recognize Max for his continued leadership and community service in Jacksonville," said Volunteer Florida CEO Chester Spellman in a statement. "We are grateful for the countless hours he has spent helping children, families, and those with unique abilities in the Jacksonville community. We are proud of his innovative spirit!"
Scott also presented Nick O'Donnell with the Young Entrepreneur Award. O'Donnell is the founder and owner of Terraform Design, which utilizes 3D computer-aided software, algorithmic modeling, and laser-cutting equipment to create furniture, light fixtures and carved structures.
"I am incredibly happy to be recognized with the Governor's Young Entrepreneur Award," said O'Donnell in a statement. "Since graduating from FSU's College of Business in 2015, I have worked hard to make Terraform Design into a successful business within the newly emerging field of digital fabrication. I am honored to receive this prestigious award from Gov. Scott."
—
Take a bow, teachers.
Gov. Scott and the Cabinet approved a resolution during this week's Cabinet meeting honoring Florida's 2016 Teachers of the Year. The resolution also honored teachers across the state for their hard work and dedication to Florida students.

"Florida's Teachers of the Year exemplify the great talent found in classrooms throughout the state," said Education Commissioner Pam Stewart. "I am grateful to Gov. Scott for supporting our educators, who are tasked with ensuring all students are successful and prepared for college, career, and life."
—
There's more to Cabinet meetings that awards.
During the meeting this week, Gov. Scott and the Cabinet unanimously approved preservation of more than 3,000 acres of environmentally sensitive agriculture land in Polk and Okeechobee counties. The purchase is part of the Rural and Family Lands Protection Program, which partners with Florida farmers and ranchers to preserve active agriculture operations.
"Florida's farmers and ranchers are our state's original conservationists, and partnering with them through conservation easements is the most cost-effective way to preserve these invaluable pieces of our rural economy and environment for future generations," said Agriculture Commissioner Putnam.
Since 2011, 23 projects totaling 21,758 acres have been acquired by the current governor and Cabinet, a more than 500 percent increase in acres preserved by the program.
—
The Florida Department of Health is getting a little help in the fight against Zika.
The Pfizer Foundation awarded the state health department with a grant for $1 million to support its efforts in responding to the Zika virus. According to the state agency, 100 percent of the funds will be used for Zika.
"A challenge like Zika requires every organization to bring forward their resources and expertise to manage health risks that exist for people in affected areas of the country," said Sally Susman, executive vice president, corporate affairs for Pfizer Inc. "We welcome the opportunity to partner with the Florida Department of Health and healthcare professionals in the state to address today's health needs while work continues to identify longer-term solutions."
Grant funds will be used to assist ongoing investigations, education efforts, supplies and response to resident and visitor concerns. The state health agency is using part of the funds to purchase additional lab equipment and supplies, as well as to purchase Zika prevention kits to distribute in Miami-Dade County.
—
KLX Aerospace is expanding.
Gov. Scott announced this week that KLX Aerospace Solutions Group is expanding its new global headquarters and distribution hub between Miami-Dade and Broward counties. The company's committed to adding more than 100 employees because of the expansion.
"KLX Aerospace Solution's expansion is great news for Miami-Dade and Broward families," said Scott in a statement. "Florida businesses like KLX Aerospace are incredible job creators in our state and we will continue to do all we can to cut taxes and reduce regulations to help businesses create more opportunities for Floridians. I look forward to KLX's continued success in Florida."
KLX Aerospace Solutions is one of the leading distributor and service providers of aerospace fasteners and consumables. The company currently employs more than 650 Floridians.
—
There's a new partnership in Florida.
Senate President Andy Gardiner helped launch the Florida Unique Abilities partnership during a stop in Orlando this week. The initiative is meant to encourage business across the state and country to hire more people with disabilities.
"Businesses can lead by example," said Gardiner. "Every agency that wants to will have to send a report on what they intend to do to hire those with disabilities. That gives us the ability to promote Florida as the best place to live, work, and play."
In order to qualify as a partner program, businesses must employ at least one Florida resident with a disability for nine months before applying, provide financial or in-kind contributions to programs that serve people with unique abilities, or contribute to establish a program that helps people with disabilities achieve independence.
"It's a good start," said Gardiner. "It's about recognition and hopefully recruiting more business partners to help this population of need and get a dialogue started."
—
Erik Kirk is taking his talents to PoolMcKinley.
The government and business consulting firm announced Kirk was joining the firm's government relations team.
"Through his broad range of experience, Erik has gained the respect of all those he has worked with through the years, whether they be his colleagues or his clients. He is well-known for delivering an unmatched level of service and providing in-depth insight to clients seeking expanded relationships with Florida government," said Will McKinley in a statement. "We are excited to have Erik join our team and look forward to him bringing the same level of service and results to our clients."
Kirk, a lifelong Floridian and the son of former Florida Gov. Claude Kirk Jr., grew up in politics and began his government relations career early. While still in college, he was assistant to former Supreme Court Justice Wade Hopping and in subsequent years at the Republican Party of Florida. He founded his own company, Kirk Consulting Group, in 2003, specializing in agency operations.
"I look forward to working with the team at PooleMcKinley and continuing the high measure of service to our clients," said Kirk. "Our goal will be to provide them with the best counsel year-round and chiefly during what is turning out to be a very busy 2017 legislative Session."
—
More than half of Florida voters think Gov. Scott is doing a heck of a job.
"We have been polling Gov. Rick Scott since he was first elected and his job approval is at an all-time high," said Marian Johnson, the senior vice president of political strategy at the Florida Chamber of Commerce. "Florida voters can see that Gov. Scott has continued to deliver on his job creation promises and has displayed strong leadership during Florida's times of crisis."
According to a Florida Chamber poll, 54 percent of Florida voters approve of the job Scott is doing as governor. About 58 percent of independent voters approve of Scott's job, while 83 percent of Republicans approve of Scott's performance.
The poll says 47 percent of Floridians have a favorable opinion of Scott, while 40 percent have an unfavorable opinion.
—
The most dangerous highway in the nation is right here in Florida.
According to an analysis from EverQuote, Interstate 4 is the deadliest interstate in the country. There have been 1.41 fatalities per mile in the past six years, making it the most dangerous interstate in the United States. The highway, according to the report, has been on the Top 10 list for the past six years.
WTSP reported two other Florida highways — Interstates 10 and 95 — were also on the 2016 Top 10 list.
The analysis uses information from the National Highway Traffic Safety Administration's fatality analysis report system from 2010 through 2015.
—
There's a few more jobs at AreoMod International.
Gov. Scott announced this week the aircraft maintenance, modification, and repair company is expanding in Melbourne, creating 100 new jobs. The company relocated to the Orlando Melbourne International Airport from Detroit earlier this year.
"AeroMod International took many things into consideration before moving our headquarters to Orlando Melbourne International Airport. One of the prime considerations was the proactive attitude and respect for aviation exemplified by Florida Gov. Rick Scott," said Gary Girard, president of AreoMod International. "He epitomizes the forward-thinking and commitment needed to grow aviation jobs in this community.  We're honored to be able to thank him in person today."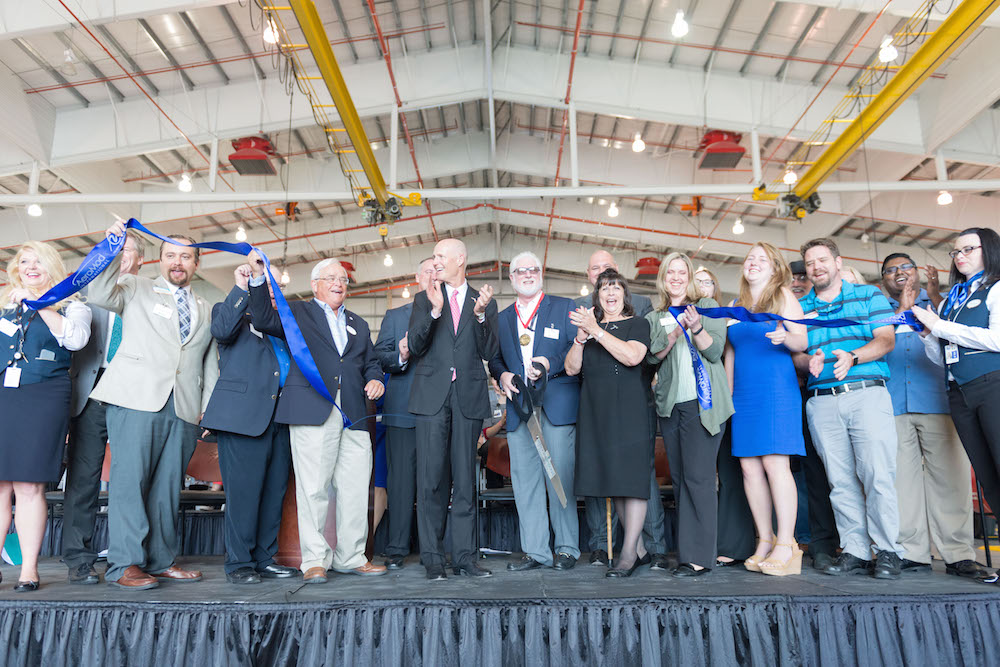 Scott joined the Orlando Melbourne International Airport and AeroMod for a ribbon cutting of the new 83,000-square-foot hangar that houses the company's headquarters. The state invested $6.7 million for the hangar and will provide an additional $5 million to help the airport construct a second hangar.
"Florida's transportation and infrastructure is among the best in the nation, and we have made record investments in this system in order to continue to attract more job creators and families," said Scott in a statement. "Today's incredible jobs win shows how important it is to do all we can to make our state more competitive so more companies like AeroMod will choose to invest in Florida."
—
Get ready to see more superheroes than princesses at your doorstep this Halloween.
Spending on Halloween costumes is expected to reach $3.1 billion this year, according to the National Retail Federation. And for the first time in 11 years, princess costumes fall to the No. 2 spot.
The 2016 Halloween Consumer Top Costumes Survey, conducted by Prosper Insights & Analytics, found the No. 1 children's costume this year are action or superhero costumes. Animals — cats, dogs, lions, and monkeys — are in the Nov. 3 spot, followed by Batman characters.
Millennials heading to costume parties this weekend will also be decked out as Batman characters this weekend. Witches earned the No. 2 spot, while animals — cats, dogs, and bunnies — are in the No. 3 spot.
And when it comes to pets, pumpkins, hot dogs, and bumble bees round out the Top 3 costumes for our furry friends.
—
Tampa residents, beware: Your odds of surviving a zombie apocalypse are not good.
According to a "totally practical and 100 percent feasible study" by CareerBuilder, Tampa ranks in the bottom three major metropolitan areas when it comes to winning the battle against the living dead.
Released just in time for Halloween, cities are scored on a variety of different factors, including the ability to contain a virus, find a cure, and the ability to outlast the epidemic with an ample food supply.
Tampa ranked No. 52 out of 53 major metropolitan areas. New York City is at greatest risk for joining "team zombie," according to the report. Boston residents have the best odds of staying alive when zombies attack.
But don't get too cocky, Miami and Orlando. Your chances aren't so hot either — Orlando ranks No. 21 on the list, while Miami is ranked No. 49.
One more thing to have on your zombie-hunting radar: 36 percent of workers said if they were a zombie, they'd feast on their coworkers.
—
Here's this week's edition of Capitol Directions: