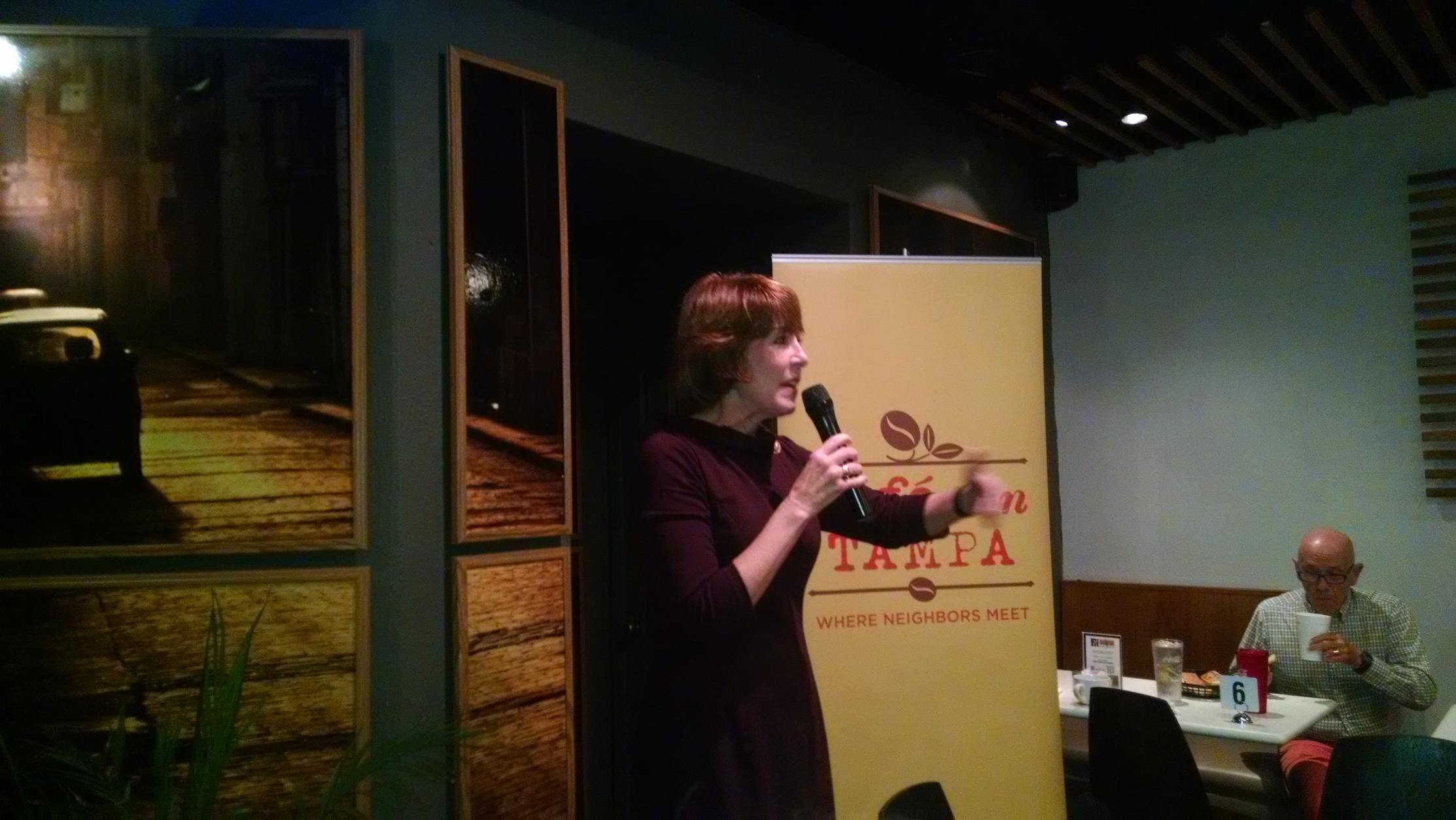 Emphasizing her centrist political persona while addressing a packed restaurant in South Tampa Friday morning, Gwen Graham said her potential candidacy for governor of Florida in 2018 would be a "transcending of the politics" that currently exists today.
"I have heard from so many people who say 'you're exactly what the state of Florida needs,'" Graham said at the weekly "Cafe Con Tampa" lecture series at Hugo's Restaurant in Hyde Park. "I will commit to running the type of gubernatorial campaign that will excite the state of Florida from one end to the other, and if I run … I will run a 67-county strategy."
The Democratic U.S. representative from Tallahassee announced months ago she would strongly consider a run for the governor's mansion in 2018, after redistricting the already Republican-leaning district would have made it a virtual impossibility for her to earn a second term in 2016. Her appearance Friday before dozens of mostly Democrats in the state's third-largest city seemed to be an important one for Graham, who spoke with her mother, Adele, sitting next to her (to her surprise), while her father Bob Graham was speaking live on MSNBC's "Morning Joe" on the television monitors above her for part of her speech.
For the uninitiated, Bob Graham is perhaps the single most-popular Democrat living in the state of Florida. The soon to be 80-year-old former Florida governor and U.S. senator is still extremely active, making media appearances this week across the nation on behalf of a new edition of his book, "America: The Owner's Manual" (co-written with Chris Hand). His reputation and legacy have redounded onto his 53-year-old daughter, Gwen, who never ran for political office until two years ago. While looking up at her father on the television, Graham herself brought up the issue of running on her father's coattails, and embraced the notion.
"You know what, y'all? Those are the best damn coattails in the whole wide world," she said, as the crowd heartily cheered. She added she was "honored" to have her father as a role model growing up to see what a true public servant could be.
Graham's short record in office shows she is a centrist. She boasted about how she overcame the odds against her in 2014 when she ran in one of the most conservative congressional districts of not only the state, she says, but the country, in defeating the Republican incumbent, Steve Southerland, 51 percent to 49 percent.
In that campaign, Graham vowed to oppose Nancy Pelosi for the party leadership's top slot in the House, where she ended up after being elected in early 2015. She repeatedly emphasized in her 45-minute appearance how she would in fact, transcend politics-as-usual if she were to become the first Democrat elected governor in two decades.
"I think the state desperately needs someone who is willing to reach across to anyone for good ideas," she stressed. "I don't believe this is a Republican question, or a Democratic question or an independent question. It's a question for Floridians. What do we want our next governor to focus on? How can we make the lives of Floridians better?"
That centrist persona doesn't mean that she doesn't understand politics, however. She's been relentless over the past six weeks in pestering the Rick Scott administration and the Florida Department of Environmental Protection into making more information public about what the DEP knew and when did they knew it when it came to the massive sinkhole that opened up in late August at a Mosaic phosphate processing plant near the Hillsborough/Polk County line. It was originally reported as being 300 feet deep — but in fact, may be larger.
 Graham said she was "horrified" by what happened at Mosaic, calling it an environmental, human health and, ultimately, a "transparency catastrophe."
On growth management issues, she said she would bring back the Department of Community Affairs, abolished by Scott during his first year in office. "We're booming" she said of the state's growth, adding developers and environmental advocates need not be at odds.
Like many Democrats in Florida, Graham is strongly opposed to the utility-backed solar power initiative known as Amendment 1 on this year's ballot. She said the amendment as written is a "manipulation of the voters in Florida," and "flat-out deception," before adding that it's up to the voters to read up on amendments that could end up in the state's constitution.
Regarding economic development, Graham is in the Richard Corcoran camp when it comes to opposing economic incentives Gov. Scott prefers. "I think it's about growing Florida from within, not bribing people to come in from without," she said.
In responding to questions from the crowd, Graham said she supports the automatic restoration of voting rights for ex-felons, said if the opportunity ever comes around for money for high-speed rail from the feds that she would take it, and that she would take a "hard look" at the Tampa Bay Express project if neighborhood groups remain virulently opposed to it.
As to when she will make an official decision about running for governor, Graham predicted it would be sooner rather than later, but will not be on Nov. 9, the day after the general election. That's when Bob Graham turns 80, and she said she didn't want any distractions on that day.
Though "Cafe Con Tampa" co-organizer Bill Carlson made it sound like the general election contest had already been decided when he said his group had hosted Graham and previously Agriculture Commissioner Adam Putnam (who addressed the same group a couple of months ago), there are plenty of both Republicans and Democrats in the state who aren't ready to accept that conventional wisdom.
Other Republicans who could explore a run include the aforementioned Corcoran, former House Speaker Will Weatherford, and CFO Jeff Atwater. Other Democrats in the mix include state Sen. Jeremy Ring, Tampa Mayor Bob Buckhorn, Fort Lauderdale Mayor Jack Seiler, and Miami Beach Mayor Philip Levine.