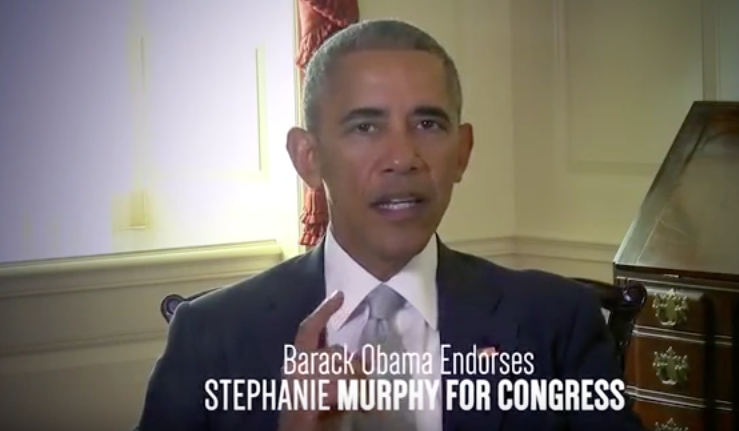 President Barack Obama's remarkable turnaround in popularity may make him the go-to endorsement for Democrats this year and congressional candidate Stephanie Murphy is grabbing his blessing for a new TV commercial debuting in Florida's 7th Congressional District.
"To change Washington, we need a new approach. That's why we need Stephanie Murphy. Her story could only happen in America," Obama opens the 30-second commercial.
He then describes her history, beginning with her family's flight from communist Vietnam when she was a baby, and how she worked her way up to becoming a national security analyst in the U.S. Department of Defense, and now a Democrat running for Congress from Winter Park. That story is accompanied by many of the same pictures used in Murphy's introductory TV commercial in the Orlando market: a boat full of Vietnamese refugees rescued by a ship; a family photo, with Stephanie in her mother's arm, accompanied by a newspaper article of the family's arrival; Stephanie studying; Stephanie working at the Pentagon.
Murphy is taking on 12-term Republican incumbent U.S. Rep. John Mica, also of Winter Park, in a district that covers Seminole County and much of north-central and northeast Orange County.
Obama announced his endorsement of her last week, along with a handful of other Democratic congressional candidates throughout the country, including Orlando's Val Demings, who is running in neighboring Florida's 10th Congressional District against Republican Thuy Lowe [herself a Vietnamese refugee who fled with her family when she was very young.]
Two years ago, Obama was largely absent from congressional races, as his popularity was at its lowest. Today polls find him far more popular than either of the presidential candidates, Democrat Hillary Clinton or Republican Donald Trump.
"She'll tackle the toughest problems head on," Obama concludes. "Please join me in supporting Stephanie Murphy for Congress."