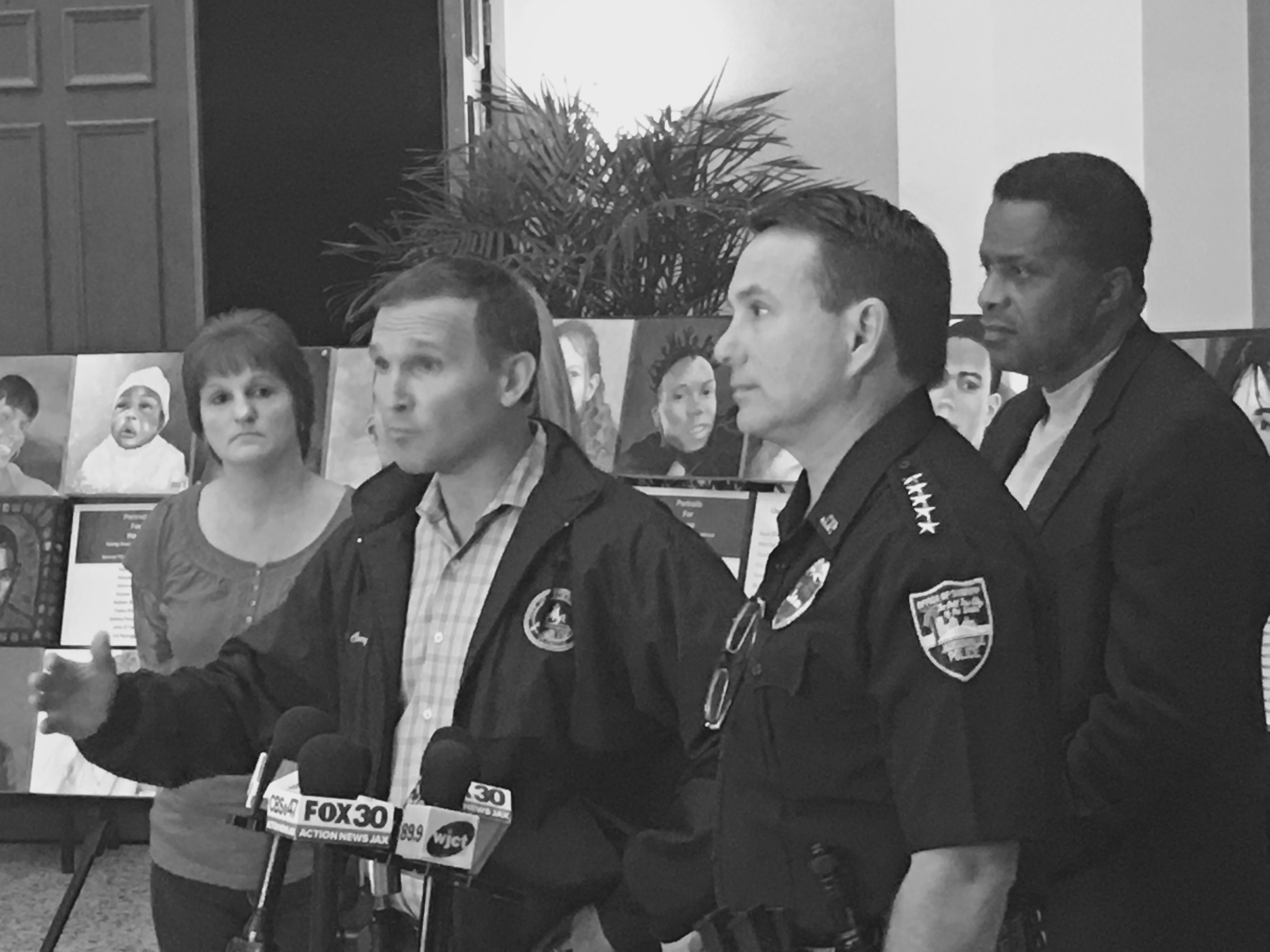 Jacksonville's epidemic of gun violence in 2016 (106 homicides thus far) has been bookended in 2016 by the deaths of two of the youngest, most innocent victims imaginable.
In January on Jacksonville's Eastside, 22-month-old Aiden McClendon was gunned down as the toddler sat in a car with relatives.
Another car drove by, and bullets sprayed the car the child was in, as well as a house.
Little Aiden was the only one hit, and died soon after. Lenny Curry, who couldn't hide his raw emotion in talking about the scene, has said that was the toughest thing he had to deal with thus far as Jacksonville mayor.
Now, incredibly, there is even a younger victim of violent crime for the city to mourn: Tedashi Williams, an 11-month-old baby shot near a hotbed of violent crime — the Cleveland Arms apartments — Sunday night.
Two adult victims, including the baby's mother, also were killed in the shooting. Two more were wounded. But the killing of a child under the age of one was what made this murder, in one of the most violent neighborhoods in the city, go from local to national news.
On Monday afternoon, Mayor Curry, Sheriff Mike Williams, and district Councilman Reggie Brown came together to discuss Jacksonville's youngest homicide victim this year — a crime that shocked the collective conscience, and raised other questions as well.
Curry referred to the act of "senseless violence," describing an "11-month-old who was killed at a time when there were a bunch of other shootings."
"I'm mad as hell," Curry said, and "this has to stop."
To that end, Curry cited the crime-prevention and crime-fighting techniques that have been part of his public safety platform: added and improved equipment, additional manpower, and the Jacksonville Journey.
"We are going to fight this together," Curry said.
Curry was asked about this wave of weekend violence in the light of other heinous acts in the last week, including the placement of "whites-only" and "colored" signs over water fountains at a local high school, and a whiteboard at the University of North Florida filled with hateful graffiti and a slogan: "make America white again."
Curry said that "what you describe is not the city I lead," before pivoting back to the discussion of gun violence and a "police force decimated from previous budgets."
"The point today," said the mayor, is "this is not acceptable."
"I go to bed thinking about this, I wake up thinking about this, I'm not going to stop until justice is served in the city," Curry said.
When asked about the murder of Tedashi Williams in the context of the murder of Aiden McClendon earlier this year, Curry noted he's "remained in the neighborhoods before the election [and] since the election."
"There is no overnight solution," Curry added, "but I'm not going away."
"When you have a child shot and killed," Curry said, that "wakes the community up."
"We are dealing with these issues every single day," Curry added.
"When this happened," Curry continues, "there were other shootings happening in the city … and the night before, and the night before that."
****
Sheriff Williams said "the goal today is to bring justice to this case … peace back to these communities."
That, said the sheriff, has been a "struggle for many years."
A major part of the struggle: "gun violence," which Williams said has "always been a top concern," especially "illegal guns" and guns possessed by those who shouldn't have them because of their "criminal history."
While the investigation is ongoing, and Williams wouldn't confirm or deny whether this was the result of a shootout, the sheriff noted the shooting "seems to be [the result of] an insignificant issue."
Williams, in law enforcement since 1991, has noticed a "drastic shift" in the usage of guns, which seems to have become more casual.
"Years ago," Williams said, "what might have been a fight in the alley" is now resolved by a bullet from a gun.
Law enforcement, the sheriff added, cannot stop this by themselves.
"Today is not the day to wave a flag and declare victory," Sheriff Williams continued.
Left unstated: that day isn't coming in the near-term future.
****
Councilman Reggie Brown, in whose district the infant was murdered, noted that a solution has to involve developing more personal responsibility, to "decide as a community that this will not be tolerated."
"It's going to take all of us," Brown said, to ensure "people initiating these crimes" are compelled to change their mindset.
Brown's insights on the mike were an extension of what he said to FloridaPolitics.com before the presser.
Before the news conference, Councilman Brown noted that while he believes "community policing" is a means to quell the violence, "self-policing" and "personal responsibility" also are essential.
"Here we are again," the second-term Democrat from Northwest Jacksonville said. "Unfortunately for an 11-month-old victim, a life has been taken.
"We don't know what he could have become," Brown said.
As Councilman Brown said that, a child by the elevators behind him screamed, a happy yell from a happy kid with years and decades ahead of her.
Tedashi Williams will never know that feeling.
Rest in peace, little one.