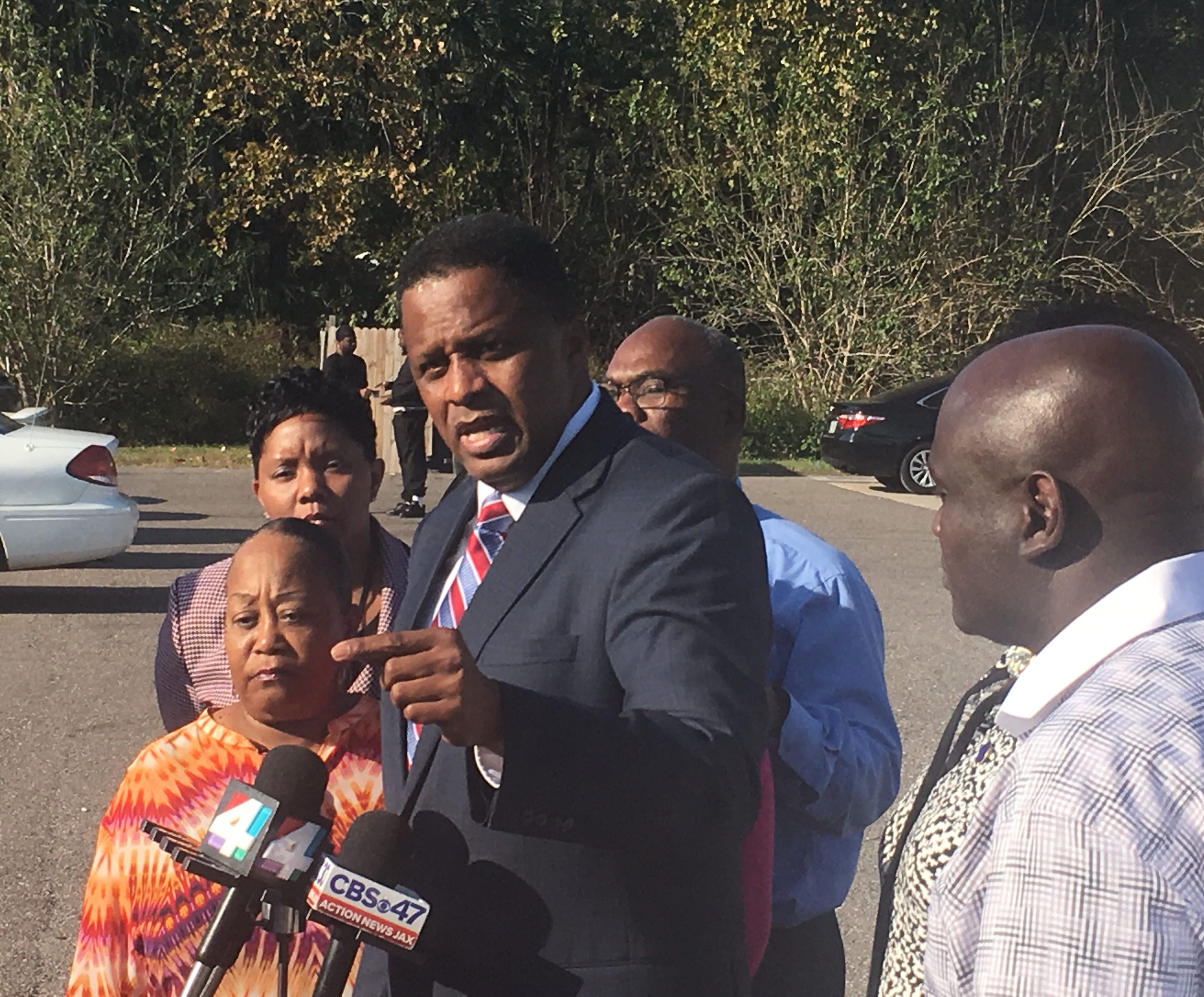 At a press availability Tuesday afternoon across the street from the Cleveland Arms apartment complex, a group of Jacksonville City Council members united to declare that enough is enough when it comes to gun violence.
To that end, they are proposing solutions to an epidemic that has seen multiple people shot — most in Northwest Jacksonville — in recent days.
One such solution advanced by Council members Katrina Brown and Reggie Gaffney: having "ambassadors" as "boots on the ground" in each of the four districts (7, 8, 9, and 10) that see the most violence.
The idea, said Gaffney, is "door-to-door outreach … talking to the community" to "find the core issues that matter to the community."
"Hiring more cops," said Gaffney, "isn't going to solve the problem."
Rather, he said, "bringing more leaders together" to "start the dialogue" can help stem the blood tide that has become a daily spoke in the news cycle in Jacksonville lately.
Councilman Reggie Brown, whose district is seeing the most murders in the current wave, addressed media, noting that his colleagues — many of whom represent other areas of town — came together "as a council … even though crime took place in District 10."
The most recent crime that shocked the city's collective consciousness was the Sunday night murder of an infant and two women, shot dead in the street at a food store across from the Cleveland Arms apartment complex.
Councilman Brown spoke with urgency against the "notion that we as a community should not snitch," saying people should be the "eyes and ears of the community."
Brown noted that while the mayor and the sheriff have dedicated resources, "we have to take responsibility for our actions."
While technology — such as SpotShotter — will be deployed in high crime areas, Councilman Brown had questions for other public officials.
"Ask the sheriff why guns are so easily accessible," Brown said about illegal firearms, adding that guns can be gotten as cheaply as $100.
Beyond those policy prescriptions, Councilman Brown sought to provide moral guidance, saying things like "violence is not appropriate behavior" on multiple occasions.
Flanked by council members, including the aforementioned, as well as Tommy Hazouri, Joyce Morgan, and Scott Wilson, Councilman Brown noted that "we have 100 percent support on council."
Councilman Hazouri noted the issue of gun violence "goes beyond Cleveland Arms," extending throughout Jacksonville.
Council members, of course, stand in opposition to gun violence.
But these shootings, happening in the most aggressively policed part of the city, at the tail end of the tenure of a state attorney who spent eight years as an active agent of incarceration, suggest that current policy isn't getting it done.
More police officers are added with each budget cycle. More resources go to the sheriff's office.
And yet, in these areas that are most aggressively policed, these areas that have been decimated by mass incarceration for going on three decades, and Jim Crow long before that — this is where life is the cheapest.
We asked Councilman Brown if there needs to be a more holistic look at criminal justice.
His answer was interesting.
"There's so much more we can do as individuals," Brown said.
"All those problems [are not] justification," Brown said, though they are "contributing factors."
"None of us are oblivious. We understand Jim Crow, understand history," Brown added.
As council leadership discussions will crop up sooner than later, with the first active campaigning to begin in January, it will be interesting to see how these issues — gun violence and quality of life disparities around town — will manifest themselves in those discussions.
Will concerned council members use the latest wave of violence as a catalyst toward meaningful, substantive reform?
Or will all of this fade once whatever is causing the current spate of murders abates?