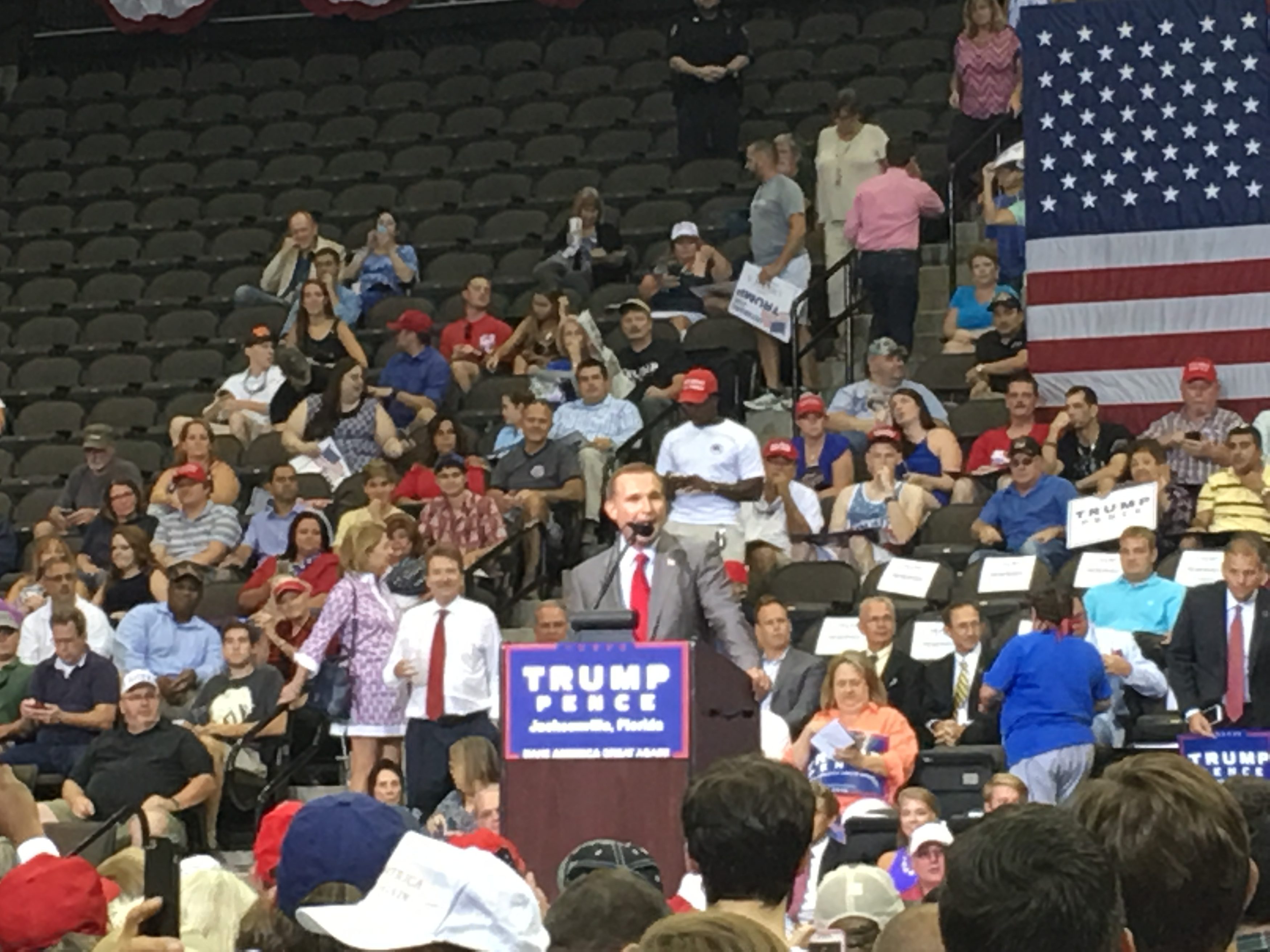 Jacksonville Mayor Lenny Curry broke recent protocol on his Twitter account with a couple of enthusiastic Tweets about President-elect Donald Trump.
The Tweets, issued on Friday evening upon the mayor's return from the city's annual bond rating trip, speak to an alignment the Jacksonville mayor has had with Trump going back years.
"President elect [email protected] using football metaphor- that's music to my ears," Curry Tweeted at 8:03 p.m.
"@realDonaldTrump talking tax cuts-   That's a focus on hard working folks & famiiies. Mentioning the forgotten man and forgotten woman," Curry Tweeted at 8:15 p.m.
Curry hosted a Jacksonville rally for Trump in August during his push for the pension reform referendum, though he conspicuously avoided serving up "Lock her up" styled red meat, preferring instead to introduce the speakers in a low-key manner.
Many pundits, including this writer, predicted that Curry co-branding with Trump was going to hurt the pension-tax push.
However, it had the opposite effect, according to polling conducted at the time of the referendum.
Curry's Trumpian co-brand helped him solidify his base.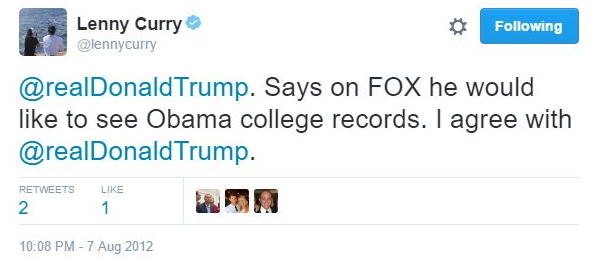 Curry has extolled the virtues of Twitter Trump for nearly five years, off and on [H/T: Ben Marcus]
On May 27, 2012, Curry thanked Trump for his "commitment to free enterprise and pursuit of happiness."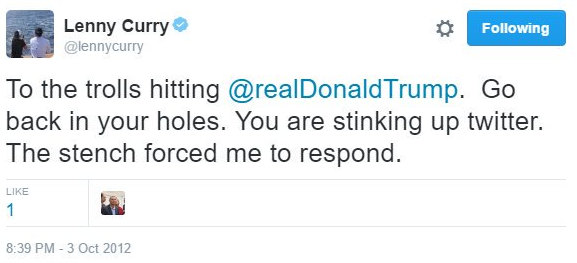 On July 25, 2012, Curry described a Fox News segment with Trump, on the Greta Van Susteren show, as "refreshing" and "telling it like it is."
On Aug. 7, 2012, Curry was watching Trump on Fox News Channel again: "@realDonaldTrump. Says on FOX he would like to see Obama college records. I agree with @RealDonaldTrump."
And on Oct. 7, 2012, Curry spoke "To the trolls hitting @RealDonaldTrump. Go back in your holes. You are stinking up Twitter. The stench forced me to respond."
Curry's support for Trump was much more measured during the campaign, with the mayor rarely offering comment on the candidate more emphatic than affirming that he stood with the Republican nominee.
The high point of his August remarks at the Trump rally lacked the rhetorical flourish of a couple of those 2012 Tweets.
"I came in as an outsider and I promised to turn the status quo upside down," Curry said in August, before pitching the pension tax to scattered, tepid applause — then saying "Trump will flip the status quo upside down."
And both men are involved in projects that indeed may "flip the status quo."
Indeed, Curry told us last week that "reform of the system" was a message he intended to convey on the trip to New York to meet with bond ratings agencies.
With Curry's team involved in tough negotiations with the city's unions, with the city looking to impose unprecedented 401k plans on new hires (including public safety officers), the timing of Curry's re-affirmed affinity for Trump bears watching.
The mayor will need support from fiscal conservatives to counter the robust public information campaigns that will be mounted by police and fire unions, especially as the city council tends to go wobbly under concerted pressure.
Trump, meanwhile, has taken the unusual move of issuing a riposte to a CIA report released Friday that asserted Russian involvement in Wikileaks oppo dumps on the Hillary Clinton campaign.
"These are the same people that said Saddam Hussein had weapons of mass destruction. The election ended a long time ago in one of the biggest Electoral College victories in history. It's now time to move on and 'Make America Great Again'," asserted a Friday night email from the transition team.