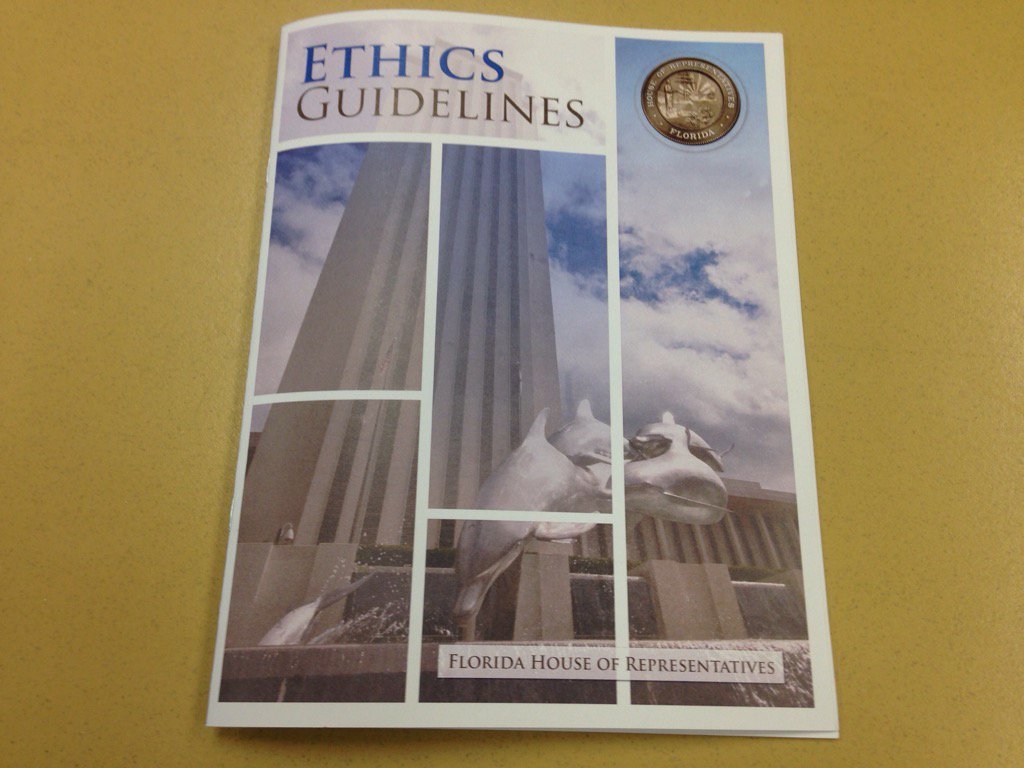 It's a lesson we all learned in school: There's no such thing as a stupid question. But some of the queries posed during ethics training may have left House General Counsel Adam Tanenbaum scratching his head.
Members of the Florida House were required to attend ethics training this week as part of the chamber's "Legislator University." The two-day initiative was the brainchild of Speaker Richard Corcoran, and was a chance for lawmakers to get a crash course on the new rules.
And boy, did they need them.
For nearly an hour Wednesday, state representatives lobbed questions at Tanenbaum as he gave them a refresher on legislative ethics. While the many of the standards may seem straightforward (Tanenbaum summed it up like this: "Please do not accept or solicit … anything of value from a lobbyist or principal"), lawmakers threw more than a few curveballs at him.
For instance, if a member can't fly on a plane owned, leased or procured by a lobbyist, does that mean his or her spouse can't either?
"So, your spouse would fly on the plane, but not you," asked Tanenbaum, before indicating the answer is sort-of no. (New rules prohibit House members from flying on planes owned or leased by lobbyists).
Ooh ooh wait, how about if your spouse, sibling or favorite aunt is a lobbyist? Would accepting a gift from them be a no-no?
"You can accept gifts from a relative … assuming they're not trying to gain influence over you," he said. "There's a presumption is … a lobbyist is doing it to gain good will, and that is deemed not to apply if a relative is giving a gift. … It is possible for a relative to give a gift because they do want to influence you, it's just not assumed that way."
But as Matt Dixon with POLITICO Florida noted, the conversation took another twist when a member shouted out this question: If you marry a lobbyist, can you fly on the plane?
"Come see me," he said. In fact, "come see me" or some variation of the phrase was a frequent response.
When a member asked about workers' compensation court as Tanenbaum talked about prohibited representation, Tanenbaum replied "come see us afterwards." A question about employment during the conflict of interest section? Tanenbaum said it sounded "fact based" and told the member they should talk about it separately.
"You should have a mental check list, (and) one of the questions should be 'are they a lobbyist or principal,' " he told the group. "If the answer is yes, don't take anything from them."
Got it? If not, don't worry. Just see Tanenbaum after class.
Coming up, the usual assortment of tidbits, leftovers and not-ready-for-prime-time moments by Jenna Buzzacco-Foerster, Michael Moline, Jim Rosica, and Peter Schorsch.
But first, the "Takeaway 5" — the Top 5 stories from the week that was:
Still paying, for now — Rumors flew this week that the Seminole Tribe of Florida would stop payment to the state from its blackjack revenue. The rumblings came as Seminole Gaming CEO Jim Allen, the tribe's general counsel Jim Shore and others were in Tallahassee for meetings, which included a chat with Gov. Rick Scott. That meeting, tribe spokesman Gary Bitner said, was part of an ongoing effort to finalize a new gaming compact. He continued by saying the "Tribe is continuing to make monthly payments to the state that will total $306 million this year." But will they continue to pay if no agreement is reached? Bitner said the Tribe does not discuss the "specific content of its compact negotiations with the state."
Back again — Sen. Rob Bradley renewed his effort to change the state's "stand your ground law," when he filed Senate Bill 128 this week. The bill would require prosecutors to prove beyond a reasonable doubt why a stand your ground defense can't be used. Prosecutors have said they believe such legislation would make it more difficult to try cases, but Bradley doesn't think that's the case. "The government has the burden of proof in a criminal case from the beginning of a case until the end," he said in a statement. "This fundamental premise is guaranteed in our Constitution and understood intuitively by all Floridians. We have an obligation to zealously guard the protections granted us all in the Constitution."
Challenged — Attorney General Pam Bondi is planning to appeal the Florida Supreme Court's ruling on sentencing rules for the state's death penalty to the U.S. Supreme Court. In a request to delay a resentencing hearing for Timothy Lee Hurst, Bondi's office said it believed the Florida Supreme Court misinterpreted the high court's decision, and it planned to seek a "discretionary review in the United States Supreme Court."
Strike out — Rep. Bryan Avila filed legislation (HB 77) this week that would prohibit sports teams from building or refurbishing stadiums on public land. The proposal says sports franchises may not "construct, reconstruct, renovate, or improve a facility on public land" leased from the state or a political subdivision. Republican lawmakers in the Senate have tried to set aside money for professional sports in the past, but top House Republicans have rejected the idea. The proposal comes as recent study showed it could cost Collier County $101 million to build buy the land and build a stadium for the Atlanta Braves, which has been threatening to leave their spring training site in Orlando.
Bye, bye Zika — Here's some good news on the Zika front: Gov. Scott announced this week the Florida Department of Health cleared the Miami Beach area of local Zika transmission. The 1.5 square mile area was the last local Zika zone in Florida. "This means that Florida does not have any identified areas with active Zika transmission, which is incredible news for the Miami Beach community and our entire state," said Scott in a statement. "While today's announcement is great news, we must all remain vigilant by continuing to dump standing water and wear bug spray. We have learned a lot this year about battling Zika and the importance of using aggressive mosquito control measures and we cannot let the lifting of this final zone or the upcoming winter allow us to become complacent. We must all remain fully committed to doing our part to keep Florida clear of active Zika transmission in order to protect pregnant women and their developing babies."
—
Be patient with lobbyists, they're new at this.
That was the message Don Rubottom, the staff director for the House Public Integrity & Ethics Committee, sent to members during the Florida House's two-day "Legislator University" this week.
Rubottom gave a presentation during a session aimed at explaining what the new House rules mean to members. Under new House rules, registered lobbyists are required to file a disclosure form that identifies the specific matter and who they represent.
"The professionals are doing it, and they're doing a good job. It's not hard," he said.
According to the Florida House, more than 250 individual lobbyists representing more than 60 firms submitted at least one form during the first full week that the rules were in effect. The House reported more than 4,100 individual issue or bill records were filed in the first full week.
Rubottom told members they should encourage lobbyists to fill out the forms before they meet with members on a certain issue. He also encouraged members and staffers to email lobbyists to give them a heads up they have questions on a certain topic, giving them time to register if they aren't already or point members in the direction of someone who isn't a lobbyist that can answer their questions.
"We're hoping for a culture that everyone wants to comply," said Rubottom. "This isn't a game of gotcha. We're not going through this and saying … 'we have 10 lobbyists we can fine today.' Be respectful of the lobbyists anxiety here, and be helpful."
—
Florida House freshmen attended an introductory course to writing a state budget. They learned that the process gives them sweeping authority, but within the limits of fiscal reality.
At present, Florida government is running a $3 billion reserve within a total budget of around $83.5 billion. But if spending continues at existing levels, that reserve will fall by half by this time next year.
And if that happens, the state will find it impossible to maintain its ability to borrow and its cash-flow obligations, while still providing services to the public, House Appropriations Committee chairman Carlos Trujillo said.
"The most important thing is to realize the responsibility that we have," he summed up following the budget workshop.
"We have to pass a balanced budget. We don't have any additional revenues. In order for us to meet our obligations, we have to manage our revenues with our expenditures. If our expenditures continue to grow, we have to find other places to save money."
—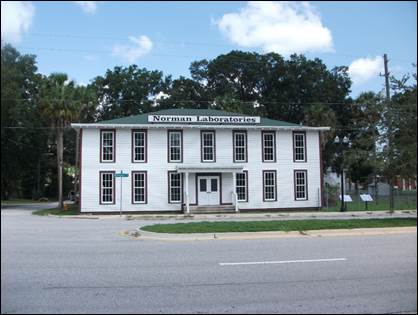 Norman Film Studios is steeped with history, and now it's a national landmark.
Secretary of State Ken Detzner announced this week the Jacksonville film studio has been designated as a National Historic Landmark.
"I am pleased to announce the designation of the Norman Film Studios as a National Historic Landmark," said Detzner. "This historic film studio property is the last remaining complex of buildings dating to a time when Jacksonville was a leader in the silent film industry. It is the only preserved film studio in the nation that once specialized in silent films starring African-Americans."
Founded in 1916 as Eagle Film City, it became known as the Richard E. Norman Film Manufacturing Company. The owner, Richard Norman, was one of the first filmmakers to break the racial barrier in the motion picture industry, according to the Florida Department of State.
The so-called "race films" were intended for African-American audiences and starred African-American actors in positive, professional roles, like lawyers, doctors and pilots.
Since 2002, the city of Jacksonville has worked to partially restore the studios through three historic preservation grants from the Florida Division of Historical Resources and matching funds from the city.
—
Hooray, the 2016 Atlantic hurricane season is over!
CFO Jeff Atwater and Insurance Commissioner David Altmaier commemorated the end of hurricane season last week with an insurance roundtable discussion in St. Augustine. The roundtable brought together the insurance industry and the Federal Emergency Management Agency to have a public conversation about the successes and challenges associated with Hurricane Matthew and Hurricane Hermine.
According to Atwater's office, more than 112,00 insurance claims totaling $729 million in losses as a result of Hurricane Matthew and 18,000 insurance claims totaling $95 million as a result of Hurricane Hermine.
"We will not accept anything less than the best and most efficient effort from every single insurance company operating in the state of Florida," said Atwater. "Commissioner Altmaier and I are pleased with what we've seen thus far, but we will continue to meet with residents until Floridians' concerns have been addressed."
—
Two state lawmakers want undocumented immigrants to face stricter penalties if they commit a violent crime.
Sen. Travis Hutson, a St. Augustine Republican, and Rep. Dane Eagle, a Cape Coral Republican, filed legislation this week that would give prosecutors the ability to increase penalties for violent crimes committed by a person in the country illegally.
"I am focused on going after violent illegal immigrants only, in doing so we can ensure that all people in Florida whether they be residents or visitors are protected from these violent actors," said Hutson.
Under the proposal, prosecutors could increase a third degree misdemeanor to a second degree misdemeanor; while a second degree felony would become a first degree felony.
"Our federal government has been asleep at the wheel when it comes to handling the illegal immigration problem our country is facing," said Eagle in a statement. "While we as a state don't have the ability to deport those who choose to commit violent crimes while here illegally, we can prosecute them to the full extent of our law, and we are going to make that law even tougher."
—
Congratulations, Full Press Apparel!
The Tallahassee-based company was presented with the Governor's Business Ambassador Award during the Cabinet meeting this week. Founded in 1997, the company focuses on visual branding, creating custom screen-printed and embroidered apparel, promotional gifts, and graphic design services. In the past 19 years, the company has expanded to serve businesses, government agencies, K-12 entities, and non-profit organizations.
"It's an honor to recognize Full Press Apparel, a successful family-owned business in Tallahassee, with the Business Ambassador Award today," said Gov. Scott in a statement. "I would like to thank Danny and Tracey Shrine for making a positive impact in our community for the past 19 years and their commitment to growing jobs in Tallahassee."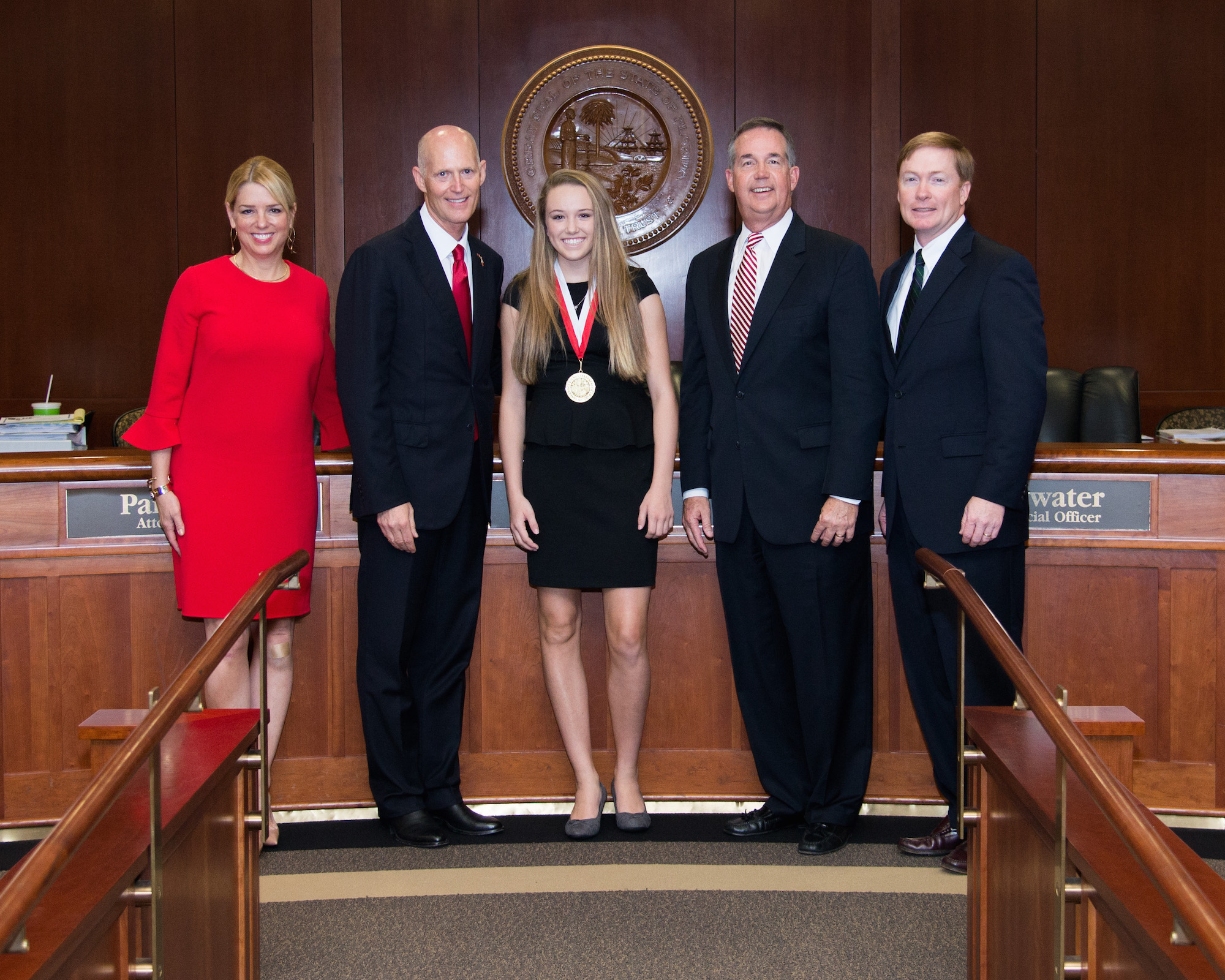 The Governor also presented Sage Offutt, the owner of Sage Paddle Co., with the Young Entrepreneur Award during the Cabinet meeting. Offutt founded the paddle boarding rental business when she was 11 years old. The company, according to the Governor's Office, has one of the largest rental fleets in the area, and was recently named the Best Recreation Paddleboard Rental Company.
"Sage is a great example of a young entrepreneur who is working hard to pursue her dreams in Florida. It's very exciting to see someone succeed so well at such a young age," said Scott in a statement. "I'm honored to highlight Sage Paddle Co.'s success and I'm proud to present her with the Young Entrepreneur Award."
—
Florida educators deserve a round of applause, and Gov. Scott did just that this week.
Scott presented eight educators — Natasha Drake, a Nassau County principal; Jeff Morgenstein, a Pasco County assistant principal; Jason Odom, a principal at the Florida Virtual School; Demetrius Revelas, a Charlotte County principal; Wilbern Simpson, an assistant principal at the Florida Virtual School; Rebecca Smith, a Nassau County principal; Sharon Sacco Slusser, a Pasco County principal; and Angie Taillon, a Charlotte County principal — with the Governor's Shine Award during the Cabinet meeting.
The award is presented to teachers and educators who make significant contributions in the field of education. All of the recipients were members of the Commissioner's Leadership Academy, a collaboration between the Florida Department of Education, the University of Washington's Center for Educational Leadership, Council for Educational Change and is presented by State Farm.
—
Call these men heroes; state lawmakers sure are.
Gov. Scott presented Escambia County Deputies Darren Robinson and Stefan Chamlis with the Medal of Heroism for their bravery and courage. The two men are credited with saving six people from drowning in the Gulf of Mexico off Pensacola Beach.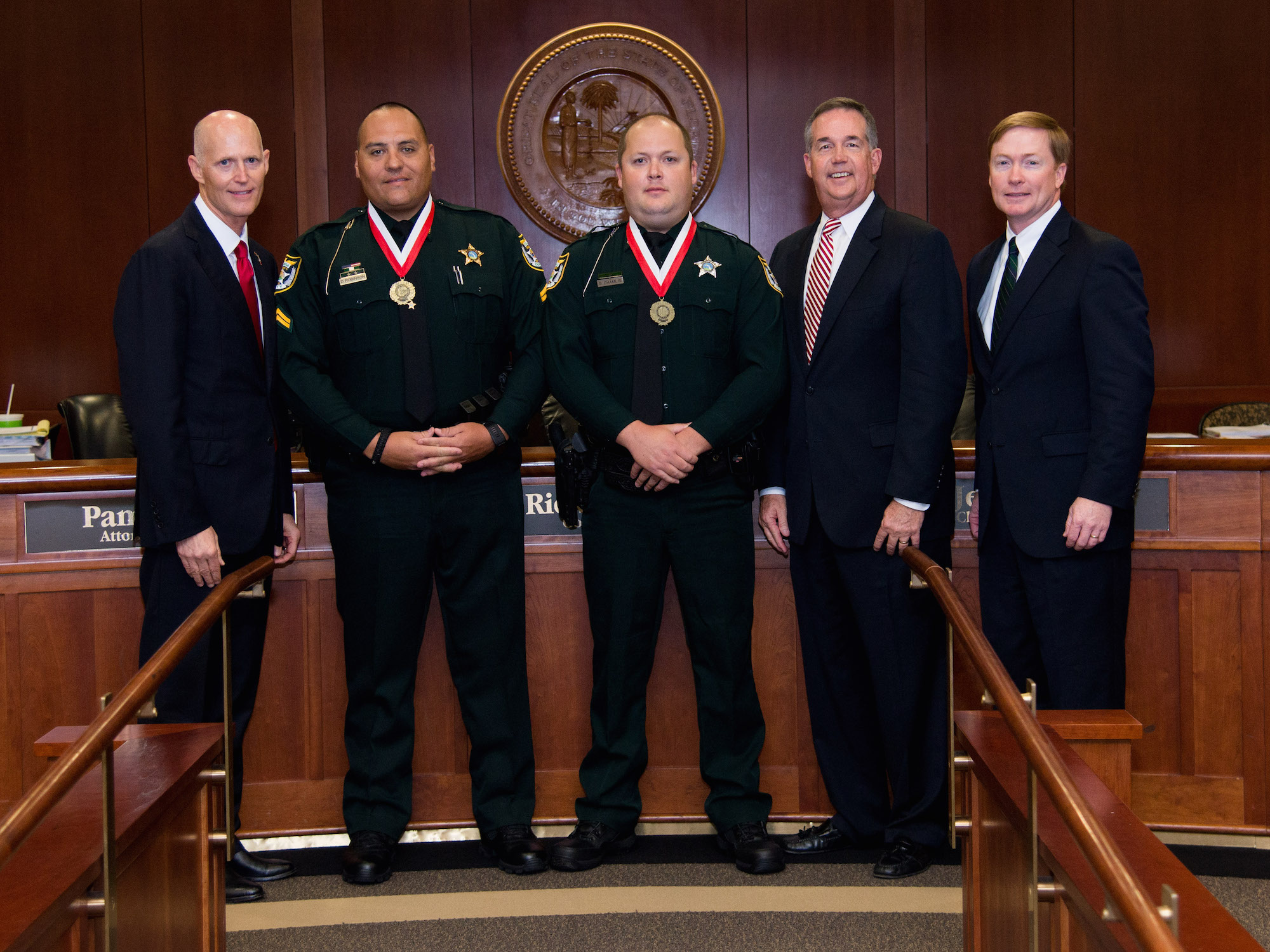 "These brave deputies did not hesitate to put their lives on the line to save the lives of six individuals, including two children, from drowning," the governor said in a statement. "Their selfless actions show the commitment these officers have to their communities and to the safety of others. It is important to remember the hard work and dedication of these deputies and I am proud to present them with the Medal of Heroism today."
According to the Governor's Office, the two deputies responded to swimmers during a routine patrol on July 26. The men were able to bring them to safety, saving the lives of six vacationers, including two children.
—
Chuck O'Neal is back — on the board of the League of Women Voters, that is.
The League of Women Voters announced this week that the Apopka environmentalist and former Democratic candidate in Senate District 11 has been appointed to Florida State Board of Directors. He is rejoining the board after resigning earlier this year to run for state office.
"Chuck brings the utmost passion and professionalism to the work of the League. I am honored to welcome him to our State leadership," said Pamela Goodman, the president of the League of Women Voters of Florida, in a statement.
O'Neal is one of two men on the league's board.
—
Dorothy Binger has spent nearly 30 years advocating for children, an accomplishment worthy of celebration.
Gov. Scott presented Binger with the Volunteer Florida Champion of Service Award, the state's official volunteer recognition program.
Better known as "Ms. Dot," Binger is a Guardian ad Litem volunteer for six counties throughout Northwest Program. She's been a volunteer with the organization since 1989, serving more than 27 years and advocating for more than 60 children in Florida's Panhandle.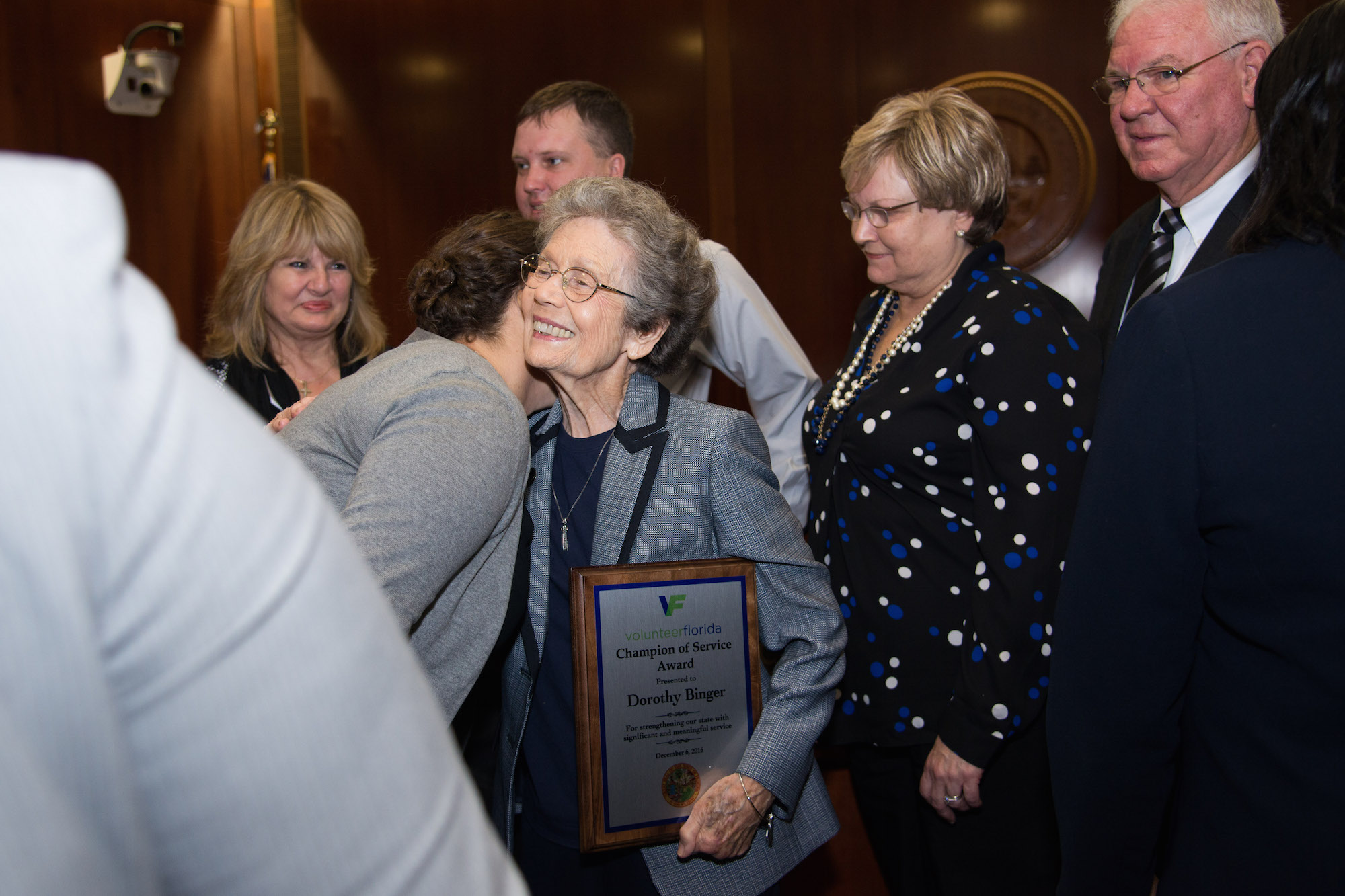 Binger's passion for children and education inspired the Envision Credit Union to establish a scholarship in honor of her work. The Dorothy Binger Scholarship has awarded over $400,000 in scholarship tuition to more than 1,200 Tallahassee Community College students over the years.
"Volunteer Florida is proud to recognize Dot for her tireless commitment to Florida's at-risk children," said Chester Spellman, the CEO of Volunteer Florida. "We are grateful for the opportunity to recognize her service to children and her passion for education."
—
Business leaders emphasized the risk rising workers' compensation costs pose to Florida's economic competitiveness during an Associated Industries of Florida-sponsored discussion this week.
"There are other governors competing against our governor for the next plant, the next manufacturing facility, the next high-tech jobs," said Tom Feeney, president and CEO of the business lobby.
"They are suddenly able to use our workers' compensation situation against Florida, the same way our governor uses high taxes and high regulations that other states have to attract businesses," Feeney said. "It's putting us at a competitive disadvantage."
The event coincided with a trial judge's final order refusing to back down from her ruling that a 14.5 percent increase in workers' compensation premiums were illegal.
The legal issue remained alive, however, because the 1st District Court of Appeal had already blocked the lower court's order. The increase's legality will be determined by proceedings before that appeal court.
—
The Florida House Majority Office has released a demographic break-down of the new House, and guess what? Men continue to dominate.
The House is 76 percent male, 66 percent white, and has an awful lot of newcomers this year.
The Republican caucus is 82 percent male and overwhelmingly white, also at 82 percent, with 17 percent Hispanic and 1 percent African-American. That last would be Rep. Byron Donalds, representing Hendry and Collier counties.
The 41-member Democratic caucus is 63 percent male, and nearly half — 49 percent — are African-American. Whites comprise 34 percent of the caucus, and Hispanics 17 percent.
Numbers reflect power. Although Speaker Richard Corcoran has named Miami Representative Jeanette Nunez as his House speaker pro tempore, men will preside over the nine major House committees.
On the Democratic side, Janet Cruz of Tampa is Minority Leader — the first Hispanic woman to hold the post.
—
Jim Boxold has a message for the business community: Focus on securing the state's transportation future.
"Transportation is the key to job growth, keeping our families safe and maintaining a good quality of life. As we look at the future of transportation, the technology tsunami is right around the corner," he said. "The business community is at the forefront of these changes and discussions like these are important in order to be ready for whatever the future has in store for us."
Florida's transportation challenges and opportunities were at the center of the Florida Chamber Foundation 2016 Transportation Summit. The summit looked at how innovations and consumer behavior is changing the way people and goods are moved around the state.
The state has more than 500,000 jobs in transportation, trade and logistics, and the Florida Chamber estimates $160 million worth of goods flow through the state's seaports and airports each year. According to the Florida Chamber, 6 million more residents will call Florida home between now and 2030.
—
Add 2,306 acres to acreage preserved through the Rural and Family Lands Protection Program.
Gov. Scott and the Cabinet voted unanimously this week to preserve 2,306 acres of environmentally sensitive agriculture land on Clay Ranch. The Putnam County cattle operation has been in operation for for 160 years.
"Florida's farmers and ranchers are our state's original conservationists, and partnering with them through conservation easements is a cost-effective way to preserve these invaluable pieces of our rural economy and environment for future generations," said Agriculture Commissioner Adam Putnam.
The decision to purchase the property increases the total land preserved through the program to 27,649 acres over 31 conservation easements. Since 2011, the governor and Cabinet has acquired 24 projects totaling 24,064 acres.
—
Welcome to the bench, Lauralee Westine.
Gov. Scott appointed Westine, a local government and land use attorney, to replace Judge Bruce Boyer on the Sixth Judicial Circuit Court. Boyer retired last month from the civil court bench.
The 45-year-old Palm Harbor woman has been in private practice since 2000. Prior to opening her own firm, Westine was an Assistant State Attorney for the Sixth Judicial Circuit, serving in that role from 1995 until 2000.
Westine received her bachelor's degree from the University of Florida, before getting both her master's and law degrees from Stetson University. She is also the wife of Pinellas County Sheriff Bob Gualtieri.
—
The First Amendment Foundation is gearing up for the 2017 Legislative Session, and is asking supporters to give a little to help with the fight.
"In the past year, we led a broad coalition of open government advocates and defeated a bill that would have made it harder to hold agencies accountable for public records violations. In dozens of courthouses and government offices around the country, citizens – with FAF's help – won access to the records and meetings," the First Amendment Foundation said in an email to supporters this week.
The open government organization said it was heading "into a tough legislative session" and it needed supporters help "more than ever to ensure our rights to government transparency."
In an email, the organization said it will continue to fight efforts to erode the state's "long-standing tradition of open government."
"We will continue to provide warning – and weapons – to concerned policy makers and state leaders before, during and after each legislative session. We will continue to train people in how to comply with the law and challenge those who don't," the email said. "And we will continue to fight — in Tallahassee and across the state — for your right of access to the records and meetings of your government."
—
The Children's Campaign is taking a closer look at where state lawmakers stand on children's issues.
In an email to supporters this week, the Children's Campaign noted juvenile justice is a top priority for Senate President Joe Negron. It's likely proposed reforms could include rigorous reviews of civil citation laws.
While discussions about reforms haven't specifically mentioned services for children with special abilities, especially girls, the Children's Campaign said those services are "important for continued reform of juvenile justice.
Programs for children with special abilities in the community are scarce and highly specialized residential care does not exist, so they are put into the general confined residential population with all the challenges that generates," said the Children's Campaign in an email blast.
The organization noted House Speaker Richard Corcoran delivered "a more populist message" in his inaugural speech last month, taking on "education groups for criticism for their aggressive legal challenges against the state."
The Children's Campaign noted new House rules, particularly ones dealing with the budget, could make the process of "combining the House and Senate budgets more complicated."
—
Charlie Crist returned to Florida's capital city this week, but only to say good-bye.
The former governor and incoming U.S. representative was in Tallahassee this week for a tribute to retiring Florida Supreme Court Justice James E.C. Perry. Crist appointed Perry to the court in 2009.
Perry announced his retirement in September, giving Gov. Scott the chance to make his first high court appointment in his six years in office. Perry is leaving the bench because of the state's mandatory retirement provision, which requires judges to retire at the age of 70.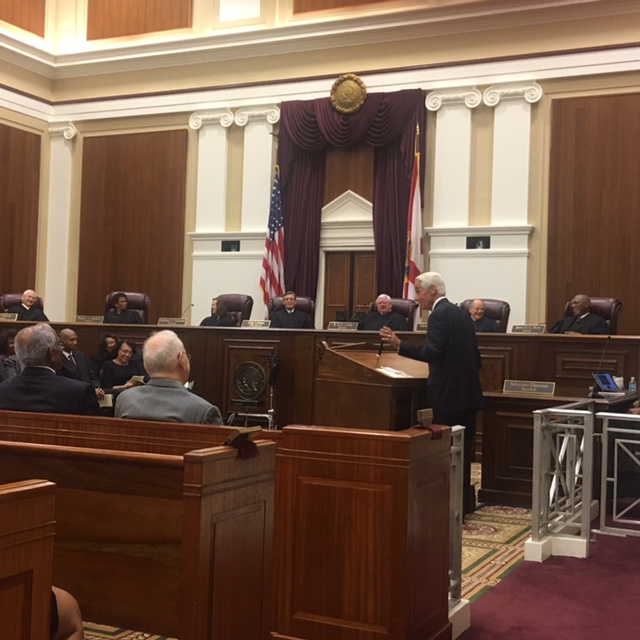 The 72-year-old stayed past the mandatory retirement age because of a provision allowing justices whose "70th birthday occurs in the second half of their six-year term (to) remain on the bench until the full term expires."
Crist was one of several speakers who addressed the crowd, lauding Perry's accomplishments as over the years. But Perry wasn't the only who received kudos during the event.
Perry thanked the former governor appointment and his years of friendship; while William Schifino, Jr., president of The Florida Bar, praised the governor for appointing Perry, when many people in his party opposed it. Crist, now the incoming representative from Florida's 13th Congressional District, was a Republican at the time.
Other speakers included Randy Nelson, the criminal justice administration graduate program coordinator at Bethune-Cookman University and Florida Chief Justice Jorge Labarga.
—
Florida House Democratic chief Janet Cruz installed her leadership team this week, saying she strove for diversity in their selection.
Leading on policy will be Evan Jenne and Cynthia Stafford.
Jenne, of Dania Beach, has served in leadership before — he was minority whip during the 2010-12 Legislature and as policy chair during 2014-16. Stafford, a Miamian who was an aide to former Congresswoman Carrie Meek, is a member of the Florida Legislative Black Caucus.
Floor leader is Lori Berman, a Lantana attorney who served as deputy Democratic Whip during the 2012-14 Legislature. Serving as whip is Joseph Abruzzo, of Wellington, who brings a reputation for working well with Republcans. Deputy whips are John Cortes, Katie Edwards, Shevrin Jones, and Richard Stark.
—
"Out of control" litigation costs are slowing efforts by Florida's property insurer of last resort to shift risk onto private insurers, and may lead to aggressive restrictions on claims for water damage, the organization's president said this week.
Rising litigation "is driving 80 percent of our attention and time," warned Barry Gilway during a meeting of the board of governors of Citizens Property Insurance Corp.
He pointed to the trend line. About 12.5 percent of claims went into litigation in 2011. Now, "45 percent of all claims are going into litigation," Gilway said. "Which, in my opinion, is just absurd. It's completely out of control situation."
The trend is slowing depopulation — or transfer of Citizens policies to insurers in the private market, Gilway said. During the first two months of 2016, the Office of Insurance Regulation approved depopulation of 200,000 polices, he said. For the first two months of 2017, the office has approved the switch for 45,000.
"Depopulation is slowing down dramatically," Gilway said.
—
The first blow landed this week in an anticipated legislative battle over workers' compensation, when state House member Cord Byrd of Neptune Beach filed legislation to make participation in the system optional.
The bill also would take on attorney fees, a major bone of contention for business leaders in the state. It would allow lawyers to accept payment outside the now-mandatory fee schedule in workers' compensation disputes, permitting them and clients to freely negotiate payment.
Judges of compensation claims would no longer need to review attorney fees. And employers and carriers who failed to pay valid claims within 30 days would face would have to pay double the original amount.
Byrd, a Republican attorney who represented the business side in workers' compensation cases before switching to the plaintiffs' side, said business owners can't afford a 14.5 percent increase in those rates began to take effect on Dec. 1.
—
Oh, Christmas tree!
Agriculture Commissioner Adam Putnam presented Gov. Scott, Attorney General Pam Bondi, and CFO Atwater with Florida-grown Sapphire Christmas trees this week. The presentation is part of a long-standing tradition to kick off the holiday season.
Scott lit the Christmas tree during a ceremony outside the Executive Office of the Governor, and First Lady Ann Scott hung the first ornament, the 2016 Governor's Mansion Christmas ornament.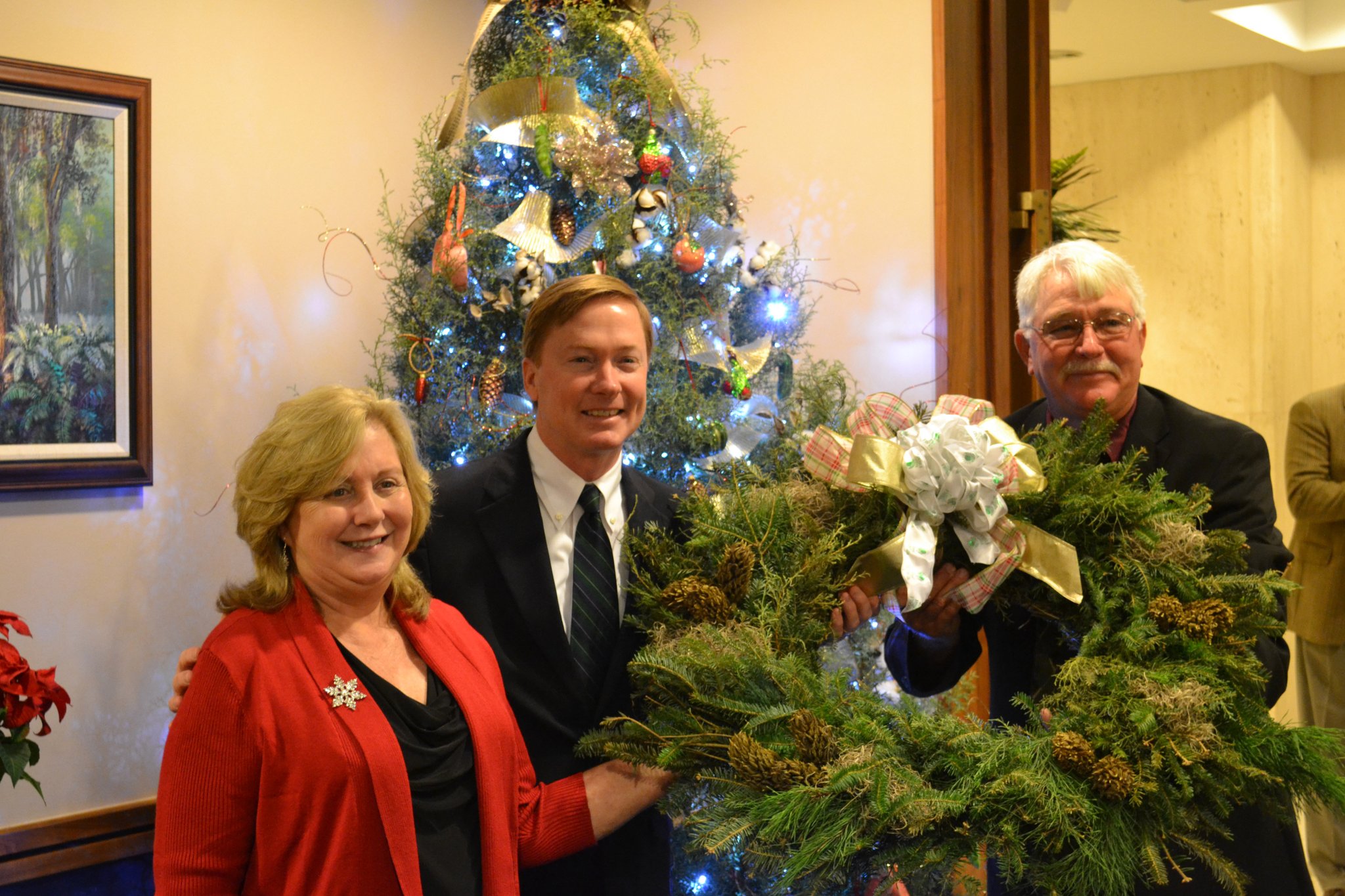 The Ergle Christmas Tree Farm provided the four Carolina Sapphire Christmas trees, which will be displayed on the Plaza Level of the Capitol through the month of December. The Dade City farm is owned and operated by Tony and Debbie Harris. Debbie Harris' father, Omar, planted the first trees 34 years ago, and opened the gates to the public four years later.
The Ergle Christmas Tree Farm produces Carolina Sapphire, Florida Cedar, Florida Sand Pine, and Leyland Cypress.
—
If you're writing your holiday cards this weekend, consider adding one more to stack for the troops.
Southwest Florida's 92.5 Fox News Radio launched an initiative last month to collect 10,000 cards to send to members of the U.S. Military who can't make it home for the holidays. The station has already collected 10,000 cards, and has upped its goal to 20,000 cards.
Want to help? You can send a Christmas card with a warm message to one of our troops serving overseas to: 10,000 for the Troops, P.O. Box 877, Fort Myers, Florida, 33902.
—
Santa Claus, Mrs. Claus and a whole elf entourage will be making spirits bright at the City of Tallahassee's annual Elf Night on Thursday, Dec. 15, from 5:30-8:30 p.m.
The 17th annual event takes place at Dorothy B. Oven Park, where over 250,000 lights will "twinkle against the night sky, transforming the park into a winter wonderland," according to a press release.
The line to visit Santa and Mrs. Claus will open at 5:30 p.m. and close at 8 p.m. For safety, vehicles will not be allowed to drive through the park during the event. Parking will be available next door at Thomasville Road Baptist Church and across the street at Piedmont Park Alliance Church.
The event, free to the public, is co-sponsored by Morgan Stanley, Thomasville Road Baptist Church, Connie's Hams and Covenant Hospice. Hot cocoa and cookies will be available while supplies last.
—
After Elf Night, the North Pole sleigh will stay grounded in the Capital City for a little while longer, paying visits to local community centers.
Soul Santa will visit the LeVerne Payne Community Center, 450 West 4th Ave., on Friday, Dec. 16, from 2-6 p.m. Then on Saturday, Dec. 17, he will visit Walker-Ford Community Center, 2301 Pasco St., from 10 a.m. to 1 p.m.
"Soul Santa with all his festive flair will make a grand entrance at both locations," the release said. "He will arrive at 3:30 p.m. at LeVerne Payne and at 11 a.m. at Walker-Ford."
Each child (up to age 10 at Walker-Ford and age 12 at LeVerne Payne) will receive a special gift. A parent should accompany children to get registered for a present upon arrival.
A DJ will pump up the beat at LeVerne Payne, and local performers will serenade the crowd at Walker-Ford. Both events are free and open to the public.

—
Here's this week's edition of Capitol Directions: