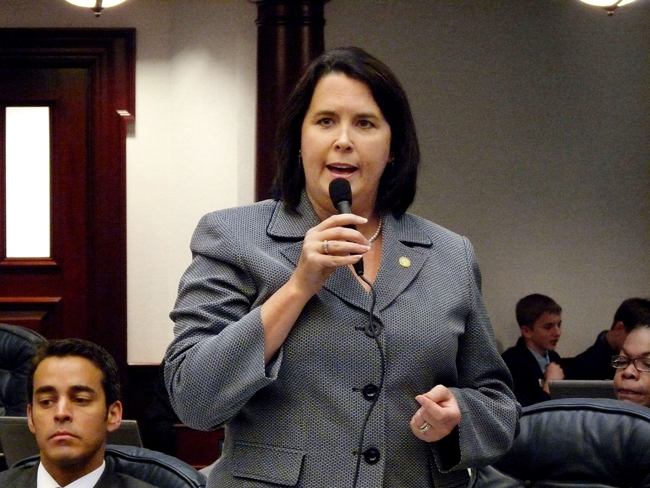 A host of groups and individuals – led by the Florida ACLU – have filed a lawsuit in the U.S District Court for the Northern District of Florida challenging a state law that requires groups to register with the state and pay a fee if they advise or help women seek abortions. The lawsuit also challenges a provision requiring groups to tell women about alternatives to abortion.
The registration requirement was part of the controversial anti-abortion bill (H.B. 1411) sponsored by Lakeland state Senator Kelli Stargel that was signed into law last year by Florida Governor Rick Scott that sought to block abortion care. Earlier this summer, a federal judge struck down other key provisions of the legislation.
"A woman considering an abortion may consult with any number of people in making her decision," said Nancy Abudu, legal director of the ACLU of Florida. "This ill-conceived law criminalizes the intimate conversations a woman has with her support network. The law not only forces people to provide information they may not be qualified to provide, it clearly intends to bully and intimidate women's trusted advisors with a vague and complicated bureaucratic process, under the threat of criminal charges."
The ACLU of Florida is one of several entities involved with the lawsuit, which names Florida Attorney General Pam Bondi and Justin Senior, the interim head of AHCA, as defendants. Other groups and individuals on the lawsuit include the Women's Emergency Network (WEN), the Emergency Medical Assistance, Inc. (EMA),  Palm Beach County Chapter of the National Organization for Women, The Miami Workers Center, and three rabbi's and three ministers.
The groups says that they are seeking a preliminary injunction or temporary restraining order barring the state from enforcing the law.
In late June, U.S. District Judge Robert Hinkle blocked two parts of the law. One provision would have required increased abortion clinic inspections, the other would eliminated taxpayer funding of preventive care at abortion clinics. The Scott administration did not appeal that decision.
Hinkle did leave in place other parts of the law, however, including a requirement that abortion doctors obtain admitting privileges at a nearby hospital or abortion clinics have transfer agreements in place.