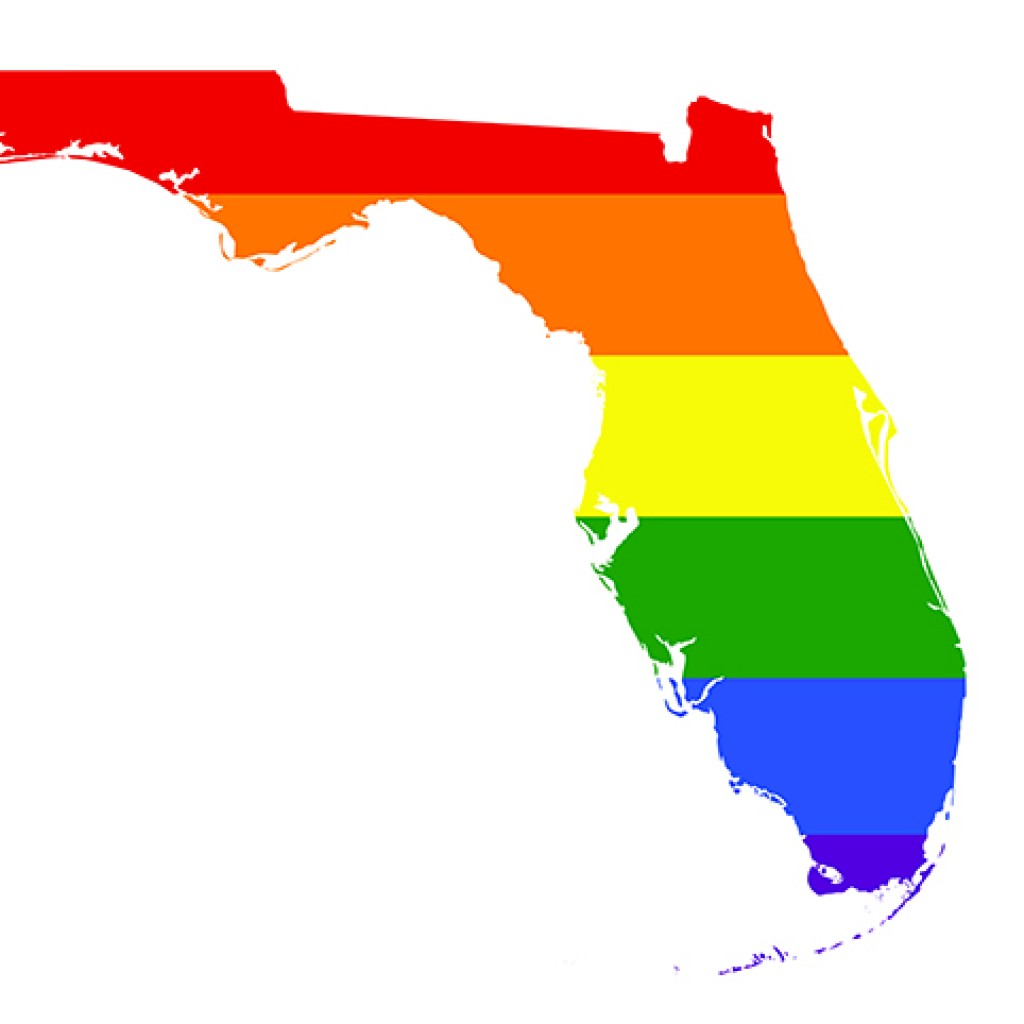 After an agenda full of bills that met little opposition in committees, the Jacksonville City Council turned its attention Tuesday evening to a familiar question: the HRO, which was up on first read with a planned vote on Valentine's Day.
For the third time in five years, Jacksonville legislators heard pros and cons of expanding Jacksonville's Human Rights Ordinance to include employment, housing, and public accommodations protections for the city's LGBT community.
For council regulars, there was a feeling of familiarity: many of those in attendance were the same people making the same points they had in previous years.
The stickers were the same.
The opponents wore "protect first liberties" stickers, as they had previously; the proponents wore Jacksonville Coalition for Equality stickers.
The energy in the air: at once nervous and well-worn.
The turnout: roughly 2 to 1 in favor of HRO expansion.
A measure of the passion: even with five hours to go in the meeting, speakers were allowed just two minutes and fifteen seconds each, to get over 100 people in before the hard stop at midnight.
As before, the arguments were impassioned on both sides.
Early in the program, a transgender woman noted that she and her peers were deprived of "life and human rights," noting that "being GLBT isn't a matter of choice" and not a denotation of criminality.
An opponent — an elderly man with a combover and a dated suit — countered with stories of people on the west coast whose businesses were "bankrupted for their consciences."
Locally, he said that proponents "were collaborators of bullies," and appeasers of "extortionists."
Proponents and opponents alike rooted their positions in liberty, with one gentleman saying in opposition that "deplorables make up a large part of your base" and "values voters" are keeping track of the votes of the 12 Republicans on the city council on this issue.
The rhetoric got heated 20 minutes in, with an opponent saying the bill was about "special privileges to a deviant group," with duped council members "deviously holding the door open … to destruction of our society."
This re-established a theme from previous considerations of the measure: proponents made plaintive pleas for legislation, making the moral cast against permissible discrimination; opponents painted the bill in lurid tones, casting aspersions on supporters of the measure.
The opponents tended to be more quotable.
Christian right activist Raymond Johnson soon thereafter claimed HRO passage was a public safety issue due to the high incidence of HIV/AIDS in the LGBT community, renaming the bill a "homosexual superiority ordinance."
Another opponent discussed sexual assault, and the prospect of a "high school football player feeling feminine and taking a shower in the girls' locker room," indulging in "perverted pleasures."
An impassioned gentleman noted that if his three year old son married a man, his blood line would cease to exist.
Opponents continued to press the case, maintaining that expanding the law would infringe on the consciences of opponents, leading to potential legal exposure for not complying with the legislation.
As well, questions were raised as to whether or not member businesses of the Chamber of Commerce, which supports HRO expansion, actually support HRO expansion.
Proponents, meanwhile, discussed the difficulties experienced by those outside binary gender constructs, especially relative to public accommodations, among other issues.
They also depicted the cost of a lack of legislation as being, in part, a loss of the city's best and brightest to other cities, where the issue of LGBT rights had been resolved years or decades prior.
Darnell Smith of the Jacksonville Chamber brought discussion back to the bill itself, saying that it was a bill of collaboration, with carved out protections for religious institutions and small businesses.
Smith's comments, unlike many on either side, came back to the substance of the bill, updating code to include sexual orientation and gender identity.
Council President Lori Boyer then put a bow on the whole thing, talking about what a great city Jacksonville is, and how during this period of comment, it was established that "people on both sides are passionate, and everyone was respectful of each other."
That much is debatable.
Not debatable: HRO will drive public comment through February 14, when it will receive a floor vote.
While there was no equivalent to Roy Bay or Kenneth Adkins this time out, it's a long time until Valentine's Day.