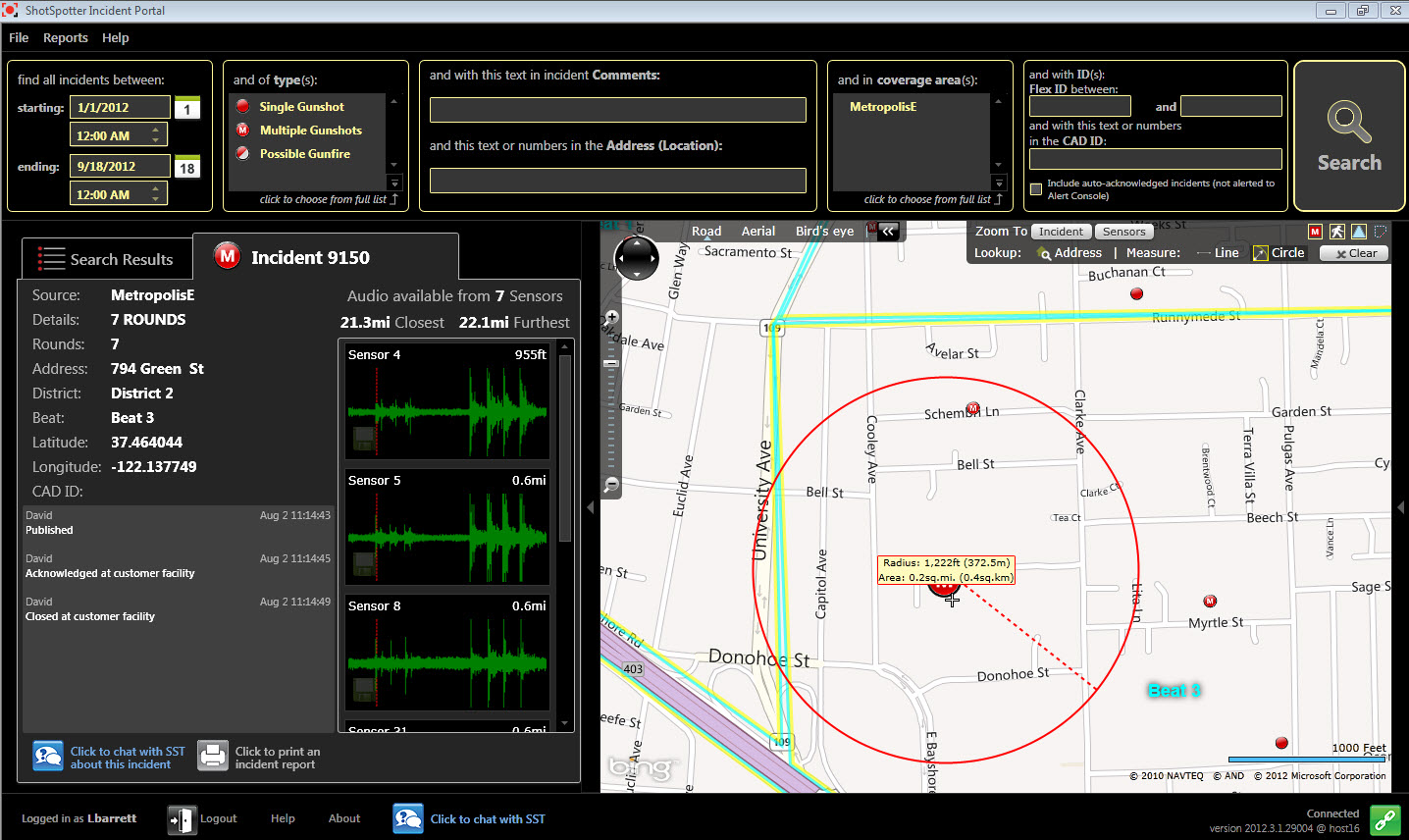 For the second straight cycle, the Jacksonville City Council is running its committees on a Tuesday — Thursday cycle — a consequence of Monday's Martin Luther King Jr. holiday.
The council mulls a series of bills ahead of next week's meeting, starting bright and early Tuesday morning in the Neighborhoods, Community Investments, and Services Committee.
****
ShotSpotter gets its shot: Ordinance 2016-795 will, among other things, "appropriate $435,001 already allocated in a ShotSpotter reserve account to an equipment purchase account for installation of the test site … acoustic gunshot detection and surveillance technology in a 5 square mile area of Health Zone 1."
Why is this significant? Because that 5 square mile area of the area is the one most ravaged by gun violence and the associated social maladies that accompany it.
Mayor Lenny Curry's chief of staff, Kerri Stewart, emailed stakeholders with her expectations as to how the bill might proceed through its three committees of reference: the Neighborhoods, Community Investments, and Services Committee on Tues. Jan. 17; the Public Health and Safety Committee on the 18th; and Finance on the 19th.
Stewart's advice: expect questions about the Jacksonville Journey anti-crime initiative, rebooted by Mayor Curry early in his term.
"We are not anticipating any/many specific questions related to ShotSpotter; but the committees are chaired by CM Scott Wilson (NCIS), CM Sam Newby (PHS), and CW Anna Brosche (Finance).  All three council members/chairs have specific interest in the Jacksonville Journey and so some questions may inevitably come up," Stewart noted.
Wilson, the chair of NCIS, has raised questions about the Jacksonville Journey allocations, noting that the breakdown of funds by ZIP code obscures pockets of real need for the program in his Southside Jacksonville district.
ShotSpotter allocations will be the highlight of a light agenda in NCIS.
****
Affordable housing parcels: Jacksonville, like many cities, faces a two-pronged problem: a surplus of vacant or abandoned homes, and a shortage of affordable housing.
A bill considered Tuesday in NCIS and Thursday in Finance seeks to resolve that — to a point — as 101 parcels of surplus property in Council Districts 7 — 10 and 14 are to be made available to developers for the purpose of producing affordable housing.
The total value of these properties: just over $783,000, ranging from a vacant lot valued at $140 (a great gift idea) to a single family home valued at just under $60,000.
Community housing development organizations get the first crack at these properties as long as the CHDOs don't have liens; CHDOs are allowed to handle five at a time.
****
Resolution to honor Richard Danford: The Rules Committee on Wednesday afternoon will consider a resolution to honor Danford, the head of the Jacksonville Urban League.
The timing is interesting; Danford, when speaking at Friday's MLK Breakfast, did what some speakers wouldn't due and addressed policy outcomes rather than the importance of volunteering.
Danford urged the city to focus on remedying disparities, via taking a hard look at disparity studies, and the "allocation and distribution of city funds," including contracts and employment for minorities.
These efforts, said Danford, would "reduce poverty and crime in this community … stir business development and create more jobs in communities of color."
Danford also alluded to Rules Chairman Garrett Dennis' "equal opportunity" bill, saying that the city's independent authorities, such as JEA and the Jacksonville Transportation Authority, "should reflect the diversity in the community."
Dennis' bill — which he stresses is not a "quota" or "affirmative action" proposal — requires the city to actually fund a position that has gone unfunded for several years now.
That position would offer oversight for city agencies to ensure that certain ethnic groups — a category which varies not just from agency to agency, but department to department — are represented in department demographics.
Dennis' bill requires annual reporting to the Mayor and City Council on the progress and state of the Equal Opportunity/Equal Access Program; budgetary line-item for the position of Equal Opportunity/Equal Access Assistant Director; and an "annual review" of "adherence and commitment" to the ordinance.
****
Foreign Direct Investment strategy discussed: On Thursday, the Finance Committee considers a memorandum of understanding between the city and JAXUSA (a partnership of the local Chamber of Commerce) to devise a foreign direct investment strategy and to manage an "export enhancement plan initiative."
The export plan is part of a process that began in 2013, when Jacksonville was one of just eight cities in the Brookings Institution's global cities initiative, and comes after years of study.
"The MOU calls for JAXUSA to establish a "one-stop shop" to provide interested businesses with information, research and assistance in developing export activities; to create a Global Cities Advocacy Team to lead the implementation effort; to conduct outreach activities to at least 25 potential export businesses," reads the bill summary.
It is a $60,000 deal for one year, with provisions for renewal.