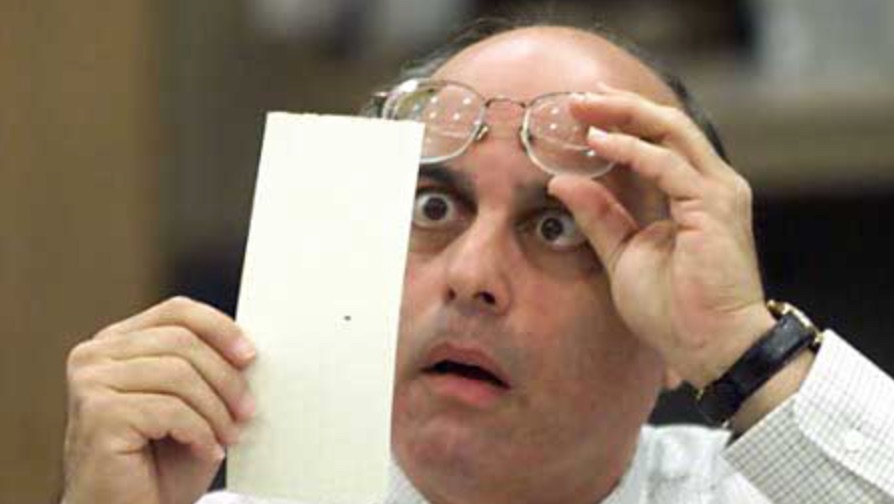 During and after the 2016 presidential election, Republican presidential candidate Donald Trump complained about "millions of people who voted illegally." He offered no proof to his charge, and virtually all state supervisors of elections found little evidence of fraud.
It is "big news" when a single case of vote fraud emerges. It would be the story of the decade if 3 million individuals cast fraudulent votes as Trump alleges.
When Sara Sosa of Colorado voted in the 2010, 2011, 2012 and 2013 elections, every wire service carried the story. The unusual part of the story was that Sosa died in 2009.
Examples such as Sosa are used by those who want to preserve the "integrity" of the election process. It is also used by those who use the case to show how unusual and rare such cases are in any election cycle.
President Trump has become the first president to demand an investigation of an election he won. My guess is that this will be the first of many "firsts" during Trump's tenure as president.
With all of Trump's complaining about vote fraud, it should be remembered that state and local governments have probably engaged in more case of fraud than have individuals. Few states have manipulated the voter rolls more than the state of Florida.
Vote fraud by individuals in Florida
Perhaps the prime example of vote fraud by people in Florida elections was the 1997 Miami mayoral race. Incumbent Mayor Xavier Suarez hired "Boleteros" or paid absentee ballot brokers to stuff the ballot boxes to win the election. Because of the vote fraud, the election results were overturned, and Joe Carolla became mayor of Miami.
More recently, Zakee Furqan of Jacksonville, convicted of second-degree murder under the name Leon Nelson, voted in several elections before his felony conviction was discovered. The first trial resulted in a hung jury and he is currently facing a retrial.
In the 2016 Florida Presidential Primary, Trump complained that 2,500 of his supporters were unable to vote for him in the primary. That may have been true, but it was not due to vote fraud. It turned out that these supporters were not registered as Republicans and, therefore, were not eligible to vote in Florida's closed primary.
Vote Fraud by the State of Florida
In previous writings, I have documented Florida's long history of suppressing the right to vote for certain groups, especially the state's minority voters. After the Civil War, the Democrats passed laws and amended the state constitution to eliminate black voters from the election rolls. Using devices such as the poll tax, the white primary, the eight-ballot box law and a host of other discriminatory devices, Florida could move from blacks being a majority of the electorate to blacks accounting for less than 10 percent of the electorate. All of this happened within a period of about 10 years.
For those who argue that this was an embarrassing part of Florida's early history, but it no longer happens, all one needs to do is look at recent Florida political history. The 2000 Presidential Election is filled with examples of how the Republican-dominated legislature and governor attempted to eliminate minority voters to help the Republican Party and its candidates.
The Republican-controlled legislature passed a series of laws which collectively eliminated thousands of legal Florida voters. Before the 2000 Presidential Election, the Legislature approved of a "purge" of felon voters and non-citizens from the ballot. They hired a company, Data Based Technologies, to set up guidelines to remove potential felon voters. The guidelines were vague, and election officials were told to challenge any voter even if it was not an exact match.
"John Smyth" could be removed if "John Smith's" name was on the list. Or, John Smith could be removed even if the birthday or Social Security numbers did not match.
Not surprisingly, most of those who were challenged were minority voters who tended to vote Democrat. The U.S. Commission on Civil Rights held three days of hearings in Tallahassee in January 2001 to investigate "alleged voter irregularities" in the Florida 2000 Presidential Election won by George W. Bush by a few hundred votes.
Among the Commission findings:
– African-Americans were 10 times more likely to have their ballot rejected
– African-Americans cast 54 percent of the rejected ballots due to antiquated voting machines such as punch cards.
– There were over 180,000 over-votes cast in the 2000 election. Of the 100 with the highest rate of disqualification, 83 percent were majority black.
– In Miami-Dade, blacks were 65 percent of those on the purge list, but only 20.4 percent of the county's population.
– Blacks were 11 percent of the Florida electorate in 2000, but 44 percent of those on the purge list.
– Florida, which disqualifies more felon voters than any other state, eliminates 10 percent of the voting age population and 23 percent of the black population from voting.
Instead of ending the voter purges after the disastrous results of the 2000 elections, Florida renewed the purges in 2008 and 2012. In 2012, Florida sent supervisors a list of 180,000 potential illegal voters. 75 percent of those on the list were black or Hispanic.
Only 207 non-citizens were found on the list and only 85 individuals, or .0002 percent, were removed.
Pinellas County supervisor of elections Deborah Clark commented on the purges:  "I'm sorry Florida is doing this right now. This does not reflect positively on Florida's election process."
Everyone wants elections to be untainted by fraud and, according to all the evidence, Florida has experienced little voter fraud.
A Florida Department of Law Enforcement study of the 20.7 million voters who participated in the last two statewide elections found only 13 cases of possible fraud and this resulted in only six guilty pleas.
Studies have consistently found virtually no evidence of fraud in Florida elections and, yet, the state has adopted policies to protect the integrity of the elections which have resulted in thousands of individuals losing their right to vote.
Florida needs to open wide and swallow a giant-size dose of political Viagra, because it suffers from a terrible case of electoral dysfunction.
­­­___
Darryl Paulson is Emeritus Professor of Government at University of South Florida St. Petersburg and is an expert in the area of voting rights. He has testified in numerous voting rights cases in state and federal court and testified at the request of the U.S. Civil Rights Commission in the 2001 hearings concerning "voting irregularities" in the 2000 Presidential Election in Florida.