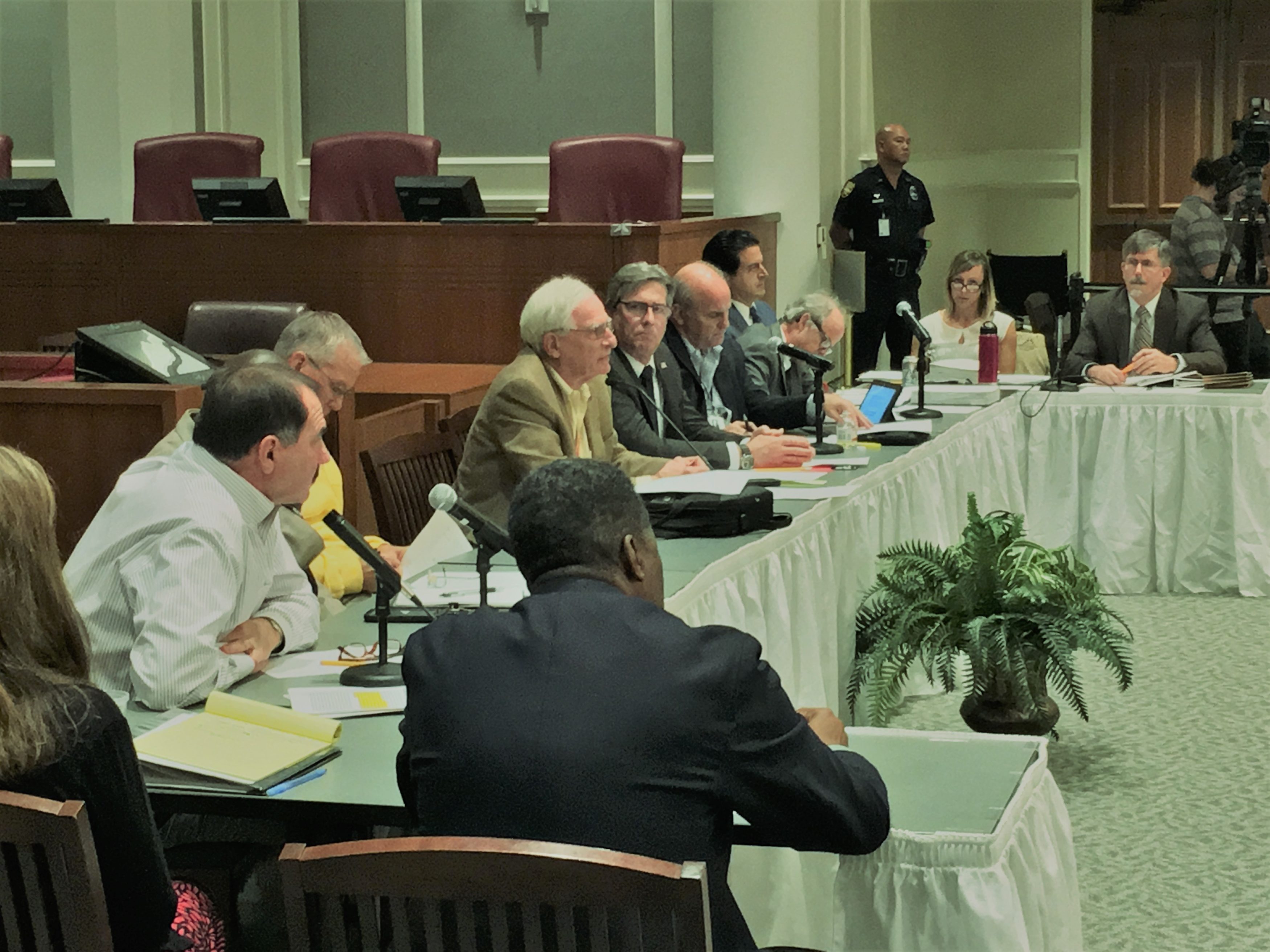 On Thursday, opponents of Jacksonville's proposed expansion of the Human Rights Ordinance had their say in the Council Chambers.
Councilman Bill Gulliford, launching the meeting, noted the passion surrounding this issue, which is now in its fifth year of being debated citywide.
"I decided to have this meeting for several reasons," Gulliford said, including "objective discussion" of these issues, and the "disappointing" lack of public comment being allowed during committee discussions next week.
Gulliford then discussed the issues being discussed, including legal issues, economic impacts, religious conscience, and the potential for a referendum.
Gulliford filed a bill in favor of the referendum late in 2015, and withdrew it after Tommy Hazouri withdrew his own bill that is much like the current bill up for discussion
"I will at the appropriate time introduce that option of a referendum in the process," the councilman vowed.
That option, he said, "could be" introduced during committees, if he believes it's "prudent" at the time.
Notable: a referendum can only amend the charter, not the ordinance code.
****
Council members on hand had their own takes on a referendum.
Councilman Reggie Brown, an opponent of the referendum option, noted that civil rights expansions such as in 1865 and 1965 would not have passed by referendum, but were still necessary and historically validated nonetheless.
Councilman Sam Newby, meanwhile, issued support for a referendum. Councilman Al Ferraro likewise supported a referendum, as a way of instituting finality.
"I would support a referendum if this went forward," Ferraro said.
****
Beyond that, there was robust discussion, much of it against the HRO expansion.
Gulliford then called up the perennial legal expert on his side of this issue: Roger Gannam of the Liberty Counsel, making his umpteenth trip to city hall to speak to the issue of "legal problems" with the proposed legislation.
On the issue of "gender identity," Gannam postulated that the bill's definition of such was "broad."
It was impossible for a business owner or the Jacksonville Human Rights Commission, which would enforce this, to determine the applicability of people who identify as "gender fluid," "non-binary," or other such terms, Gannam said.
Councilman Danny Becton spoke to his problem with the bill.
The shortening of the bill to five pages, Becton said, creates an impression of false transparency, as the bill doesn't itemize every change to code that was made, but just lists the relevant changes to statute.
"Words have just been condensed down to a couple of numbers," Becton said. "This bill is the exact same bill [as 2016]. It's been marketed as something that it's not."
Rev. Charlene Cothran from Palm Coast spoke up next, a former member of the Human Rights Commission and a longtime lesbian activist, who has been "transformed" after 29 years of activism.
Cothran's line of reasoning: the LGBT rights movement is not analogous to the civil rights movement.
"They now demand special rights, after they stay in the closet at their convenience," Cothran said.
"Homosexuals can and do change," said Cothran.
Former Jacksonville City Council candidate Geoff Youngblood had his say also.
"I would not be able to keep everyone safe if a male who [acted] female went into the women's bathroom and accosted one of my employees," Youngblood said.
Youngblood runs a seasonal business, with staffing that occasionally exceeds 15 people; the bill's definition of a small business would penalize his business by forcing him to abide by the ordinance.
Youngblood called for a referendum, saying "let the people decide," especially if the council is "fearful" of a decision.
Rev. Heath Lambert of First Baptist Church voiced his objections to the proposed ordinance also.
"This is a debate about convictions, not about discrimination. The conviction of LGBT men and women," Lambert said, is they should be "affirmed."
"The Christian conviction," said Lambert, is that the LGBT lifestyle is one of many sexual sins, including pornography and adultery.
"The passage of this ordinance would be to pick a favorite," Lambert said, between the LGBT community and the Christian community.
"If the council decides to discriminate against people of religious conviction," Lambert added, this would "bring true harm."
Lambert then pivoted to a discussion of sexual abuse survivors of his acquaintance, and their fear of a "man who looks like a man, but feels himself to be a woman" being in a room with them.
"They're too scared," Lambert said, to speak out in public.
"They're not afraid of that moment in the bathroom alone. They're afraid of what the city council will do to them," in terms of this ordinance potentially passing.
Council VP John Crescimbeni pressed Lambert on his discussion of "convictions, sins, et cetera," pointing out that religion is protected in the Constitution.
Crescimbeni also objected to the "baker, the butcher, and the candlestick maker" discussions of small businesses from elsewhere that have gotten national exposure to religiously-driven objection to anti-discrimination ordinances.
Crescimbeni wondered if these parties objected to "heterosexual couples living together outside of marriage."
"Gender is an ontological objective reality," Lambert said in response.