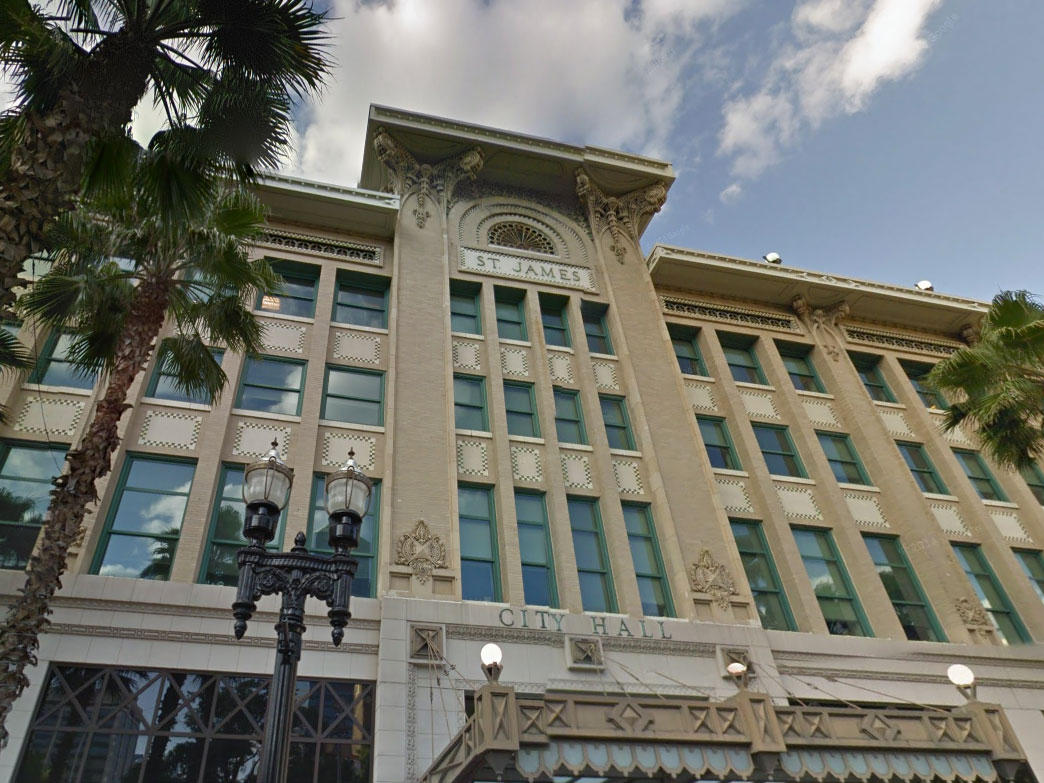 The Jacksonville City Council's Finance Committee approved the expansion of the city's Human Rights Ordinance on Wednesday morning.
The measure was approved by a 4-3 vote, with Bill Gulliford, Sam Newby, and Matt Schellenberg opposing expansion.
The expansion would add sexual orientation, gender identity, and gender expression to the list of protected categories under the ordinance, which ensures that people aren't discriminated against in the workplace, the housing market, or public accommodations (restrooms, locker rooms, and so on).
An amendment to allow companies with up to 50 employees to discriminate against LGBT people in employment practices was passed in the first committee to consider the bill on Monday, but it did not pass the second committee on Tuesday
In a process fraught with interesting wrinkles in parliamentary procedure, Wednesday's meeting was no different, as Schellenberg immediately pushed for reconsideration of the "50 employees" amendment.
It was spiked 4-3.
From there, another amendment from Gulliford: to put the HRO expansion up to a referendum in Aug. 2018.
The referendum discussion showed the demarcations on the issue at large.
****
Referendum Amendment fails 5-2: "This is a contentious issue … I have friends on both sides of the issue," Gulliford said. "If you think passing a bill will end [discrimination], you're naive. But a vote will end it."
Councilman Aaron Bowman noted the impact of inaction, citing the economic havoc wreaked on North Carolina via HB2 passage, including losing NCAA championship games, the NBA All-Star Game, and concerts by groups such as Pearl Jam.
"We're getting ready to open a new amphitheater," Bowman noted, before calling the referendum an attempt toward "tyranny by the majority."
Heated discussion continued, with Councilman Tommy Hazouri noting his history of activism on "human rights" issues, such as the Equal Rights Amendment and minority set asides.
"A referendum is not good for us," Hazouri thundered. "Who are we as a city? What's right?"
Hazouri got a groan from the crowd when he mentioned the Pulse massacre in Orlando, and then gave back as good as he got, saying "nobody asked you to speak. You already had your opportunity."
Councilman Greg Anderson dialed back the heat, saying the referendum "fundamentally alters" the bill, as the legislation would hang suspended pending the plebiscite.
The general counsel disagreed with that read; however, Anderson stood his ground, opposing the amendment.
Gulliford noted that Texas is going to pass its own version of HB2.
"There's some people that feel like they should be able to exercise their feelings and beliefs according to the Constitution," Gulliford said, noting his belief that "the only way to put this to bed is a vote of the people."
Council VP John Crescimbeni proposed a referendum on the entire HRO, given that the other protected classes were included by council ordinance.
Gulliford said the addition of sexual orientation/gender identity protections was more "contentious" than protections on race were in 1992, when the city council passed the larger ordinance
Council President Lori Boyer noted that she had asked for legal advice on whether a referendum amendment would be in order; she noted that "it would be permissible," and up to the council to decide if the amendment was cause to be substituted and re-referred to committees.
Councilman Matt Schellenberg went against Gulliford, noting that the votes aren't there for the amendment.
That said, Schellenberg noted "this is going to a referendum anyway."
Councilwoman Katrina Brown wondered if it was even possible to vote on excluding two groups from the HRO.
Crescimbeni: "it's winner take all."
****
Religious Exemption Language: An amendment was brought to the committee attempting the clean up the definitions of "religious organizations" and "religious corporations," after confusion in a previous committee.
While mosques, synagogues, and so forth are excluded, the question comes down to church related businesses and businesses that are for profit but predicated on an assertion of religious values.
Religious organizations, in the amendment, would include a "religious corporation, association, or society," consistent with federal law.
Crescimbeni noted that a company like Hobby Lobby, absent clarity, could position themselves as religious organizations. Likewise, a religiously-affiliated school could.
Theoretically, said Crescimbeni, a group could opt out of the HRO if the language was not more strictly defined.
Gulliford countered that a "non-profit based on Christian principles," such as a homeless shelter, may have a "legitimate concern" about this legislation.
"This is crazy. It gets into the whole issue of a lack of definition of all this," said an "appalled" Bill Gulliford.
Despite objections, the amendment was approved without objection by a hand vote.
****
Let's ram this thing through: Councilman Aaron Bowman discussed lost economic opportunities because of a lack of an ordinance, noting that he has hosted many site visits from companies that did not come here for that reason.
The impact is especially felt with companies with younger, skilled workers; these corporations, for whatever reason, value equal rights over arcane and politicized interpretations of Christian doctrine.
Feeling a loss coming on in yet another committee, Gulliford posited that small businesses drive the economy, and lamented the supporters' unwillingness to "compromise," as evidenced by the spiking of his substitute bill Monday.
"Let's ram this thing through" was how Gulliford characterized resistance of "legitimate concerns" from expansion opponents.
Hazouri noted, in response, that those concerns are really a "parade of horribles."
"There's nothing to fear but fear itself," Hazouri said.
Schellenberg, meanwhile, said that companies that didn't come to Jacksonville were "discriminating against us, without knowing who we are."
Voting for the HRO, Schellenberg asserted, negates the prima facie truth that Jacksonville is a great, loving place where people say hello to each other in Publix.