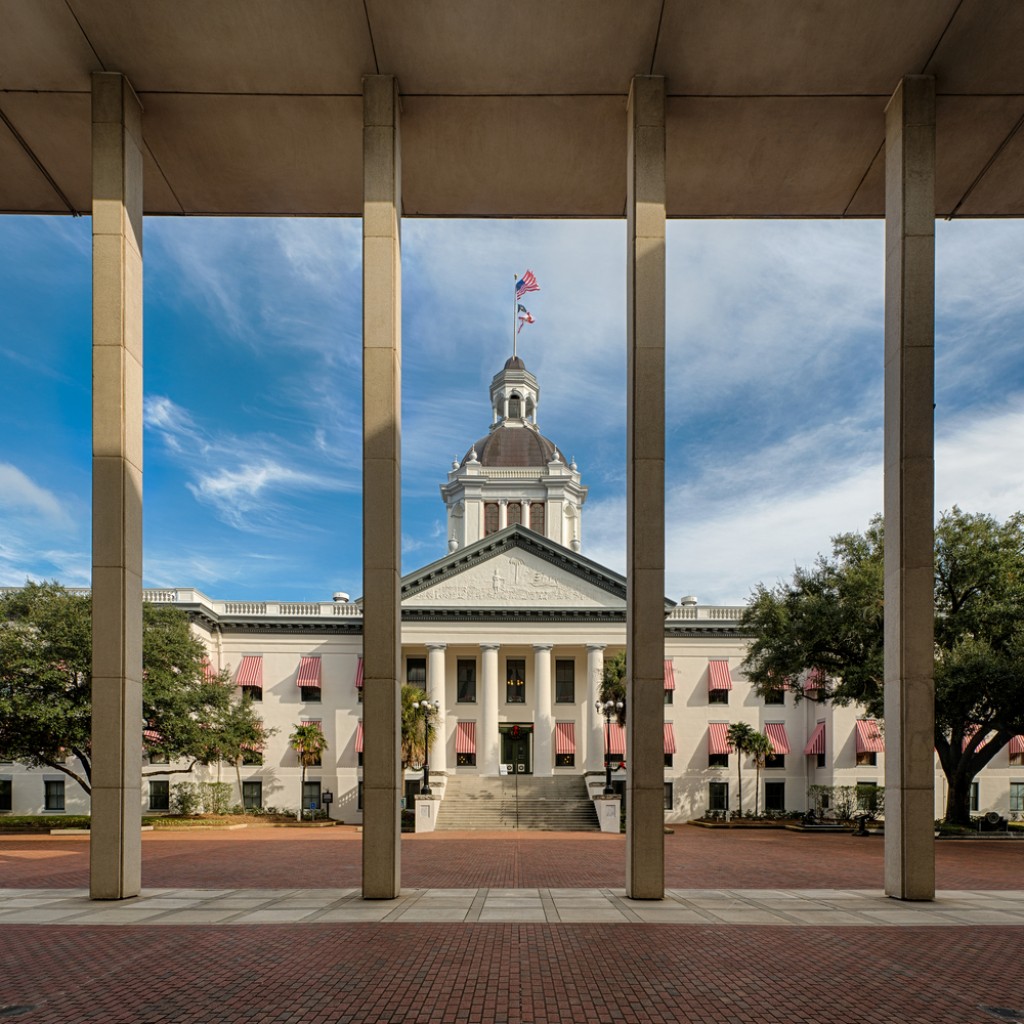 During debate on the Senate's 'whiskey and Wheaties' bill this week, Rene Garcia bemoaned it was "inconsequential" and boggled at all the other legislation that hasn't even seen the florescent light of a committee room.
"It's amazing to me that here in the Senate we have a bill that's been fast-tracked, and in the House it's been fast-tracked," the Hialeah Republican said. "And yet we have bills … that have had three and four references and are still stuck in committee."
Some of the missing-in-action legislation is arguably more important than others.
An overhaul of state alimony law wasn't heard in committee weeks, and hasn't been discussed as of the close of the third week of session.
The proposal, filed in both chambers, would toughen the standards by which alimony is granted and changed. Unsurprisingly, it's also created strife every year it's filed.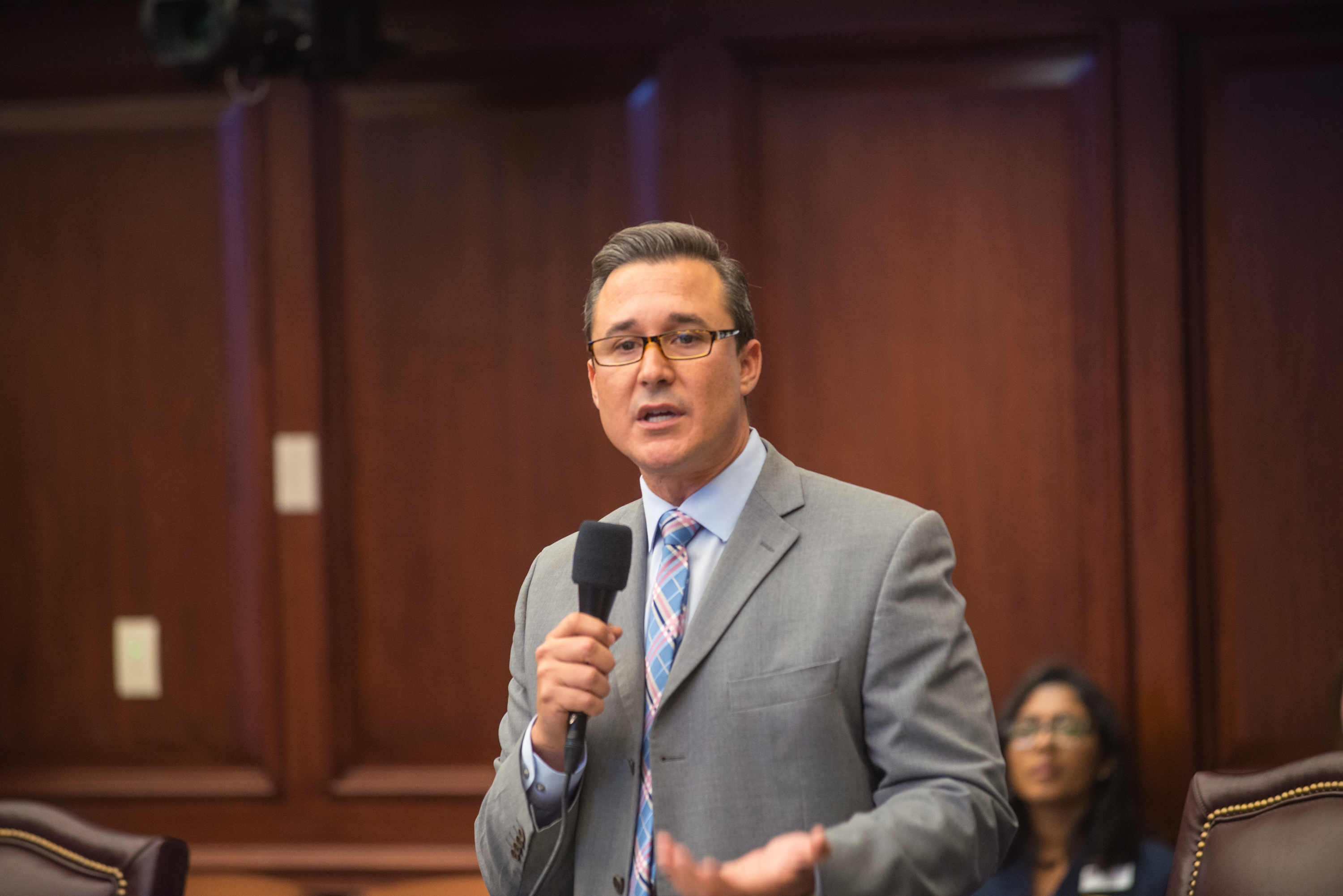 Also hanging fire in both chambers is a bill "to approve replacement of the statue of Confederate General Edmund Kirby Smith in the (U.S. Capitol's) National Statuary Hall with a statue of Marjory Stoneman Douglas."
Douglas was "Florida's most eminent environmentalist" and author of "The Everglades: River of Grass."
But Dr. Mary McLeod Bethune, founder of what is now Bethune-Cookman University in Daytona Beach, was the top public choice to replace the Smith statue. Students, faculty, and alumni plan to lobby for Bethune during next Wednesday's "Wildcat (BCU's mascot) Day at the Capitol."
Sen. Perry Thurston, a Fort Lauderdale Democrat, filed competing legislation to approve Bethune as the subject of the new statue. That bill also hasn't been heard yet.
Garcia mentioned still others: "Juvenile justice reform by Sen. (Anitere) Flores, education accountability by Sen. (Bill) Montford, hospice care by Sen. (Denise) Grimsley."
Those bills "have a direct impact on people's lives," Garcia told the chamber. "That's what we got elected to do up here: Try to make people's lives at least a little bit better.
"…What's the message we're sending to voters when we have all these bills still stuck in committee in Week 3?" he asked. Hmmm, maybe the lobbyists can answer that one. (And by the way, Garcia was a 'yes' vote on the booze bill.)
Coming up, the usual assortment of tidbits, leftovers and not-ready-for-prime-time moments by Jenna Buzzacco-Foerster, Michael Moline, Jim Rosica, and Peter Schorsch.
Now, the "Takeaway 5" — the Top 5 stories from the week that was:
Tear down that wall — The Senate voted 21-17 to approve a bill that would allow big box retailers and grocery stores to sell liquor in the same space as other products. The so-called "whiskey and Wheaties" bill passed after significant debate, which included references of Al Capone and suggestions that the proposal would lead to increased alcohol abuse among young adults. If signed into law, the earliest stores like Wal-Mart and Target could add liquor would be 2018. The Florida House is expected to take up the bill next week.
Pot shop talk — Senators began discussions this week about medical marijuana bills, holding a workshop to begin discussions bills to implement Amendment 2. The workshop marked the upper chamber's first steps toward implementing the 2016 medical marijuana medical amendment, which passed with 71 percent of the vote. With five bills filed in the Senate and one bill in the House, there doesn't appear to be a clear consensus on a framework for what implementation could look like. Sen. Dana Young, the Tampa Republican who chairs the Senate Health Policy Committee, said her committee is at least two weeks away from voting on a medical marijuana bill.
Roll the dice — The House gambling bill is on the move, with the House Ways & Means Committee voting 11-7 to approve the measure. The House proposal authorizes Gov. Rick Scott to renew the existing compact with the tribe, and increases the minimum guarantee from $250 million a year to at least $325 million. The Senate proposal is primed for a vote, but there's a wide gulf between the two. But don't expect a reckoning anytime soon: Rep. Jose Felix Diaz, the Miami-Dade Republican who chairs the Commerce Committee and has been the point man on gambling, said gambling is one of the bills that will be left until the end. "Even in a best case scenario, if there's some reasonable middle ground, if it exists, and the Seminoles would sign off on it, it's not going to pass next week," said Diaz. "It's too important to too many people, and it has too many repercussions for the budget. There's a lot of money at stake."
Misdirected complaints — The third week of the legislative session is in the books, and the fight between Gov. Scott and House Speaker Richard Corcoran continues to drag on. During a press conference this week, the Land O'Lakes Republican said Scott was spending too much energy on trying to save Enterprise Florida and Visit Florida. Instead, Corcoran said Scott should "start talking about workers' comp and assignment of benefits which have far more effect than Enterprise and Visit Florida on jobs." The comments came as Scott once spent the week traveling the state hosting roundtables with business, economic development and tourism leaders to talk about the need for Enterprise and Visit Florida.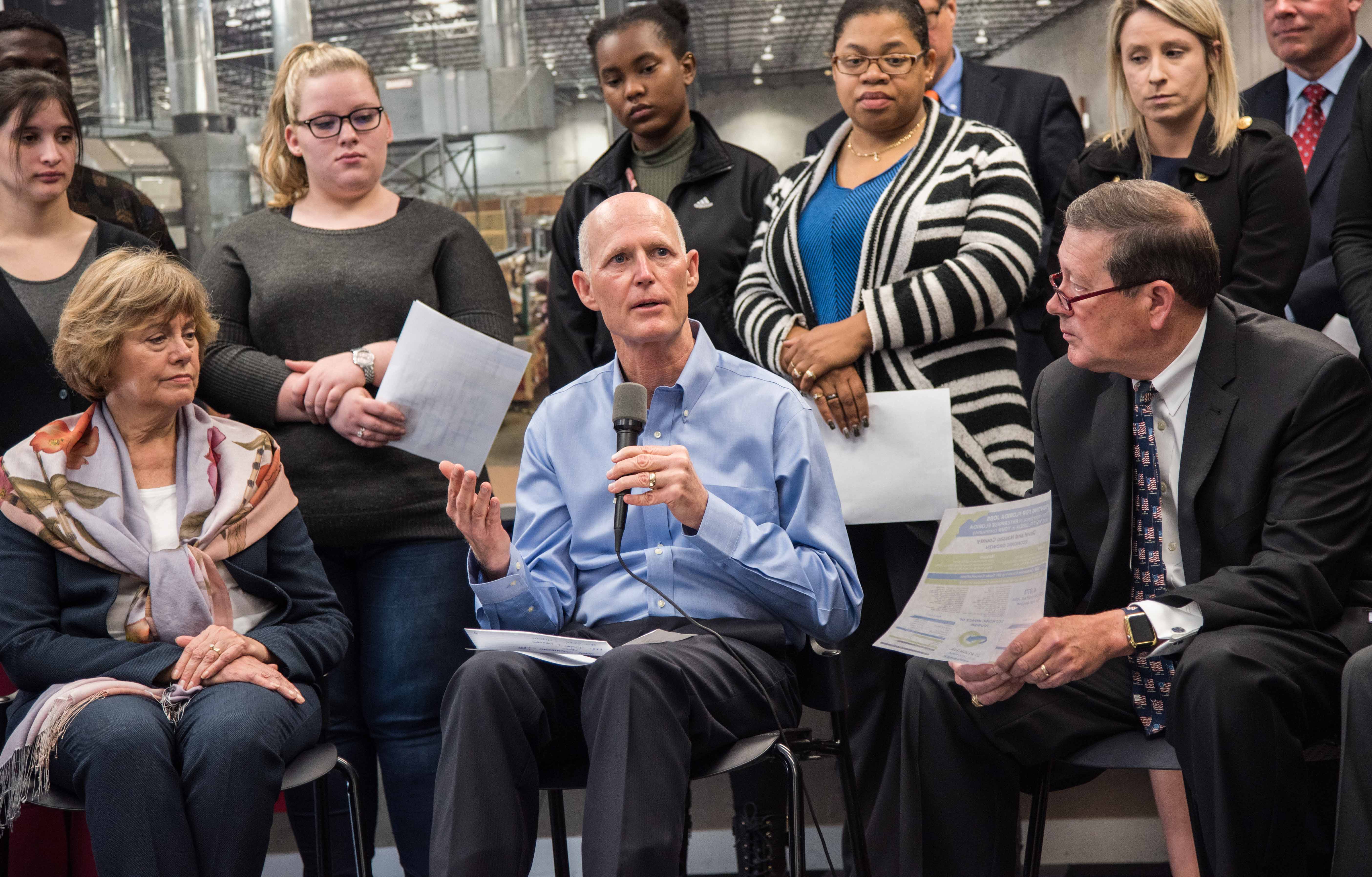 Death penalty fall-out — Members of the Florida Legislative Black Caucus slammed Gov. Scott this week for his decision to remove State Attorney Aramis Ayala from the Markeith Loyd case because she wouldn't seek the death penalty. Lawmakers called the decision a "dangerous precedent and is a slap in the face of the voters" who put her in the office. The comments came as Scott said he was still weighing his options, and hadn't ruled out suspending her from office. House Speaker Corcoran said this week Scott should suspend Ayala, saying her position is in violation of the Constitution.
—
The Senate Health Policy Committee might not be using Skype anytime soon if Sen. Young has anything to say about it.
During a two-and-a-half-hour workshop this week, the committee was scheduled to hear testimony from Dr. Robert Winchell with the American College of Surgeons during a workshop on the trauma system. Winchell was phoning in using Skype, but technical difficulties appeared to delay his call. Once he was able to tap into the meeting, the connection was garbled, making his speech unintelligible.
Viewers on the Florida Channel could see someone trying to get Winchell's attention, but Winchell didn't appear to notice. And after nearly nine minutes, Winchell was cut off mid-sentence.
"We were trying to talk to Dr. Winchell, but he couldn't hear us," the Tampa Republican and committee chairwoman told the crowd.
"I will stop at nothing to keep this meeting on time," she then said to chuckles from members and the audience.
—
Take that, Texas.
Gov. Scott announced this week that Florida added more private sector jobs than any other state in January. The Sunshine State, according to the Governor's Office, created 50,700 new private sector jobs during the one-month period, resulting in a year-over-year growth rate of 3.6 percent.
"As more and more companies choose to invest in our state, we also continue to see improvements in other parts of the economy, such as the housing market," said Scott in a statement. "Even though our economy continues to grow, we have to keep making sure more businesses move to and expand in Florida.
January also marked the 21st consecutive month that Florida created more jobs private sector jobs than over-the-year than Texas. That's a big win for Scott, who has made it clear the Lone Star State is Florida's main rival when it comes to job creation.
—
Welcome to the board!
Gov. Scott announced this week he appointed Patti Ketcham to the Florida Real Estate Commission. Ketcham, a Tallahassee resident, is the owner of Ketcham Realty Group. She succeeds Darla Furst, and serves a term ending Oct. 31, 2020.
Scott reappointed Antonett Munchalfen and Michelino Nibaldi to the Barbers' Board.
Munchalfen, a 62-year-old Tampa resident, is a barber instructor for the Hillsborough County School District. Nibaldi is a 37-year-old master barber at Acqua Di Parma in Miami. Both were reappointed to a term ending Oct. 31, 2020.
The governor named Ronald Lieberman to the Florida Housing Finance Corporation. The 70-year-old Ocala resident is the president of Steel Structures of Florida, and succeeds Leonard Tylka for a term ending Nov. 13, 2020.
He also announced this week Tracy Knight, Richard Dorfman, and Dominic DiMaio will join the District Board of Trustees for the State College of Florida, Manatee-Sarasota.
Knight, a 51-year-old Venice resident, is the managing director of Knight Marketing. She received her bachelor's degree from Florida State University, and will serve a term ending May 31, 2019.
Dorfman, a 65-year-old from Sarasota, is a former international sports executive with a bachelor's degree from American University. DiMaio, a 51-year-old Lakewood Ranch resident, Is a divisional CEO of Synovus Bank who received his bachelor's and master's degrees from Widener University. Both men serve a term ending May 31, 2020.
All of the appointments are subject to Senate confirmation.
The Jackson County Hospital Distirct has four new members.
Scott appointed John Miton, a 57-year-old Mariana business owner and real estate investor; Shareta Wright, the 43-year director of the Wright Foundation; Kelly Connolly; the 47-year-old vice president of finance for Tri State Automotive Warehouse; and Dr. Robert Hoff, an 82-year-old retired family praticioner to the board.
The governor also reappointed Vijay "Vic" Narang to the Board of Commissioners for the South Broward Hospital District. The 51-year-old Davie resident is the chief executive officer of GDK Corp. He received his bachelor's degree from VRCE in Nagpur, India, and master's degree from the University of Detroit. He was reappointed to a term ending June 30, 2020.
—
You don't look a day over 25, Greenberg Traurig.
More than 600 South Florida business, government and nonprofit leaders joined GT to celebrate the firm's 50th anniversary at an event at the Perez Art Museum Miami earlier this month.
"In so many ways the clients and community leaders who celebrated with us represent our legacy because it was their support that nurtured us and helped us to grow," said Matt Gorson, senior chairman of Greenberg Traurig, in a statement. "We are beyond grateful for the trust they have placed in us, as their business partners and friends. This is a reflection of the commitment to community and client service that our founding partners instilled in the firm – one that still defines Greenberg Traurig to this day."
Founded in Miami in 1967 by three attorney — Mel Greenberg, Robert Traurig and Larry Hoffman — the firm now has more than 2,000 attorneys in 38 offices in the United States, and around the world.
—
See you, screwworm.
The Florida Department of Agriculture and Consumer Services announced it lifted the animal quarantine for Monroe County and the Animal Health Check Point was closed on March 18. The announcement came after months of aggressive response efforts to combat the spread of the New World screwworm.
The United States Department of Agriculture's Animal and Plant Health Inspection Service confirmed the presence of New World screwworm in Key deer in September 2016. It was the first local infestation in the United States in 30 years. Commissioner Adam Putnam declared an agricultural state of emergency in Monroe County in response to the infestation, and established an animal health check point zone from mile marker 91 south.
Since the check point was established, inspectors checked more than 16,000 animals with no detections of screwworm. According to the agency, there have been no new screwworm infestations found since Jan. 10.
Residents who have warm-blooded animals should continue to watch their animals carefully and report any potential cases to 1-800-HELP-FLA.
—
Anyone got a couple million dollars to spare?
State economists estimate the fund that pays for school construction will be $36 million shy of the $373 million requested by state education officials this year.
The fund — the Public Education Capital Outlay Program, or PECO — pays for construction and maintenance projects in state schools, colleges and universities. Economists estimated last week that the program would generate $337 million without issuing bonds, placing the available funds well below what education officials requested. It's possible, however, the gap could be made up using funds from another revenue source.
House Speaker Richard Corcoran has said he is against issuing bonds to fill the funding gap, though Senate President Joe Negron has said he is open to a "reasonable" amount of bonding.
—
Thank you for your service.
Gov. Scott extended a big "thank you" to the Florida National Guard, issuing a proclamation to honor the 450-year-old organization this week during a ceremony at the Capitol.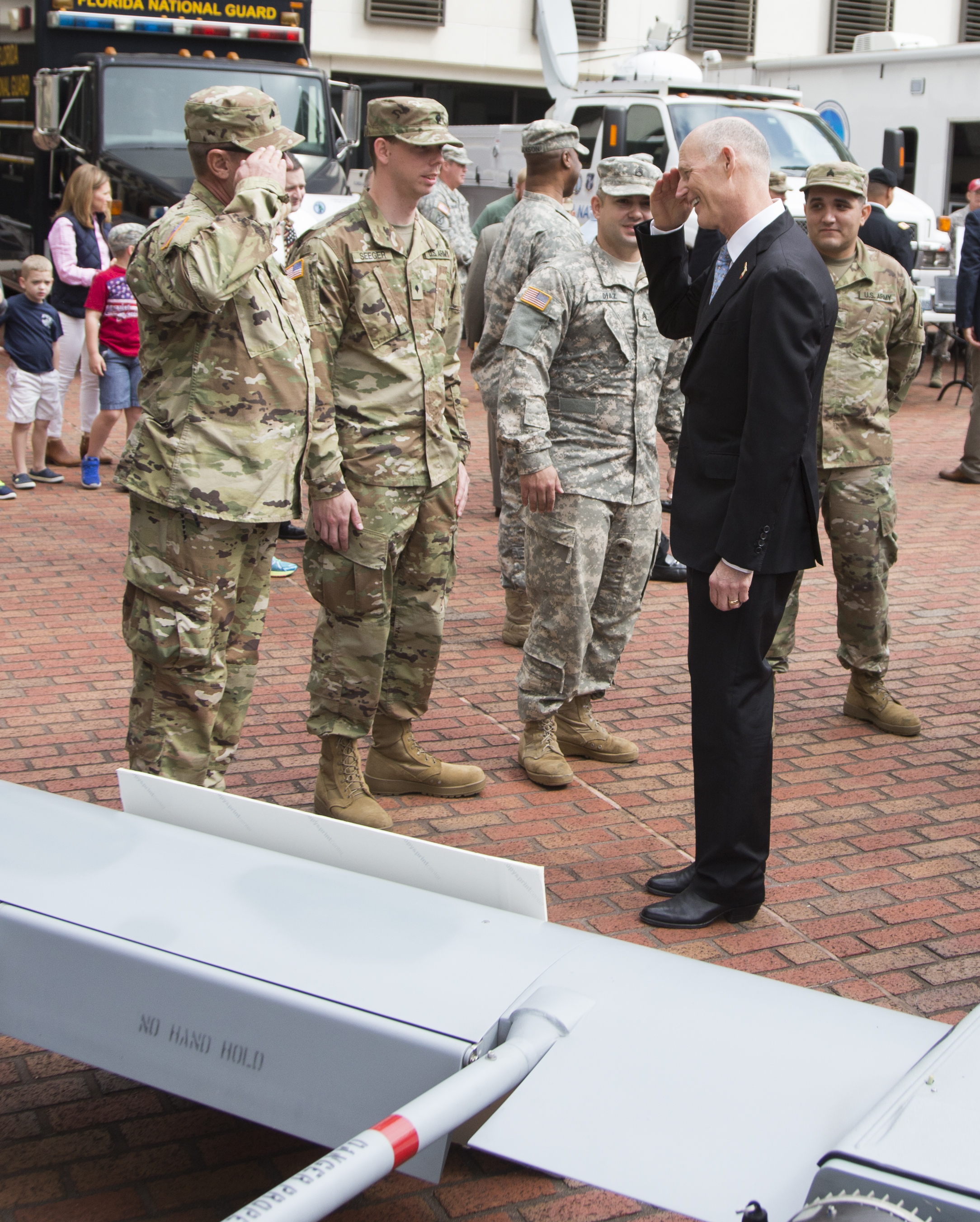 "I am proud to dedicate today to the brave members of Florida's National Guard. These men and women stand ready to serve our country and respond to the needs of our communities during natural disasters and emergencies," he said in a statement. "The State of Florida is forever grateful to these heroes and their families who make countless sacrifices in defense of our freedom."
Currently about 12,000 men and women serve as soldiers and airmen in the Florida National Guard.
Scott also awarded more than 50 veterans with the Governors Veterans Service Medal during National Guard Day at the Capitol.
—
The break in negotiations over Gulf Power Co.'s bid for a $106.8 million base rate increase came via a congratulatory telephone call.
The talks had broken down, so the Public Service Commission was set to launch five days of highly technical hearings on the request, which a broad range of consumer, environmental, and business interests opposed.
"It was dead," said Charles Rehwinkle, of the Office of Public Counsel.
Then, at about 4 o'clock Thursday afternoon, Gulf Power attorney Jeffrey Stone called to congratulate Rehwinkle on a legal victory before the Florida Supreme Court.
"Jeff and I talked about the Supreme Court case. That led to, 'Can we try one more time' to resolve the rate case?" said Rehwinkle. "And we did."
They reached an agreement in principle at around 2:30 p.m. last Friday and, by the wee hours of Saturday morning, had written terms. They talked all the next day and evening, and around midnight had a formal agreement to cut the increase roughly in half.
Cutting thing close, perhaps. "It's better than filing after the meeting," he said.
—
Get ready, Session 2018 is just around the corner.
No, really.
The Florida Senate released the dates of the 2018 Legislative Session this week. The annual 60-day session is scheduled to kick-off on Jan. 9 and will end (hopefully) on March 9.
Why the earlier than normal start? In 2016, Gov. Scott signed into law a measure that followed the same timeline as the 2016 Legislative Session. While the Florida Constitution requires the Legislature to begin on the first Tuesday after the first Monday in March in even number years, it allows the Legislature to set the date odd number years.
In case you were wondering: This year it was 56 degrees in Tallahassee on Jan. 9. The low? A blustery 23 degrees.
—
Rep. Sean Shaw just wants to help.
The Tampa Democrat is pushing legislation (HB 421) that would extend self-insurance funds to for-profit and not-for-profit corporations with interest in public housing investments.
The bill would allow companies that are partially or fully owned by a public housing authority to join the same self-insurance fund as the authority that owns or governs them.
Self-insurance funds exist for the purpose of pooling and spreading liabilities for those who provide public housing. The bill would also allow such entities to purchase reinsurance.
"Promoting investment in our public housing system is a win for businesses who want to invest in our communities and for Floridians in need of affordable housing," Shaw said. "We have a responsibility to do everything we can to ensure that Florida's less fortunate and our most vulnerable citizens have access to housing at a reasonable cost."
—
Just think of it as a bit light reading: The Office of Demographic Research released its annual Florida Tax Handbook this week, estimating about $30 billion in general revenue for the 2016-17 fiscal year.
The bulk of that money, about $23 billion, came from sales tax, $15.6 billion of which was spent on education.
The report also details the state-federal split in trust fund dollars, which in the current fiscal year add up to $24 billion from the state and $28 billion from the federal government.
The state is working with a total budget of $82.29 billion this year.
—
The time to act is now, according to supporters of the Florida Competitive Workforce Act.
The proposal — sponsored by Sen. Jeff Clemens in the Senate and Reps. Ben Diamond and Rene Plasencia in the House — has the backing of 50 members of the House and Senate. The bills prohibit discrimination based on sexual orientation and gender identity.
"There are 50 members in support of FCWA in the legislature and over 70% of Floridians support this legislation," said John Tonnison, the president of Florida Competes. "It is overdue for our legislative process to catch up with this kind of respectful and inclusive thinking, and hear the bill.  Silence on this issue speaks volumes."
Tonnison, the president and CIO of Tech Data Corporation, met with lawmakers recently to talk about the need to pass the proposal, saying "Florida needs to embrace the best practice of the largest employers in the country, for the state's own economic and strategic planning."
Neither measure has been scheduled for its first committee hearing.
—
Mandatory minimums are a waste of money unless officials take steps to improve public safety.
Those were the finding of a new report from the James Madison Institute. Released this week, the report highlights the low amount of hydrocodone or oxycodone pills police need to find before a person can be charged with drug trafficking. Currently, 14 hydrocodone pills or 7 oxycodones can land someone in jail for 3 years.
According to the report, 2,310 Florida inmates – roughly 42 percent of those incarcerated for drug offenses – are serving time for selling oxycodone or hydrocodone, and 83 percent of those individuals have no history of violent crime.
"By inflicting inflexible, harsh minimum sentences on non-violent, often first-time offenders, Florida not only wastes millions of taxpayer dollars, but also disintegrates families, destroys lives and does nothing to address the addiction that led to the initial offense," said Robert McClure, the conservative think tank's president and CEO, in a statement. ""Justice must be swift and sure, but it must also be just."
JMI recommends Florida adopt "safety valve" laws, which would keep the mandatory minimums in place, but allow judges to break from them in cases where the defendant is not a threat to the public.
"By implementing a 'safety valve,' like many other states have and like what exists for other offenses in Florida, we would allow a judge to do their job and take into account all of the mitigating factors that may be unique to each offense," said McClure.
—
Floridians want lawmakers to say "frack no" to fracking.
Hundreds of Floridians — including members of ReThink Energy Florida, Food & Water Watch, Sierra Club and Florida Conservation Voters — gathered at the Florida Capitol this week to encourage elected officials to pass a fracking ban.
"Banning fracking in Florida is one of the best things we can do to protect our treasured waterways, public health, and economy," said Sen. Jack Latvala. "I stand with the 90 cities and counties in Florida that have passed ordinances or resolutions calling on us, the State Legislature, to pass this important legislation."
Sen. Young and Rep. Mike Miller have filed bills calling for a ban on fracking. Young's bill cleared the Senate Environmental Preservation and Conservation Committee on a 5-0 vote earlier this month.
"The time has finally come to end this dangerous practice," said Sen. Gary Farmer, a co-sponsor of the Senate ban bill. "This bill represents the now bipartisan recognition that Florida's unique geological makeup leaves our water supply particularly vulnerable and must be protected."
—
Kudos, Joseph Joyner!
Joyner, the former superintendent of schools in St. Johns County, was named the 2016 Lavan Dukes District Data Leader of the Year during the State Board of Education meeting this week.
"I am pleased to recognize Dr. Joyner with this prestigious award for his hard work and dedication to Florida students," said Education Commissioner Pam Stewart in a statement. "He cultivated a student-focused environment that used data to guide instruction and ultimately helped the district's students achieve outstanding academic results."
During the 14 years Joyner has been at the helm of the school district, St. Johns County has been one of the top-performing districts in the state. Joyner emphasized the use of data to help ensure all students had the information they needed to embark on a path to help them become well-rounded graduated.
—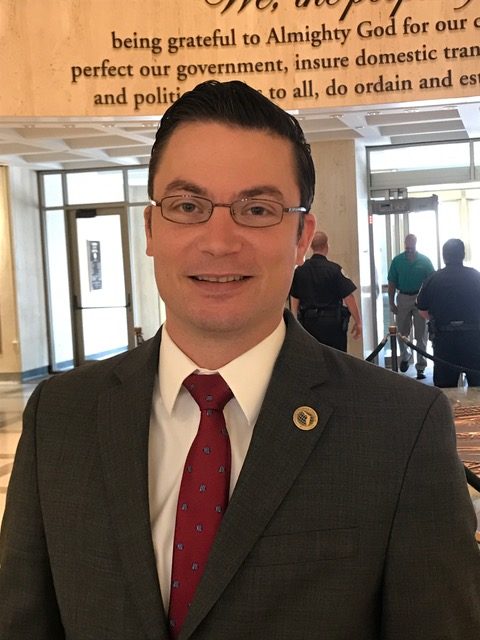 Spotted in the Capitol: A beardless David Altmaier.
Florida's insurance commissioner was clean shaven while making the rounds this week.
"I shaved it on a whim, and my 3-year-old came home that afternoon and asked to put my beard back on," he said. "My wife has been very nice about it, but I can tell she prefers the bearded look."
He'd worn the beard for about one year.
"It was beard No. 2 — version 2.0," he said.
—
CFO Jeff Atwater has fraud on the brain.
No, he isn't pondering which stapler he'll swipe when he leaves his post later this year. Instead, the chief financial officer is urging Floridians to be on the lookout for insurance fraud.
In his weekly newsletter to Floridians, Atwater said crooks "seem to seem to find a way to cheat the system" and highlighted a recent case insurance and arson investigators from his office recently ran across.
The case involves Michael Abrams, 43, who has been charged with arson, insurance fraud, filing a false insurance claim, false reports in the commission of a crime and grand theft. He is accused devising a plan to have his 2016 Toyota Camry stolen and destroyed so that he could collect an insurance payout totaling $10,000.
"Why would anyone do that? Maybe he was tired of making car payments or perhaps he wanted a different car to drive," wrote Atwater in his weekly newsletter. "Whatever the reason, the fact remains: By stealing from his insurance company, he's causing all of our insurance rates to rise."
Atwater encouraged Floridians to "say something" if they see something that look suspicious.
"Our investigators are doing a great job, but they can't be everywhere all the time," he said
—
Go, Panthers!
Sen. Anitere Flores welcomed the Florida International University community to the Florida Capitol this week to celebrate FIU Day at the state Capitol. The annual day gives students and school officials a chance to meet with lawmakers and advocate on behalf of issues important to them.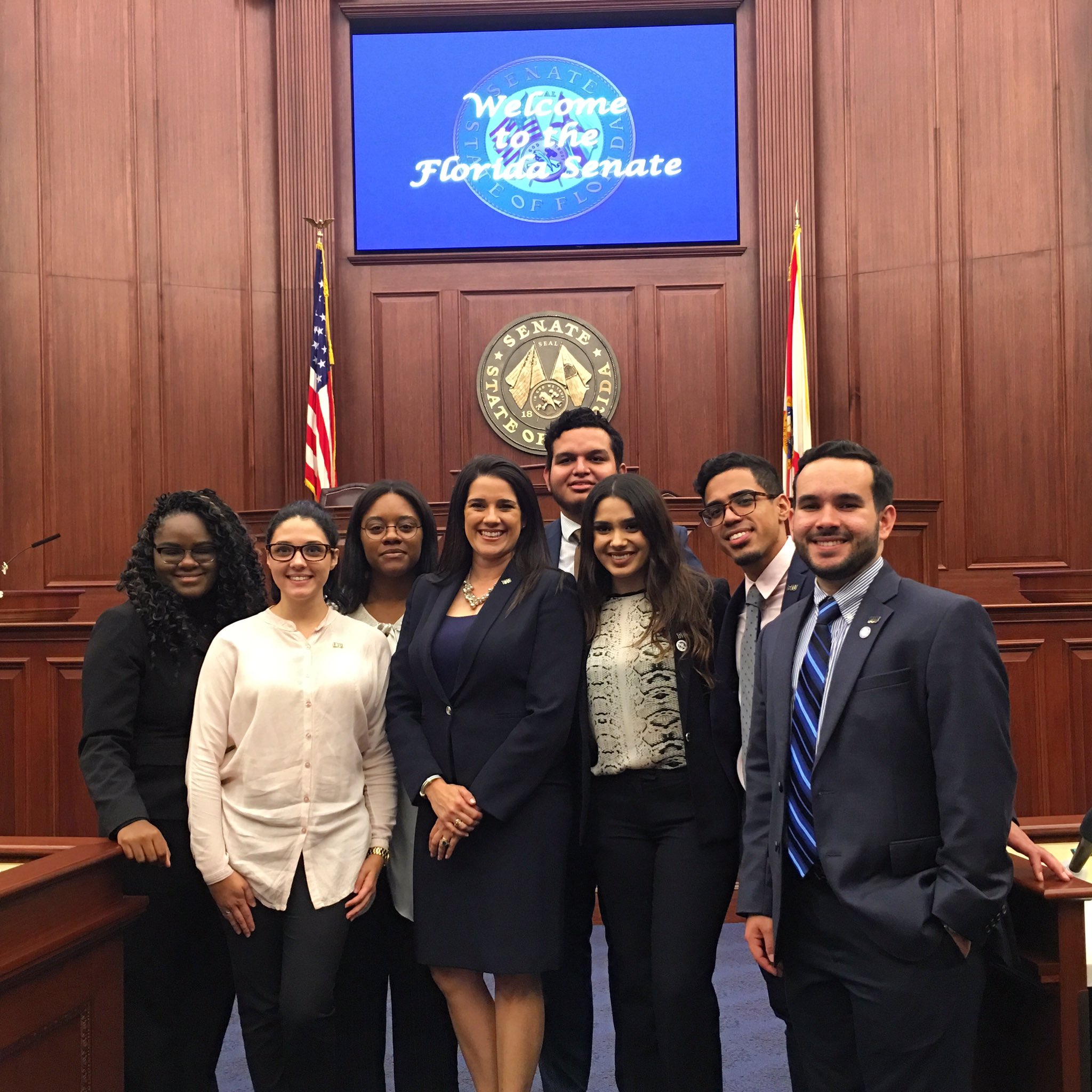 Flores, a 1997 FIU graduate and the university's former director of state relations, said she was honored to welcome members of the Board of Trustees and President Mark Rosenberg to the capital to discuss "funding and key legislation aimed at providing FIU with the necessary tools to continue their steady growth and success through campus expansion, entrepreneurial workforce initiatives and high skilled/high adaptable programs."
Florida International University is a pillar of higher education serving the people of Miami-Dade County, and students from all walks of life and throughout the globe," she said in a statement. "As an FIU Alumna, I couldn't be prouder to be in a position where I can serve my former university, as they have served countless students and faculty throughout the years."
—
Senators unanimously backed a bill (SB 60) this week that would help foster kids get a set of wheels by chipping in on insurance and other driving costs.
The proposal makes permanent a 2014 pilot program to help foster kids get licenses and Fernandina Beach Republican Sen. Aaron Bean, the bill's sponsor, said the money to pay for the plan is already in the state budget.
Bill backers say foster kids don't get the same family support when it's time to get a license, so they need help from the state.
"Foster care kids are our kids," said Sen. Kevin Rader. "They are our kids."
—
The Senate is expected to vote on a bill (SB 80) next week that would disallow winners of public records lawsuits from collecting attorney fees.
Local governments say they are being bombarded by frivolous public records requests in order to provide an in for requesters taking them to court. Current law requires state and local agencies to cover the cost of attorney fees in public records cases.
The Senate has mulled over a few different solutions to the problem, including giving judges the choice in whether to award fees, but the bill ready for the Senate floor would keep the requirement that agencies pay fees if they improperly held back public records.
The bill would change the time frame agencies have to respond by forcing plaintiffs to give at least a five-day notice before they file suit.
—
Florida mayors have a message to legislators: Stay in your own lane.
The League of Mayors held a press conference this week to oppose legislation that takes aim at local governments' home rule authority, saying they were concerned about bills that do everything from set local business standards to regulating vacation rentals and telecommunications equipment.
"How can somebody in Tallahassee tell us that we don't know what's best for our own community," said Mayor Carol McCormack, the president of the Florida League of Mayors. "Each individual city – 412 of us – all have unique and individual problems, and we need to be able to address those without coming up the Legislature once a year and asking for relief."
McCormack, who serves as the mayor of Palm Shores, was joined by mayors from across the state to oppose the measures. Several big-city mayors — including Tampa Mayor Bob Buckhorn and Orlando Mayor Buddy Dyer — have also spoken out against proposals to remove home-rule.
—
CFO Atwater went to the Florida Chamber of Commerce's Capitol Days to give a speech.
Turns out, he was duped.
Chamber leaders lured Atwater to the annual event under false pretenses. As David Hart, the executive vice president of government affairs and political relations, pointed out, it was last time Atwater would attend the event before leaving his post for a new gig at Florida Atlantic University.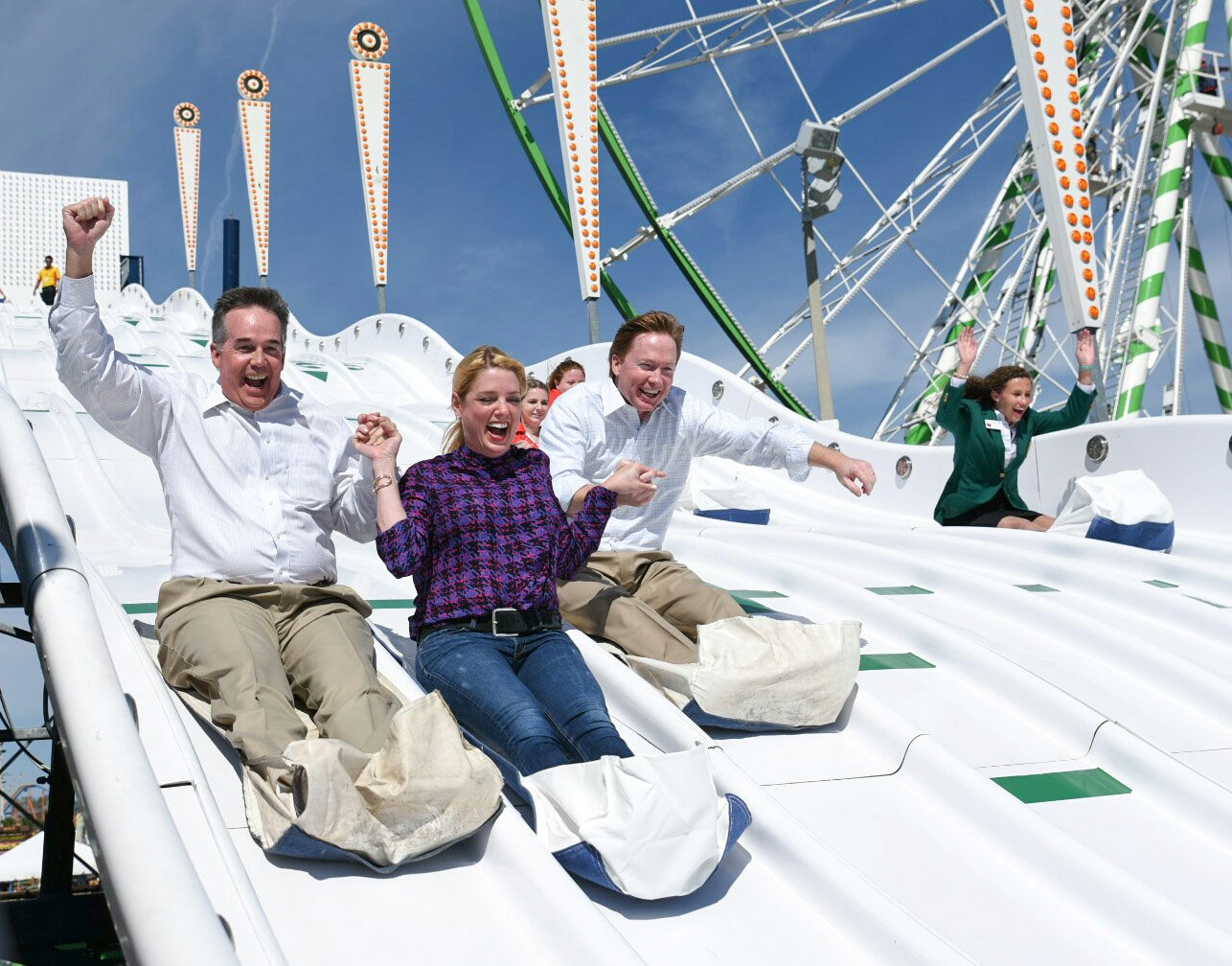 So instead of a speech from Atwater, attendees heard fond — and funny — testimonials from Attorney General Pam Bondi, Agriculture Commissioner Putnam and former House Speaker Larry Cretul, who was Speaker when Atwater was Senate President.
Cretul recalled the time Atwater persuaded him to climb up through the rafters in the Old Capitol cupola to watch the sun come up and raise the state flag.
"The sun comes up, and I say, 'This is great,'" said Cretul. "(And) he said, 'It's a new day in the state of Florida!"
—
Speaking of Atwater: The CFO didn't stay quiet while his colleagues were heaping praise on him.
In fact, he even uttered something that sounded a little like an endorsement about one his Cabinet-mates.
"I don't know that I have ever been around anyone who has the capacity to grasp the potential of the people of this state, and to be able to articulate it in a way that it is the positive message of the possibilities that we can face together," he said about Agriculture Commissioner Putnam. "I feel that we are all enriched that your family has made the sacrifice for you to be participating. And I hope in many ways to come."
Putnam is widely expected to run for governor in 2018.
—
The Florida Department of Education is mourning the loss of one of their own.
Brian Dassler, the 38-year-old deputy chancellor of education, died early this week of natural causes, according to the Tallahassee Police Department. Dassler came to the state education department from New Orleans, where he was the founding principal of a charter school and the chief academic officer for Louisiana's Arts Conservancy.
"I am heartbroken over the loss of our dear friend and colleague," said Education Commissioner Stewart. "He joined the Florida Department of Education in 2013 and brought with him an unrivaled passion for students, educators and the field of education as a whole."
Dassler had been scheduled to be recognized during the State Board of Education meeting for volunteering 50 hours as a mentor between July 1 and Dec. 31, 2016. Stewart said Dassler spent his free time mentoring a student at Godby High School.
"Brian was one of a kind. He was always the first to highlight the positive in any situation, and through his inherent goodness and relentless drive, he inspired others to go the extra mile and believe they too could make a difference," she said. "I believe he was able to achieve so much in his short 38 years because he never lost his desire to learn. Brian earned bachelors, masters and doctoral degrees from the University of Florida where he has twice been named an outstanding young alumnus. We are truly heartbroken. His loss will be deeply felt throughout the nation, and he will never be forgotten."
—
Get them while you can.
The spiny lobster recreational and commercial lobster season closes to harvest in state and federal waters starting April 1. The season will be closed until Aug. 6, according to the Florida Fish and Wildlife Conservation Commission.
Recreational fishermen (and women) won't have to wait until then to get some of the tasty treats, though. A two-day recreational sport season is scheduled for July 26 and July 27.
—
The Florida Department of State wants to help you tap into your inner Indiana Jones this month.
Secretary of State Ken Detzner announced this week the Department of State will celebrate Archaeology Month this weekend with behind-the-scenes events at two popular Tallahassee locations. The events are meant to promote the state's cultural heritage and showcase the state's archaeological collections.
"I am proud to recognize the important work done by our state archaeologists every day on the ground and underwater, to ensure that we protect, interpret and preserve our state's precious archaeological heritage," said Detzner in a statement.
Events include a behind-the-scenes tour of the archaeological conservation lab at the R.A. Gray Building, 500 South Bronough Street. The 20-minute tours will take place every hour from 10:30 a.m. to 2:30 p.m., and participants will get to see the techniques and process used to preserve state artifacts. Due to the presence of artifacts and chemicals on open tables, children under 10 are not permitted.
On Wednesday, folks can get a behind-the-scenes tour of the archeological collection at Mission San Luis. That tour is scheduled for 11 a.m.
For more information, visit here.
—
Here's this week's edition of Capitol Directions:

Save
Save
Save
Save
Save
Save
Save
Save
Save
Save
Save
Save
Save
Save
Save
Save
Save