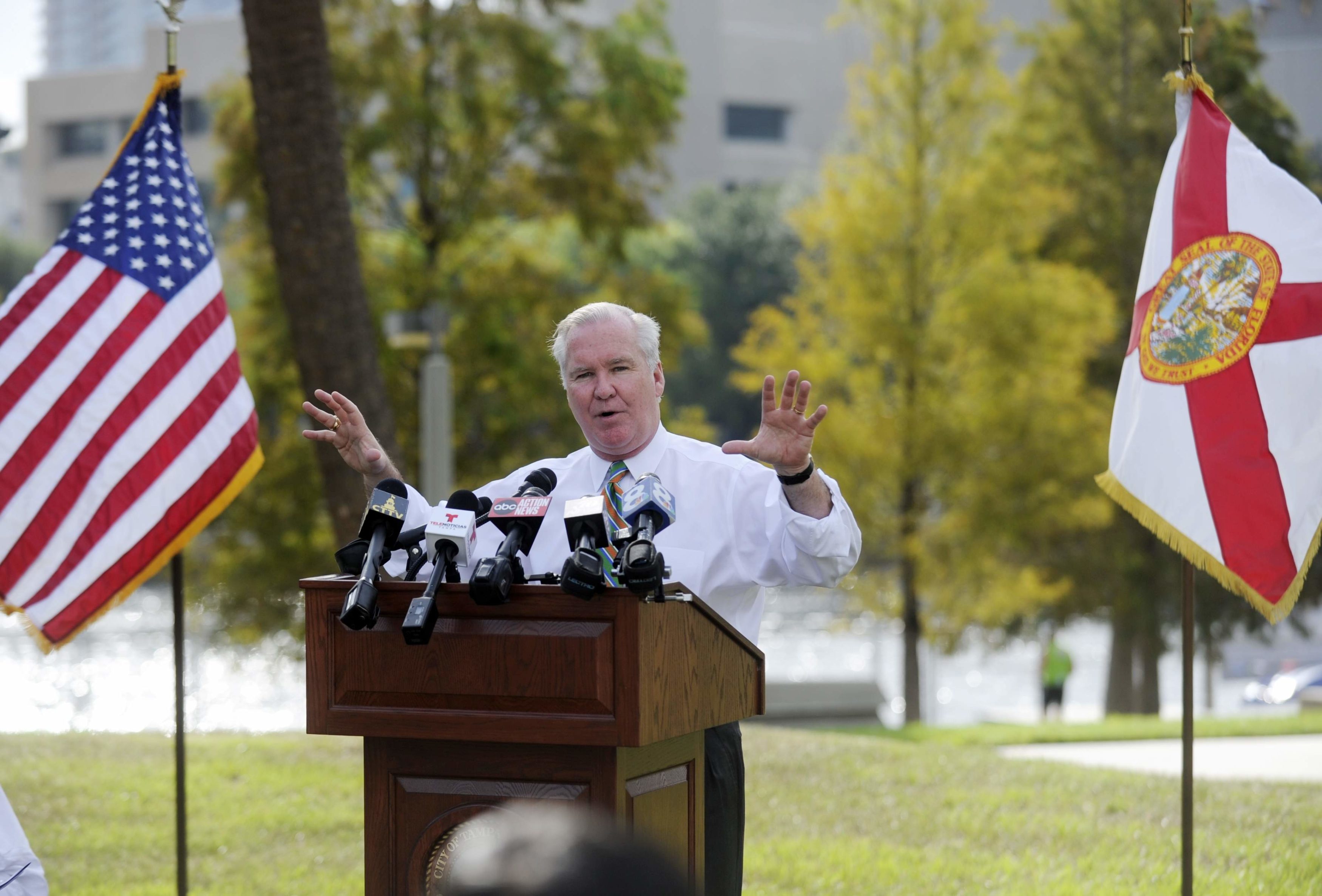 Bob Buckhorn is a gregarious, ambitious and determined man, and I think he would have made a fine governor for the state of Florida. He certainly ranks among the best mayors the city of Tampa has ever had.
But I also believe he made the right call when he announced in an email to supporters Thursday morning that "I am not planning to be a candidate for Governor in 2018."
Now, saying "I am not planning …" does leave a little wiggle room in case Democrats come storming to his door, but that is not likely to happen. There could be several viable options for Dems in 2018, including Orlando attorney John Morgan, Tallahassee Mayor Andrew Gillum, and former U.S. Rep. Gwen Graham.
But Buckhorn wasn't kidding in that email when he said, "I have a job I love." In his case, that was not the usual politician-speak for "I've sized up the field and decided I have no chance."
Tampa has had some fine mayors dating back more than 40 years — people like Dick Greco, Bill Poe, Sandy Freedman, Bob Martinez, Pam Iorio — and none of them wanted the job more than Buckhorn. He loved saying that Tampa had its "swagger" back. Trust me on this; no one has more swagger than he does.
And Buckhorn came along at the right time, too. When he assumed office in 2011, the city's knees were buckling from the Great Recession (Iorio deserves credit for how she guided Tampa during that time). But Buckhorn moved ahead with an ambitious plan to reshape downtown from a dead place where the streets didn't wait until 5 p.m. to roll up.
There are so many things going on now that the biggest downtown problem is a lack of parking.
That's not to say the mayor hasn't had issues. Not everyone approved of the military-style security Buckhorn championed that turned downtown into a fenced-off encampment during the 2012 Republican National Convention. And when Buckhorn decides he wants something, he tends to bulldoze any opposition that raises a peep of protest.
He didn't make a lot of friends in the African-American community, either, when a Tampa Bay Times report about the disproportionate number of black bicyclists stopped by local police led to a U.S. Department of Justice investigation. Buckhorn defiantly supported the police on that issue.
When you're in a job like this one, though, you'll be judged on your overall score. On his watch, the long process of building Tampa's Riverwalk finally went from concept to reality. It already is the signature landmark in the city.
He streamlined much of the bureaucracy on things like the permitting process. That helped speed his vision for transforming downtown into an urban dwelling center rather than just a place where people went to work.
He once famously quipped that infrastructure was the most important thing for city mayors, so while things like new firehouses and stormwater drainage improvements didn't make headlines, those projects did make life better for citizens. He has been a champion for public spaces, and the Water Works park on the north side of downtown is a jewel.
He was an out-front supporter of Hillary Clinton for president, so there was speculation that he would have been off to Washington had she won. We'll never know that for sure, just as we'll never know if as governor he could have successfully worked with what likely will remain a Republican legislative majority in Tallahassee.
Here is what we can say, though. This decision not to run clears a lot of things off his plate and allows him to concentrate on the city he loves. I would imagine development on the west side of the Hillsborough River will be one of his priorities in the two years he has left in office.
And barring something unforeseen that can't be controlled, he will hand the next mayor a city that has changed for the better. Not a bad legacy, eh?