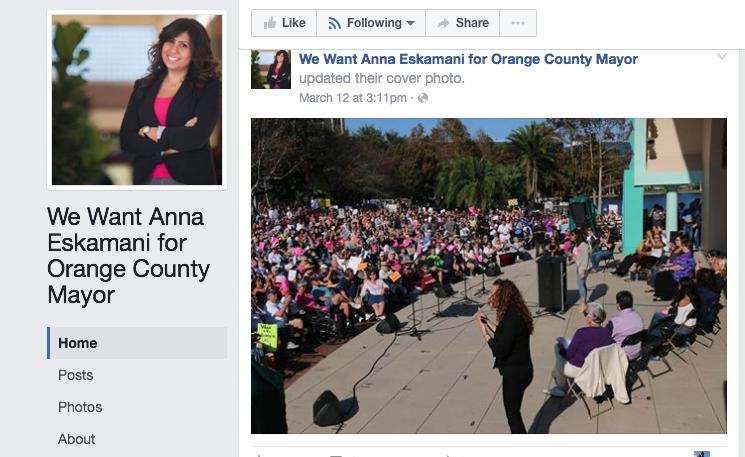 A social media campaign to draft Anna Eskamani to run for Orange County mayor is catching steam on Facebook and has convinced at least one major potential mayoral candidate to declare he won't run because he'd rather back her – Bob Poe.
Eskamani, a 26-year-old Orlando Democrat who is director of external affairs for Planned Parenthood of Southwest and Central Florida, said Tuesday she is inspired and humbled, and is exploring the possibility of running for the top job in Orange County this year.
"I'm definitely giving it serious thought. But at the end of the day, I'm listening to the people," she said.
So far, no serious candidates have filed, though several are known to be organizing support for a run in 2018, when incumbent Republican Mayor Teresa Jacobs will be term-limited. The two registered candidates are Harry Legrand-Torres and Robert Edward Melanson.
Poe was one such potential candidate. A businessman and major Democratic campaign fundraiser, fresh off a failed run for Congress, Poe said on Tuesday that he has decided to not run for mayor. Instead, after he saw the draft-Anna page, Poe decided he wants to back Eskamani, and is urging others in his orbit to do so as well.
"I'm out," Poe said. "And I'm encouraging Anna."
By late Tuesday, the "We Want Anna Eskamani for Orange County Mayor" page started Sunday afternoon on Facebook had more than 700 likes.
Eskamani is young, but an already well-established figure in Central Florida Democratic circles. She's known for strong progressive views, fiery speeches, sharp preparation on issues, and appearing at nearly every progressive politics event in the area.
She has a twin sister Ida Eskamani, who fits the same bill and serves as a legislative aide to Democratic state Rep. Carlos Guillermo Smith of Orlando.
"We deserve an authentic voice," Anna Eskamani said. "We deserve a mayor who works for all people and pushes back against dangerous policies that come from Washington D.C. and Tallahassee. For me, organizing, fighting for equality, is what I have committed my life to.
"And I'm absolutely inspired by this new-found energy around the potential of me running for mayor. And I would be honored to serve this county and its people."
Poe said he is attracted to her youthful energy and fearlessness, and his belief that the Democratic Party needs a new generation of leaders. He called her a leader who does her homework.
"She's been on the cutting edge of what has been happening politically here," Poe said. "She is a driver. I'm encouraging Anna to run. And I'm going to encourage other people to encourage Anna to run."
While they make up their minds, so are several other potential candidates and their backers. Another draft page has been started on Facebook for Democratic Orange County Property Appraiser Rick Singh. Democratic Orange County Tax Collector Scott Randolph and Orange County Sheriff Jerry Demings also been frequently projected as candidates. Potential Republican candidates have included Orange County School Board Chair Bill Sublette, former Florida Senate President Andy Gardiner and Former Orange County Commissioner Scott Boyd.