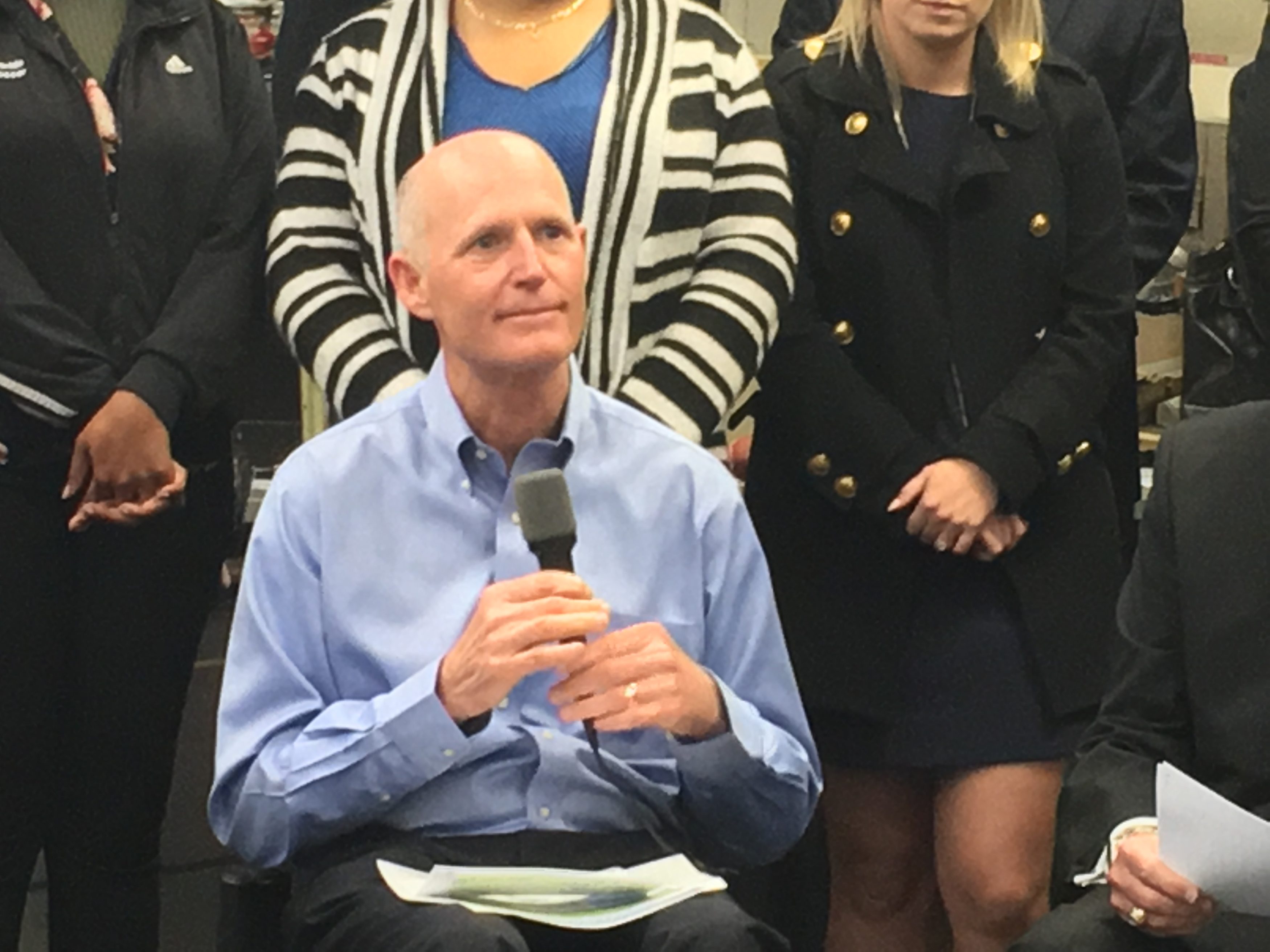 When Gov. Rick Scott comes to your town to hold a "Fighting for Florida's Jobs" round table, that means your GOP State Representatives crossed him on an incentive vote.
Scott started off March in Rep. Travis Cummings' district, where he repeatedly jabbed at Cummings and Rep. Paul Renner for opposing Enterprise Florida and Visit Florida.
Cummings was just one of many Republican votes against the Scott agenda, however. In Duval County, a few Republicans voted against Enterprise Florida on the House floor.
Reps. Cord Byrd, Clay Yarborough, and Jason Fischer all voted against incentives, as did Democrats Tracie Davis and Kim Daniels.
They knew they faced a no-win choice. As someone familiar with the thinking of one of the legislators but it, the choice was between Scott's veto pen and the Speaker's opprobrium.
They got the speaker's approval. But in Jacksonville, they got the governor's opprobrium, with locals on hand as well, including Jacksonville City Councilors, FSCJ President Cindy Bioteau, Jacksonville OED head Kirk Wendland, former State Rep. Lake Ray (head of the First Coast Manufacturers Association) and Karen Bowling, Scott's former business partner who was CAO for former Mayor Alvin Brown.
Also on hand: people from Nassau and St. Johns County, likewise ringing the alarm for incentives.
Companies like MacQuarie, GE Oil and Gas, and Johnson and Johnson Vision Care all came to Jacksonville because of state incentives. However, the five members of the Florida House who voted against Enterprise Florida were not in office then.
_____
Scott, battling a cold, discussed the long-term success of Enterprise Florida, including the guarantee of 5X ROI on the state investment.
"We've done over 900 projects around the state," Scott said, "and we don't put the money out unless the jobs are created.
"There are no expendable jobs," Scott said, discussing the impact of Enterprise Florida on ports and global trade.
Scott discussed tourism, of course, in the context of Visit Florida.
"In our state, one out of six jobs comes from tourism," Scott noted. "For every dollar we spend, we get three dollars back on taxes … if we lost all our tourists, taxes would go up $1,500" per household.
"Here's what's frustrating to me: we have politicians in Florida turning their backs on jobs," Scott said, including locally.
"We've added 1.3 million jobs in the last six years. Enterprise Florida: it's transparent. You get a great return on investment. Visit Florida: one in every six jobs in the state comes down to tourism."
"You've got House members in this part of the state that said they want to completely shut down Enterprise Florida. Jason Fischer, Clay Yarborough, Kimberly Daniels, Cord Byrd, Tracie Davis — they want to shut down Enterprise Florida after all that success. And all those members — except Tracie Davis — want to change Visit Florida so it doesn't work, tie its hands," Scott said.
"I want to thank Jay Fant: he was passionate, understands the importance of a job, understands the importance of Enterprise Florida. Jay completely supports job creation and I want to thank him for that," Scott said.
_____
Scott described the current House position re: Visit Florida as "making it more difficult to operate."
"When people ran for office," Scott said, "did you see any ads saying they wanted to get rid of Enterprise Florida?"
"We had one House member vote the right way, and that's Jay Fant," Scott said.
"I've never met a person who got out of high school and said 'I'm interested in unemployment. Food stamps are for me'," Scott said.
Scott also called out Rep. Paul Renner during a part of the discussion related to St. Johns County.
"He's the leader," Scott said, of the resistance to incentives.
And a Flagler County leader noted the importance of incentives in her county, saying that for smaller counties, incentives can make the difference.
_____
Locals, such as Jacksonville councilor Jim Love, noted that "we're going to go right to the bottom of the list of the site finders" if Enterprise Florida is scuttled.
"Jobs aren't going to grow themselves. We're going to have to go out and get them," Love said.
Councilor Aaron Bowman, who also is Senior VP of JAXUSA, noted that 2,500 Amazon.com jobs wouldn't have come to Jacksonville without incentives.
"This is crazy that we're going to let all this slip away," Bowman said.
And consultants are telling Bowman "when it's over, call us."
Councilor Danny Becton, whose district houses Johnson and Johnson, noted that "it was close" between Jacksonville and Ireland — and incentives make the difference.
Johnson and Johnson is looking to expand, Becton said. But without incentives, that very well may not happen.
"What I can hear them saying is that … this would definitely set it back in terms of when we go against Ireland again," Becton said.
Becton's district has seen Deutsche Bank and City Refrigeration move in, among others, and he adds that every deal has measures to "make sure we're getting the bang for our buck."
Benefits of incentives go beyond Duval. In Nassau County, the Lignotech deal — trumpeted months back as a source of high-wage skilled jobs — may be an anomaly, if incentive money dries up.
______
Scott noted that the end of the Quick Action Closing Fund last year has caused a regular stream of job creation to dry up since July.
"Corporate offices — they don't have to be here. If we don't have the money to compete, we're not going to get them."
The case for Florida, Scott said, is made in "telling our story."
In that context, incentive programs offer the megaphone.