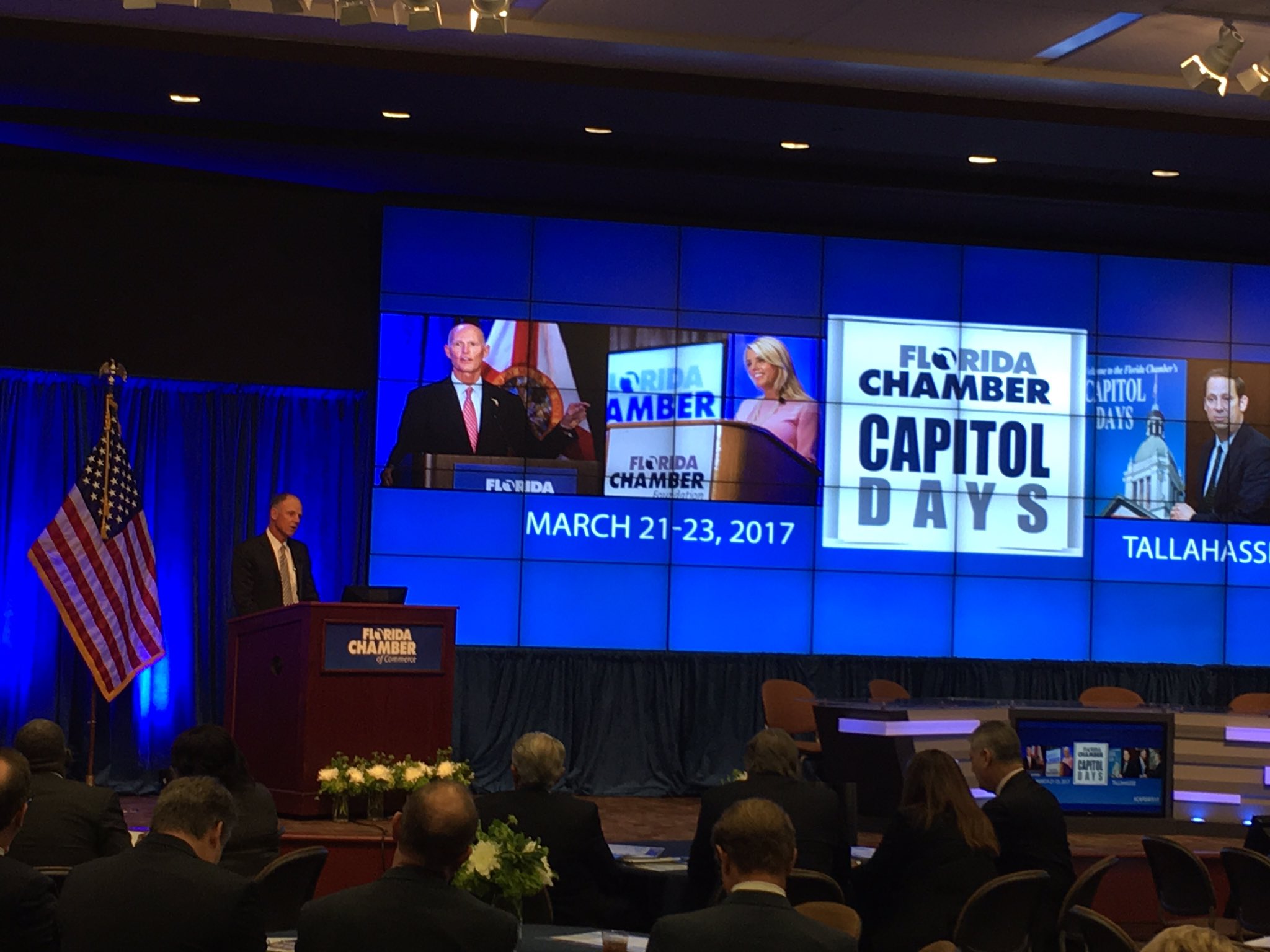 Sunburn – The morning read of what's hot in Florida politics.
By Peter Schorsch, Phil Ammann, Jenna Buzzacco-Foerster, Mitch Perry and Jim Rosica.
SESSION (2018) IS COMING — The Florida Senate released the dates of the 2018 Legislative Session on Tuesday. The annual 60-day session is scheduled to convene on Jan. 9 and will end on March 9. Gov. Rick Scott in 2016 signed into law a measure that would move the 2018 Legislative Session up to January, following the same timeline as the 2016 Legislative Session. The Florida Constitution requires the Legislature to begin on the first Tuesday after the first Monday in March in even number years, but allows the Legislature to set the dates in even number years.
IS THE FORECAST PARTLY SUNNY OR PARTLY CLOUDY?
Are Sunshine State lawmakers hanging a "Gone Fishin'" sign on Florida's economy?
It may seem silly, but the question of whether Florida is "closed for business" has dominated discussions during the first few weeks of — not to mention the weeks and months leading up to — the 2017 Legislative Session. And you can expect that question to drive the day at the Florida Chamber of Commerce's 2017 Capitol Days.
The second day of the conference kicks off at 9 a.m. with a panel discussion featuring Mark Wilson, president and CEO of the Chamber; Eric Silagy, the president and CEO of Florida Power & Light; Cissy Proctor, the executive director of the Florida Department of Economic Opportunity; and Mike Grissom, the interim president and CEO of Enterprise Florida. The topic: "Is Florida Closed for Business?"
The discussion will come on the heels of a presentation Monday from Jerry Parrish, the Chamber's chief economist, who forecast the state will create 190,00 jobs in 2017, down from 244,400 jobs in 2016. While job creation peaked in April 2016, Parrish indicated uncertainty in the Legislature could be having an impact.
"The signals they're sending to Florida businesses is that we're not going to compete anymore," he said during a presentation Monday. "Few recruiters and companies are looking at Florida because of the rhetoric right now. If you're not investing private dollars in this state, you're not going to create as many jobs."
The state needs 800,000 net new jobs by 2020 and 2 million new jobs by 2030 to deal with the growing population, according to the Florida Scorecard. Parrish predicted it will become more difficult to create jobs in the coming years, and warned now was "not the time to abandon our proven economic development program."
Expect experts to weigh in on how issues like insurance, legal and regulatory reform will impact job growth during panels scheduled throughout the day. The tourism industry's impact on the state's economy will be the topic of a panel discussion at 2:15 p.m. featuring Ken Lawson, the president and CEO of Visit Florida, and Carol Dover, the president and CEO of the Florida Restaurant and Lodging Association.
And don't think about sneaking out for an early happy hour: CFO Jeff Atwater, who is stepping down at the end of the 2017 Legislative Session, is scheduled to give a keynote address around 4 p.m.
— 'Trial lawyers are on the march' and Florida Chamber's 'Capitol Days' are more like 'Dreary Days' " via Steve Bousquet of the Tampa Bay Times
FORECAST: FLORIDA JOB CREATION SLOWING DOWN THIS YEAR via Justine Griffin of the Tampa Bay Times – Jerry Parrish, the Florida Chamber of Commerce's chief economist, forecasts that Florida will create 190,000 new jobs in 2017, down from the 244,400 jobs created last year. Parrish told a group during the chamber's Capitol Days event in Tallahassee that job creation in Florida peaked in April 2016. But uncertainty in the Florida Legislature — including the shaky fate of the state's economic development organization Enterprise Florida — is tipping the scales. "The signals they're sending to Florida businesses is that we're not going to compete anymore," Parrish said during the reveal of the chamber's 2017 Florida Scorecard, an annual review of business analysis for the state. "Few recruiters and companies are looking at Florida because of the rhetoric right now. If you're not investing private dollars in this state, you're not going to create as many jobs."
ASSIGNMENT EDITORS: Gov. Scott will host a round table with business owners, economic development leaders and tourism officials to discuss Visit Florida and Enterprise Florida at 9 a.m. at Allen Sports Center, 6585 Seminole Boulevard in Seminole.
***Today's SUNBURN is brought to you by Spectrum Reach, the marketing platform of choice, connecting you to your target audience on TV, digital and mobile. With access to our powerful data and insights, solutions for every screen, and the best programming content on the top 50+ networks, we'll help you reach the right customers for your business. SpectrumReach.com #NeverStopReaching***
SMALL WORLD: ENTERPRISE FLORIDA AND RICHARD CORCORAN'S LAW FIRM via Steve Bousquet of the Tampa Bay Times – Clearly, Enterprise Florida is no fan of Corcoran, so it may come as a surprise that the agency has repeatedly given legal work to Broad & Cassel, the law firm that employs the House speaker. Enterprise Florida has done about $235,000 in legal work with Broad & Cassel over the past three years, the agency said. "Enterprise Florida hires legal counsel on a case-by-case basis, depending on a wide range of factors," spokesman Nate Edwards said. Edwards said the hiring of an outside law firm is a business decision made by EFI's chief operating officer or vice president for administration, not by its board of political appointees, which is chaired by Gov. Scott, who for months has criticized Corcoran and other House members for wanting to destroy an agency that is critical to job creation. In a speech in Pensacola Friday, Corcoran called Enterprise Florida a "pay to play" operation where board members' companies get incentive money.
SENATE TAX CUT PROPOSAL OK'D — WITH ONE BIG SWITCH via Florida Politics – A tax cut that would have helped a broader swath of Floridians, including the middle class and working poor, was changed Tuesday to instead benefit the state's business owners. With no debate, the Senate's Finance and Tax Appropriations Subcommittee cleared the bill (SB 378) by a 4-0 vote. As initially proposed by Miami-Dade Republican Anitere Flores, it would have paid for a cut in the state's communications services tax (CST) on mobile phone, satellite and cable TV service by repealing a tax break to insurers. The plan has been a priority of Senate President Joe Negron, a Stuart Republican. But the panel approved an amendment—brought by Kelli Stargel, the Lakeland Republican who chairs the panel—to reduce the tax that businesses pay on their commercial rents, a cut that Gov. Rick Scott has long called for. "She felt strongly about it," Flores said later. "It's her committee."
REDISTRICTING-RELATED BILL OK'D BY SENATE via Florida Politics – The Florida Senate Tuesday passed a bill aimed at streamlining the handling of political redistricting court cases. The legislation (SB 352) was approved without debate 24-14, sending it to the House. Bill sponsor Travis Hutson, an Elkton Republican, has said the plan "locks the maps in place on qualification day," giving clarity to candidates. It also "encourages" courts "to follow certain procedures to maintain public oversight when drafting a remedial redistricting plan," according to a bill analysis. The bill is a response to court challenges over the state's redrawn districts after the 2010 Census.
***The Florida Health Care Association knows how legislators can save taxpayers $68.2 million per year in unnecessary spending, while safeguarding the highest level of care for Florida's frailest residents. Learn more here.***
HOUSE GAMBLING BILL CLEARS WAYS AND MEANS COMMITTEE ON 11-7 VOTE via Michael Moline of Florida Politics – … for legislation that would extend Indian gambling in Florida but otherwise restrict the growth of the industry in Florida. Rep. Mike La Rosa … Argued the bill is key to negotiating a gambling compact with the Seminole Tribe. "I think they're trying to get the best deal. That may mean other games or, of course, paying less revenue. At the end of the day, we're representing our constituent base here in the state of Florida. We're going to get the best deal for them," La Rosa said. La Rosa chairs the Tourism and Gaming Control Subcommittee, which already OK'd the measure 10-5. The next stop is the Commerce Committee. The debate pitted members skeptical of gambling against those who see it as expanding jobs and the economy.
DUI IGNITION INTERLOCK BILL PASSES HOUSE COMMITTEE via The Associated Press — A bill that would require an ignition interlock device on someone's vehicle after their first drunken driving conviction has passed its first committee in the Florida House … HB 949 passed the Transportation and Infrastructure Subcommittee … It must go through two more committees before reaching the House floor … The interlock device prevents a vehicle from starting if the driver has been drinking. The current law makes it mandatory for six months for a first offense if the person's blood alcohol content is higher than 0.15 percent or a minor is in the vehicle. The devices are also mandatory for multiple DUIs. There are approximately 9,000 interlock devices active in Florida at any given time.
CRITICS: BILL TO IMPLEMENT SOLAR TAX BREAKS HAS BECOME A VEHICLE FOR SOLAR BARRIERS via Mary Ellen Klas of the Miami Herald – The bill, HB 1351 by Rep. Ray Rodrigues, was passed unanimously by the House Energy and Utilities Subcommittee … but only after several legislators expressed reservations and members of the solar industry warned that a long list of "consumer protections" in the bill will actually serve to keep legitimate companies from doing business in Florida. In addition to authorizing language that prohibits tax assessors from increasing the taxable value of a home or business because of a solar installation, Rodrigues added language he said he modeled off an Arizona law that he says will provide consumer safeguards against "bad actors" in the solar industry. He acknowledged that there are no problems with solar industry installations today in Florida but, because removing the tax barriers will result in "an uptick" in new solar expansion, "the time to do it is now rather than waiting until consumers are taken advantage of."
BREEZING THROUGH COMMITTEE: WELFARE DRUG TESTING, DCF TAKES BACKSEAT IN WALTON COUNTY via Les Neuhaus of Florida Politics – Among several bills heard by the Senate Children, Families and Elder Affairs Committee were two dealing with applicants of temporary assistance for needy families (TANF) and child welfare investigations. Sen. Jack Latvala introduced SB 1392, a bill that would require applicants with felony drug convictions within 10 years from the time of the application would be made to submit to a drug screening before being approved for those benefits. The bill also would include individuals with a "history of arrests for drug-related offenses," Latvala said. There was no opposition to the bill from the public or committee members. In a separate bill — SB 1092, Sen. George Gainer has proposed DCF to take a back seat to the Walton County Sheriff's Office in all child welfare investigations. If voted on favorably on the Senate floor … Walton County would become only the seventh county out of Florida's 67 to dish such serious responsibilities to a law enforcement agency.
— Physician assistants required to report to state under bill approved by House health care panel" via Christine Sexton of POLITICO Florida
SOME LAWMAKERS WORRY CHILDREN WILL SUFFER UNDER NEW FLORIDA WORK-FOR-WELFARE BILL via Les Neuhaus of Florida Politics – A bill approved by a Florida House committee would increase penalties for Floridians receiving food stamps and cash aid that have not met obligations to find work. HB 23 would return those penalties to levels before the 2008 Great Recession. Cape Coral Republican Rep. Dane Eagle, who sponsored the bill, said he saw an advertisement on Craigslist "to sell a (food stamp) $100 card for $50 to buy drugs, alcohol, you name it." For those individuals already on the edge and legitimately reliant on state assistance, the sudden loss of it can be a disaster, said committee member Rep. Daisy Baez, who previously worked in health care but now works as a social worker outside her role as a lawmaker. She asked Eagle what a family of four received in cash aid per month through the TANF program. The bill's creator didn't know.
ANDREW GILLUM: GOP PLAN TO RAISE FOOD STAMP ELIGIBILITY 'INHUMANE' via The Associated Press – The Tallahassee Mayor and Democratic gubernatorial candidate is pushing House Republicans to drop an idea that could take away food stamps for about 229,000 Floridians. Gillum held a news conference and then dropped off a petition at House Speaker Richard Corcoran's office that asks lawmakers to maintain current food stamp eligibility rather than making it harder to receive assistance. A House bill would limit food stamps to families that earn less than 130 percent of the federal poverty limit or $2,633 a month for a family of four. Families who earn twice the poverty limit are now eligible for food assistance. Gillum told reporters it would be "inhumane" to remove the assistance. He noted that his family relied on food stamps when he grew up.
— "The social gospel of Andrew Gillum" via AG Gancarski of Florida Politics
— "Gainesville Mayor Lauren Poe and City Commissioner Adrian Hayes-Santos endorse Andrew Gillum for governor" via Mitch Perry of Florida Politics
— "At gathering of progressives in Tampa, Andrew Gillum says Democrats won't win in 2018 by being 'Republican lite'" via Mitch Perry of Florida Politics
MOVEMENT TO ALLOW LIQUOR SALES IN GROCERY STORES GAINS TRACTION via Tia Mitchell of the Florida Times-Union – Senate Bill 106, known informally as the "whiskey and Wheaties" legislation, is scheduled for a floor vote … A companion measure in the House, HB 81, is scheduled for its final committee stop … The bills remove provisions in state law that require liquor to be sold in separate, standalone stores. "This is something that was put in well over 80 years ago at a time when things were very, very different," state Sen. Anitere Flores … said, calling the existing law archaic and antiquated. "The question now becomes has this outlived its purpose." The parent companies of Wal-Mart and Target stores are among the businesses backing the proposed legislation, saying it would create a convenience for modern shoppers. Publix Super Markets and the ABC Fine Wine & Spirits chain are opposed, saying it would create an unfair business advantage for big-box stores while also making alcohol more accessible to underage drinkers. The measure has received wider support in the Senate, where primary sponsor Flores is the second-in-command.
POLL: VOTERS GIVE SCOTT, LEGISLATURE POOR MARKS ON MEDICAL MARIJUANA; WANT DISPENSARY LIMITS via Marc Caputo of POLITICO Florida – Scott and the Florida Legislature are getting poor marks from voters who believe the state has been too slow in implementing a new medical marijuana law overwhelmingly approved at the ballot box in November, according to a new poll. The survey of 800 Floridians who said they cast ballots in 2016 … also found that voters want medical marijuana dispensaries limited and are almost evenly divided on whether marijuana should be legalized outright. Among those who said they were among the 71.3 percent who voted for the medical marijuana constitutional amendment, there was support for limiting the medical marijuana centers — with 54 percent agreeing with the statement that they cast their yes vote based on the understanding that "the state would only allow a limited number of outlets or dispensaries where it is sold." Only 30 percent said they wanted "an almost unlimited number" of medical marijuana dispensaries.
OP-ED – MEDICAL MARIJUANA IMPLEMENTATION FOR THE 29, 48 … OR 71 PERCENT? via Ben Pollara for Florida Politics – Majority Leader Ray Rodrigues claims to have polled Floridians on whether they want marijuana legalized. They do not. I have two questions that don't necessitate public opinion research to answer: Who cares? Why are we even talking about this? Medical marijuana has now twice been before Florida voters. In 2014, it garnered a substantial majority of 58 percent, albeit not enough to pass. Two years later, 71 percent of Floridians voted "yes," placing Article X, Section 29, "Use of marijuana for debilitating medical conditions," in our state's constitution. In both campaigns, opponents argued that medical marijuana was merely a ruse – "wolf in sheep's clothing," was a favorite metaphor – for recreational marijuana. That cynical argument – that voters tricked into something they didn't want – ultimately lost, and badly. Voters were smarter than opponents gave them credit for, and In November overwhelmingly approved medical marijuana. It is both a truism and cliche in politics that, "the only poll that matters is Election Day." We had an election on medical marijuana. Two, actually. The "only poll that matters" came down firmly for medical marijuana.
***There are two gambling bills in the Florida Legislature. One holds the line; One is a massive expansion. WATCH to learn more.***
***Liberty Partners of Tallahassee, LLC, is a full-service consulting firm located just steps from the Capitol. The firm specializes in the development and implementation of successful advocacy strategies highly personalized for each client. Team Liberty is comprised of professionals with a track record of successful coalition-building, grassroots efforts and team coordination. The combination of a strong commitment to clients and practical government and private sector experience is why Fortune 500 companies and not-for-profits alike choose Liberty Partners of Tallahassee.***
ASSIGNMENT EDITORS: Florida League of Mayors President Carol McCormack will hold a press conference to discuss the League of Mayor's priorities for the 2017 Legislative Session at 8:30 a.m. on the fourth floor of the Capitol.
ASSIGNMENT EDITORS: A bipartisan group of lawmakers will join animal protection groups to call for the passage of bills to outlaw the use of anabolic steroids in greyhound racing at 12:30 p.m. on the fourth floor Capitol Rotunda. Sen. Dana Young, Rep. Carlos Guillermo Smith, and Rep. Alex Miller are expected to attend.
ASSIGNMENT EDITORS — Anti-fracking advocates will hold a press conference to urge lawmakers to pass a statewide fracking ban at 10:30 a.m. at Waller Park (in front of the dolphins) at the Florida Capitol. Sen. Jack Latvala, Sen. Gary Farmer, and Rep. Heather Fitzenhagen are among those expected to speak.
HAPPENING TODAY — KEEP FLORIDA BEAUTIFUL HOSTS OUTREACH DAY AT FLORIDA CAPITOL — Keep Florida Beautiful and its affiliates will be hosting an education outreach event at the Florida Capitol. The organization is one of the state's largest volunteer-based organizations dedicated to improving the state through litter prevention, increased recycling and beautification programs. Keep Florida Beautiful and local affiliates will have displays on the plaza level from 8:30 a.m. until 2 p.m.
NEW AND RENEWED LOBBY REGISTRATIONS
Jason Allison, Foley & Lardner: Electronic Arts, Inc
Erin Daly Ballas, Jack Cory, Kenya Cory Public Affairs Consultants: Natural Health Options of Florida; Natural Therapeutics of Florida, LLC
Amy Bisceglia, The Rubin Group: Children First Specialty Plan; City of Miramar; Molina Healthcare
Ron Book, Kelly Mallette, Ronald L. Book PA: International Society of Hair Restoration Surgery
Christopher Finkbeiner, The Rubin Group: National Business Aviation Association
Lisa Hurley, Smith Bryan & Myers: Flagler County
Nick Iarossi, Andrew Ketchel, Christopher Schoonover, Capital City Consulting: Florida Optometric Association
Darrick McGhee, Johnson & Blanton: Florida Fire Marshals and Inspectors Association
Corrine Mixon, Mixon & Associates: Osceola County School District
Sue Mullins, David Ramba, Ramba Consulting Group: City of Bradenton Beach
Ron Pierce, RSA Consulting: HomeAway
William Rubin, The Rubin Group: Florida Harbor Pilots Association
RICHARD BITER AMONG DOZENS APPLYING FOR STATE TRANSPORTATION SECRETARY via Jim Rosica of Florida Politics – Biter is one of more than 80 applicants for the open position, created when former Secretary Jim Boxold resigned in January to join Tallahassee's Capital City Consulting firm. It would be a homecoming for Biter: He's a former assistant secretary of the department. But he may not be on the short list. The Florida Transportation Commission, the advisory board that will interview applicants and nominate three candidates for Gov. Scott's consideration, recently extended the application deadline to May 1. Other applicants include Alexander Barr, the department's Bicycle and Pedestrian coordinator for its Treasure Coast-South Florida district; and Phillip Gainer, its District Secretary for northwest Florida.
VOLUNTEER FLORIDA LAUNCHES #30UNDER30, HONORING EMERGING SERVICE LEADERS – April is Florida Volunteer Month and Volunteer Florida is launching #30Under30, a new initiative to recognize under-30 volunteers by highlighting one volunteer a day throughout the month. To nominate an outstanding volunteer, please email [email protected] with the following information: Volunteer's name, address, a brief description of the way in which the volunteer serves (no more than one paragraph); a quote from the volunteer about why he or she volunteers; a quote from an employee or colleague who works with the volunteer on how he or she has impacted the organization/community; a high-resolution photo; and contact information about the organization with which the volunteer serves. The deadline for submissions is March 25.
GOVERNORS CLUB WEDNESDAY LUNCH BUFFET MENU – Wednesday's Governors Club buffet menu is a taste of the Caribbean with conch chowder soup, yucca salad, seasonal greens, three dressing sections, tomato salad, carne asada beef, chicken ala plancha, BBQ grilled salmon, arroz con gandules and black beans.
NO LINES FOR PANDORA'S NEW FAST-CASUAL RESTAURANT via Terry Roen of Orlando Rising – Satu'li Canteen in the new Pandora – The World of Avatar land at will be the first Disney World restaurant to use the resort's new Mobile Order system. Mobile Order is the newest innovation to save guests from waiting in line, the biggest complaint Disney receives. It will allow diners to select their choices via the My Disney Experience app instead of waiting in line for a cashier at the quick service restaurant. When guests arrive at the restaurant they will tap an "I'm here" button in the app, which will notify the kitchen to prepare the meal. Once the meal is ready, the diner will be alerted to pick it up at a designated window. Additional fast-casual and quick-service restaurants will begin offering Mobile Order later this year, according to Pam Brandon, food writer for the Disney Blog.
UNIVERSAL PLANS NEW HOTEL FOR WET 'N WILD PROPERTY via Terry Roen of Orlando Rising – Universal Orlando has filed plans to build a 4,000-room hotel … The theme park began demolishing the 13-acre water park last month amid speculation by industry insiders that Universal planned to replace it with a hotel. Documents filed with the City of Orlando show Universal plans to develop the entire 64-acres that is split by Universal Boulevard. In addition to the hotel rooms, the plans show three parking garages — one on the east parcel where the water park stood and two on the opposite end where guest parking was located. The new hotel follows Universal's desire to add more hotels near its theme park.
HAPPY BIRTHDAY to former Rep. Alan Williams, Sean Daly, Ash Mason, and Paul Mitchell.