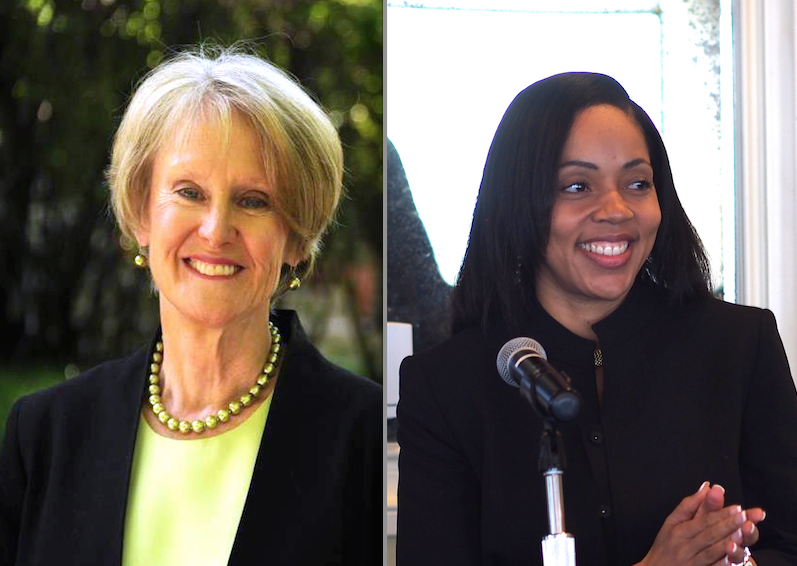 In January, when she took office, new Denver District Attorney Beth McCann reaffirmed her campaign promise on an extraordinary policy: There would be no death penalty cases in her district under her watch.
The reaction?
Virtually nothing. No expressions of shock or outrage from other politicians, no calls for cases to be stripped from her, no calls for her firing, suspension or resignation.
"I think our community is a lot different from Orlando," McCann said in an interview with FloridaPolitics.
Indeed, Orlando's State Attorney Aramis Ayala became something of a political pariah a week ago when she made a similar pronouncement for her Florida's 9th Judicial Circuit, with most Republicans and a few Democrats blasting her and many calling for her ouster. And while Ayala is getting some support for Democrats for her right to decide how to prosecute her cases, she's not finding much political support explicitly for her no-death penalty position.
Nationally, the latest annual tracking poll by Gallup, in late 2016, found that 60 percent of Americans support the death penalty and 37 percent oppose. That's the closet gap since Richard Nixon's first term as president, but still a solid majority in support. A Pew tracking poll shows identical trend lines, though a much tighter gap in 2016 – 49 percent in favor and 42 percent opposed. But again, death penalty wins.
Yet region by region, state by state, sometimes even district by district, there may be no across-the-board pattern, and nothing to suggest that the blowback Ayala is getting in Florida and Central Florida is at all common.
The last two district attorneys in San Francisco have disavowed and not used the death penalty. That's a liberal political bastion; but now two district attorneys in Birmingham, Ala., have won election and entered office after personally disavowing the death penalty, though neither has ruled it out entirely for extraordinary cases.
One key difference between Ayala and McCann – both Democrats – is that McCann campaigned on a no death penalty promise. But it wasn't that hard for her to do. Two of three candidates took that position. There hasn't been an execution in Colorado in 12 years, and statewide there are only three people on death row. Her predecessor in Denver tried just one death penalty case in five years, and lost on the capital punishment counts.
Even Aurora, Colo., movie theater mass murderer James Holmes – tried in the neighboring Arapahoe County – was given life in prison without parole, after being convicted of murdering 12 people and attempting to murder 70 others.
McCann watched with interest everything Ayala said, and everything that has happened since. She found herself agreeing with all of Ayala's reasonings, and "very troubled" by the political reactions, particularly when Gov. Rick Scott reassigned the case of alleged cop-killer Markeith Loyd to another state attorney. But McCann also conceded it's all outside her experience, and cautioned that Ayala will have to reconcile with local opinion.
"I think it's the climate in our state. In Denver, politically, the death penalty is not very popular," McCann said. "So it's a very different situation."
So how is it in Florida? Polling is all over the place. Polls by the Palm Beach Post and by Public Policy Polling both found majorities preferring life imprisonment without parole – Ayala's position. But polls that have asked if people support the death penalty have shown majorities saying yes.
That leads Robert J. Smith, director of the Fair Punishment Project, a death penalty opposition group based at Harvard University, to argue that people do not support the death penalty as much as politicians – in any political party – think that people do.
The biggest indicator, Smith argues, is that the actual use of the death penalty has plummeted in the past two decades, nationally and in Florida, both in terms of sentences and executions. At least in practice, prosecutors, judges, and most importantly, juries, are just not that into it anymore, he suggested.
"In the 1990s, there were 315 death sentences in 1994 and 1996. Last year in America there were 30," Smith said. "So you have a nation of 320 million people, there were 15,000 homicides, and you had 30 death sentences in the last year."
Texas, once one of the execution leaders of the world, with upwards of 40 death sentences a year, saw just three death sentences handed down last year, Smith said. Neither Dallas nor Houston (Harris County) have had one in more than two years, he added.
In Ayala's circuit, under her predecessors Jeff Ashton and Lawson Lamar, there was one death sentence in Orange County and none in Osceola County in the five-year period between 2012 and 2016, Smith said.
"I think you're going to see that politics is going to change… going to catch up to that," he said.