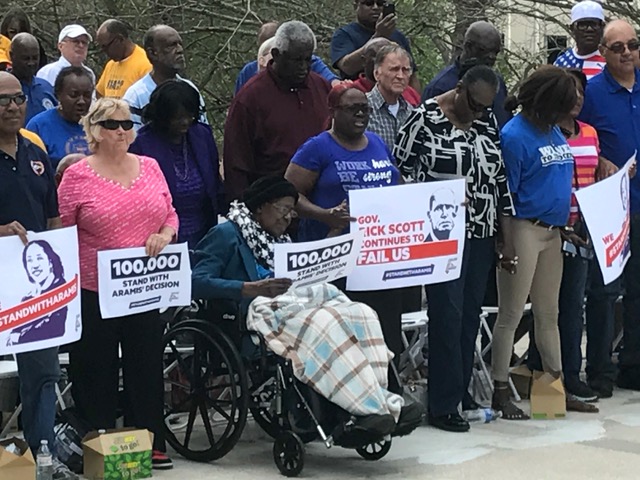 A church atmosphere prevailed as some 300 people converged on the state Capitol Thursday to protest Gov. Rick Scott's removal of Orlando prosecutor Aramis Ayala from the murder prosecution of Markeith Loyd.
The protest, organized by Color of Change and Equal Justice USA, included denunciations of the Legislature for threatening to strike $1.3 million from Ayala's budget.
Organizers said they'd collected 130,000 petition signatures seeking Ayala's reinstatement. The crowd sang hymns and engaged in call-and-response to show their agreement with various speakers.
"I feel like I'm in church now," the Rev. Richard Dunn, of Miami, said. "We come here today with some stones in our slingshots."
Participants acknowledged that Loyd stands accused of murdering his pregnant ex-girlfriend and a sheriff's deputy.
But they insisted that Ayala alone holds prosecutorial discretion over whether to seek the death penalty. Many state leaders are upset that she has decided never to seek that sanction.
"Whether you agree or not with State Attorney Ayala's opinion, she was independtly elected by the 9th Circuit, and she has the right to make that decision," said Sen. Randolph Bracy, chairman of the Criminal Justice Committee.
"And I support it," he added. "I'm going to stand behind that part. And we all should stand behind her at this time."
Sen Kevin Rader slammed the "injustice the governor is doing," and criticized "legislative and executive branch intimidation."
Sen. Gary Farmer saw the episode as part of broader attack on judicial independence.
"If you don't like the decisions of your elected prosecutors, there's an answer in this document," Farmer said, holding aloft a pocket U.S. Constitution. "You vote that person out of office."
Several speakers remarked in the case's racial angle — Ayala is the first African-American elected state attorney in Florida.
Leon County Commissioner Bill Proctor contrasted the outrage over Ayala to the official "passivity" over the deaths of boys at the Dozier School in Marianna.
"Now, one little chocolate woman who has some principles, who has some standards, she's got some ethics and morals, she's got some Christian-heartedness about herself. She's getting jacked up and beat down."