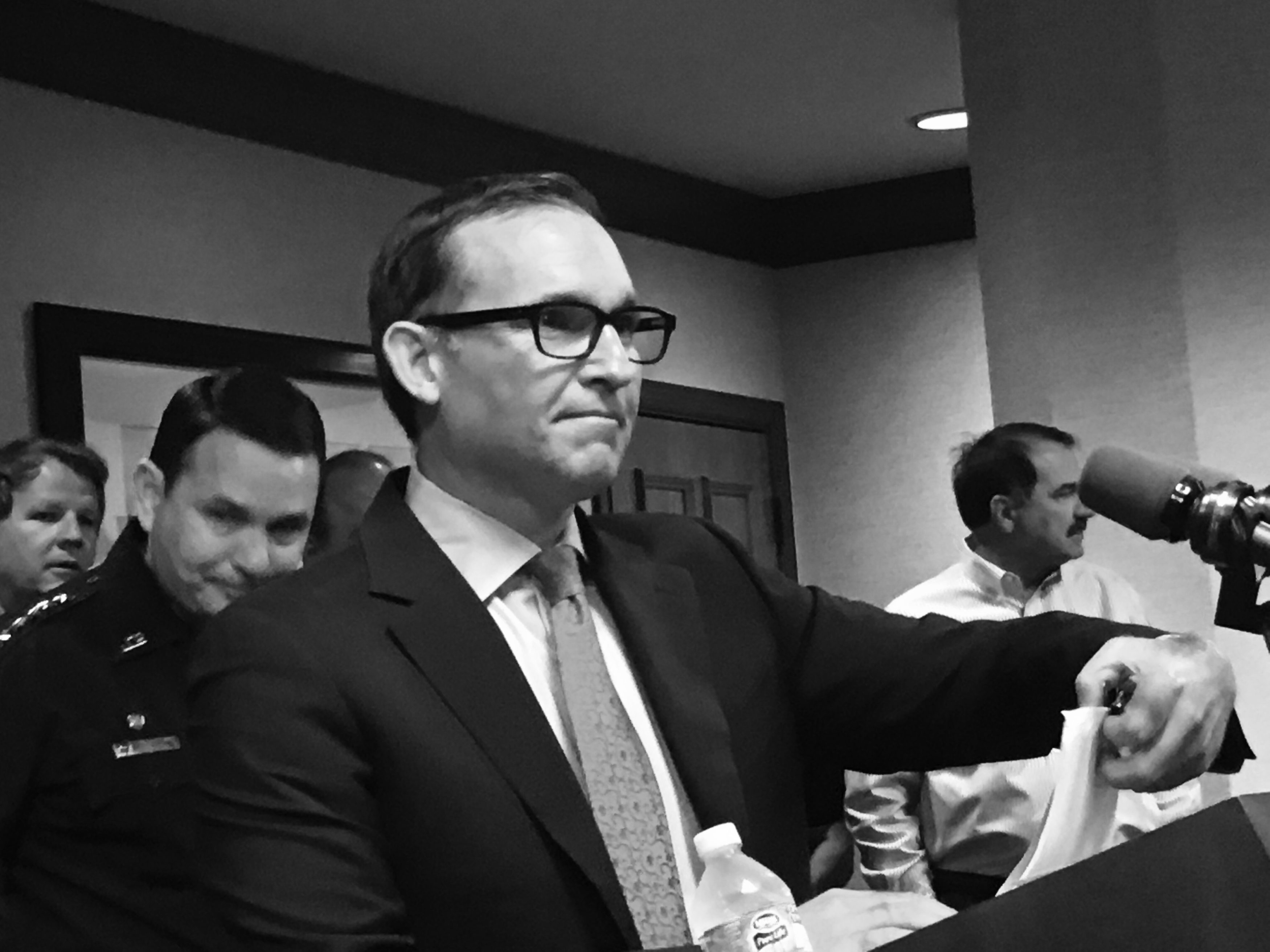 Thursday saw FloridaPolitics.com offer up three stories on discussions of Jacksonville's pension reform pitch to the Jacksonville City Council.
If you are looking to read reportage of Mayor Lenny Curry's remarks, long-form presentation of Curry's chief lieutenants, reaction of the Jacksonville City Council, use the helpful hypertext links below.
However, if you're looking to read analysis of the early part of the last marketing push for the deal, read on.
_____
What you will notice about this push, if you're paying attention: a sense of shared urgency from those with a serious interest in near-term policy and political animals also.
The General Fund, should pension reform not go through, should the "dinosaur" defined benefit plans not close and the sales tax extension not be guaranteed, will take a $349M bath next year.
If the reform package does go through, that's a $208M hit.
In a city with some horrible problems, most of them related to being starved for capital in local government, that $141M budget relief is necessary.
Necessary for the costs we see. And for the costs we don't. A proposed homestead exemption hike could take $36M out of city coffers, should it become law. And, sooner or later, the housing bubble will burst — and millage collections will tank, as they did a decade ago.
The urgent need and what they see as a convergence of reliable mechanisms (ending new defined benefit plans, creating a dedicated revenue stream) has created a sense of universal buy-in from the Mayor's Office.
Resistance is not something that will be rewarded. Whether from the donor class or from elected politicians, any push back will be seen as provocation.
"Let the critics chirp," in this context, does not mean said critics are encouraged to "keep it 100" and "join the conversation."
In football terms: it is 4th and goal, with time enough for one play. Either you are blocking for the ball carrier, or you're on the other side of the line.
_____
 Most of those watching inside of Council Chambers would have deemed Thursday's effort to be a success in terms of driving the ball closer to the goal.
Curry offered an energetic opening statement, loaded with the kind of affirmational language the mayor has offered since his "One City, One Jacksonville" themed inauguration.
"We are poised to solve one of our city's biggest challenges … a challenge that my predecessor handed off to a task force .. with a solution that would barely make a dent," Curry said, also calling out critics of the current plan, whose plans would "make things worse."
Those critics have emerged from disparate quarters since last year's run up to the referendum approving the extension of the city's half-penny sales tax (contingent on unions negotiating new deals, and council approval). And the mayor has personalized that criticism. But in a room where some of the sharpest critics sat, Curry's by now well-rehearsed jab at them made for good theater.
Curry's time on the microphone was short, as he handed off to the city's chief administrative officer, Sam Mousa, and chief financial officer, Mike Weinstein.
They worked a tag team approach. Mousa, for the most part, limited his remarks to the front and the back of the pitch. Weinstein, meanwhile, took the council through the paces in a 35 page presentation — one where slides were distributed, to the press and the council, one at a time — with the effect being that of worksheets passed out in a classroom, but 35 individual times.
Media members may have groused. But the administration got away with it.
Council members did ask questions — and others had questions they intended to save for meetings outside public view — but the pitch was clean.
And why wouldn't it have been? Getting walked through a full actuarial report required people to hold their questions until the end, blunting any urgency in the questions, especially when waiting through a break between presentation and questions, and then through a queue full of many council members.
The plan, as sold, was like a second mortgage for the ~$3B unfunded actuarial liability. Relief in the short and medium term, which would allow investments in infrastructure, replenishment of the city's workforce, and raises for current employees ranging from 14 percent for general employees to 20 percent for police, fire, and corrections.
But, as Curry said, retiring an inherited debt of that size would have costs associated with it. And part of those costs is reversing trends that became ingrained habits after a decade of austerity (outside of dealings with the local NFL franchise) in city government.
______
Friday saw the mayor on a media blitz, with television stations allowing a distillation of the message: reform, in the grand tradition of the strong mayor form of government.
Hence, the "most important decision since Consolidation" rhetoric.
Curry's operation, consciously or not, has branded around the idea of a unified city, one with a shared sense of narrative.
"One City, One Jacksonville" was a reversion to internal branding, closer to "Bold New City of the South" than the tapioca, pleading "Where Florida Begins."
To make that case, it's imperative for Mayor Curry to take his case to the people, using television as a way to paint the picture with bold, broad strokes … ,much as he did Friday, when he did a TV loop.
The caveats end up in the endnotes. That was the bet made when marketing the Yes! For Jacksonville referendum in 2016 and, at least until the Jacksonville City Council votes,  expect more bold, broad strokes.
Curry's political committee, likewise, could be a vessel to sell the plan.
With $303,000 on hand, radio, television, and mailers are all at its disposal — allowing the mayor's political team to frame the narrative … if they need to, that is.
Critics may chirp. But the mayor is driven to will the ball over the goal line.
Meanwhile, the mayor's team has decided to aggressively frame the narrative — one that has been percolating since Curry took office.
Pension votes have gone sideways before. But this won't be the issue the Jacksonville City Council bucks the mayor's office on. Not with two years of budgets to work through, and 11 people looking to be re-elected.