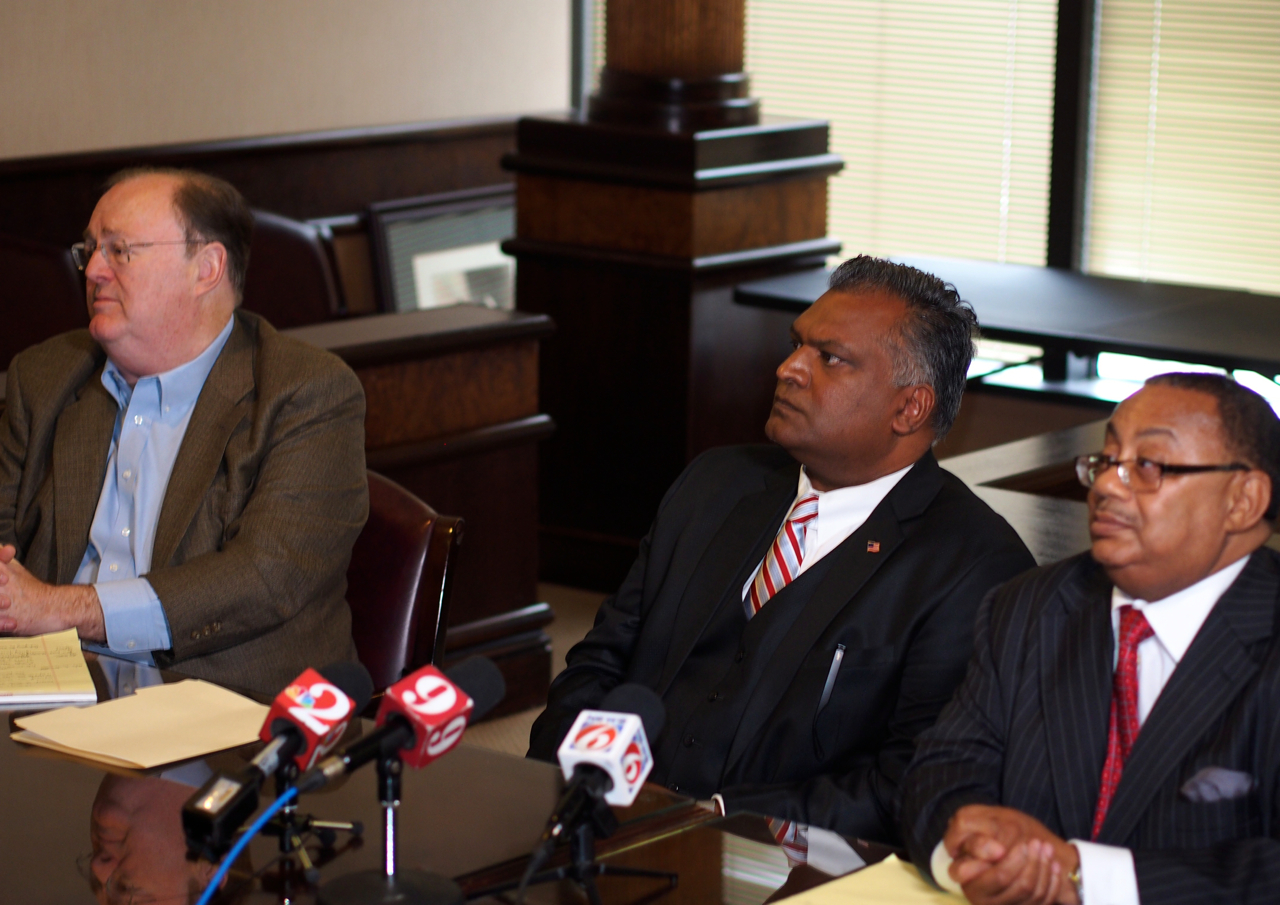 Saying he'd had enough and isn't taking it anymore, Orange County Property Appraiser Rick Singh announced he's suing to find out who was behind political action committees that ran a smear campaign against him in last year's election.
Flanked by his lawyers at Morgan & Morgan, two Orlando political heavyweights, Frank Kruppenbacher and former Judge Belvin Perry, Singh announced he is suing for libel over attack ads and other campaign events that he says raised false accusations about his past during his re-election to property appraiser.
The suit is being filed in circuit court for the 9th Judicial Circuit. It contends that outside money was covertly funneled into two Orange County PAC known as Leadership For Florida, and For a Better Orange County, to run an independent smear campaign, spreading falsehoods about Singh's past. The PACs were not properly registered. The suit does not name individuals, and goes after John and Mary Does, but Kruppenbacher and Perry pledged that it ultimately would.
Singh's opponent in last year's election, Edward DeAguilera, always maintained he knew nothing about the two PACs or their campaign.
Kruppenbacher said those falsehoods included claims that Singh was arrested for shoplifting in 1988, that he lost a judgment in 1993, that he changed his name to hide his past, and that he committed a felony by not disclosing his past on an affidavit. Singh said at least $3.4 million was funneled into those two PACs to run TV, internet, mailer and other advertising, and campaign communications.
The suit may have statewide ramifications.
Kruppenbacher, a Republican fundraiser and political appointee, and Perry, a retired 9th Judicial Circuit chief judge, insisted Wednesday that they want to upend the statewide practice of dark money and shadowy operatives using political action committees to try to ruin certain candidates' reputations.
"During the last year or so throughout this nation, we have seen outside interests use their money to get involved in campaigns… by spreading falsehoods and attacking folks with mailers that are not true," Perry said. "This seriously affects our Democratic process."
Kruppenbacher said he knows of no similar campaign libel suits that sought to trace the sources of money and direction of an independent campaign.
In this case, the money trail appears to have possible stops in Orange County, Duval County, Lee County and Leon County.
"I think people do this thinking nobody will ever know we did it. And somebody big wrote" checks, Kruppenbacher said.
The suit also would have immediate implications for the Orange County political scene.
Singh is openly contemplating a run for Orange County mayor in 2018. And though he denied Tuesday that the suit is an attempt to clear out old allegations against him before he runs again, it does send a message that he's willing to fight back in court against any claims he contends to be false.
It also could have ramifications for some of Central Florida's – and Florida's – business heavyweights.
It's no secret that Singh's aggressive reappraisals of commercial properties have brought ire and lawsuits from powerful entities, including Walt Disney World, Sea World, Universal Orlando, and many of the big hotel and other business groups in Orlando's tourism corridor.
Kruppenbacher said the suit intends to use the discovery process to follow the money and direction of the campaign against Singh wherever it might go. He refused to speculate as whether that might include the tourist business giants who already are taking on Singh's appraisals in court. But Kruppenbacher said he does expect the ultimate source to be commercial, entities that are losing money because of how Singh is running the property appraiser's office.
"We decided that when we're ready to name individuals, we're going to name them all at one time," Kruppenbacher said. "We do have information that a number of people conspired knowingly."
"We are trying to shine the spotlight on those individuals so that they can't throw a rock and hide," Perry said.
"That's one of the goals, but the ultimate goal is to get people to stop this kind of foolishness," he added.
Morgan & Morgan is taking on the case on a contingency fee. Kruppenbacher said Singh agreed that any recovered damages that he receives would be donated to charity.