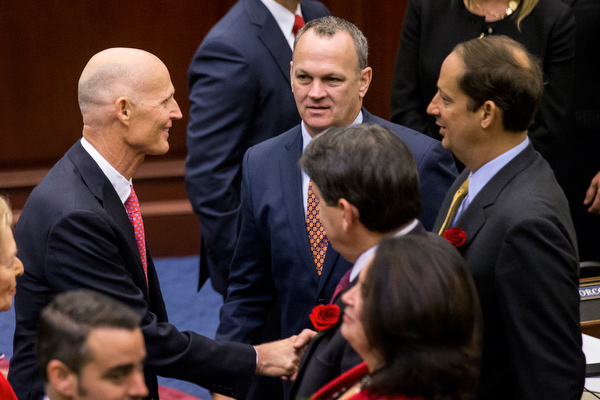 Increasing the state's homestead exemption by $25,000, which is a priority for House Speaker Richard Corcoran and his merry band of tax-slayers, would no doubt be popular with voters.
If the measure gets past the legislative hoops and on the 2018 ballot as a constitutional amendment, I imagine it would easily break the 60 percent threshold required for passage. Corcoran and like-minded Republicans would celebrate. Homeowners would have more cash.
And local governments, where the real heavy-lifting is done to provide needed services to the home folks, would have a meltdown. One estimate said it could reduce property tax proceeds by about $700 million overall. Bigger cities would likely affected more. Something would have to give.
In Hillsborough County, property taxes help pay for things like public libraries, water management, special lightning districts, storm water drainage, and basic services like fire fighters.
One of Tampa Mayor Bob Buckhorn's favorite sayings is that big-city mayors love infrastructure. For instance, Tampa has opened several new fire stations on Buckhorn's watch. Local officials in Tampa warn that there might not be as many options like that in the future if this becomes law.

Perhaps a homeowner trying to put out a blaze could just call their local legislator to come over with a hose.
Yes. That's an exaggeration – but this isn't. Tallahassee lawmakers routinely complain when Washington tacks on expensive requirements without providing a way to pay for them. Those same lawmakers do the same thing to cities, though.
Property taxes are a critical piece of funding for public schools in each of Florida's 67 counties. A new exemption likely would chip away at funding for education at a time when Corcoran and other lawmakers keep diverting larger and larger chunks of public education cash to private charter schools.
Clever, aren't they?
That's one way to put it.
As Jim Rosica of FloridaPolitics.com reported Sunday night, the House made sure the proposed increase in the exemption has been tied to some of the Senate's priorities, and the message is clear – approve putting the exemption on the ballot, or else.
In case you haven't noticed, Florida is growing by like, well, a lot. This probably would be a good time to be planning for growth like that by building the infrastructure Buckhorn has talked about.
Instead, Tallahassee responds with something that, if passed, could make it harder for local leaders to provide the services people expect. But hey, Republicans would celebrate the fact that they cut taxes.
It's great politics, but lousy governing.