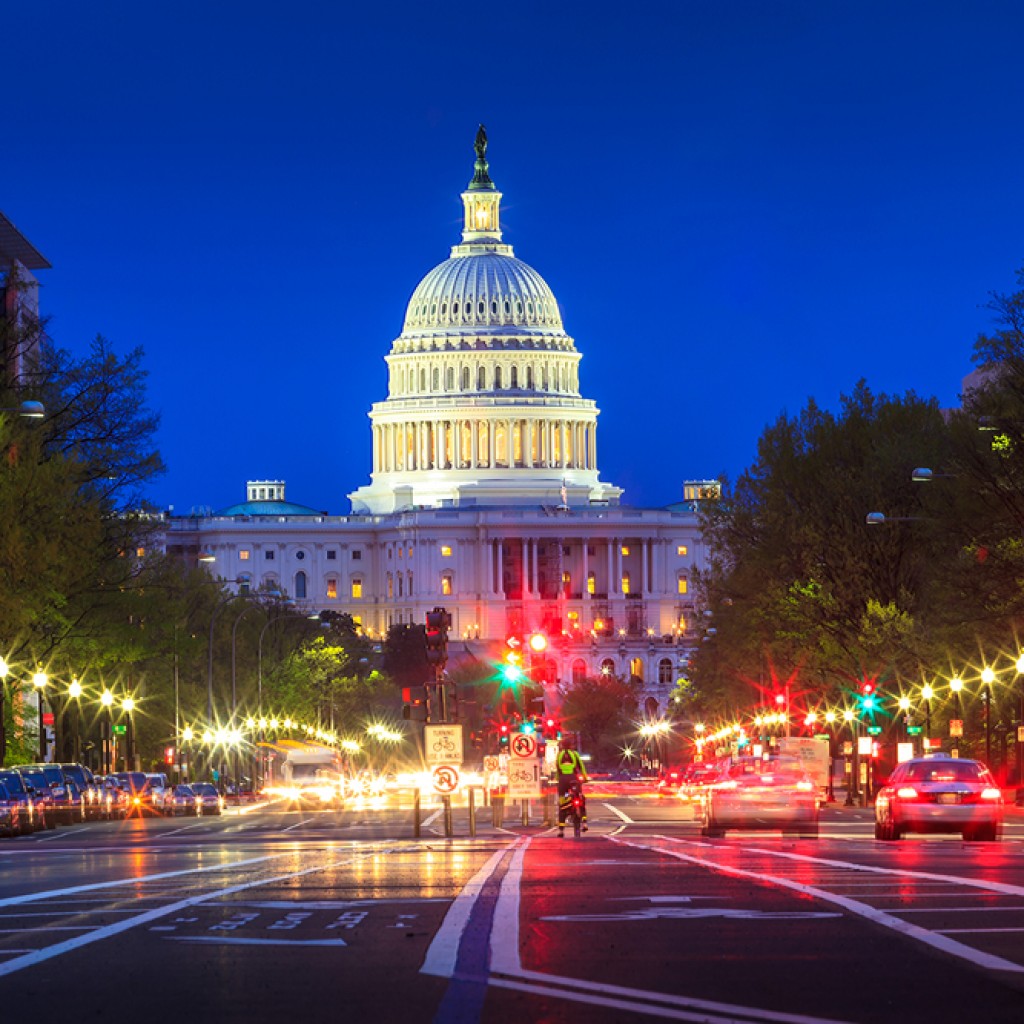 Democrats up in arms about Comey firing; Republicans mostly silent
It was supposed to be a rather quiet week on Capitol Hill. With the House and Senate in recess following the noisy passage of the American Health Care Act in the House, no breaking news or dueling press statements were expected for another week.
When President Donald Trump fired FBI Director James Comey on Tuesday, the silence was shattered. Statements from elected officials filled the airwaves and the digital inboxes of the media.
The biggest difference from last week's hysteria is that this week, only Democrats are doing the overwhelming majority of the talking. For every Republican declining to comment on the stunning dismissal of Comey, at least 10 Democrats could be counted on to fill the void. Trump, Comey, Russia and Nixonian were universal key words.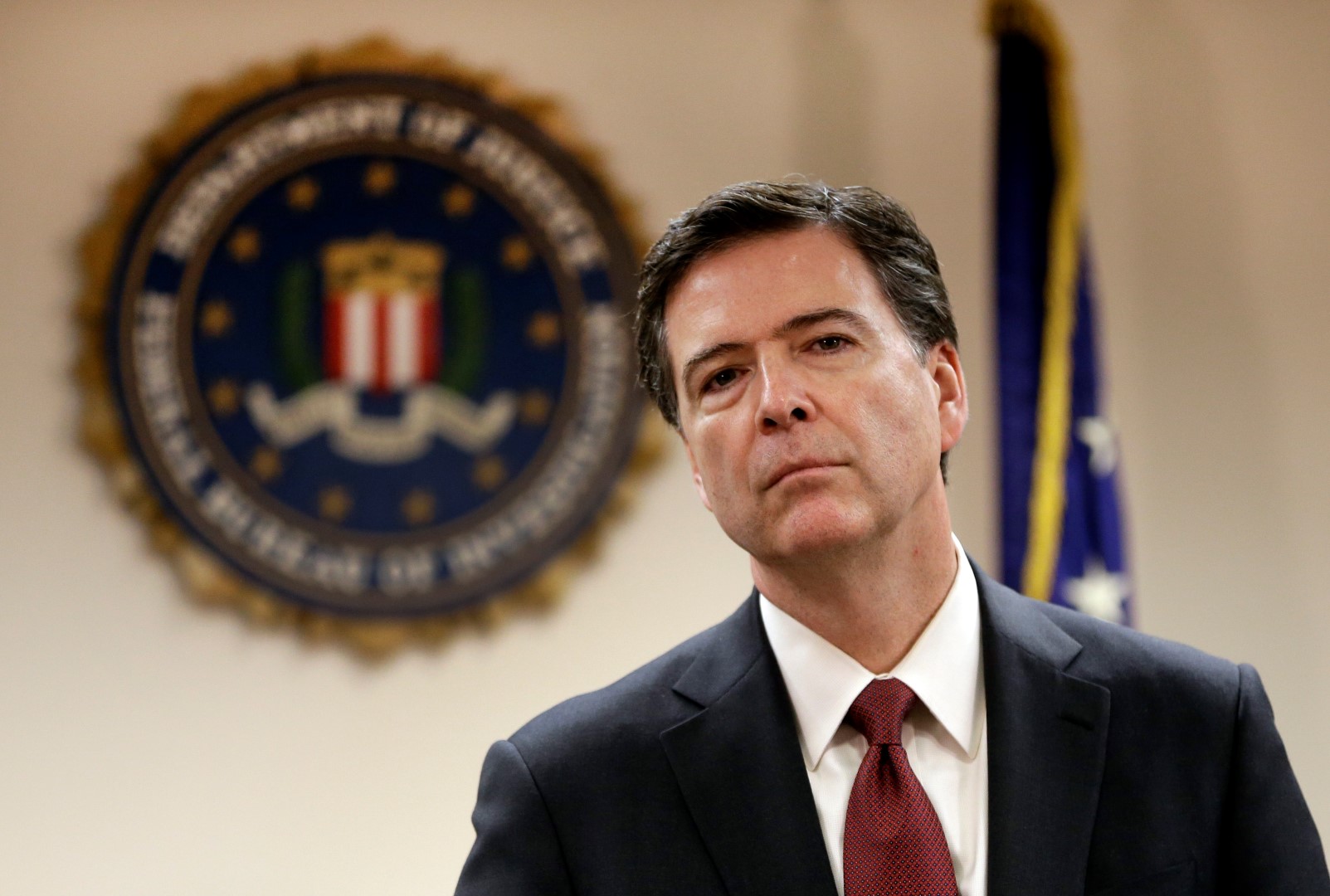 Several delegation members who offered comments were mostly of like mind.
"Not since President Nixon have we seen such a disgraceful abuse of power and attack on the integrity of our system of justice," said Boca Raton Democrat Ted Deutch, who then maintained the theme of the day with the final line of his statement. "We need a special prosecutor and an independent commission to continue this investigation without the whiff of political oversight or interference."
One Republican who did weigh in was Carlos Curbelo of Kendall, who stated the action "raises many questions, all of which must be answered." He repeated an earlier call for Congress to "establish a select committee" to look into the matter, similar to the Benghazi committee from two years ago.
Sen. Bill Nelson was short and to the point. "Now it is more clear than ever that we need an independent commission to get to the truth of Russia's interference with our election," he said.
Sen. Marco Rubio would not immediately comment when approached by reporters, saying "I honestly don't have any information on the circumstances." Rubio had been presiding over the Senate when news broke.
Ponte Vedra Republican Ron DeSantis gave one of the few supporting statements of the firing, saying "President Trump made the right decision to relieve FBI Director James Comey of his duties" and that DeSantis looked for a new director that will "keep the FBI focused on its core mission."
"We need a special prosecutor to take over the Russia investigation, and the Senate must drill down to a degree like never before on whoever is nominated to replace Director Comey," said St. Petersburg Democrat Charlie Crist.
#Comeygate is officially underway.
Meanwhile, here are this week's insights from the Beltway to the Sunshine State.
Delegation first-termers weigh in after their first big vote
One week after the American Health Care Act (AHCA) passed the House 217-213, most of the talk on Capitol Hill this week was supposed to be about what the Senate would do with it. With Congress away, it was still the hottest topic.
The firing of FBI Director Comey earlier this week changed the subject in a big way.
Once the bill passed late last week, the delegation and most members had plenty of quotable sound bites to offer. Their themes have continued this week while home in their districts and they will continue for the next 18 months up to Election Day.
For 10 members of the delegation, it was the first big vote of their careers. What did they say to the media and what can we expect to hear from them going forward?
— "The long nightmare of Obamacare is ending. I am proud to have voted for the American Health Care Act – a step forward for all Americans," said Republican Matt Gaetz of Fort Walton Beach.
— "I do this today, as a doctor, for the good of my patients," said Panama City Republican Dr. Neal Dunn.
— "The American Health Care Act repeals Obamacare, its mandates, taxes, and rules, which will lower consumer costs," said Jacksonville Republican John Rutherford.
— "This abomination of a health care disaster will raise health care premiums, deductibles and out-of-pocket costs for hard-working Americans while at the very same time, giving $600 billion in tax breaks to big corporations," said Democrat Al Lawson of Tallahassee.
— "This bill offends my conscience and hurts my constituents, so I voted no," said Democrat Stephanie Murphy of Winter Park.
— "They all want to repeal it (Obamacare), but didn't have a good replacement and so they rushed this through without even giving our Congressional Budget Office time to score it," said Orlando Democrat Darren Soto.
— "The Republican Party has ignored the voices of millions of Americans by pushing through this disastrous bill that leaves millions of Americans behind. If and when the Senate tweaks or overhauls the bill and sends it back to the House for final approval, all will have the opportunity to fine tune their message and join their colleagues to weigh in again," said Orlando Democrat Val Demings.
— "We're not listening to the people who have made clear they want us to work together, fix healthcare – not destroy it – and follow the physicians' principle of 'first, do no harm,'" said St. Petersburg Democrat Charlie Crist.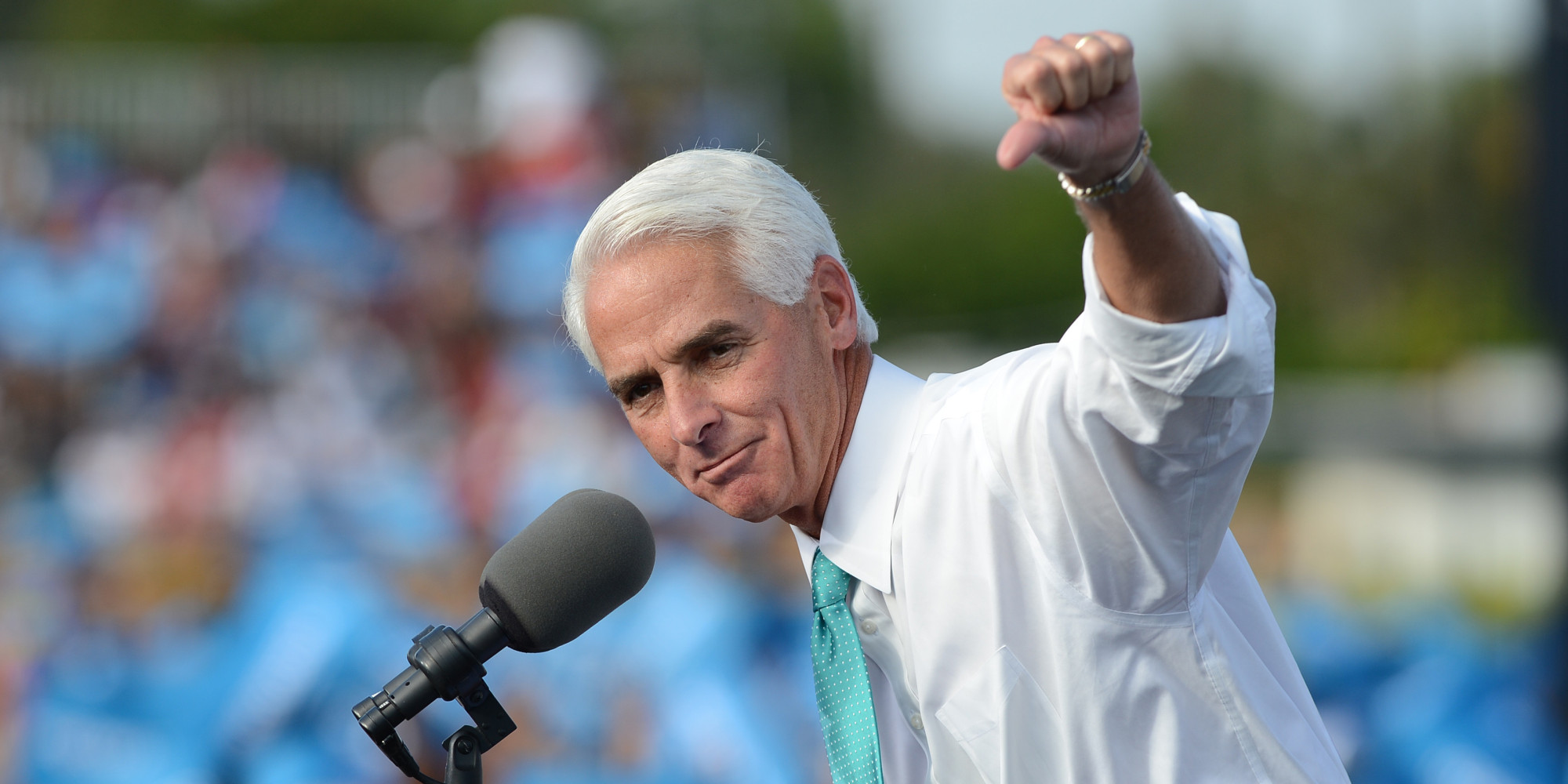 — "The American Health Care Act delivers relief for families by ensuring you get to choose your coverage and the federal government can't tax you based on what you think is best for your family," said Hutchinson Island Republican Brian Mast.
— "Repealing and replacing the failing and unsustainable social experiment of Obamacare is a necessity for southwest Floridians that have seen choices dwindling and premiums skyrocketing," said Naples Republican Francis Rooney.
Health care ad blitz
Following their vote in support of the American Health Care Act (AHCA), Rep. Curbelo, a Kendall Republican and freshman Republican Rep. Mast of Hutchinson Island were the immediate targets of attack ads from two sources.
The Democratic Congressional Campaign Committee (DCCC) went after 30 Republicans with social media ads while the liberal group Save My Care began airing television and digital ads against Curbelo and Mast along with 22 other Republicans.
"We are going to work tirelessly to make sure that every 'yes' vote that was cast today has a great opponent waiting for them in November of '18," said Massachusetts Democrat Katherine M. Clark, the DCCC's vice-chairwoman of the party recruitment team.
Unlike the two Floridians, some of those targeted voted against the bill.
Both Floridians, along with several colleagues, have some cover fire for their votes. The conservative American Action Network (AAN), strong allies of Speaker Paul Ryan, has begun a $2 million television ad buy thanking Republicans like Mast and Curbelo for "keeping their promise" to repeal and replace Obamacare.
A total of 21 districts will see the ad, which also includes the districts of Ryan and House Majority Leader Kevin McCarthy. In addition, AAN is spending another $250,000 on digital ads supporting Curbelo, Mast, Ryan, McCarthy and 21 others.
"This is a critical time for Americans to learn the truth about the new health care bill," said AAN Executive Director Corry Bliss.
The group is also spending another $500,000 on a national ad buy that thanks Ryan and the Republicans.
—
NRCC launches ad thanking Mast for healthcare vote — The committee released a new web ad, called "Promise Made, Promise Kept," to highlight the passage of the American Health Care Act. The 50-second spot thanks Republicans for their support, and targets Democrats for their support of the Affordable Care Act, often referred to as Obamacare.
"The NRCC plans to remind voters through 2018 that Democrats were happy to continue to condemn them to a rapidly failing health care system that was in a death spiral. The status quo was insufficient, and Republicans took action," said Maddie Anderson, a spokeswoman for the NRCC, in a statement. "Delivering on promises to Americans should not be a groundbreaking concept, but somehow the Democrats are unable to wrap their minds around it."
Bill Nelson puts airlines on notice
The Orlando Democrat delivered a message to airlines across the nation: Get your act together, or else.
"I have no trouble in putting the airlines on notice if they can't get their act together and start treating the flying public with respect rather than making them think that they are self-loading cargo, then this congress is going to be forced to act," he said during a floor speech Tuesday. "And that time is going to come soon as the Senate begins work this year on what will be a bipartisan, long-term bill to reauthorize the Federal Aviation Administration."
Nelson's comments came one day after irate passengers swarmed ticket counters at Fort Lauderdale's airport after Spirit Airlines canceled nine flights Monday. The discount airline blamed the decision on pilots' failure to show up, according to Josh Replogle and Terry Spencer with The Associate Press.
The Broward County Sheriff's Office said about 500 people were crowded into Spirit's terminal at Fort Lauderdale-Hollywood International Airport late Monday night after the airline canceled the flights because there were no pilots. Video posted online showed deputies grappling with screaming passengers and breaking up fights.
Deputies arrested three people from New York in the Fort Lauderdale airport, charging them with inciting a riot, disorderly conduct, resisting arrest and trespassing.
The incident is just the latest in a series of incidents involving airlines. Last month, cellphone video captured a passenger being dragged off a United Airlines flight. Other horror stories from customers later surfaced involving flights on Delta and American airlines.
"Now, what happened … in Fort Lauderdale is just another example of passengers becoming sick and tired of what they perceive as mistreatment by airlines, be it that circumstance in Chicago, the forcible removal of a passenger or be it failing airline IT systems and airline fees run amok," said Nelson. "And so the airlines better start paying attention to this. It appears that airlines are giving the impression that they have forgotten that their customers must come first. So what is it? I know the airlines, the companies don't intend to do this, but it's happening, it's being recorded on video, and it is all the more causing people to express their frustrations."
Nelson said his heart goes out to CEOs who are trying to "change a culture of treating with disrespect or ignorance of passengers."
"It's important they change that culture because we will continue to see these kind of circumstances arise if passengers do not feel like that they are getting the proper respect that they deserve," he said. "After all, they are customers. They are paying customers of the airlines."
Rubio-world
Marco Rubio, GOP colleagues want answers on Iranian prisoner releases — Florida's junior senator wants some answers on the side deals surrounding the U.S. and Iran nuclear deal of 2016. According to an expose published by Politico on April 24, prosecutions of individuals supposedly assisting Iran's nuclear program were dropped while others had their sentences commuted.
Rubio was joined by several Republican colleagues seeking more information. Late last week, the 13 senators wrote to Secretary of State Rex Tillerson, Attorney General Jeff Sessions, and Treasury Secretary Steve Mnuchin, asking them to look into the matter.
"Based on new reports, we are concerned that President Obama and certain previous administration officials intentionally suppressed the seriousness of the charges against these individuals in order to garner public support for the nuclear deal with Iran, and we fear that these individuals may still pose a threat to the national security of the United States," they wrote.
"Given that much of this information was previously kept from the American public, we respectfully request a report or an in-person briefing to Congress on this investigation at your earliest convenience," wrote the senators.
—
Rubio files legislation to extend ban on drilling in eastern gulf — The Miami Republican introduced legislation last week to extend the ban on oil drilling in the eastern Gulf of Mexico to 2027, joining Democratic Sen. Bill Nelson and a bipartisan group of House members who have already made a similar request.
But Rubio also wants Florida to receive a share of revenue generated by drilling in the central and western portions of the Gulf. That's a significant departure from the current policy, reports Alex Leary with the Tampa Bay Times.
The proposal, according to Leary's report, lacks specifics, and will likely draw questions from states in favor of drilling that share in revenues and have fought the federal government for a bigger portion.
In an op-ed piece for the Pensacola News-Journal on May 4, Rubio wrote while "Texas, Louisiana, Mississippi and Alabama receive a direct flow of money they can use on conservation and environmental efforts, restoring their coasts, hurricane protection, flood control, mitigation measures for wildlife and approved federal projects, Florida is losing out."
"This is unfair. As the tragic Deepwater Horizon disaster demonstrated, Florida's environment and economies are in danger of being affected by rare but major drilling accidents in the Gulf—even with the 125-mile ban in the current moratorium," he wrote. "The 2010 spill happened during a busy time for Florida's coastal communities, where small business workers rely on the valuable tourism dollars generated by hotels, restaurants, fishing, and families on vacation. Cancellations after Deepwater significantly harmed our state's workers and economy."
Rubio said in his op-ed it is his hope that the legislation will start a "much-needed conversation about commonsense, bipartisan solutions that will benefit Florida's environment and workers, and ensure our state is treated fairly."
Paulson's Principles: Will Florida's congressional districts turn blue?
After the 2016 elections, Florida elected eight new members of Congress, almost a third of its Congressional delegation. Florida has the third largest Congressional delegation, but is a political weakling in DC. Florida is a mega-state with mini-power. The recently announced retirement of Republican Ileana Ros-Lehtinen, the senior member of the Florida delegation, will continue Florida's declining power ranking.
The Ros-Lehtinen retirement gives Democrats a great opportunity to flip a seat. Congressional District 27, which she represents, is a +5 Democratic district which Hillary Clinton won by 20 points.
Democrats will have a great chance to flip neighboring District 26 (+6 Dem.) held by Carlos Curbelo. Also at risk is Mario Diaz-Balart in District 25 (+4 Rep.) and recently elected Brian Mast in District 18 (+5 Rep.). The potential loss of three Republican Cuban-American seats would signal a real change in south Florida politics.
The Democratic Congressional Campaign Committee (DCCC) has already targeted the Curbelo and Mast seats as two of their thirty top priorities to flip in 2018. That was before Ros-Lehtinen's retirement announcement, and her District 27 seat will move to the top of potential seats to flip.
A crowded field of Republican and Democratic candidates has already emerged to run for Ros-Lehtinen's seat. The district has become heavily Democrat and will be difficult for Republicans to retain.
On paper, Republicans have fewer target districts to recapture. Former Republican state senator, Education Commissioner, Attorney General and Governor Charlie Crist won the District 13 seat as a Democrat. The seat was the first congressional district to elect a Republican from Florida in 1954, and three Republicans held the seat for 58 years.
District 13 was redrawn after the Florida Supreme Court threw out the boundaries drawn by the Republican legislature and used the map drawn by the League of Woman Voters. The district moved from a slightly Republican district (+1 Rep.) to a slightly Democratic district (+2 Dem.). The demographics are trending Democrat and Crist has raised a million dollars for his upcoming campaign.
Perhaps the most vulnerable Democratic district is District 7 won by political newcomer Stephanie Murphy. Murphy defeated long-time incumbent John Mica in a district that is evenly split between the parties. Republicans will do everything they can to try to recapture this seat. A Democratic flip of only three seats would give the Democrats a 14-13 advantage in the Florida congressional delegation and would be a major morale booster for the party.
State Sen. David Simmons has met with representatives of the National Republican Congressional Committee and is "98% certain" that he will run against Murphy. Simmons has strong name recognition in the district due to many years of service in the Legislature.
Republicans did very well in the midterm elections of 2010 and 2014, but Barack Obama was the sitting president. The party not occupying the White House generally does well in midterm elections.
Democrats may be helped in more ways than one with Donald Trump in the White House. Then again, almost everyone was surprised by Trump's performance in the 2016 elections.
 Gaetz, colleagues urge Navy to fix oxygen problems with training jets
The cause of "psychological episodes" suffered by pilots of the Navy's T-45 fighter aircraft is still not known, but the Fort Walton Beach Republican is pressing the Navy to get to the bottom of it. In a letter to Admiral John Richardson, the Chief of Naval Operations, Gaetz and fellow members of the Tactical Air and Land Forces Subcommittee of the House Armed Services Committee are giving a respectful nudge to step it up and to let Congress know what is happening.
"We ask that you provide the Subcommittee with the current schedule or timeline for all test and evaluations of equipment associated with T-45 aircraft to include the specific equipment being tested, the location of where testing is being conducted, the frequency of those tests, and how the results of these tests are informing the Navy's way forward," the letter said.
Other signers of the letter included Subcommittee Chairman Michael Turner, an Ohio Republican, and Niki Tsongas, a Massachusetts Democrat. The T-45s are used for pilot training at the Pensacola Naval Air Station.
Earlier, all training flights were grounded as the Navy sought answers. They were later resumed in mid-April, but at lower altitudes where the oxygen systems are not needed.
"I'm grateful for that accommodation that the Navy has made," said Gaetz. "But I remain very concerned that we have not yet diagnosed why the oxygen systems in T-45 aircrafts are literally poisoning the pilots."
Health care costs dominate Murphy round table
Rep. Murphy is still getting an earful on the woes of health care, hearing from members of the Sanford Chamber of Commerce this week about health care concerns reports Scott Powers with Florida Politics.
Several people at the round table expressed little concern for coverage for all, or pre-existing conditions, or for refugees, but argued that the costs must be contained and brought down. One called the other issues "lipstick on a pig" when people cannot get health insurance they can afford.
Citing her husband's small business, Murphy agreed that the costs "are prohibitive," but mostly listened as members of the chamber relayed their concerns.
One member said she and her husband are spending $2,200 a month, for a $5,000 deductible, contending the costs of insurance have "gone out of control." Another said he knows small business owners unwilling to hire a 50th employee for fear they'll be required to provide insurance. Another spoke of how he believes uncovered procedures, such as laser eye surgery, have fallen dramatically in price because the free market has driven down costs, something that does not happen for insured procedures.
Murphy responded by applauding the diversity of perspectives.
"While we may not agree on everything, I think the important thing is we continue to have these conversations," she said.
Roll Call series features Demings
The freshman Orlando Democrat was this week's featured legislator in Roll Call newspaper's regular series called Take 5. First-year members are often the subjects of these pieces.
She recalled her 27-year career in law enforcement, capped by her appointment as the first female Chief of the Orlando Police Department. Demings had a ready answer for how her earlier career helped prepare for a new role in Congress.
"We really needed to form relationships with the community and work with the community to solve problems," she said. "And so, those are the great skills I learned and that I bring over."
Demings revealed the last book she read (Rick Warren's "The Purpose Driven Life") and her role models were her mother and Rosa Parks. In Congress, she is closest to Nevada
Democrat Jacky Rosen and Republican John Rutherford, the former Jacksonville Sheriff.
Take 5 has featured other freshman members of the delegation including Tallahassee Democrat Al Lawson, St. Petersburg Democrat Charlie Crist, and Hutchinson Island Republican Brian Mast.

Mast files bill to speed up Lake O reservoir project
Rep. Mast unveiled a proposal that would speed up the completion of Everglades restoration projects, including a massive reservoir system south of Lake Okeechobee approved by the Florida Legislature this year.
Dubbed the Everglades FIRST (Flow Increased Rely on Storage Treatment) Act, the bill prioritizes projects designed to fix water reservoir storage capacity issues around Lake Okeechobee to minimize future discharges into the the St. Lucie River and Indian River Lagoon.
"We cannot afford to wait another eight to ten years to begin construction on a southern reservoir.  Every summer with toxic algal blooms means more businesses are forced to close, more people lose their jobs and more children get sick," said Mast in a statement. "Now that the Florida legislature has passed S.B. 10, the federal government needs to step up and do its part to get this project done as quickly as possible."
Ana Ceballos with the Associated Press reports the bill will be formally introduced Thursday, and would expedite the ambitious plan by a top Florida Republican to build a $1.5 billion reservoir system on state land. Gov. Rick Scott signed the bill this week.
Mast's bill would instruct the U.S. Army Corps of Engineers to expedite the federal timeline for reports that will ensure Everglades projects are finished on time.
— "Congressman Mast has demonstrated impressive leadership for America's Everglades and the majestic St. Lucie and Caloosahatchee estuaries. By expediting the Everglades Agricultural Area Reservoir project, the Everglades FIRST Act answers the call of countless advocates who refused to stand by as toxic algae lapped at their coasts. On the heels of Florida legislation that also advances this water storage project south of Lake Okeechobee, this bill demonstrates the federal commitment to moving forward together on this crucial restoration project," said Julie Hill-Gabriel, the deputy director of Audubon Florida.
— "By focusing on supporting the Comprehensive Everglades Restoration Plan and the Central Everglades Planning Project, Congressman Mast's Everglades FIRST Act can bring attention to the Congressionally-authorized projects and inspire more efficient efforts between the United States Army Corps of Engineers and the South Florida Water Management District," said Temperince Morgan, executive director of The Nature Conservancy's Florida Chapter.
–"We greatly appreciate Congressman Mast's leadership toward fixing Florida's water quality challenges. Florida is the 'Fishing Capital of the World', and the future of our industry is dependent on clean waters and abundant fisheries. The Everglades FIRST Act will help ensure Everglades restoration is completed in an expedited and comprehensive fashion" said Mike Nussman, president and CEO of the American Sportfishing Association.
High praise for F. Rooney
 Majority Leader Kevin McCarthy had nothing but good things to say about the Naples Republican during a stop in Southwest Florida.
McCarthy, a California Republican, joined Rooney, a freshman congressman, on a helicopter tour of the Everglades and the Lake Okeechobee Watershed on Tuesday. The tour was meant to highlight the importance of funding projects that have already been approved, and in some cases designed, within the watershed.
"He's been telling me about this since before he was elected and he invited me before even getting sworn in," said McCarthy. "This is a natural treasure."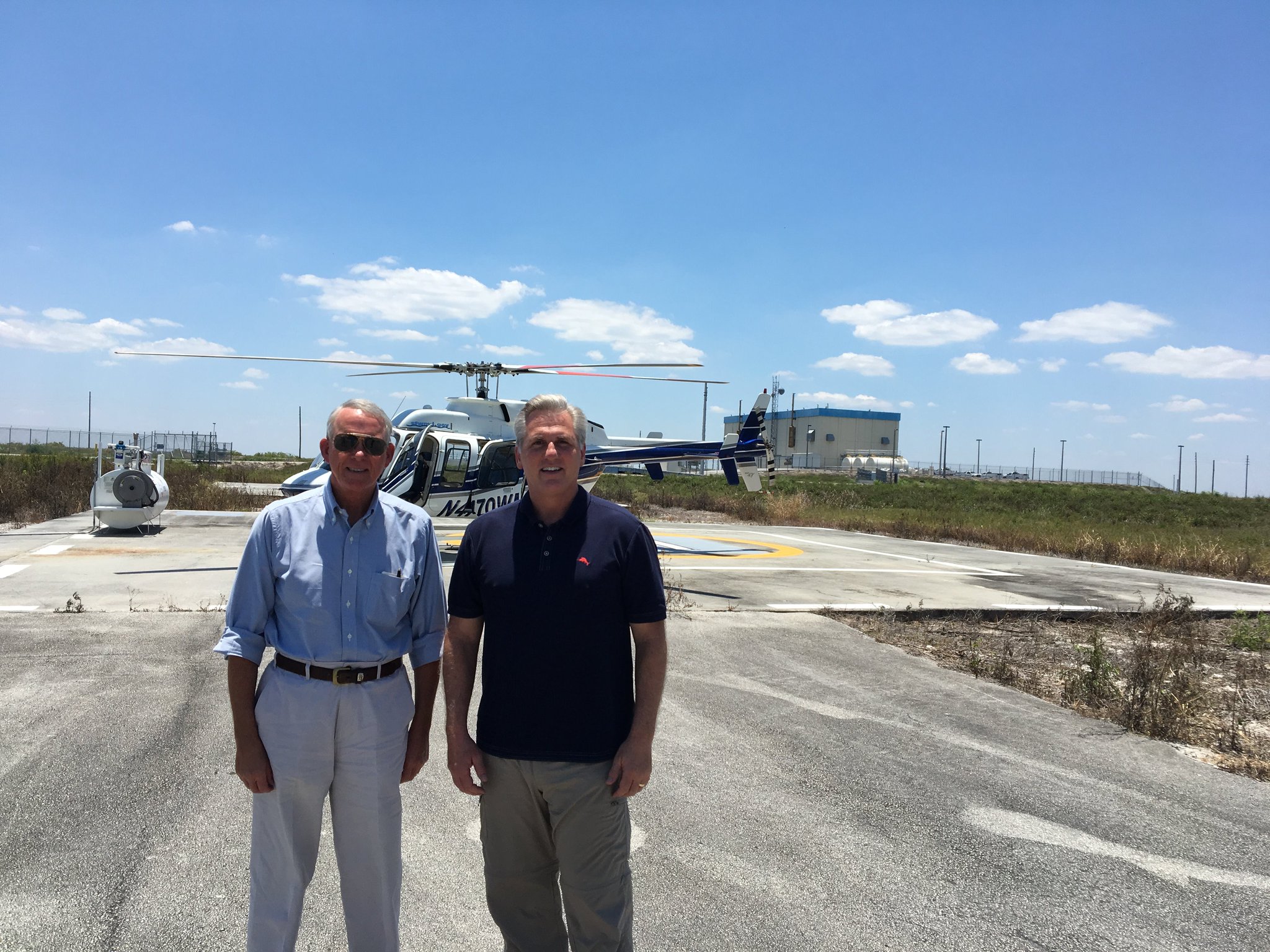 McCarthy praised Rooney for the work he has been doing on behalf of his constituents, saying it is hard to believe he is just in his first term.
"I have watched Francis from the beginning, it's hard to imagine he's a freshman congressman," he said. "It seems like he knows how to work for his constituents."
McCarthy said Rooney's constituents should "be excited to have an individual like Francis Rooney as their member of Congress."
"He's not going to sit back and wait to make the voices heard of what's needed in this area," he said. "He knows what needs to be built, and he's making the argument very strongly. Take for instance, I'm the majority leader, but I'm here seeing this, and this is the most important thing he asked me to do."
Rooney was elected to serve in Florida's 19th Congressional District in 2016, replacing Rep. Curt Clawson. While this marks his first elected position, Rooney is no stranger to politics. He served as the ambassador to the Holy See under President George W. Bush, and was a top GOP donor.
Fundraiser set for Diaz-Balart re-election
Rep. Diaz-Balart appears to be gearing up for 2018, with a $1,000 a person fundraiser scheduled for later this month in Washington, D.C.
The fundraiser is scheduled for May 22 at the Capitol Hill Club in Washington, D.C., reports Dave Levinthal with The Center for Public Integrity. The fundraiser is hosted by lobbyist Gene Moran.
According to the Center for Responsive Politics, Moran's clients include the Florida Defense Contractors Association, Global Ocean Security Technologies, Howell Laboratories, and Kongsberg Maritime.
Currently serving in his eighth term in Congress, Diaz-Balart is the chairman of the Transportation, Housing and Urban Development Appropriations Subcommittee. In an interview with Florida Politics in April, Diaz-Balart said he tries not to worry about re-election.
"I'm a firm believe you do good things, and good things happen," he said at the time. "I don't worry about that. I just work, and good things happen."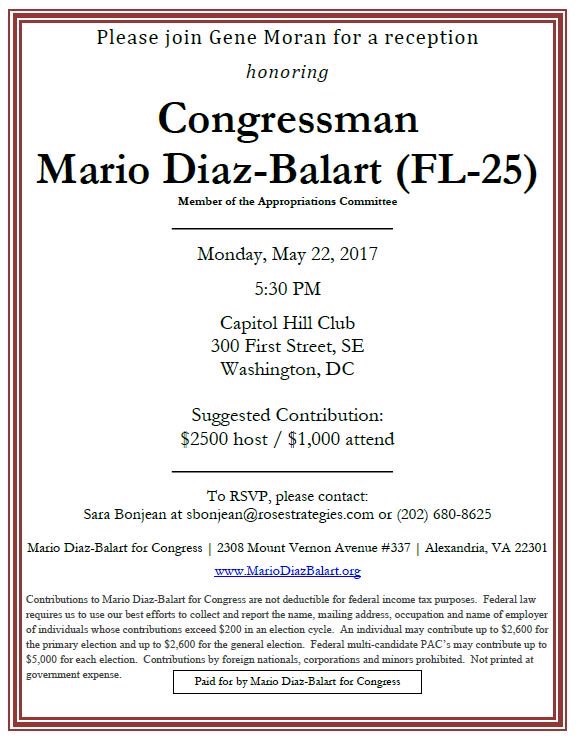 Announced candidates for Ros-Lehtinen seat beginning to grow
The number of those officially seeking to run for the District 27 seat held by the veteran Miami Republican for the past 28 years is growing. Within the past week, two more have announced their intention to run, including the first Republican.
Already in was Democrat Scott Fuhrman, a South Miami businessman, who announced last month he would give it another shot after a 10-point loss to Ros-Lehtinen last year.
Just days later, Miami Beach City Commissioner Kristen Rosen Gonzalez announced she would also mount a challenge. Another Democrat is University of Miami academic advisor Michael Hepburn while Mark Anthony Person has filed with the Division of elections.
The game dramatically changed with Ros-Lehtinen's announcement of her impending retirement from Congress. A virtual Who's Who of Miami-Dade politics are lining up their ducks to run.  
On the Republican side, Miami-Dade Commissioner Bruno Barreiro, who has represented much of the district while on the commission, has announced his candidacy. Hialeah GOP State Sen. Rene Garcia is looking at it and, reportedly, so is Republican Sen. Anitere Flores. The National Republican Congressional Committee (NRCC) has reportedly reached out to Jeb Bush, Jr. and Lt. Gov. Carlos Lopez Cantera, who is "discussing it with my family."
Prominent Democrats include state Sen. Jose Javier Rodriguez of Miami, who has already said he will run. Also mulling things over is state Rep. David Richardson of Miami Beach, Miami-Dade County Commissioner Daniella Levine Cava, and Miami Beach City Manager Jimmy Morales.
Independent Miami-Dade County Commissioner and former Miami Mayor Xavier Suarez, who says "there is definitely room for someone who is independent," is also taking a look.
Scott to chair New Republican super PAC
Rick Scott appears to be laying the groundwork for a future Senate bid.
The Naples Republican will chair the NewRepublican.org, a super PAC aimed at changing the way the Republican Party approaches the future. Scott also announced Melissa Stone, who served as his chief of staff and ran his 2014 re-election campaign, will serve as the organization's executive director; while Taylor Teepel, who has served in the Scott administration, will serve as the PAC's finance director.
"New Republican's goal is to make the Republican Party Great Again. Both political parties are hopelessly stuck in WWI style trench warfare. Both political parties are failing us," said Scott in a statement. "There is nothing new, it's the same thing every day – lob some grenades over the ditch and then brace for incoming. The goal of New Republican is to break out of this trench warfare. We have to get rid of all our tired old political jargon and clichés."
Scott, who can't run for re-election because of term limits, is believed to be considering a run for Senate in 2018. He's made several trips to Washington, D.C., including this week where he met with national reports to talk about the super PAC.
Sen. Bill Nelson plans to run for re-election. In April, the Orlando Democrat announced he raised more than $2 million in the first quarter of the 2017.
Recent polls have shown Nelson would lead Scott in a hypothetical head-to-head match-up. A poll from the Florida Chamber of Commerce released in March showed Nelson had a 6-point lead over Scott, 48 percent to 42 percent.
That margin was similar to one predicted in a UNF Public Opinion Research Laboratory survey released earlier in the month that found Nelson would take 44 percent to Scott's 38 percent. A Mason-Dixon survey showed Nelson with a 5-point edge over Scott, 46 percent to 41 percent.
Son of former Congressman, nephew of current House member, joins DC lobbying effort
Another Diaz-Balart is trying to make a splash in Washington. Daniel Diaz-Balart, son of former Congressman Lincoln and nephew of 25th District Republican Mario, is getting into the DC lobbying "swamp."
In February, Daniel DB established Biscayne Strategies LLC based in Miami. Biscayne's disclosure form indicates he will lobby on tax issues for DC-based Cloakroom Advisors LLC.  One of Cloakroom's team members is former Jacksonville Republican Ander Crenshaw's Chief of Staff, John Ariale.
Diaz-Balart is a graduate of the University of Central Florida and the Florida State University College of Law.
Apple looks to restore Carnegie Library, convert to store
As the technology giant looks to turn its stores into places for things like concerts, art exhibitions and photography classes, Apples has its sights set on the Carnegie Library in Mount Vernon Square.
Jonathan O'Connell with The Washington Post reports Apple officials plan to restore the building and turn the library into a place to hold "free, open-to-the-public concerts, art exhibitions, workshops for teachers and coding classes for children."
The goal, however, will still be to sell more iPhones and iPads. O'Connell reports that Apple plans to put a "Genius Grove," a tree-lined sales floor, where the Carnegie Library once housed the book collection. Reading rooms will become places to browse products.
"This is a way of creating a reason to come to the store, to touch and feel our products, but also to have an engaging experience with someone who is passionate about the same thing," said B.J. Siegel, Apple Retail's senior design director, according to the report.
Apple has picked up a historic preservation award for its work in restoring buildings in New York.
The company opened stores in a former restaurant bay in a Depression-era brick storefront in Brooklyn, a 130-year-old former back in Paris, and a former restaurant bay in New York's Grand Central Terminal.