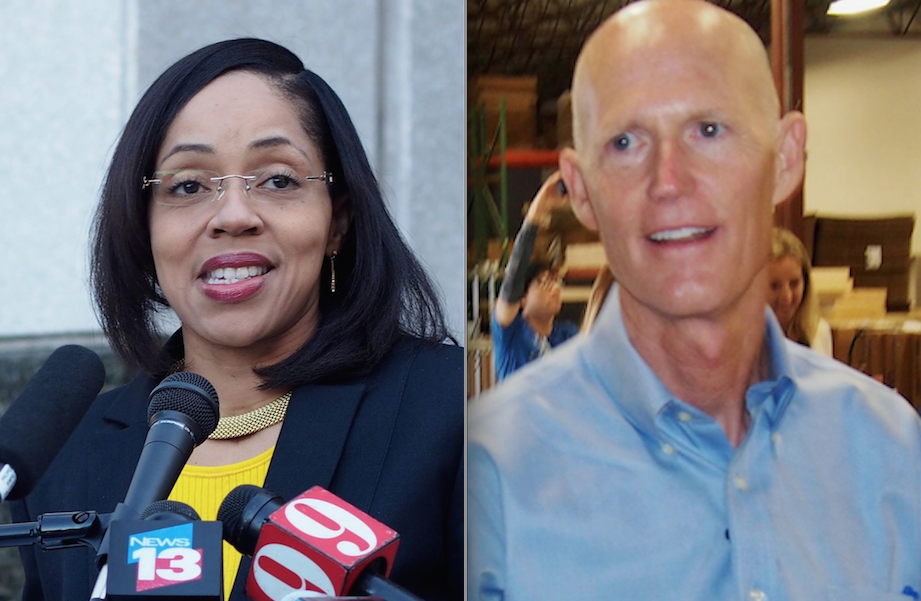 In her new response to Gov. Rick Scott's argument in their Supreme Court battle over power, Orlando's State Attorney Aramis Ayala contends that the Florida Constitution is clear that she has absolute power over all criminal cases in her jurisdiction, and that the governor can only override it with her permission.
The issue is whether Scott has the power to reassign first-degree murder cases from Ayala's 9th Judicial Circuit to Ocala's State Attorney Brad King's 5th Judicial Circuit after Ayala announced she would not seek the death penalty in any cases.
Scott argued in his April 26 brief that that the governor has the executive power to reassign cases from state attorneys if there is a good reason.
Yet Ayala argues, in a brief filed Monday, that all the key cases Scott cited, and Ayala's previous record that Scott cited, all have something in common that the first-degree murder cases he reassigned do not share:
In all the other cases, the state attorney consented to or even requested that the governor reassign cases, while in the 23 cases at issue in Florida Supreme Court battle of Aramis Ayala versus Rick Scott, she gave no consent or made no such requests.
"As Ayala explained in her petition, 'if a state attorney voluntarily cedes the power to prosecute, the state attorney has herself given the power to prosecute to another, so there is little concern of gubernatorial overreach' and likewise, 'if the person who 'shall' prosecute cases is unavailable, then the governor offends no constitutional power by naming a replacement.' Ayala has only ever argued that the Constitution does not tolerate transfers of cases from a qualified state attorney who opposes transfer," he brief states.
The difference is clear, and so is the reason why, Ayala's response, filed by Tampa attorney Marcos E. Hasbun and Washington D.C. attorney Roy L. Austin, Jr. It cites the Florida Constitution which gives the state attorney full authority over all criminal cases in that circuit.
"Scott ignores the constitutional mandate that state attorneys "shall" prosecute local cases," the response states.
And that means a key provision of state law, Section 27.14, that allows for the governor to reassign cases, flies in the face of the Florida Constitution, Hasbun and Austin argue.
"Because Florida's Constitution is the supreme law of the State, the fact that it does not permit transfer here means that no state law—including Section 27.14—can change that. The Constitution is alone sufficient to resolve this case," they state.
They also note that Scott has been inconsistent in his state opinions about the power, stating that on at least four occasions his office has advised private citizens that the governor did not have the power to reassign criminal cases without the consent or request of the state attorney who has jurisdiction.
"Either Scott was being less than honest with these citizens or his view has suddenly changed. In his Opposition, Scott now claims that he can reassign state attorneys against their will whenever he wants, and for whatever reason he wants, as long as doing so is not 'without any reason whatsoever.' How does that square with the Constitution's directive that each state attorney 'shall be the prosecuting officer of all trial courts in [her] circuit,' or with the traditional notions of independent prosecutors? It doesn't," Ayala's response argues.
The new brief also argues that Scott cannot claim that he has the power to reassign cases because he also has the power to suspend state attorneys  for "malfeasance, misfeasance, neglect of duty, drunkenness, incompetence, permanent inability to perform official duties, or commission of a felony," and reassigning cases seems like a much lesser version of that action.
Scott has never accused Ayala of any of those things, her attorneys suggest, adding, "nor could he, particularly given that he concedes that Florida law never requires a prosecutor to seek the death penalty, even when all aggravating factors are met."