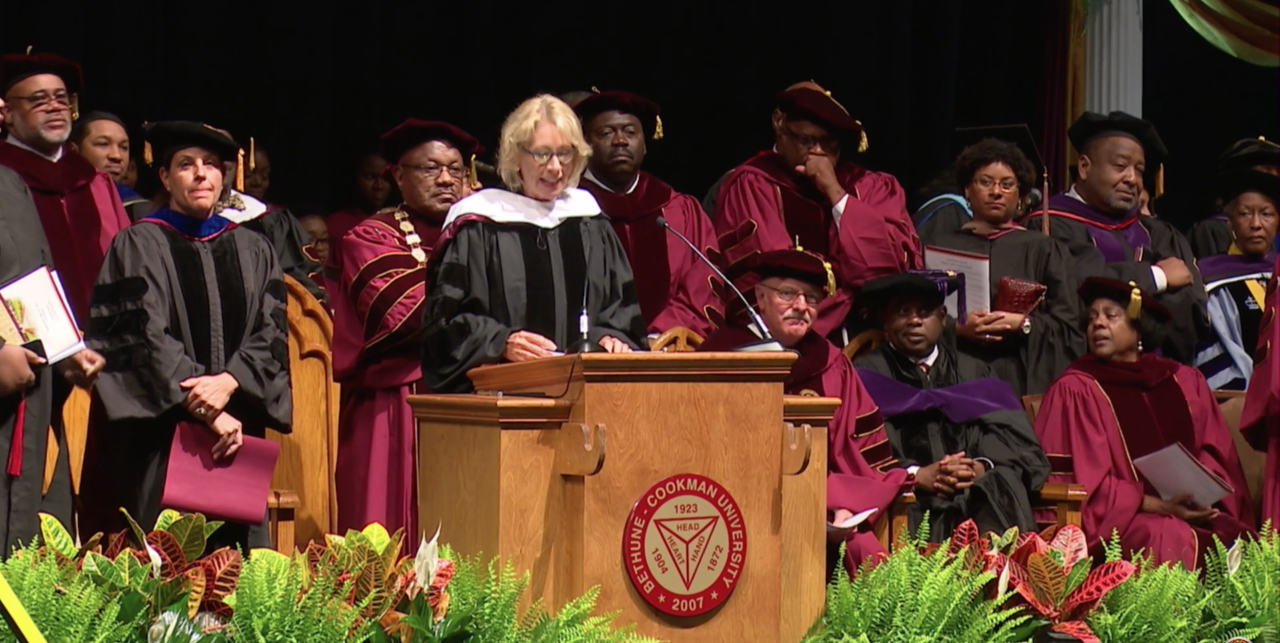 As students at Bethune-Cookman University turned their backs and lustily booed commencement speaker Betsy DeVos, the rattled education secretary pleaded, "Let's choose to hear each other out."
It's ironic that DeVos chose those words to find middle ground, considering Republicans across the land, and particularly in the Washington establishment she now represents, have demonstrated no interest in hearing anything but the echo of their own voices.
The best leaders spend a long time listening before they speak. Perhaps DeVos should choose to hear the voices of those who believe we are seeing what may later be viewed as a historic assault on public education.
Republicans — including those in the Florida Legislature — are showing barely restrained glee at that prospect. As the highest-ranking agency leader in that charge, DeVos and many in her party have shown almost willful ignorance of the havoc this is causing.
A story in Thursday's Tampa Bay Times quoted Hillsborough Schools Superintendent Jeff Eakins warning the district, which services more than 200,000 students, may see a deepening financial crisis.
The budget passed this week by the Legislature cuts per-student funding by $27 at a time when Florida's population is booming. Eakins said there may have to be a teacher hiring freeze. He also has to find a way to pay for about $3 billion total in new school construction, repairs for existing schools, and debt on previous construction.
It's also odd that Republicans complain about the treatment DeVos received, many calling it rude and so forth. Yet, how many of them chanted "lock her up … lock her up" at the mention of Hillary Clinton during the presidential campaign, or even as late as March as President Donald Trump spoke at a rally in Nashville?
By that standard, I thought students at Bethune-Cookman were kind to the representative of a government that increasingly is turning its back on them.
DeVos at one point declared, "We can choose to listen, be respectful and continue to learn from each other's experience."
This is the same person who earlier declared that so-called historically black colleges represented the original school choice plan.
Choice, huh? The University of Florida didn't admit its first black student until 1958 — the year DeVos was born, the daughter of billionaire Amway co-founder Richard DeVos. Florida State didn't begin admitting black students until 1962.
The memory of that kind of school "choice" is still fresh for many of the parents or grandparents of black students today. Education was their path to a better life. They see a government trying to change that.
They see DeVos as someone who doesn't understand them and doesn't seem too interested in learning. Maybe what happened at Bethune-Cookman will change that, but I doubt it.
There was widespread anger across the campus when DeVos was originally announced as the commencement speaker. There was a petition drive to have the offer rescinded.
I would give her credit for showing up anyway, except I think she probably thought she could turn this into a photo op with smiling, applauding students endorsing what she has planned.
She got that photo op all right, just not the one she wanted.
The question is, was she listening to what all those booing students were really saying? Is anyone?