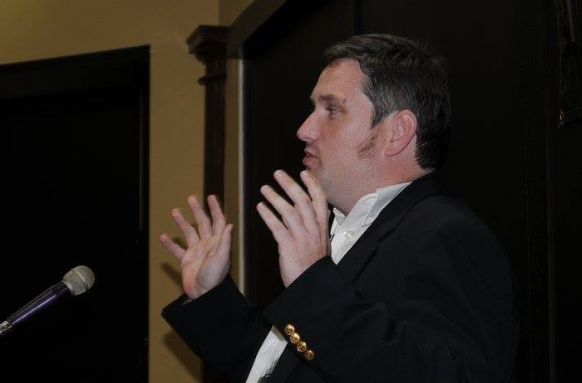 Joe Wendt, a Tampa janitor who has been active in Florida Libertarian Politics since 2010, announced Monday he is filing to run for Florida's U.S. Senate seat.
Wendt, 32, has claim to fame in the Libertarian Party of Florida, having finished second with 43 percent of the vote in a 2012 Soil and Water Conservation District race in Hillsborough County, one of the best showings ever for a Libertarian in any Florida election.
This time he wants to shoot statewide, focusing on incumbent Democratic U.S. Sen. Bill Nelson and his expected Republican opponent, Gov. Rick Scott in the 2018 election.
"I'm realistic, but I think I can do well," Wendt said.
"I think this year Libertarians have a very good chance. We're looking at a weakened Democratic Party and we're looking at a potentially very unpopular candidate in Rick Scott," he said.
He also may be looking at a potentially major candidate for a primary within the Libertarian Party: right-wing political fire-breather, consultant, and author Roger J. Stone Jr.
The consultant to President Donald Trump's campaign is a registered Libertarian, and he's been subject to rumors this year, as well as in 2016, that he would seek office himself, in Florida. They're rumors that Stone himself apparently likes to stoke, including in a Draft Roger Stone for Senate Facebook page that includes pictures of him in front of Roger Stone for Senate signs, and no one is quite certain if he's serious.
"He always says he's going to run for office and never does," Wendt said. "If there's a rumor about him, I'm just going to ignore it, based on his previous track record alone."
Also being rumored is a second run by neo-nationalist Orlando attorney Augustus Sol Invictus, who ran in 2016 but lost in the primary.
Wendt intends to use the campaign slogan, "Make America Free Again," and push a platform that includes complete legalization of all drugs; the release of all prisoners who are in for "victimless" crimes; repeal of copyright and patent laws; full legalization of abortions – which he said he is morally opposed to – yet denial of any public money for abortions; abolition of the Department of Education and all education voucher programs; the right of business owners to refuse service to any person for any reason; an open immigration system; and opposition of all gun laws and regulations.
"Over the years Republicans and Democrats have winnowed away at our freedoms, but economically and individually," Wendt said. "I believe the time has come for us to reclaim our freedom. We need to get government out of the boardroom and out of the bedroom. We need to empower people so they can live their lives better. Government is the main cause of poverty, the main cause for war, the main cause for the massive mismanagement of our country. We need to bring that power back to the citizens."