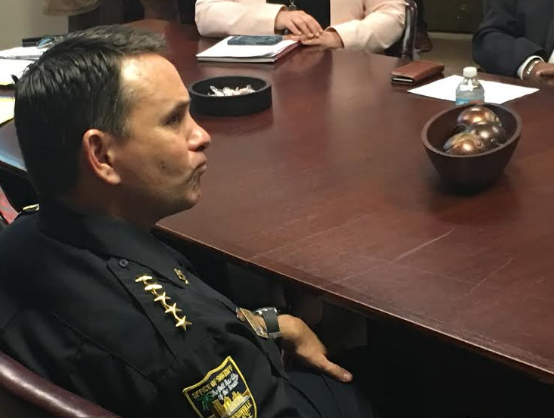 As the office of Jacksonville Mayor Lenny Curry gears up to release its third budget, an interesting area of inquiry is the Jacksonville Sheriff's Office.
A real tension in Curry Administration planning in preceding years has been balancing an austerity-level city budget with the need to ramp up public safety.
In 2016, some items were crossed off the wish list. The Jacksonville Sheriff's Office got 40 new police officers and 40 new community service officers, which augments the 40 of each provided in the previous year's budget.
Police and fire got a $2.7 million replacement of their end-of-life 911 system. The JSO got $1.9 million to upgrade its outdated fingerprinting system. And $21.5 million of new money was earmarked for police and fire vehicles.
This year, the challenge is a different one: "budget relief," spawned by pension reform, expanded every department's wish list. However, in a city where Public Safety is the code word, the JSO is expected — if history is any indication — to get first dibs on enhancement requests.
Tuesday morning saw Chief Administrative Officer Sam Mousa and CFO Mike Weinstein reviewing the budget with Sheriff Mike Williams and various high-level JSO staffers.
Mousa noted, at the start, that enhancements — including additional officers — are still subject to "ongoing discussions between the sheriff and the mayor."
____
More quotidian enhancements eventually came up, however.
Five replacement bicycles for downtown patrols ($10,000), X-Ray machines to replace the "ancient" ones at the Police Memorial Building ($80,000), and body armor replacements ($324,000) were the first three discussed.
The federal forfeiture trust fund is "way down," and can't accommodate these requests.
"These are normal operating things we have to have. We've leveraged grant dollars, forfeiture dollars … at the federal level last year, forfeitures stopped for eight or nine months," Williams said, calling the aforementioned items that have to be replaced every five years.
Mousa noted that JSO can find $90,000 for the first two line items, given flexibility in other line items in the budget, demonstrated year after year. JSO went along with it.
The body armor will be considered, meanwhile.
Body camera operation costs include nine employees, phased in over the fiscal year. Help desk technicians will be new hires; six other officers will be moved over from other divisions.
"This will be the framework of the body camera unit moving forward," Williams said.
As well, two civilian technicians will be used to operate the NIBIN machine, at $90,000, and a $220,000 modular shooting range.
JSO also would like five correctional officers to supervise inmate cleanup crews.
"We have plenty of inmates for five crews," said Undersheriff Pat Ivey, "but the funding for one."
COs rather than civilian supervisors are preferred, as civilians "don't look at the dope man and say 'hey, get away from my crew'," Ivey said.
"Sexual conduct between one of the civilian supervisors and a female," said Ivey, was alleged as recently as 18 months ago.
_____
Also of interest: a $55M "contingency" fund the Lenny Curry Administration is setting up for salaries across city government.
"It's going to be one item in the general fund," Weinstein said. "We're going to put aside at least $55M, and spread it across government."
This line will be part of the non-departmental review, broken down by department.
_____
Some JSO numbers worth tracking as the budget moves through the process.
Salaries: up $10.5M, with $4.8M of that overtime costs.
Pension costs: down $38.14M in total, with over $30M in police and fire, and $5.9M in corrections.
And the new defined contribution plan has an uptick of $1.4M,
Workers Comp: up $358K. Heart and hypertension: up almost $1M.
Radio internal services allocation: down $2M, a number eaten up by $2.2M in fleet replacement costs.
Other costs that will impact the budget: computer-aided dispatch updates, network refreshes, and server migrations off of older servers.
____
Another point of discussion: overtime pay for SMG events, which are at city facilities.
"We assumed your revenue from SMG would go up," Weinstein said.
The JSO budget would like to staff all SMG events, with payment handled via overtime — a group of over 100 events over the year, an issue made more prominent with a robust schedule at the new amphitheater and flex field adding 30 to 40 events in the next fiscal year.
The city, meanwhile, would like a firmer handle on per-event costs.