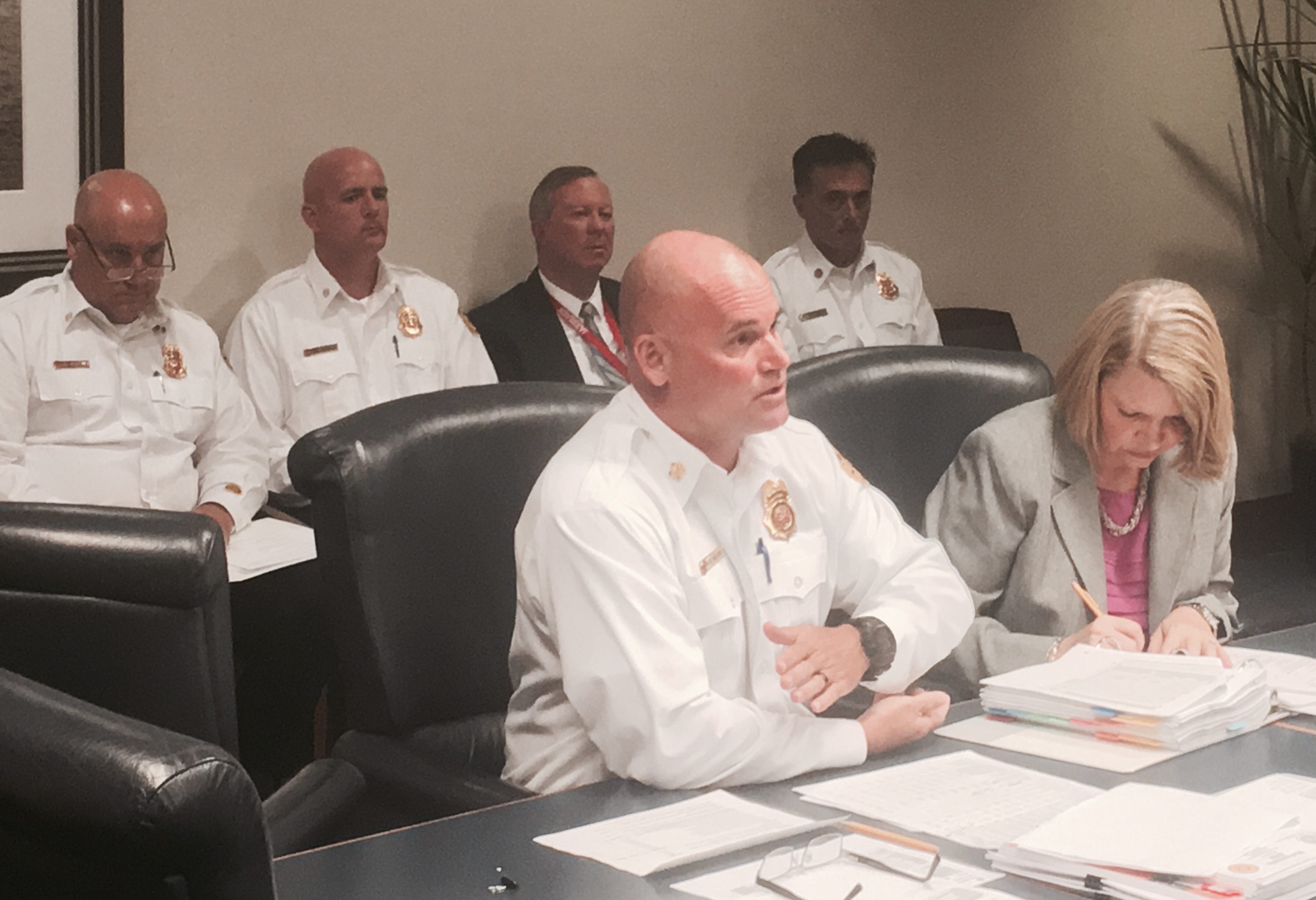 Wednesday morning saw the Jacksonville Fire and Rescue Department discuss particulars of the upcoming budget with the Mayor's Office.
JFRD faces a number of pressures: a staffing shortfall, challenges from the uptick in opioid overdoses, and equipment needs.
As was the case with the Jacksonville Sheriff's Office on Tuesday, enhancements were certainly going to be requested from the department. And as has been the case through the Lenny Curry administration, needs were to be considered against a backdrop of fiscal prudence — if not austerity, as was the case before pension reform.
Chief Administrative Officer Sam Mousa urged "caution," related to "controlling recurring expenses" to fund pay raises.
A total of 73 positions will need to be added, said Chief Kurtis Wilson, because of an additional station at Cecil Field that Mousa energetically disputed the existence of a contract for.
"They told us in 12 months, we'd have a station," Wilson said.
Mousa retorted, "it ain't gonna happen." The timing of construction, he said, won't work out.
"You have a new station, seven people, a new rescue [ambulance], and all of the personal supplies for employees," Mousa added.
The new rescue costs $266,000, and there would be $600,000 of recurring costs yearly, Wilson noted.
_____
Also notable: Ambulance transports, including uncollectible charges of over $500,000, add up to a $1.1M uptick in charges — a measure of the opioid crisis, with 15,000 calls in the last year (of the 80,000 total).
Narcan purchases alone are $155,000 up, year over year. And engines now have advanced life support for overdose calls, which comes out to $400,000 total of new costs related to the opioid crisis.
Salaries: up $9.6M, with overtime and new collective bargaining agreements the drivers.
Overtime, it was agreed, went up considerably in FY 17. FY 18 anticipates $4.2M of new OT costs, unless additional positions and one-time costs are approved to provide relief.
Two classes of 24 officers each would be added in FY 18; the financial hit would be felt in 2019, with 48 FTEs online. This would allow full staffing of all three overtime units, and three rescue units as well, to defray impact on fleet vehicles.
Leaves of various types, and absences of other types, are driving the overtime uptick.
"Going forward with pension reform," said Angela Moyer of the budget office, has provided a "golden opportunity" to restructure an operational structure that clearly had flaws.
Pension costs: down $23.7M in total. Defined contribution costs for next year, with new hires: $270,000.
This enhancement decision was not to be made at this meeting, alas.
"I'm not convinced your overtime's going to come down. It just seems to always be that way … every time we try to adjust your overtime," Mousa said.
Moyer noted that this was the first attempt to address overtime costs via adding positions, which would total 71.
"71 new slots is going to be hard," CFO Mike Weinstein noted.
Chief Wilson pushed back, saying the new positions were necessary to avoid "cannibalizing from within."
"I'm facing real challenges. Weekly we run out of rescues in various parts of town," Wilson noted. "We're just getting busier, and other departments across the country are facing the same issues as well."
____
"You come in with over 20 percent of your budget on the enhancement list," Weinstein remarked.
Wilson's response: this is after years of "trying to beg, borrow, and steal" to fill gaps.
Among the enhancement requests: nine new rescue units. The Beaches and Mayport are underserved, Wilson said.
Gear replacements for structure fires, of which there are 13-18 every week, are necessary.
"The gear we have now, they no longer make the fabric," Wilson said. "It's dated, it's old."
Wilson wants a one-time buy for new gear, with the old gear retained as backup.
Diesel exhaust systems: apparently a carcinogen, and in many stations, diesel pumps into the station's kitchen and quarters.
JFRD wants money to mitigate this issue with retrofitting of older stations not slated for replacement.
Three ladder companies are also needed, with ISO ratings coming in 2019. And five of 15 tankers, said Wilson, are unstaffed.
This all could impact the city's rating, which would have hidden costs for citizens and the city alike.
JFRD has also needed exercise equipment for seven years, and needs annual physicals — which were cut for those under the age of 50 by the previous Mayor.