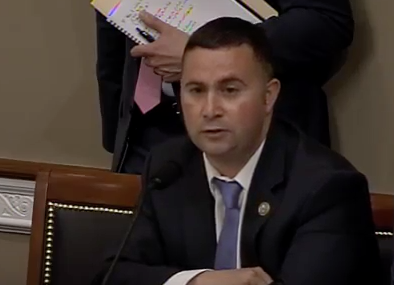 In the U.S. House of Representatives Natural Resources Committee, Orlando's U.S. Rep. Darren Soto pinned down Interior Department Secretary Ryan Zinke for assurances that the off-shore drilling ban is "in no real jeopardy."
Soto also pressed Zinke on whether he would support a Wild & Scenic River Program designation for the Kissimmee River, and the secretary replied that he is coming to Florida soon to examine Everglades issues and would work with him, Gov. Rick Scott and others for solutions.
Zinke lamented that the Everglades has become "the Creek of Not Much," and said it is a "huge problem."
The off-shore drilling ban, pushed by Soto and most other members of Congress from Florida, is only in jeopardy if the military determines it does not need the restrictions requested and put in place years ago by the U.S. Department of Defense, Zinke said.
That appears to answer concerns raised by Soto and others this spring, after President Donald Trump signed an executive order that implied interest in opening up off-shore drilling in previously banned sites off Florida.
"We also have a 125-mile buffer through 2022 in the Gulf of Mexico off the coast of Florida for oil drilling. Is that buffer in jeopardy right now?" Soto asked.
"We're looking at it with the military," Zinke replied. "I would not say it's in jeopardy one way or another. We're just looking at it on the basis of military needs. As a former military officer, if the military wishes – non political – if they say they need an area, then certainly I would pay attention to that. And I am."
When Soto asked about the Kissimmee River, the interior secretary expanded his answer to the Everglades, acknowledging that it [and presumably its feeder systems including the Kissimmee River] were in bad shape and needed attention.
"I'm from Florida and we care deeply about the Everglades," Soto prefaced. "We recently sent you a letter about designating the Kissimmee River, where we've spent billions to restore it, on making it a Wild & Scenic River. Can we expect a response sometime soon?"
Zinke's response Thursday:
"Absolutely. And I've just met with the governor, and I'm catching up to speed on the Sea of Grass, which has become the Creek of Not Much. I understand the problems with the overflow and the reservoir, the need for the levee system," Zinke said.
"My intention is to be down in Florida right after the break, in there to look and assess," Zinke continued. "I'd be glad to work with you on that. I understand it is a huge problem. But there are solutions. My commitment to you is to work together to find the solutions."