The Treasure Coast's U.S. Rep. Brian Mast and a key railroad executive behind the proposed Brightline high-speed train clashed in Congress Thursday with Mast contending the company is getting public tax dollar subsidies despite claims to the contrary.
The sparring came between Mast and Florida East Coast Industries' executive director Mike Reininger during a hearing of the U.S. House Transportation and Infrastructure Subcommittee on Railroads, Pipelines, and Hazardous Materials, delving into the trains' opponents contention that the enterprise has disguised public funding.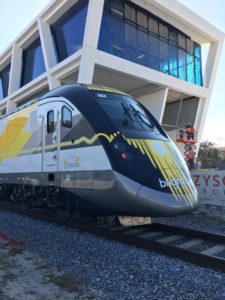 The broader picture is of a battle over whether that companies' sister company All Aboard Florida, which will operate the Brightline trains, will be able to build and operate a passenger-service train system capable of going 120-mph that would link South Florida and Orlando. Many political leaders and activists in the roll-over counties between West Palm Beach and Orlando, including Mast, oppose the train.
Mast, a Republican from Palm City, challenged company claims that it is 100 percent privately-funded; that some of the federally-backed loans and private equity bonds it pursued include federal money; that the $211 million construction of the railroad station at Orlando International Airport is essentially an All Aboard Florida subsidy since that train may be the station's only tenant; and that grade crossings and bridges that must be maintained or upgraded by local governments would amount to public money needed by the company.
Reininger disputed each point at least in part, contending that only interest reductions in the federally-guaranteed loans and bonds would constitute public money, and the bond program was specifically created by Congress to spur private investment such as All Aboard Florida; that All Aboard Florida would be paying fair-market rent to the Orlando airport for the train station; that the grade crossings are maintained by local governments through age-old agreements; and that the company would be investing "substantially" in the bridge upgrades.
"It's not publicly funded at all. It's completely investment of private capital," Reininger said.
Mast sounded unconvinced.
"Despite their dishonest claims to the contrary, All Aboard Florida has repeatedly pursued public, taxpayer-funded financing,"Mast stated in a news release issued after the hearing. "Floridians deserve the truth about who is paying for All Aboard Florida, as well as why they are failing to address critical safety and economic concerns."
All Aboard Florida didn't sound worried.
"We thank Chairman Denham and the members of the subcommittee for the opportunity to present our views and their continued excitement and support for the project," the company said in a statement it released afterwards. "The company has invested $1.3 billion of private capital to date, spurring thousands of jobs and generating significant economic impact for the state of Florida."
An opposition group, Citizens Against Rail Expansion in Florida issued a statement claiming victory in this battle.
"AAF has claimed that it is a private enterprise. But the evidence does not support this claim. AAF has, to date, been unable to raise private capital to finance its rail project without the benefit of public—as in, government—subsidies. Today we start the latest adventure of disclosing AAF's latest attempt to seek government subsidies—this time by seeking a multi-billion-dollar loan subsidized by the US taxpayers," CARE FL Chairman Brent Hanlon stated in a news release issued by the organization. "At every twist and turn the company has sought handouts and subsidies from government. Their desire for subsidies is insatiable, unquenchable and inexhaustible.