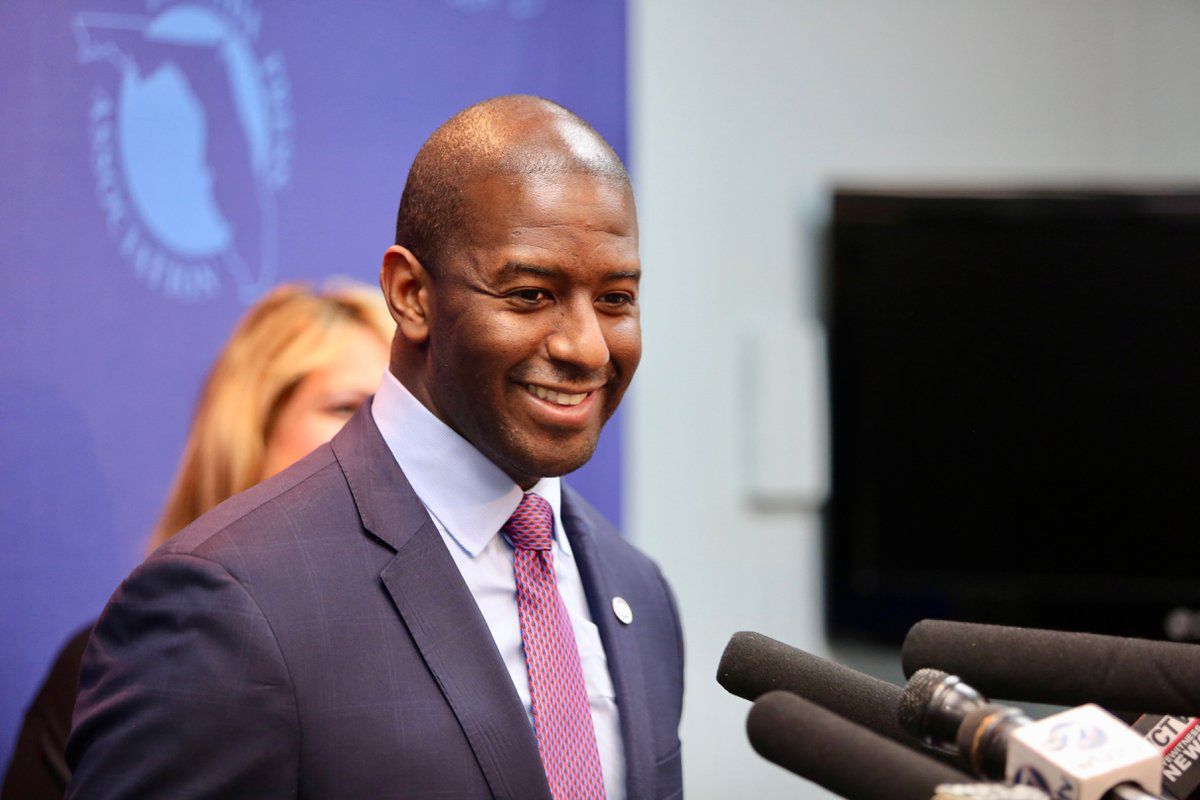 The most difficult job in Florida politics right now is the one held by Brice Barnes.
She is the finance director for the gubernatorial campaign of Andrew Gillum, the besieged Democratic mayor of Tallahassee making his first foray into statewide politics.
Part of Barnes' job is to persuade well-heeled donors to contribute to Gillum rather than his primary opponents, former U.S. Rep. Gwen Graham and Winter Park businessman Chris King.
Just imagine how challenging Barnes' job is today now that the FBI has launched an investigation into redevelopment deals involving prominent business owners and developers in Tallahassee, including a former campaign treasurer for Gillum.
If you are the kind of political donor who can cut a five- or six-figure check to a campaign, would you want to get next to the Andrew Gillum campaign right now?
Somehow, Brice Barnes has to convince possible donors to ignore the headlines.
Not that Gillum's fundraising efforts have been stellar as of late anyway. His campaign and political committee spent $10,000 more than it collected in May, although Gillum attributes this to the birth of his son on May 15.
But it's not the direction of Gillum's fundraising which should concern Democratic primary voters. Rather, it's the narrative of the last ten months. Gillum has been at the center of one controversy after another.
First, it was his atrocious response to the city being hit by Hurricane Hermine.
Then, just as he was launching his campaign, there was the scandal over his use of his government email for personal and campaign use, which is now being investigated by local authorities.
Gillum next was caught lying about the number of donors to his campaign. His campaign is being accused of stealing another candidate's email list. And, of course, there have been the headlines associated with Tallahassee's worst-in-the-state crime rate.
None of these individually—and even all of it together—would be enough to drive Gillum from the race. Supporters say the sloppiness is attributable to Gillum being a first-time candidate. The problems of Tallahassee, they say, are not necessarily Gillum's problems.
And he has picked up some endorsements, mostly from black lawmakers, but also from former HUD Director Julian Castro, state Sen. Jeff Clemens and Gainesville Mayor Lauren Poe.
Plus, remember that the political editor of the Tampa Bay Times just last week described Gillum as the Florida Democrats' "best hope for governor."
But Gillum will never win the general election. Not with the FBI lurking around the City of Tallahassee.
Gillum may not even be the real target of the FBI's investigation (some point to City Commissioner Scott Maddox as the man in the feds' crosshairs.) But that's probably wishful thinking. When the FBI subpoenas everyone around someone but doesn't subpoena that someone, guess who the target is?
And that's beside the point. This is not about courtroom drama, this about political perception.
This is, again, about Brice Barnes' job. Why would a donor want to contribute to this roogoodoo?
A better question may be: How does this ever get better for Gillum? How does this story end?
Does he hold onto 90 percent of the black vote in a four-way Democratic primary and edge by Graham and King? And then what? He'll get lit up like a Christmas tree by the Republicans who won't blink at spending $100 million to make Gillum's Tallahassee look like Beirut.
Actually, it's for black voters why Gillum should drop out before this gets worse.
Let's be honest, or let's be as honest as Gillum's consultants have been. They have reminded every political reporter covering the governor's race that black voters make up approximately 27 percent of the Democratic primary. In fact, that has been their lead argument for Gillum.
Assuming Gillum were to hold on to 9 out of 10 black voters, while adding some progressives and young voters attracted to his message, Gillum has a clear path to the Democratic nomination. If Phillip Levine gets into the race, that's three other candidates chopping up the remaining 70 percent or so of the Democratic vote.
Gillum, if he makes it all the way to the primary, could win.
But if he doesn't hang on to win, he'll probably cost the Democrats the general election.
As long as Gillum is in the race, there's no dislodging the black vote from him. Deep down, Graham and King know this. They won't say it, but they won't target the black vote like they would if Gillum weren't in the race.
Oh sure, they'll make the rounds at the black churches and they'll each receive some of the black vote, but political reality will dictate that they target other demographics if they want to get past Gillum.
And so Graham or King or Levine won't make the inroads into the black community they'll need to if they want the black vote to show up in a non-presidential year (which is already a shaky proposition). Even if one of them slips past Gillum, black voters may be so disappointed to see one of their own lose narrowly, they may not show up much at all in November.
It's almost a reverse Hillary Clinton, who spent so much time running up the score in the primary versus Bernie Sanders with black and Latino voters that she neglected to reach out to the white working class voters she needed in the general election.
Critics will view this assessment as an effort to urge the black candidate to drop out in order to make room for the white folks. That's not the case.
Rather the increasingly scandalized candidate should drop out in order to make room for candidates with a clean slate.