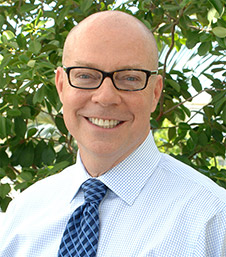 Democratic state Rep. David Richardson is formally announcing his candidacy Monday to run for Congress in Florida's 27th Congressional district, a seat Democrats are clamoring for now that longtime incumbent Republican U.S. Rep. Ileana Ros–Lehtinen is retiring.
"Our country is headed in the wrong direction, and we need bold leaders to help turn things around. That's why I'm declaring my candidacy for Congress," Richardson stated in a news release issued by his new campaign.
Richardson is Florida's first-elected openly gay state representative, serving since 2012.
A forensic auditor, he is known for his detailed budget analysis, for his work on criminal justice and prison reform, advocacy for gun control laws, promotion of or traditional public schools, and protection of abortion rights.
He's joining what is already a crowded field with three Democrats, and which promises to become even more crowded as several high-profile Republicans are considering getting in. Ros–Lehtinen has held the seat since 1989 and even Richardson has said he would not have run against her because he respects her too much.
Yet Democrats hold a five point advantage in voter registration for the Miami-Dade district that includes south Miami, Kendall, Coral Gables, and Richardson's hometown of Miami Beach.
So far, Democrats Kristen Rosen Gonzalez, Michael Hepburn, Mark Anthony Person, and state Sen. José Javier Rodríguez and Republican Maria Peiro have  announced or filed to run in the district. Republican state Sen. René García and state Rep. Jeanette Nunez, also have looked at the district.
Richardson stated he believes President Donald Trump and his policies will be key to the race in 2018.
"We need courageous progressives to fight him, his policies, and to get things done. I'll fight the GOP health care menace with bold proposals for a national single-payer health care system and Medicare for all," Richardson said.
"We need action on climate change. We can't ignore what's happening to our region, and our planet. We need to reinstate the Paris Agreement, and go even further," he added.
And, he stated, "We need to fight to make sure the Orlando Pulse nightclub tragedy, and all the other instances of senseless gun violence, never happen again."
Currently in his third term, he represents Florida House District 113 including the city of Miami Beach, the city of North Bay Village, downtown Miami and Little Havana. He is currently the ranking democratic member of the Public Integrity and Ethics Committee, and the Health Care Appropriations Subcommittee. While in his second term, Richardson served on the Democratic Caucus Leadership team as the House minority floor leader, in addition to being the ranking Democratic member of the Rules, Calendar, and Ethics Committee.
Richardson studied at the University of Central Florida where he graduated with degrees in biology and accountancy. Later, he attended the University of Tampa earning his Masters of Business Administration. He worked as an auditor for the U.S. Department of Defense, later joining Ernst and Young, an international accounting and consulting firm. In 1993, he started his own advisory services firm focused on accounting, financing, and pricing of government contracts. He has been a licensed CPA in the state of Florida for 32 years.
"I've used my considerable background as a forensic auditor to uncover fraud, waste, and abuse in our state prison system. We already have plenty of politicians in Congress who are seemingly always looking for the next step, the next campaign, the next rung on the ladder. That's not me. I've made a difference in Tallahassee, even as a member of the minority party, and I can do it in Washington, D.C.," Richardson vowed.