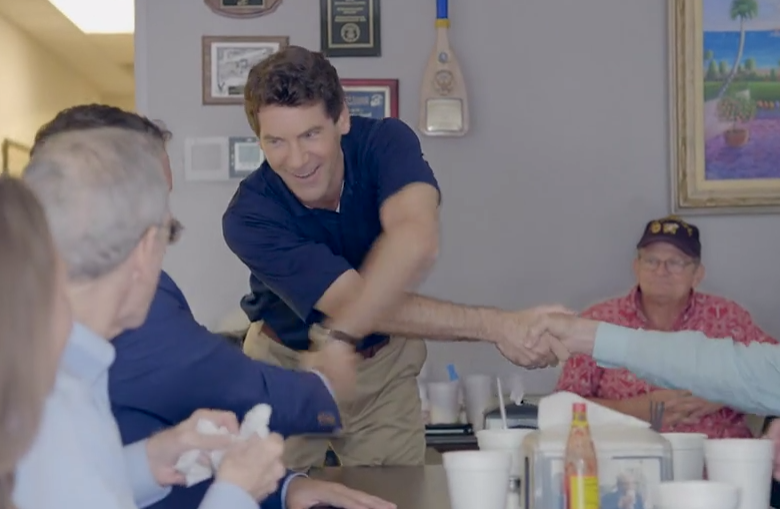 As those in the political game are acutely aware, fundraising is the oxygen that sustains campaigns.
June for Northeast Florida legislators and committees was no exception — virtually everyone in the region did some fundraising, and all of that was in a certain context — one that makes it possible to ascertain the success or failure of their efforts.
In that context, here's how the money is shaping up for Northeast Florida politicians.
_____
Jay Fant is in trouble: It took Rep. Jay Fant until late Monday — hours before the deadline — to file his numbers. And that's usually not a great sign, as his campaign for the GOP nomination for Attorney General seems to lack the buy-in from the donor class that opponent Ashley Moody has.
Between her political committee and her campaign account, Moody raised $603,000 in her first month in the race — a number that puts her way ahead of Fant, who brought in just under $70,000 in June.
Just $1,000 of that went to his committee account, yet Fant did a bit better in hard money — bringing in $68,240 of new money in June, giving him just over $145,000 on hand.
All told, Moody holds nearly a 3-to-1 cash on hand advantage, and enjoys quiet support from Northeast Florida heavyweights, none of whom are inclined to come out for Fant.
The question most are asking: when does Fant declare victory, get out, and file for re-election to the Florida House? And if he does this, will he face a challenge anyway?
_____
Jason Fischer, Clay Yarborough show strength: First-term Jacksonville Republican State Reps. Jason Fischer and Clay Yarborough were best-in-class when it came to fundraising in June.
Between Fischer's campaign account and the account for his political committee, "Conservative Solutions for Jacksonville," Fischer brought in almost $55,000 for his 2018 re-election effort.
Of that new money, a full $32,700 went into Fischer's campaign account — pushing it over $51,000 on hand.
Fischer's committee, after $22,700 of new money in June, now has just over $29,000 on hand.
He likely won't face a primary challenge; if he did, however, he'd have whatever resources he needed to hold his seat.
Yarborough, noted for a grassroots approach to campaigning, has continued his successful outreach to the business community and the donor class — which wasn't a sure thing a year ago.
Yarborough brought in $22,375 in June — by far, his biggest haul since filing for re-election months back.
All told, Yarborough has roughly $35,000 on hand.
____
Most Northeast Florida incumbents took it easy: One of the great things about gerrymandering and the Jacksonville area's State Senate and House seats is that, once you win the invariably cutthroat primary, the hard part is over.
So there weren't a lot of eyepopping June totals.
Sen. Aaron Bean brought in $9,250 in June, spending more than half of it, and giving himself just under $24,000 on hand.
Sen. Audrey Gibson, slated to face a write-in candidate next November, brought in $7,450, pushing herself over $51,000 on hand.
In HD 11, Rep. Cord Byrd brought in $1,500, bringing cash on hand to just over $17,000. But it won't matter — he won last November with 98 percent of the vote.
HD 13 Democrat Tracie Davis brought in $4,750 in June, with $3,000 of it coming from Jacksonville dog tracks; the new money pushes Davis over $16,000 on hand.
Davis' colleague in HD 14, Kim Daniels, seeded her account with $100 — and so far, that's it for Daniels, who has no real worries, given her charisma, name ID, unique ability to work across party lines, and willingness to self-finance what are largely billboards and grassroots campaigns.
South of Jacksonville, the story was the same. HD 17 Republican Cyndi Stevenson raised $1,000, bringing her total on hand to roughly $34,000. HD 18 Republican Travis Cummings brought in $2,000, giving him $54,000 on hand. And HD 19 Republican Bobby Payne's $500 of new money in June gave him nearly $17,000 on hand.
Again: safe seats, all of these, and no real urgency to raise money to defend them.
____
Committee action: A look at Northeast Florida committees showed typical strength for two powerhouses.
"Build Something That Lasts," the committee of Jacksonville Mayor Lenny Curry, brought in $110,000 in June.
With less than $9,000 in expenditures over the June period, Curry's committee now has $242,456 on hand.
And "Working for Florida's Families," the committee associated with Sen. Rob Bradley, brought in $59,500 — with the big donor being REI, the Winston-Salem tobacco company, at $25,000. That committee now has $390,000 on hand.
Meanwhile, questions have been raised about what one Jacksonville consultant calls the "weak launch" of Sheriff Mike Williams' " A Safe Jacksonville" committee, after a second lackluster month of fundraising.
The committee raised $9,600 in June, and has roughly $20,000 banked.
____
Locals only: Perhaps the most impressive month of any Jacksonville-area candidate came from former Florida Ethics Commission head Matt Carlucci, who kicked off his 2019 campaign for the Jacksonville City Council in June.
Carlucci, a former Jacksonville City Council President who seeks a return to the legislative body, hauled in $60,000 in June.
To put that number in perspective: even the strongest fundraisers in the 2015 races for City Council couldn't get appreciably past a quarter-million dollars raised.
While it's unrealistic to expect Carlucci to string together $60,000 months, the bankroll is a warning to anyone who decides to get in the race to replace Greg Anderson  — the incumbent in that seat, who himself cut a check to Carlucci.