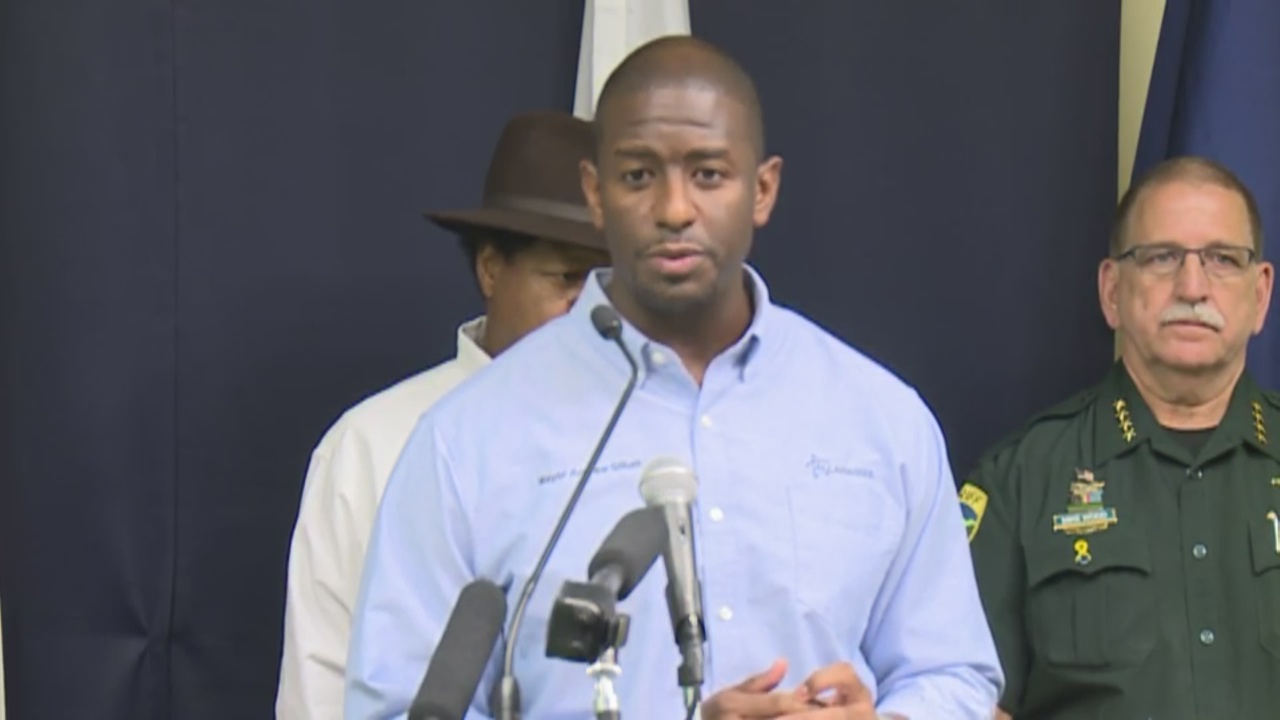 Saying that Gov. Rick Scott has done little to address Florida's opioid crisis compared with how counties and other states are responding, Democratic gubernatorial candidate Andrew Gillum pledged Thursday to make it a major effort.
Gillum, mayor of Tallahassee, released a statement that offers several initiatives he said he will undertake if elected to take on a drug crisis that reportedly is killing 14 Floridians a day, 25 percent more drug deaths than the peak of the opiate pill crisis of a few years ago.
"Rick Scott's devastating inaction on opioid abuse led to a state emergency, but even then, his response has been totally inadequate,"  Gillum stated in a news release. "Once again, Florida has fallen behind other states in responding to a crisis."
Gillum faces Winter Park developer Chris King and former U.S. Rep. Gwen Graham of Tallahassee for the 2018 Democratic nomination to run for governor. The leading Republican in the race so far is Agriculture Commissioner Adam Putnam.
Gillum pledged to create a statewide task force, much like those set up in a number of Florida cities and counties including Orange County, and in 18 other states battling the heroin and related drug epidemic. Among other places with such task forces are Miami-Dade and Duval counties and the cities of Ocala, and Coral Springs.
He also proposed working with the Florida Legislature to create special opioid intervention courts much like one in Buffalo, N.Y., which would use accelerated hearings, daily accountability, and strict curfews to "reduce recidivism and save lives."
And he pledged to press lawmakers to restore state mental health and substance abuse treatment funding, while working with Florida's congressional delegation to secure current and additional federal funding.
"By establishing a statewide task force, we can learn from those most affected by opioid abuse and trafficking. We can direct resources exactly where they need to go. We can offer those struggling with addiction a pathway to recovery instead of prison. We can fund mental health like the priority it should be. And we can end this dark chapter hurting Floridians," Gillum stated in the release.
Democratic state Sen. Jeff Clemons of Lake Worth, who earlier endorsed Gillum, seconded Gillum's proposals.
"Our governor has been quick to proclaim emergencies over Zika and wildfires, but slow to react to an epidemic that killed 4,000 Floridians last year," Clemons stated in the release. "Gillum's proposals will focus energy, resources, and expertise into stopping this crisis. These are things our current governor should have already done."