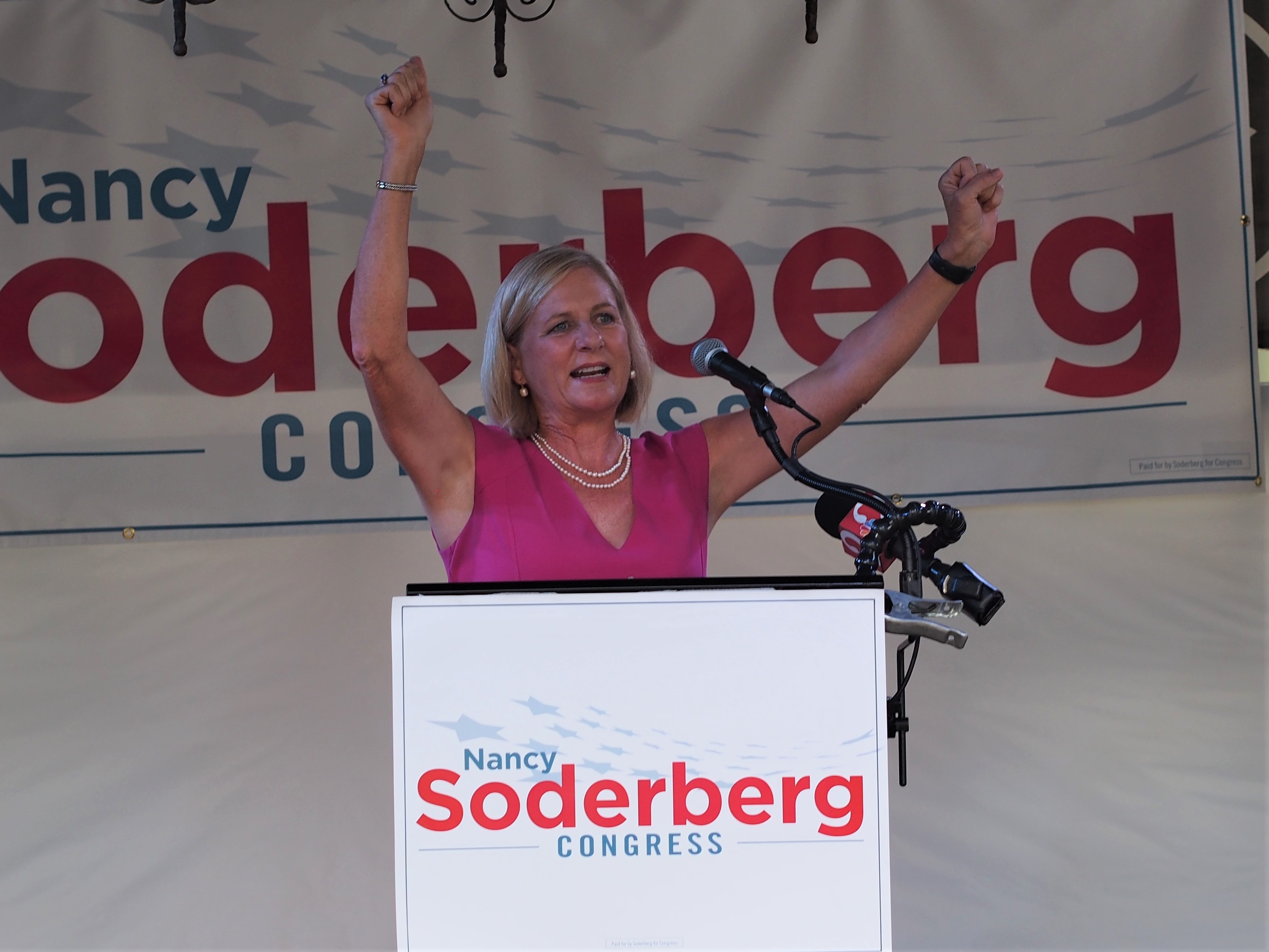 Democrat Nancy Soderberg kicked off her campaign for Florida's 6th Congressional District that historically has been based in Florida's First Coast by heading to and appealing to its new center of gravity, Volusia County.
In her campaign roll-0ut Wednesday in DeLand, Soderberg delivered a standard, moderate-Democrat pitch that was heavy on her party's usual positions of fixing the Affordable Care Act, protecting the environment, recognizing global warming, and promising to push manufacturing and small-business jobs.
"I love this historic iron works," she said, referring to the buildings surrounding her debut venue, a former iron works forge that has been turned into shops and restaurants, including the Café Da Vinci Gardens where she spoke. "Since 1890 this site has been host to businesses that are the backbone of this country. This site served as a forge and metal fabrication business, for all types of welding and assembly, trailers, until the late 1960s. And these businesses represent the best of American entrepreneurial spirit. Today this area continues to thrive as a center of small business.
"Like many of you I am concerned about the direction of our country. Congress is not running," she continued. "And you deserve better. And that's why I'm proud to announce my candidacy to be your next representative from the 6th Congressional District. I'm running to fight for us, the people of Florida: good jobs that pay a living wage, our children's education, and a secure retirement."
And her speech was light on explicit jabs at Republicans, from President Donald Trump to incumbent U.S. Rep. Ron DeSantis.
One exception involved her promise to fight to retain the key provisions of the Affordable Care Act, such as full-funding for Medicaid and protections of pre-existing conditions, two policies that would have taken a hit in the American Health Care Act that House Republicans approved this spring.
"Ron DeSantis may think no one noticed his vote for that mean-spirited plan. But he's wrong. I noticed. You noticed. We all noticed," she said. "And you can be sure we'll make it a big issue in 2018."
Whether the former U.S. Ambassador takes any harsher shots, and whether she becomes a serious contender in a district the Republicans have controlled for a long time, may depend on what DeSantis, a staunch conservative, does. The three-term congressman from Ponte Vedra Beach has been exploring a gubernatorial run, which could open the seat. So far there are no other major names in the race, though last year's brief Republican candidate, lawyer Will McBride, is keeping his paperwork fresh.
Soderberg has hired a couple of staffers, but still has not selected, or is not ready to announce her choice for, major campaign consultants. However, the Democratic Congressional Campaign Committee is with her, sending aides to her kick-off, showing an unusually early commitment to a race, after having helped Stephanie Murphy flip the adjacent Florida's 7th Congressional District last fall.
Like Murphy in much of her campaign, Soderberg spoke moderately, stressing forging consensus and attacking Congress in general, rather than making partisan attacks.
Soderberg also is from the Jacksonville end of the long district that runs the coast from there to Daytona Beach and then takes in al of Volusia and a corner of Lake County beyond. But she said she has rented an apartment and moved into Crescent Beach, in the middle of the district. And she made it clear she believes Volusia, bluer than most of the rest of the district, is the key.
She has a Jacksonville consulting firm, Soderberg Global Solutions, and is director of the Public Leadership Program at the University of North Florida. She also told the crowd of a couple hundred people at her debut  that she'll be guest lecturing this fall at DeLand's Stetson University.
"I believe we need to talk to the people of the district…. I have to do well in all the areas. Volusia is 70 percent of the district. You can just feel, not just in Volusia, but in Flagler, and Lake and St. Johns, people want to take this country back," she said after her speech.
She occasionally spoke specifically to the district's concerns, discussing the higher-than-average unemployment of the district and stagnant wages, and in vows to battle to reduce climate change and sea level rise, and to protect the St. Johns River.
Soderberg served as deputy national security advisor and Ambassador to the United Nations under President Bill Clinton. But except for talking about her role in Clinton's efforts to bring peace to Northern Ireland in the 1990s, she spent little of her debut speech discussing foreign policy or diplomacy.
She spoke briefly of the "need to keep this country secure. We face cyber threats, terrorists who want to harm us, intractable wars in Iraq and Afghanistan, Syria collapsing, global trade and threats from rogue states like Iran and North Korea.
"I know how to negotiate successfully, and I have a record of doing just that. I know how to make tough decisions that keep our country safe," she said.